Javier Mascherano, who will continue his career in the Chinese Super League with Manuel Pellegrini's Hebei China Fortune, struggled to hold back the tears as he bid farewell to FC Barcelona this morning. The 33-year-old was given a send-off at the Auditori 1899 at Camp Nou and was joined by the whole squad as he attended the media. Barça president Josep María Bartomeu began by wishing the player well: "Thank you for these last seven and a half years of continual dedication for Barcelona. You have set an example - on the pitch and off it".
Then it was the turn of a visibly emotional Mascherano to speak:
"I feel very privileged. To be valued by the people you work alongside every day is the best present I could ever hope for. I think the lucky one here has been me. Seven and a half years ago, I arrived here to realize a dream and now it's time for me to awaken from that; it lasted much longer than I had first imagined and now the moment has come to say goodbye. Leaving with the love and affection I have been shown is the best way this could have ended and means a lot to me".
Team spirit and solidarity
Barcelona's successes: "Puyol, Xavi and Víctor [Valdés] set the pace for everything, they've left now too but they transmitted the club's values to the rest of the team. That is the big secret behind Barça - live each day with happiness and get maximum enjoyment out of playing football. These past seven and a half years have passed so quickly, for all of the great times we've been through".
The key behind Barça's successes: "The camaraderie within the dressing room was the secret for all we have achieved over the last few years. When I first arrived, I thought that it might be a difficult dressing room to come into, because of all the great players here and for everything they've won. But it wasn't like that at all. Puyol, Xavi and Valdés were the leaders when I first came here and they set the tone and passed the baton on when they left - that's the key to Barça's future".
Which triumph will stay with you more than the others? "I'll just remember the day-to-day work with the lads, enjoying unique moments and having been able to play with the best players in the world. They made everything easy, they are player who have the ability to simplify things for you and elevate your level as a player".
The dream is over: "I'd been thinking about this for some time. The hardest thing about playing for Barça is knowing that the day will come when I have to leave. My age was an indicator that I was falling down the pecking order and that it was becoming harder for me and so I decided that before things came to a head, and out of respect for the club, I would look for a solution which would help me to bring this experience full circle".
Telling Valverde your decision to leave: "I've always got on well with Ernesto. When you get older, you tend to put yourself in the coach's shoes and not think only as a player. The boss understood my situation and how I felt as a player. But I had to face the reality that I am no longer the player I was - and whatever I might have done in the past isn't important now. Now I don't have time to start all over again. Nor did I feel I could turn my situation around. The quality of our central defenders is exceptionally high and now, all I want is to get regular playing time".
Future in coaching: "I think that's more an idea which other people have proposed rather than my own. Maybe I will consider it in the future; I like the idea of being a coach but now's not the time. I am grateful to the club directors who see me as a coach. They have always said that I would make a good coach".
End of the season: "I wish everyone at Barcelona the very best for the future. Things are going well and let's hope I can celebrate with the rest of the lads from afar".
---
Messi and Xavi lead tributes to Mascherano.
---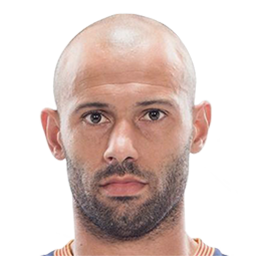 Mascherano
Hebei China Fortune FC
Midfielder
Argentina