Athletic Bilbao vs Eibar - home win
Iñaki Williams has signed a new contract with Athletic Club, scored in his last two games and they are unbeaten in their last nine league games. Not since Barcelona's visit to San Mames have they lost at home, which came back in November and only once prior to that, against Atlético Madrid in September, have they lost. Eibar have improved recently too and are pushing for a European spot but have lost to Atlético and drawn with Malaga more recently. Expect a home win here to keep drving José Ángel Ziganda's side up the table.
Deportivo vs Levante - draw
Two of the three most out of form teams in LaLiga face each other on Saturday afternoon. Just one win in their last twelve games combined means a cagey game is almost a certainty. Levante sit 17th with Depor a place behind them and the only real winners in this one will be Las Palmas, Málaga and anyone else who considers themselves relegation threatened.
Valencia vs Real Madrid - home win
One of the most entertaining games in the first half of the season, Marcelino welcomes an out of form and out of sorts Real Madrid side to the Mestalla where they will be baying for no mercy. Given the talent in their squad, you would expect Real Madrid to start mounting a comeback, which is something Zinedine Zidane has assured, but they have shown no signs of reistance against their slump and I wouldn't expect them to find a magic formula now. Their low confidence will not be helped by the loss against Leganés more recently and while Valencia's Copa 2nd leg went to extra-time, they should have enough to beat a suffering los Blancos side.
Malaga vs Girona - draw
Pablo Machín's form against bigger sides is very good but they travel south to Málaga, who remain an unknown entity since the arrival of new manager Jose Gonzalez despite their draw against Eibar last Monday night. The home crowd will be expecting a response from the side after months of uncertainty with Michel at the helm. They should get it too but will have to suffice for a draw.
Villarreal vs Real Sociedad - home win
If you were to create a league table based on the last six games, Villarreal would be 2nd behind only Barcelona. Their win over Real Madrid has put them within a point of the reigning LaLiga champions and are now in a genuine battle for fourth place against Zidane's side. If Javi Calleja is serious about turning this side into a Champions League one, winning against a struggling La Real side is a must. Eusebio's side have struggled all season and his job is in danger but they are too open at the back to stop this budding Villarreal side.
Leganes vs Espanyol - draw
Leganés might put their focus solely in the Copa del Rey now after qualifying for the semi-final for the first time ever midweek. Espanyol, however, have no such aspirations after being knocked out by Barcelona. It's hard to put a proper appraisal on Quique Sanchez Flores' side and are bipolar at the best of times. They are unbeaten away from home in two but lost to Eibar in the game before that. Leganes, on the other hand, are cautious themselves and will be the same on Sunday morning at Butarque and both teams will be glad of a point after their mid-week exertions in the Copa.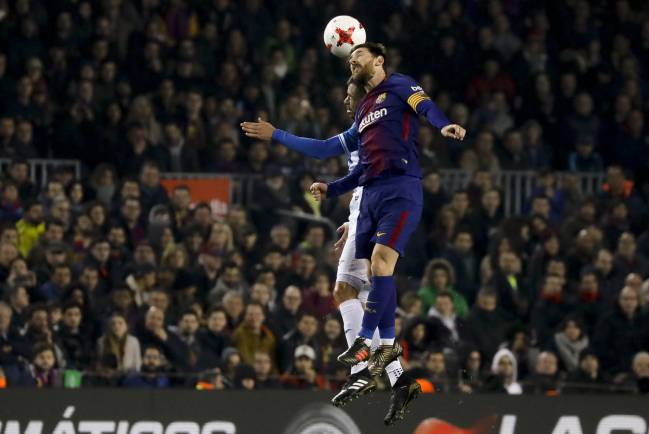 Atlético Madrid vs Las Palmas - home win
Atlético Madrid sit in second and ahead of Valencia and Real Madrid in third and fourth. They are out of the Copa and have to compile some positive results in the league to give even Barcelona the faintest of frights at the top. It's hard to tell whether Paco Jemez is Simeone's worst nightmare or will prove to be his easiest opponent as he plays expansive football that will create chances but allow plenty too. Atlético will have to find a balance and get their attackers scoring without Diego Costa, which is something you can't be sure of as Atlético struggle through a poor run of form.
Sevilla vs Getafe - draw
The appointment of Vincenzo Montella at Sevilla looked to be a poor one but with a semi-final of the Copa on the horizon and a handy win over Espanyol last week, it is starting to turn in his favour. Getafe, under Jose Bordalas continue to be underrated and while their away form has been poor recently, they are still a well-drilled side that will always keep games close. With Sevilla throwing an eye down the road to the Copa semi-final, this one could be a draw.
Barcelona vs Alavés - home win
Alavés are much improved under Abelardo but they have not improved enough to even temporarily slow down the juggernaut that is Barcelona under Ernesto Valverde. Barca might have one eye on the Copa but with Coutinho, Yerry Mina, a returning Sam Umtiti and the best squad in the league, Barcelona should cruise in this one.
Celta vs Real Betis - home win
This could be the game of the weekend. Celta fight for the ball as we have seen recently against Barcelona and Real Madrid and Betis under Setien also need the ball to implement their style of play. Real Betis have been hot and cold with Setien at the helm and Celta have been similar but slightly more consistent. Expect plenty of goals but Celta to win it in the end given their quality in attack and Betis' poor form when defending.