LALIGA
Betis 3-5 Real Madrid LaLiga 2017/18: match report
A brace from Marco Asensio along with goals from Sergio Ramos, Cristiano Ronaldo and Karim Benzema sealed the win for Real Madrid against a fiery Real Betis side.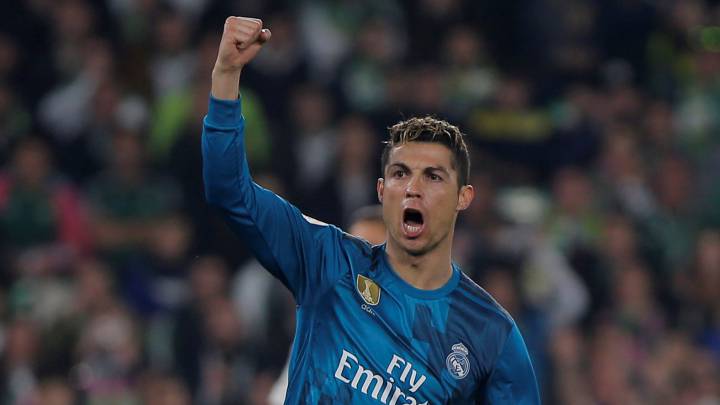 Betis 3-5 Real Madrid: match report
90'+3' GAME OVER! What a game that was, offered up to us by Real Betis.
90'+3'   Corner for Real Betis but the referee has seen enough. Game over!
90'+2' Karim Benzema is alive. He scores a goal at the death and Real Madrid will win this game. 
90'+1'   Unlucky for Real Betis but they have shown plenty of fight here in their home stadium.
90'+1'   Junior with the cross and that hits his own teammate. 
90'   Entering into injury time here. What a game this has been.
89' Benzema coming on for Ronaldo.
88'   Joaquin strikes and that is a mile and a half over the bar.
87'   Tello fouled and Real Betis with a chance now to level things. Carvajal the man who fouled him.
87'   Casemiro ruled to have been fouled. 
85' Sergio Leon with the goal. Junior with the cross. Theo Hernandez with the dreadful marking.
83'   Mandi strikes from the free into the box an it hits Kovacic in the chest and here his hands are.
82'   Theo Hernandez with a foul and Real Betis with a chance to swing one in. Sergio Leon the one he kicked.
81' Guardado replaced by Tello and Boudebouz replaced by Sergio Leon.
81' Casemiro booked.
80'   Real Madrid break from that free. Isco the last man, or intended last man, but he gets bodychecked and loses out.
79'   Javi Garcia fouled by Casemiro. 
79'   Ronaldo ruled offside. It was wrong too as he wags his finger to the sideline. He's right too. He was away with the ball and in acres of space.
78'   Isco with a free from the left but that's comfortable for Antonio Adán.
78'   Isco with a free from the left but that's comfortable for Antonio Adán.
77'   Asensio drives forward. Attack breaks down byt Real Madrid win a throw. 
75'   Nacho wins the ball off Loren in the penalty area. Risky tackle but it worked out.
73'  Guardado with a strike from miles out. Almost catches Navas out.
72'   Ronaldo cross and Bale tries to head it but it's knocked clear by Real Betis.
72'   Real Betis trying their best to get back into this and making Real Madrid sweat.
70'   Fabian with a strike and that's half-blocked and into the gloves of Navas.
69'   Fabian with a strike. Navas with a lovely save.
67'   Loren with the header now and it's just wide. Guardado crosses and the newest mamber of the squad heads wide. 
65'   GOAL! Cristiano Ronaldo with the goal to make it 4-2 and that is surely game set and match for Real Madrid. He stayed onside, took it down, cuts inside on his right and drove home.
63'   Rams with a wayward pass out to Carvajal.
61' Keylor Navas runs out a mile off his line and clears with Loren catching him late. Not sure he knew that the goalkeeper was coming out that far! He is booked.
58'   Real Madrid turn the game on its head! What a comeback.
58' What a run! What a goal! Dani Carvajal with a marvellous run down the right. Asensio with the finish.
57' Bale booked for his protests.
57'   Adán with another save. Ronaldo finds Bale with a throughball. No corner given. That's harsh. 
56'   Real Betis lose it and Vazquez feeds Bale. Adán with a world-class save to keep that out.
56' Ramos booked for a foul on Loren on the break. He's booked.
55'   Kovacic a very, very lucky chap as he loses it, looked to have fouled the Betis player and the ref says no.
54'   Foul on Vazquez now. Jordi Amat the culprit this time.
53'   Vazquez pulls down Joaquín.
52'   Vazquez to Casemiro and all the way across to Theo. Real Madrid in control of this second half.
51' Ball comes in from the corner. Ramos buries it with a header. GOAL!
50'   Free comes in from Real Madrid and it's out for a corner.
49'   Yellow card for Junior after he dived in on Casemiro.
48'   Isco and Benzema warming up.
48'   Guardado with a shot. Fabian laid it off to him. He strikes over the bar.
48'   Vazquez might have turned his ankle there. He limps away after a quick turn. But he looks to be okay.
46' Kovacic with a kick to the chest of Loren. Booked!
46'   We are underway at the Benito Villamarin.
No changes for Real Madrid or Real Betis at the half. 
45'+1'   Half-time. What a half for Real Betis. They went 1-0 down and came back to lead! Excellent from the home side.
45'   Asensio with the through ball. Ronaldo is offside.
44' Barragan goes into the book now for a foul on Asensio.
43'   Lucas Vazquez bulldozes Bartra out of the way. He doesn't get booked but he looks frustrated.
42'   Real Madrid have improved here. They are taking more control of the ball. Still not creating too much though. Real Betis looking lethal on the ball.
41'   Ronaldo with a stepover. He strikes at Adán but that's comfortable for the keeper.
39'   Vazquez with a cross and that's far too easy for Antonio Adan.
39'   Corner for Real Madrid. Real Betis get it away.
37' Real Betis GOAL! Nacho own goal Junior strikes after a Real Betis strike and Navas half-saves but Nacho sends it into the back of his own net.
37'   Casemiro plays it to Ronaldo in an offside position. Really naive there. Mistake from Betis and an excellent chance.
37'   Ronaldo with the header from the corner and Antonio Adan is comfortable with that one.
36'   Theo sent down the left hand side by Kovacic. Theo crosses and it's blocked. Corner.
34'   Setien jumps up and down on the sideline.
34' Mandi with the goal! Real Betis draw level.
32'   Miscommunication between Ronaldo and Asensio. They both leave it and Real Betis win it back. Nacho fouls Joaquin.
31'   Real Betis continue their pressure. Throw and they keep it as they try to break through Real Madrid.
30' Marcelo does have to go off.  Theo Hernandez on.
29'   Marcelo looks to be okay? Strange one as it looked like his hamstring was definitely torn.
28'   Marcelo shot by a sniper. His hamstring is gone.
27'   Joaquín's shot going into the top corner and it's saved by Navas.
27'   WHAT A SAVE! 
26'   Joaquín lines it up.
26'   Vazqyez fouls Fabian. Dangerous position too.
25'   Marcelo foul now on Loren. Real Betis well on top here.
24'   Loren with a strike. My word that was close! Boudebouz with the pass. Navas stretching and wouldn't have reached that!
23'   Junior squeezed by Carvajal and Vazquez. Fouled down in the corner.
21'   Corner headed by Mandi and that is so, so close. Navas left flat-footed.
21'   Bale heads it out at the front post for another corner.
21'   Real Madrid under the cosh here. Junior crosses again and it's put out for a corner.
20'   Carvajal concedes a corner. He has been heavily involved so far. Comes in and Real Madrid's Gareth Bale drives it clear.
20'   Carvajal with a cross that goes all the way across goal and out for a throw. 
18'   Cross comes in and Real Betis shot goes wide. Loren the man who took the shot and it looked to have glanced off Carvajal but no corner and very few protests from Betis.
17'   Ball out to the left from Boudebouz and Carvajal recovers and gets in the way of it. 
16'   Ramos with a misplaced pass and no chance of Asensio recovering before that goes out for a throw. Real Betis back in possession.
15'   Bale takes off down the left this time but Bartra lives with his speed and clears for a throw.
15'   Junior shoots and it's blocked on the way to goal by his own man. Real Madrid attack now.
14'   Corner for Real Betis. Some nice linking up and Joaquín with the strike. Carvajal blocked it out behind.
13'   Corner comes in and Ramos heads it in the general vicinity of the goal but that's off target.
12'   Asensio with a curling ball around the defense. Put out for a corner. Asensio has started this game on fire! 
11' Cross from Marcelo is not cleared. Ronaldo shoots and the rebound falls to Asensio. GOAL! He heads home.
10'   Vazquez lost the ball just before that too. 
9'   Nutmeg from Boudebouz on Vazquez.
9'   Asensio runs down the left and he makes some ground. His cross is saved by Adán though.
7'   Casemiro put under pressure and it's won off him but Real Betis' counter is too hasty and they lose it again. 
6'   Throw down the left that Bale runs onto. Out for a throw and Real Madrid are in possession now.
5'   He took Boudebouz out of it on the break. Early, early yellow.
5'   Carvajal picks up a yellow for stopping Real Betis on the counter. 
4'   Ronaldo takes ball down after it bounces awkwardly from an Asensio cross. Corner.
3'   Ball comes in and Carvajal stoops to head it but Loren nearly sneaks in. Real Madrid survive and it's sent down the left to Bale. Nothing doing down that flank yet though.
3'   Ronaldo ruled out for offside. He was well off in reality but lively start.
1'   We are underway at the Benito Villamarín. 
A minute's respect for Luis Cid Pérez 'Carreiga', legendary manager and player in Spain.
    Real Madrid with that win against PSG, which could turn their season around, but they need to put it into practice tonight against an improving Real Betis.
Real Betis and Real Madrid out to the hymn for the club. The best in Spanish football? Or is there one better? 
The Real Betis players wearing a t-shirt wishing luck to their fallen teammate, Zou Feddal. He tore his achilles recently.
Xavi continues to annoy Real Madrid fans and he most recently had a go at Cristiano Ronaldo.
Reports also that Gareth Bale is closer than he has ever been to leaving the Santiago Bernabéu this summer.
Zinedine said it is exhausting being the Real Madrid manager and is considering wrapping things up as the manager of los Blancos regardless of whether they win the Champions League or not this season.
Real Betis beat Real Madrid at the Santiago Bernabéu earlier in the year thanks to a very late Antonio Sanabria goal. He has been ruled out with a knee injury for a prolonged period of time but Real Betis are improving under Setien. They can jump to 7th tonight with a win, regardless of how unlikely that seems.
Real Betis' starting XI: Adán, Barragán, Mandi, Bartra, Amat, Junior, Fabián, Guardado, Boudebouz, Joaquín, Loren.
Real Madrid XI: Navas, Carvajal, Nacho, Ramos, Marcelo, Lucas, Casemiro, Kovacic, Asensio, Bale, Cristiano
Hello and welcome to Real Betis vs Real Madrid live from Benito Villamarín on Sunday February 18 2018 with kick-off at 2018. Zidane's side coming off a season-changing win against PSG but have a tough task against Quique Setien's side.
Man of the moment Marco Asensio scored twice and Cristiano Ronaldo was also on target as Real Madrid kept up the feel-good factor with a thrilling 5-3 victory at Real Betis in La Liga on Sunday night.
Madrid had been 2-1 down at half-time in a fantastic game at the Benito Villamarin, but they came roaring back in the second half with Sergio Ramos, Asensio -- who had scored the opener - Ronaldo and Karim Benzema all finding the net.
They survived a late Betis onslaught, and after their 3-1 Champions League last 16, first-leg win against Paris Saint-Germain in midweek, this victory confirms that Zinedine Zidane's side are looking better in La Liga now too.
They remain fourth, a huge 17 points behind leaders Barcelona. However, this was their fourth win in five league outings, and they are back to within a point of third-placed Valencia with a game in hand to come at Leganes in midweek.
"It was an end to end game, a bit crazy, but I like that. It shows that we had a proper opponent," said Zidane.
"Betis were fantastic and controlled the last half-hour of the first half. But I'm happy in the end, and I prefer to focus on the five goals we scored rather than the three we let in."
Asensio had come off the bench to set up the two late goals that allowed Real to beat PSG and he was rewarded with a start on Sunday in Seville, while Gareth Bale also came in as the likes of Benzema and Luka Modric dropped to the bench.
Asensio duly headed Madrid into an 11th-minute lead after Antonio Adan had saved a Ronaldo shot, but Betis had won when the sides last met at the Santiago Bernabeu and they hit back brilliantly.
Loren and Joaquin, the latter from a free-kick, both came close before Aissa Mandi headed in a Joaquin cross to make it 1-1 in the 33rd minute.
It was 2-1 shortly after, as visiting defender Nacho could only help a Junior shot into his own net, and the home fans in the crowd of over 53,000 erupted.
Real also saw Marcelo limp off in the first half, a potentially worrying sign ahead of the PSG second leg, and Zidane confirmed the Brazilian would find out the extent of his injury on Monday.
Madrid recovered superbly after the restart, though.
Ramos, whose Sevilla past always ensures a hot reception from the Betis fans, levelled with a bullet header from a Lucas Vazquez corner.
Dani Carvajal then set up Asensio for his second and Real's third as the hour approached, and Ronaldo smashed in their fourth goal in the 65th minute.
The Portuguese, supposedly in decline, has now scored 10 times in six games between league and Champions League.
Betis may lack the consistency to properly contest a European place, but they do provide entertainment, and Cristian Tello set up fellow substitute Sergio Leon to make it 4-3 late on.
Benzema, on from the bench, completed the scoring at the death with a goal that will boost his confidence.
Betis vs Real Madrid: as it happened