Xabi Alonso was the first guest on a programme organized by the Real Sociedad Foundation in collaboration with Spanish radio network Cadena SER to promote football and culture. The former Real Sociedad, Eibar, Real Madrid, Liverpool and Bayern Munich midfielder discussed football, music and his personal life during the interview and admitted: "If one day I decide to become a coach, I'd like to return to Real Sociedad and do the best I can for the club as I did when I was a player. But I still haven't decided yet what path I will follow."
A double European champions and a world cup winner with Spain, even though Alonso has played for several other sides during his career, he remains intrinsically linked with his boyhood club and keeps fully up to date with the fortunes of the txuri-urdin. "We have to be confident we can go through against Salzburg on Thursday [in the Europa League] and that we can reach the last 16. We have the squad to do it."
Alonso: "There was never any doubt that I would choose La Real"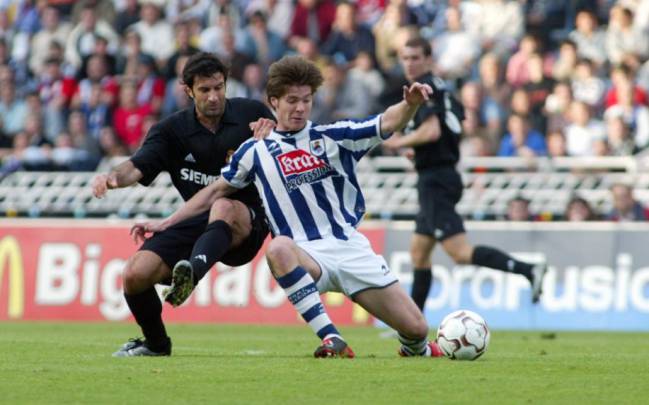 Alonso was also asked about Iñigo Martínez's controversial move from La Real to arch-rivals Athletic in January. "Look, I'll tell you what happened to me many years ago. When I was playing for Antiguoko, which was my team when I was a kid, and there was some debate about whether I'd move to the Athletic or La Real academy, because Antiguoko is a Gipuzkoan club. I could have chosen one or the other but there was never any doubt in my mind; I went to Real Sociedad and that was that. But footballers come and go and you have to respect their decisions and wish them luck and concentrate on the players that you've got. That's all there is to it."
Despite all of Alonso's achievements in the game, there is one that sticks in his memory more than any other: "The 2002-03 season when we were runners-up left a real mark on me. I still remember the game we played against Villarreal in Anoeta [a 2-2 draw with Villarreal scoring in the 88th and 90th minutes]. It's the one regret that will stay with me forever in my heart. If I could go back in time and replay any game in my career, I would go back and play the one against Celta that season [a 3-2 defeat in the penultimate round of fixtures]. I think we were able to handle the pressure of playing such an important game."
"I had a kick-about at Christmas. I haven't played since"
Away from the pitch, Alonso revealed that his favourite band when he was growing up was Nirvana, but that when he was at Liverpool he acquired a taste for The Beatles. He also stated that now that he has retired he wants to lead a "normal life."
"When you're a footballer, sometimes everything that happens in football, everything that surrounds it, is difficult to manage," Alonso said, adding that the last time he kicked a ball was "during a kick-about with some friends at Christmas. I haven't played since."
Alonso also revealed his philosophy on life: "I like to throw myself into everything fully. On and off the pitch. When I went to Germany it was clear in my mind that I had to learn the language. And if I lost a game, I'd always look for the footballing reasons for it. I took it for granted that everybody had put in the maximum amount of effort."