Liverpool vs Manchester United: how it happened
90'+3' GAME OVER! Liverpool march on at the expense of Manchester United.
90'+3'   That's surely it now. Tame end to the game as Liverpool really killed it with that second goal. United were always going to struggle to score, let along get two.
90'+2'   Woodburn off for Mcauley. He gets a massive round of applause as he hands over his captain's armband. He takes his time as he walks off the field too.
90'+1'   Liverpool with a corner. They take their time over that but can't make anything of it. United move up the other end and win a corner.
90'   They were excellent in the first half and soaked up pressure when needed before hitting United on the break for the kill. Reall impressive.
90'   Into the last minute of normal time. Gerrard will be delighted with this display from his side.
89'   Liverpool just happy to kill time now, as you'd expect. United desperate.
88'   Chong pass to the right is cut out by Camacho and Liverpool counter. Jones with the ball on the left and almost wins a throw.
84'   Burkart on for Garner Mellor on for O'Connor. Nicky Butt really going all out here! 
83' Liam Millar off for Tom Clayton.
83'   Ball sent in and Grabara grabs that easily. Way too close to him.
82'   Yellow for Williams. He followed through on a tackle and gets booked. United with a free now and a chance to send it into the box.
81'   Chong takes off again, gets spun around and the referee blows for a free but he had possession and wanted to carry on. 
79'   That was always going to be a problem for United. They had plenty of chances and possession but never made it count. Now they're in a serious hole here!
78'   GOAL! 2-0. Camacho with the goal as he takes it up down the right, cuts inside and loops one over the keeper to give Liverpool a cushion.
75'   United somewhat camped out in Liverpool's half here. 
74'   Tanner across the field and it makes its way to Chong again. He drives a shot towards goal. Wide of the post! 
73'   Chong with another powerful run forward. he plays it out wide to Laird and it's cut back again. Blocked again. United getting closer.
72'   Liverpool goal-kick.
71' Camacho on for Bobby Adekanye.
70'   Gomes with a low corner that neary catches everyone out but it's clipped by a defender and United win another corner. Comes into the back post and United continue to apply pressure without ever testing Liverpool too much.
69'   Chong drives forward and he strikes but it's deflected out for a corner.
68'   Free comes in and Williams gets a head to it with Chong lurking too. Grabara saves. 
65'   United have improved but they need to score here and fairly lively too!
64'   Corner comes in and Millar heads well wide.
64'   Adekanye to Millar and on to Jones. He curls one but Fojticek is equal to that too. Really nice effort and excellent save from the United keeper.
63'   Comes in again from Woodburn. Crosses in and United send it back out. Kane wins it by it's a little sloppy out there on the right-hand side. 
62'   Liverpool win another corner. Woodburn with a nice run, plays it to Adekanye and he kicks it off a Liverpool defender.
61'   Gomes chases down a ball into Liverpool's defense. It nearly falls to Chong but he loses out, wants a free for a high foot but it's not coming. United start another attack.
60' Warren replaced by Tanner for United. 
60'   Adekanye sends it across goals and it's just too high for Millar. 
59'   Woodburn with a little feint of the hips and wins a throw for Liverpool.
58'   Woodburn picks it up and ends up being fouled. 
58'   Chong in the middle makes a move forward. He sends it out wide and the cross eventually comes in from Barlow but Liverpool get it away.
57'   Barlow fouls Kane now in the middle of the field.
56'   Corner now for Liverpool.
55' Dixon-Bonner tries his luck now and it's just off target. 
53'   Laird inside to Chong. United far more convincing in this half. 
52'   Gerrard looking slightly more nervous. He'll have to be concerned about Laird on the right. A couple of times now that he has skipped into the box.
51'   Laird down the right. A stepover by Chong and he makes a lovely move into the box, cuts back and the shot is blocked eventually. 
50'   A more competent start by United. They have a spell of possession now too but Liverpool push them all the way back and they're forced to launch it through Fojticek.
49'   Free comes in but that's knocked out for a goal-kick.
48' A tellow card now for Warren for a tackle on Adekanye out on the right.
46'   Laird races forward and no defenders to stop him. He passes to Barlow and the strike comes in by Grabara is equal to it. Really slack marking from Liverpool.
46'   We are back underway at Prenton Park.
46'   Liverpool very close to a last 8 berth here. They lead 1-0. 
45'+1'   Liverpool dominated for a large part of the game but United have grown into it.
45'+1'   Liverpool free now into the last few seconds of added time. Lewis wants to shoot here but it's miles out. He flicks it in but United get it away. Liverpool send it back and they attack. That's all for the first half though!
45'   Shot from Dixon-Bonner that takes a deflection and rattles the top of the crossbar. 
43'   Bohui looks for Chong with a through ball. Grabara straight off his line. He has been really good in the last few minutes. 
42'   Bohui down the left. He shuffles inside and the back out and strikes but that's over. A few United players in the middle wanted that but good effort, good run. United have improved.
41'   Liverpool with a couple of corners now looking to separate themselves further from United. Keeper was fouled, it looks like. 
39'   Chong drives forward and he rattles the crossbar. Grabado was beaten no doubt and the half volley from just inside the box and that was a lovely effort! Nicest move by United by a long way.
38'   Nice one-two between Adekanye and Williams and it's crossed in. Jones with a shot and that's cleared off the line by Warren. That combination down the right for Liverpool has been excellent. 
36'   Millar with a lovely run and plays it to Woodburn. He remains decisive. His shot was off target that time but he is the difference-maker here without a doubt. Every time he touches the ball, there's danger for United. You feel United don't have that kind of player.
34'   United pushing further forward now but Liverpool adapting and adjusting as necessary and very comfortable still. Grabara in Liverpool's goals has had nothing to do.
33'   Gerrard up on his feet now after sitting down for the best part of the first 30. 
32'   Williams fouls Warren and United have a chance to send one towards goal.
32'   It is a very scrappy game here so far. Liverpool trying to keep the ball down low and pass it around but United very scrappy.
31'   Liverpool might have had a case for a penalty there. Millar with the run and gets taken down but no protests and referee says nothing either.
29'   Jones out to Neco Williams and he plays it to Adekanye before he whips it in. United scramble away again and Adekanye fouls or maybe an offside (?) but United have the free.
29'   Free comes in to the far post. Headed out and Adekanye tries to take it down. Fojticek ends up gathering but this Liverpool pressure is endless.
28'   Lee O'Connor fouls Woodburn down the sideline. No yellow but clear foul. 
26'   Free comes in and United get it away before Liverpool come back down and try again. Still nothing doing. Williams with the cross that time but United deal with it this time.
25'   Adekanye left on the ground after a tackle with Warren. Free to Liverpool.
23' Barlow runs down the left and he plays it all the way across to Chong. He's dispossessed and Liverpool break but lose out themselves. United win it back but just about before Barlow gets booked. Late tackle.
21'   Williams nearly makes a gtave mistake with Jones ready to pounce but he gets it back to his keeper. Liverpool keep up the pressure with a couple of chances from Adekanye and United survive. Just about though. A small goalmouth scramble.
21'   Woodburn fouls Laird with a late tackle. United have improved very very recently but still no chances.
20'   Woodburn out to Kane and he plays it to Jones. They play themselves into trouble and United clear.
19'   Dixon-Bonner fouled by Chong. He looks like the only United player looking to do something! 
17'   Ball falls to Jones at the right post for Liverpool and he drives a shot just wide. He snapped a bit at that. Well wide in the end but Liverpool continue to look dangerous.
16'   United win a corner. Liverpool loads of bodies there to clear.
16'   Millar moves forward and has an effort after Adekanye does well to run into the heart of United's defense.
15'   United calming things down nor and trying to get to grips with things here. They can't. 
14'   Adekanye pushes it into the path of Woodburn but he takes a heavy touch and it goes out for a restart.
12'   Ben Woodburn glances a header home to give Liverpool the lead. Great ball in by Williams and Woodburn makes no mistakes. Very smart header but he was unmarked.
11'   Liverpool continue to dominate the ball.
10'   Gomes goes down under a heavy challenge. 
8'   Chong with a rare attack for United and he is caught offside.
7'   Ball in fromt the left looking for Millar. corner again for Liverpool. United have barely touched the ball.
6'   Corner is caught by Fojticek. 
6'   Liverpool win a corner with Williams down the right hand side again.
5'   Ball comes in from the right over the head of Millar and it falls to Adekanye but he can't get the shot away. Much better start by Liverpool here.
4'   United get the ball now but a poor ball forward gives Liverpool back the ball. Williams sets Adekanye free down the right but it's too heavy for him.
3'   Woodburn playing as a number 10 today. Also very interesting to see what role he plays.
2'   Jones sees it out for a throw as Liverpool look to build something. Sent out to Williams and he pulls it back as Liverpool continue to boss possession early on here.
1'   Liverpool wearing their familiar red and United in white.
1' We are underway at Prenton Park! 
Tahith Chong definitely one to watch for United today! People have been raving about him and looking forward to seeing him today.
It will be very interesting to how Gerrard and Butt lay out their teams today. Two midfielders, albeit of differing styles, and have become managers. They would have had similar influences growing up probably and from the same era. We shall see.
And Gerrard said this, not knowing that Nicky Butt was the manager of United's under-19s: "I wasn't aware of that until the actual draw," he said when asked about facing his former England teammate. "I know he's their academy manager but he has taken this team. He's a good lad is Nicky and I enjoyed being in the England squad around him. He was a good player and it's great to see that he has stayed in the game and I'm sure he has a lot to offer. It will be a good battle from the dugouts but once the team is picked, it's up to them to go and produce the goods.
Nicky Butt had this to say ahead of the game today: "The main thing is it's such a great draw against the big rivals of the club. It's the Champions League and it's massive for our kids and we're really looking forward to it."
Remember, the winner today takes it all with there being no home and away here. Yesterday, Barcelona were in Paris, and knocked PSG out 1-0, while Manchester City hosted Inter and were held to 1-1 draw, but scraped through 3-2 on penalties.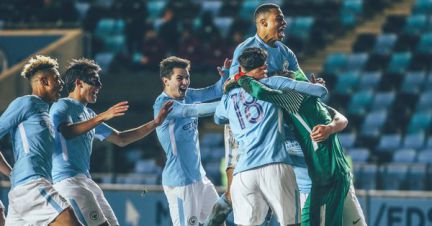 Manchester United: Fojtíček, O'Connor, Warren, Williams (C), Chong, Hamilton, Bohui, Gomes, Barlow, Garner, Laird
We've got the line-ups already. Liverpool: Grabara, Williams, Lewis, Masterson, Johnston, Dixon-Bonner, Jones, Herbie Kane, Millar, Woodburn (C), Adekanye
Despite their senior teams being bitter, bitter, bitter rivals this is the first time these two youth sides have met in this competition. 
Good afternoon and welcome to our live coverage of the UEFA Youth League clash between eternal rivals Liverpool and Manchester United, live from Prenton Park, with kick-off at 16:00 (CEST).