Real Madrid go third in LaLiga with regulation win at Leganés
Cristiano was given a rest for this rearranged league fixture, Bale started on the bench. An early goal from the hosts was quickly cancelled out; a late Ramos penalty sealed the points. Cruz Azul vs America: Liga MX, live online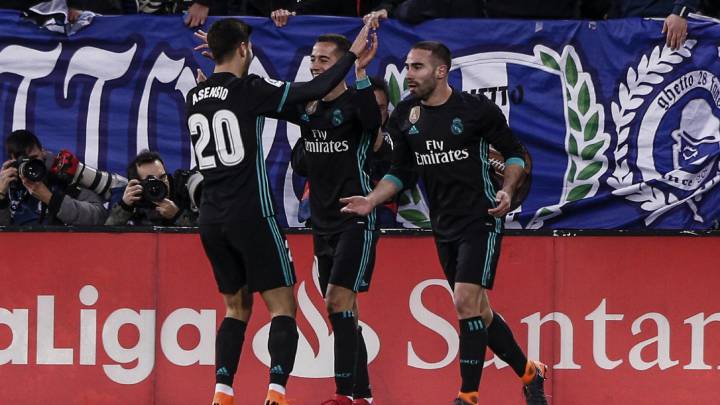 Leganés vs Real Madrid: match report
Real Madrid came from behind to win 3-1 at neighbours Leganes on Wednesday, despite coach Zinedine Zidane resting Cristiano Ronaldo, as they climbed into third place in the Liga standings for the first time since Dec. 2.
Leganes defender Unai Bustinaza gave the home side the lead in the sixth minute by cashing in on some slack defending by Real, sliding in at the back post to knock the ball towards goal and then bundling in the rebound after poor goalkeeping from Kiko Casilla.
Spanish winger Lucas Vazquez pulled the champions back into the game five minutes later by latching on to a backheel by Casemiro and arrowing his finish into the far bottom corner.

Vazquez then returned the favour to Brazilian midfielder Casemiro, who finished off a slick passing move to give Real the lead in the 29th, while Real captain Sergio Ramos rounded off the scoring by converting a penalty in stoppage time.
Ronaldo missed his first league game since Sept. 20 as Zidane rotated his side. The Frenchman also rested first choice goalkeeper Keylor Navas and Gareth Bale while he was left without Toni Kroos, Marcelo and Luka Modric due to injury.
The game was originally scheduled for December, but had to be postponed due to Real's participation in the FIFA Club World Cup.
The win lifts Zidane's side above Valencia and into third in the standings on 48 points after 24 games, 14 behind leaders Barcelona and seven behind second-placed Atletico Madrid.
Leganés vs Real Madrid: how it happened
90'+2'   That's it from the Butarque. Real Madrid relatively comfortable winners in the end.
90'+2' Cabellos on for Kovacic.
90'+2'   That should be it for this one.
90' Ramos buries it.
90'   Ramos steps up to take it. He pulls rank on the rest of the team. 
89'   Kovacic wins the penalty. 
88'   Bale strikes and that's saved by the keeper. Bale a mile offside in the build-up.
87' Theo Hernandez wins the ball back and drives it forward but Leganes straight back down the field.
86'   Isco is replaced by Llorente.
85' Theo Hernandez dives in to stop Cuellar from clearing and he catches his foot, just about. Cuellar is booked for trying to get Theo in trouble.
84'   Cross comes in, headed by Bale into the path of Isco and it makes its way to Ramos. He crosses and Leganes concede the throw.
83'   Real Madrid win a corner.
83'   Bale down the left and he crosses deep to Isco. He takes it on his chest but can't get his strike away.
82'   Asensio tests Cuellar. He turns and drives it towards goal. Saved by the keeper!
81'   Asensio lucky to win a free in the middle of the field and Real Madrid get a breather from Leganes' assault.
80'   Ruben with a strike. Leganes really getting closer here. They are knocking on the door. Real Madrid refuse to answer just yet though...
79'   And the same against for Leganes. A lot of deja-vu in this game.
78'   Amrabat can't find a teammate and passes straight into enemy territory.
77'   Back and forth now. Neither side can get into the final third and keep the ball and both sides operating on the counter.
76' Benzema off for Bale.
75'   Real Madrid's Asensio called up offside.
72'   Ramos replaced by Amrabat.
71'   Benzema with a stepover and Asensio clips it towards him as Benzema continues the run but that's too close to Cuellar.
70'   Beauvue with a cross but he slips and that's straight to a Real Madrid defender.
68'   Replays show that Kovacic is very lucky not to concede a penalty. 
66'   Leganes looking for a penalty. They might have a case too. El Zhar moves into the box and looks to be tripped and the ref does have a look but decides against it.
65'   Another chance. Leganes really forcing the issue now. They've had a couple of close calls recently. Real Madrid head that corner away.
64'   So close to an equaliser. Ball comes in from the right from El Zhar and Beauvue sees his shot saved by Casilla. Point blank. That was a great stop to the keeper's credit.
62'   Casemiro fouled by Gabriel.
60'   Sting gone out of this game now. Leganes very cagey and Real Madrid comfortable with the way things are going.
59'   Bale, Ceballos and Llorente all warming up.
59'   Corner for Leganes. That free was swung to the back post and headed a Real Madrid defender.
56' Sergio Ramos booked. El Zhar was free down the right and Ramos grabbed him by the head and then El Zhar did the same to him but it's the lip that got him into the book. He had a go at the linesman and the ref isn't happy.
55'   Nice move by Leganes as Rico is set free down the left. He crosses low and Varane repels it.
55'   Real Madrid reasserting control here. 
54'   Real Madrid corner. Played short and it comes in before Real Madrid foul. 
52' First yellow of the card. Diego Rico gets it for running through Varane off the ball! unneccessary really.
51'   There was also a hint of handball but ref not in the giving mood.
49'   Benzema bundled over at the edge of the penalty area, or possibly inside, but no free or penalty. He gets up and has a look around but nothing doing.
48'   Vazquez crowded out of it and looked to have been fouled but no whistle and Real Madrid lose the ball. Leganes with control to start this half.
47'   Leganes have started this half quite well, like they finished the first and started it too. 
46'   Beauvue starts well but he's about a mile offside.
46'   We are back underway at Butarque.
45' Matovani and Perez are replacing Siovas and Gumbau.
We are back in the tunnels now as Real Madrid wait for the nod to go back on the field.
45'   That's it for the first half at the Butarque.
45'   Real Madrid doing a good job of keeping the ball now as the half expires.
44'   So, so close. Ball across the box by Carvajal and it nearly falls to Asensio but Leganes get it away. He was lining it up to bury it.
43'   Corner is cleared by Real Madrid and Asensio breaks but Leganes get bodies back and defend it well. They're back in possession. They've recovered well from that slump in the middle of the half. 
42'   Gabriel with a lovely ball to Rico on the right. He tries to drive a cross into the box but Carvajal is in his way. Corner.
41'   Another dangerous corner and Real Madrid survive this time.
40'   Carvajal recovers in time to take the ball off Eraso and concedes the corner.
39'   The Butarque urge their side forward and they get it into the box but it's cleard by Real Madrid.
38'   Mantovani warming up. 
37'   Beauvue caught by Varane as he backs into a header. Slightly awkward from Varane but nothing more.
37'   Casemiro ends up sending it towards goal and that's caught by Cuellar.
37'   Benzema with a couple of stepovers and a deep cross to nobody.
36'   Leganes will do well to keep this at 2-1 before the break. 
36'   Mix-up by cuellar and Tito as the right-back leaves it and it goes out for a throw. 
35'   Isco turned upside down thetre by Tito. Free for Real Madrid. They really are dominating now.
34'   Benzema involved again. He heads wide from a Vazquez cross. Benzema looks like a new man.
33'   isco with some fancy footwork but he shoots over the bar with a sea of blue and white in front of him.
32'   After Leganes' excellent start, they've wilted here as Real Madrid assert their dominance.
31'   Isco wins a corner for Real Madrid. 
29' GOAL! Casemiro slots it home. Benzema links with Casemiro and then back again, out to Vazquez and Casemiro slots it home.
29'   Ramos with a lovely ball to Benzema and he headers it to control it, plays it back to Theo and Real Madrid sustain the attack. Very well done by Benzema.
28'   Leganes incresingly pinned back here. Beauvue battles with Varane and it's out for a goal-kick.
27'   Benzema offside from a pass from Isco. He strayed offside. Nice break by Real Madrid but Benzema a little mindless there. 
25'   Asier Garitano very animated on the sideline. This side is so well drilled and he really loves to coach. 
24'   Cross comes in from Diego Rico and that goes wide from the left.
24'   El Zhar wins a throw after an unsuccessful Real Madrid counter.
22'   Sent towards goal and it comes back out, goes back in again and over the top. Wide.
21'   Casemiro with a foul on Beauvue and he's lucky not to get booked for that. He just stopped the quick free. 
21'   Theo looks for Isco with an ambitious pass.
20'   Benzema is fouled by Bustinza. Chance for Real Madrid to swing this one in.
19'   Asensio down that left halfspace again and he is causing problems. He sends a ball across the box but nobody waiting for it.
18'   Real Madrid have taken this game to Leganes now.
16'   Vazquez and Asensio link up really well before the latter makes a move into the penalty are and strikes but Cuellar gets down well to save. 
15'   El Zhar released down the right and cross. It's a nice cross too but too close to Casilla, who plucks it out of the sky.
13'   Beauvue takes it down and tries to strike but it's taken off his toe as he swings wildly with his right. Real Madrid counter but Leganes quite comfortable.
12'   He's slow getting up too. But he limps away and looks to be fine.
12'   Casemiro hits the deck but he's the one who fouled Gabriel. Ball was out of his reach and he put his leg in front of the Leganes captain's.
11'   Leganes don't know what went wrong there. Siovas clearance blocked and passed through to Vazquez, who makes no mistake.
11' Lucas Vazuez with the goal! He ties things up here after 11 minutes. 
10'   Corner for Real Madrid and Ramos gets a head to it.
9'   Theo tries to make amends by running into the middle of a bunch of Leganes players with the ball.
8'   Real Madrid slightly more awake now. Vazquez pulls it back to nobody but they press high and win it back. They're taking it to Leganes now.
7'   Theo Hernandez needed to put his foot through that but he didn't, he tapped it onto Leganes' head.
6'   GOAL! Leganes take the lead. Bustinza heads home as Casilla tries to save but can't.
5'   Beauvue wins a corner for Leganes.
5'   Long ball by Siovas and it's headed back into the path of Omar by Carvajal. Leganes in control early on here.
4'   Casemiro takes a shot from downtown and Cuellar gets behind it well.
4'   Again, Real Madrid nearly breached by pass is out of Beavue's reach again.
3'   Real Madrid cough up possession and Beavue nearly makes them pay but he loses out. 
3'   Cuellar with a clearance and that's out for a throw.
2'   Isco fouled but not before El Zhar takes off down the sideline. He caught Isco with a fist there. Ref brings play back.
1'   Isco drives forward and is fouled by Gabriel.
1'   We are underway as the sun shines on Butarque. 
Gabriel and Ramos up for the toss now. 
Leganés got their first ever win over Real Madrid in the Copa recently but they have never beaten them in the league. It's only been two attempts but they lost 2-4 and 3-0 in those games. They'll try to beat them tonight though with Real Madrid in a vulnerable situation.
Zidane's biggest number of changes was five this season and that was back in September. It's time tonight, as we have seen with five changes, for Zidane to return to his rotation-heavy policy and see what happens.
Ronaldo is off away on a mini-break as he is given a break by Zinedine Zidane.

A beautiful but slightly chilly night in Madrid tonight. There are definitely hints that Spring is around the corner.
Asensio is worth three. The player is the talk of the town after his cameo against PSG and his game against Real Betis.
Here's a closer look at th Gareth Bale being dropped to the bench by Real Madrid and the five changes made to the side that beat Real Betis.
The big news is Bale is out of the team. A sad state of affairs for the Welshman as he is not a part of Zidane's A or B team, it looks like. Deteriorating relationship there between himself and Zidane? It seems like it's not getting any better. 
Leganés XI: Cuellar; Tito, Bustinz, Siovas, Rico; Gabriel, Gumbau; El Zhar, Eraso, Omar; Beauvue.
Real Madrid XI: Casilla; Carvajal, Varane, Ramos Theo; Kovacic, Casemiro, Isco, Lucas V, Benzema, Asensio.
Hello and welcome to our live online coverage of Leganés vs Real Madrid in LaLiga with kick-off from the Butarque at 18:45 CEST.