Arsenal 0-3 Manchester City: match report
Pep Guardiola claimed his maiden English silverware as goals by Sergio Aguero, Vincent Kompany and David Silva gave his Manchester City side an easy 3-0 victory over Arsenal in the League Cup final on Sunday.
The first ever domestic final clash between the sides was a largely disappointing affair at a freezing Wembley Stadium but runaway Premier League leaders City had far too much for an Arsenal side who suffered a forgettable afternoon.
Aguero's 18th-minute goal gave City a halftime lead and Arsenal withered after the break as Kompany prodded in from close range after 58 minutes before Silva effectively ended the contest seven minutes later with a left-foot finish.
After a trophy-less first season in charge of City, Guardiola's career trophy haul as a manager now stands at 19, having won 11 with Barcelona and seven at Bayern Munich.
Arsenal have now lost a record six League Cup finals while City have won it three times in five years.
Arsenal vs Manchester City: as it happened
90'+3' GAME OVER! Arsenal go out with a whimper.
90'+3'   Danilo is offside.
90'+2'   Gary Nevilla has desrcibed Arsenal as "spineless and pathetic". Find it hard to disagree with him.
90'+1'   Wilshere feeds Bellerin on the break and that is a mile over and wide.
90'   Arsenal back to chasing shadows as time expires.
88' Phil Foden replaces Sergio Aguero.
88'   The atmosphere is very flat at Wembley now and this one is over with.
87'   Kolasinac with a cross and Otamendi covers and clears. Corner for Arsenal though.
85'   Jesus stood over the free and Wilshere kick it off him before pushing him. All very unneccessary.
84'   Wilshere and Jesus getting into a bit of a scrap. The only fight Arsenal have shown all game.
82'   Poor tackle from Walker on Xhaka and he actually injures himself in the clash.
81'   Lovely ball from Auba into Iwobi but Bravo saves with his feet.
81'   De Bruyne and Jesus break but the Belgian's pass into the box is intercepted.
81' Kompany booked for a bit of a lunhe on Iwobi.
80'   Wenger on the sideline looking like he's about to spontaneously combust.
79'   Arsenal fans streaming out of Wembley to beat the traffic...in a Cup final...what has gone wrong at that club!
78'   Aubameyang chases down a long ball but again it's too far ahead of him. This is pitiful from Arsenal.
77' Jesus replaces Sane.
77'   Gabriel Jesus getting his final instructions from Pep Guardiola as he is ready to come on.
75'   xhaka gets a yard outside the box and shoots. Over the bar.
73' Iwobi replaces Ramsey.
72'   Aubameyang asked to chase a pass in behind but that's way too strong. Walker sees it out over the endline.
71'   City sitting back. They might score a couple on the counter still. Arsenal trying to break them down.
70'   Sane bearing down on goal. He gets goalside of Mustafi but Ospina is quick off his line and grabs the ball.
68'   Attendance today is 85,671.
68'   Walker with a pass out of play. Arsenal with a chance to maybe do something.
67'   This has been fairly pitiful from Arsenal. 
66' Welbeck replaces Chambers.
65'   Game, set and match.
65' David Silva gets in on the act. City sustain the attack and he drives a shot into the bottom corner. Ospina never getting to that.
64'   Sane leaves Bellerin on his arse with a lovely dummy. Clips it towards goal and it's cleared away.
64'   City managing the game well now. Arsenal still chasing shadows.
63'   Ozil makes Ramsey work really hard with a simple pass across to him. 
61'   They never showed up for the second half at all! 
60'   Arsenal sleepwalking through this final. 
58'   From the corner and Gundogan strikes but it's well wide before Kompany directs it back towards goal.
58'   Kompany with a goal. Look what it means to the chap! He is absolutely delighted. 2-0. 
57'   De Bruyne with a free just outside the box. Slightly to the left but nice for a right-footer. Hits the wall.
56'   Arsenal fans urging their side on. They need something.
55'   Claudio Bravo comes out and swings a kick at fresh air. Aubameyang fouls him as he battles to win it ahead of him. Calamity from Bravo.
54'   Arsenal struggling to create anything here.
54'   Sane tripped by Bellerin. Quick free and the German wins a corner.
52' Silva replaces Fernandinho. Not a like for like substitution obviously so interesting to see how City adjust. Guardiola with plenty of instructions for the Portuguese coming on.
51'   Bernardo Silva is coming on too. 
51'   Fernandinho can't continue as he grabs his hamstring - the universal time that his game is finished. Guardiola getting John Stones off the bench.
49'   Arsenal can't get the ball out of their half. Ball goes back and forth across the penalty area and City still in possession.
48'   Good period of pressure from Man City but that comes to an end with a goalkick as Silva runs the ball over the line.
48'   Kompany goes so close. Another corner. Danilo crossed and Sane headed it down into his path before the captain drove a shot towards goal. Inches to the wrong side of the post.
47'   Ball across the box from De Bruyne and it's out for a corner. Otamendi reached for it but Arsenal scramble it behind.
46'   No changes for either side.
46'   Back underway at Wembley. 
Plenty of debate around the Aguero goal too and whether it was a foul. Plenty saying it could have gone either way but most saying Mustafi at fault for stopping. Very naive from the central defender and very cunning from the striker as he leaned into him.
45'+2'   Arsenal were good until the goal and then they wilted.
45'+2'   First half over. Aguero limps off. Looks okay but one to keep an eye on.
45'+2'   Wilshere falls again and wants a free but he slipped. City on the attack now. 
45'+1'   Lobbed in by De Bruyne and there's a few City bodies on the ground and in the area. No penalty and it drifts wide.
45'   Foul by Xhaka on De Bruyne. One last chance for City.
45'   Into the last minute here. 
42'   Fernandinho lucky not to be booked? But Wilshere is straight back up. Looking for a second yellow for the Brazilian.
42'   Wilshere looks really hurt. Fernandinho catches him. 
39'   Aguero looks to have run himself into a corner but he clips it over Ospina and half-cleared into De Bruyne's path. He drives a shot into the side netting.
38'   Sloppy few minutes now. A lot of frees for Arsenal in fairly docile positions. This one too far out to shoot but too close to really whip it in. 
37'   Ball comes in at the back post but Mustafi was offside.
37' First yellow for City. Fernandinho fouls Wilshere.
36'   Kompany uses his guile to nudge Aubameyang in the back slightly and win the ball back as the striker drives into the box.
35'   Kolasinac watching the Six Nations yesterday with that challenge on Walker. He barged straight into him and took him down. Walker played for it and now De Bruyne will whip it in.
34'   City controlling this one now. That goal took the sting out of Arsenal's challenge. 
32' Ramsey with a really high foot towards Silva's head. Yellow for the Arsenal midfielder and no real argument there.
31'   Aubameyang does a similar job on Otamendi as Aguero did on Mustafi with a little lean into his back. He plays it to Wilshere and he shoots on the volley but that's well over the bar.
31'   Gundogan flicks one towards Kompany and he heads it just over the bar.
31'   Sane takes on Bellerin down the left and he gets a yard and drives it towards the six-yard box. Blocked and out for a corner by Chambers.
29'   Xhaka fouls Gundogan as he shields the body well with his body. 
27'   Arsenal back in possession now and trying to hurt City. No luck on that front yet.
26' Monreal's back won't allow him to continue. Kolasinac replaces him.
26'   Gundogan and Wilshere go into battle. Wilshere wins this one as the German fouls him.
24' Bellerin fouls De Bruyne on the break as City go long again. De Bruyne had him turned and was heading for the ball. Correct decision and little argument from Bellerin.
23'   Shot does come in from Ramsey, low and hard, but Bravo down to gather it.
23'   Slightly too far out to shoot, perhaps.
23'   Wilshere fouled by Aguero and that will be a free this time.
22'   such poor defending from Mustafi. In a Cup final, stopping and looking for a free as the last line of defense.
20'   It looked like Aguero was offside to start and then he pushed Mustafi in the back as he reversed. Mustafi stopped looking for a free but referee didn't see it.
19' Aguero! GOAL! Just like that, Aguero pops a shot over Ospina, who was rushing off his line and that's 1-0.
18'   Ball comes in from the right off Ozil's left foot and it's too deep for Mustafi at the back post.
18'   City struggling to get to grips with Arsenal now but the Gunners not really had any chances at goal. Monreal took a knock and is currently trying to run it off. Looks like his back that's bothering him.
16'   Ramsey fouled as he played Bellerin through.
15'   Arsenal bossing possession now. That's brought to an end by Mustafi, who tries to set Bellerin free but there's too much pace on the ball.
14'   Arsenal with a free now after winning it on the break. Sent in and back out again. Ospina on the ball now.
13'   Mistake by City and Monreal gets a touch on a loose ball. He says he was fouled in the box but Kompany barely grazed him.
12' Arsenal with way more possession now and while they're not threatening, they've subdued City for now.
10'   Dreadful corner by Xhaka. All the way out for a throw.
9'   Kompany slides in to give Arsenal a corner as Ramsey moves towards the endline. Xhaka to take.
8'   How did he miss?!?!?! Aubameyang put through by Ozil. He looked offside but he still missed. Wilshere with the run that broke it all open for Arsenal.
7'   De Bruyne with a delicate touch, turn and cross but it's too close to Ospina.
7'   De Bruyne looks for Walker moving forward. He can't find him but City keep it and Aguero gets it, runs into the box, shoots and it goes wide. Dangerous from the Argentine but he ran himself into trouble.
6'   Kyle Walker taken out of it by Monreal as he drives forward. Obstruction, it will go down as. Looked sore for the right-back.
5'   De Bruyne fouls Wilshere after Arsenal win it back. 
4'   Impressive start from City in possession. Arsenal chasing shadows so far.
3'   Aubameyang puts Otamendi under pressure and nearly wins it but the Argentine gets it back to Claudio Bravo.
3'   Sane shot and it's blocked for another corner.
2'   Silva to take. He lofts it into the box and Fernandinho lands awkwardly. It comes back in from the other side and he's up again.
2'   Up the other end and Sane wins Man City a corner.
2'   Jack Wilshere involved as he looks to prove Roy Keane wrong. The Irishman said Wilshere is the most overrated player on the planet recently.
1'   An early attack be Arsenal snuffed out by City and they win a throw.
1'   We are underway at wonderful Wembley.
Very close to action now. All the formalities over now and we have handshakes in the middle for the coin toss.
    And players meeting dignitaries now on the red carpt; a lot of them, which is also typical of Cup finals.
Some impressive display in the middle of the field. Not entirely sure what they say but they're colourful and wavy, which is all that matters really.
Plyers in the tunnels now and ready to be led out by their managers -- typical of Cup finals. 
Manchester City's hopes of a quadruple slashed by Wigan recently but they could win their first trophy of the year today and can then be guaranteed of Europa League football at the very least!!!
Many of the Manchester City supporters will be wearing yellow ribbons. This is partly in support of Catalan independence, but mainly in support of Pep Guardiola, who has been charged by the FA for wearing a ribbon, as it allegedly constituted 'a political message'.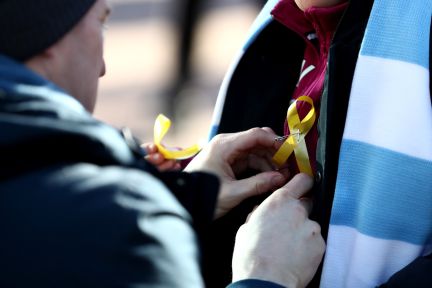 Keep on scrolling down for the team news from Wembley. The headline news is that both managers have picked their back-up goalkeepers, although the gulf between Cech and Ospina is probably not as profound as that between Ederson and Bravo. In terms of tactics, Wenger has opted for a three-man defence to quell the City attack. 
Hello and welcome to the final of the Carabao Cup/EFL Cup/League Cup between Arsenal and Manchester City. It's taking place under the arch at Wembley. 
Arsenal vs Manchester City live: preview
Arsene Wenger has never won the League Cup in his 21-year reign over Arsenal. Victory against Manchester City beneath the Wembley arch would represent the timely introduction of silverware to the cabinet at the Emirates Stadium, as The Gunners languish in sixth place in the Premier League.
Will Grigg and Wigan Athletic dumped City out of the FA Cup last week, and Guardiola will be keen to mane amends in his first final as manager of the club.
Arsenal team news
Wenger will retain faith in his cup-'keeper David Ospina. Henrikh Mkhitaryan is cup-tied after featuring in the competition for Manchester United, while Alexandre Lacazette is carrying a knee injury.
The absence of Mohamed Elneny is a surprise, with Arsenal lacking a true defensive midfielder. That may explain why Wenger has opted for a three-man defence with Bellerin and Monreal operating as wing-backs.
Arsenal XI: Ospina; Mustafi, Koscielny, Chambers; Bellerin, Xhaka, Wilshere, Monreal; Ramsey, Özil; Aubameyang.
Manchester City team news
Danilo slots in at left-back in the absence of the injured Benjamin Mendy and the suspended Fabian Delph.
Like Wenger, Guardiola will also play his designated cup-'keeper - the increasingly questionable Claudio Bravo.
Manchester City XI: Bravo; Walker, Kompany, Otamendi, Danilo; Fernandinho, Silva, Gundögan, De Bruyne, Sane, Agüero.
Arsenal vs Manchester City live stream online: odds and betting
Do you fancy the match to go beyond 90 minutes? Arsenal are priced at 26/1 to win after extra time.