Espanyol 1-0 Real Madrid LaLiga Santander: match report
A late Gerard Moreno strike stunned Real Madrid at the RCDE Stadium on Tuesday night as Zidane's side get a crash landing from their recent good form. USA vs Mexico: FIFA Friendly live online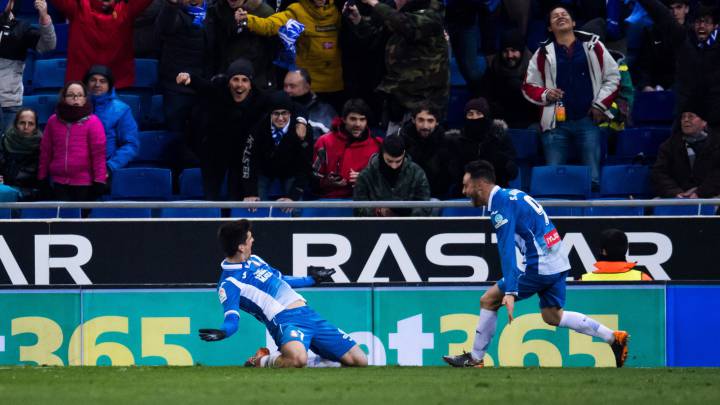 Espanyol 1-0 Real Madrid: match report
Real Madrid rested Cristiano Ronaldo and suffered a fifth Liga defeat of the season as Espanyol's Gerard Moreno struck late for a 1-0 win over the Spanish and European champions on Tuesday.
Catalan forward Moreno wasted a number of chances but his last-minute volley took a wicked deflection off defender Raphael Varane to secure Espanyol's first victory over Real in 11 years.
Real coach Zinedine Zidane rested Ronaldo ahead of next week's visit to Paris St-Germain in the Champions League and, a promising opening spell aside, his side were second best.
Real stay third on 51 points from 26 games, seven behind second-placed Atletico Madrid, who host Leganes on Wednesday, and 14 adrift of pacesetters Barcelona who play on Thursday.
Espanyol's Moreno had wasted a gilt-edged chance in the first half when he pounced on a wayward Varane clearance before seeing an effort incorrectly ruled out by the linesman's flag.
After the break Oscar Duarte clipped the bar before Moreno's last minute strike secured a victory that took Espanyol up to 13th place with 31 points after their first win in eight games.
Espanyol vs Real Madrid live stream online: as it happened
90'+3' Real Madrid don't have time to respond. Game over!
90'+3'   Varane caught standing there in a poor position. Navas beaten. Real Madrid beaten.
90'+3'   What a finish. 
90'+3'   Gerard Moreno with the goal. 
90'+2'   A free for Espanyol as Ramos fouls.
90'+2'   Three minutes of added time. Can Real Madrid find a winner?!
90'+1'   90'+1'   Ball into the box and Benzema chests it into Asesnio's path. His cross is turned behind for a corner.
90'+1'   Achraf cross is blocked out by Espanyol. Real Madrid are pushing out the boat now.
90'   Sergio Garcia on the break. He tries to lob Navas but not enough velocity or height on the ball.
88'   Gerard Moreno with a strike from his left after some sloppy defending on the left and he just misses. That was close but needed more bend on it.
86'   Lucas lost the ball and Baptistao nearly makes him and Real Madrid pay but he wins it back and drives the ball off the striker and out for a goal-kick.
85'   This game has been really poor. Espanyol trying their best to win it but Real Madrid out of sorts.
84'   Sent into the box from Granero and Varane heads away.
83'   Varane looks to have pushed Baptistao in the back. Free for Espanyol down the left.
81' Bale replaced by Ceballos.
79' Piatti replaced by Leo Baptistao.
78'   Sergio Garcia with a strike and that takes a deflection. He wants a corner but no. Really unlucky.
78'   Ball comes in from the right and Moreno forces a save out of Navas. Not at full stretch but not far off.
76'   Offside. So close from Espanyol. Shot from Darder and Garcia sneaks in from behind Ramos and the Real Madrid captain takes him out of it. He was onside too.
75'   Sergio Garcia with a strike off his right from outside the box. No chance of beating Navas from there.
74'   Camped out in Espanyol's half now but nothing doing here. They need a spark.
74'  Real Madrid increasingly dominant.
71'   Ramos almost leaves Navas short at the back. Closed down and clears just in time though.
69' Victor Sanchez replaces Esteban Granero.
69' Isco comes off for Benzema.
68'   Llorente strikes over the bar. Poor effort from outside the box.
67'   Another chance for Bale. He doesn't know too much about it and he flicks it towards goal but that's not going to beat Lopez.
66'   Ball lands at Bale's feet from a cross from Nacho. He strikes but too many white and blue jerseys in his way.
65'   Real Madrid starting to gain control of this one again but no chances really yet.
64'   Real Madrid on the counter now and it lands to Bale on his left outside the box. He slams it over the bar.
63'   Gerard Moreno hits the ground from a Darder cross. Looked like he was pulled back but that was run of the mill stuff and he gets straight back up.
61'   Achraf bundles Piatti over on the break. Lucky not to be booked.
59'   Kovacic with a promising strike but Diego Lopez is equal to it.
58'   Isco with a cross after Lucas Vazquez wins the ball back high up the field and feeds him on the right.
57'   Cross from Asensio and Diego Lopez grabs that one.
56'   Lucas Vazauez gives the ball away and then fouls as he tries to win it back.
55'   Isco fouled and Real Madrid look for a way through.
53'   Benzema and Ceballos warming up. Zidane ready to make a move.
53'   Shot from victor Sanchez from outside the box. Navas gets his body behind that.
52'   Achraf wins it back and moves forward, showing off his speed. He drives a shot towards goal but Diego Lopez is completely comfortable with that.
51'   Varane turned inside out by Darder before Llorente arrives to cover.
50'   Bale runs the ball out over the endline after getting it from Asensio. Been a poor game for Real Madrid, who are actually fading in this one. Zidane surely considering changes now?!
49'   Moreno hits the top of the crossbar from a header at the front post.
49'   Headed out at the front post for another corner.
48'   Corner Espanyol.
48'   Sergio Garcia drives a shot towards Navas from a really tight angle. 
48'   Sergio Garcia battles and wins the ball off Kovacic after just losing it. Hints of a foul, for sure, but the referee says it was a foul in the end by the Real Madrid man.
47'   Lacklustre start from Real Madrid.
47'   Lucas coughs up possession and he is very lucky that Gerard Moreno is offside. 
46'   Back underway at a very chilly RCDE! 
45'   Half-time. No goals at RCDE.
44'   Espanyol looking to make something before the break.
43'   Lovely flick by Asensio into the path of Isco and he shoots but that's comfortable for Diego Lopez.
42'   Isco with a chance at a free with no Ronaldo. Over the bar.
42' 42' But he says yes to a foul on Isco outside the box. Quite clear.
42'   Bale drives a shot in from the left and they want a hand ball on the block. Ref says no.
42'   Similar tones to that of Alaves when Ronaldo struck just before the break.
41'   Espanyol growing in confidence.
41'   Real Madrid started well in this one but have faded slightly.
40'   Espanyol with a break and that's cut out again as Sergio Garcia's pass is off target.
39'   Isco fouled on the break and no card. A tag team as Piatti crashes into him after Darder clipped him.
38'   Aaron and Espanyol with more from their most recent attack down the left. They win a corner as Achraf blocks it out over the line.
37' Bale booked for a foul on Sergi Darder. Kick to the ankle for his troubles.
37'   Espanyol attack down the left and that's out for a goal-kick as the ball in behind is far too strong. Achraf happy to walk that one out.
36'   Bale cross it turned away and Real Madrid win a throw.
35'   Bale down the left, he pulls it back to Isco and he lays it off to Llorente. He drives it well wide.
33'   Asensio looks for Nacho with a cross-field ball and it goes behind him and out for a throw.
32'   Ramos with a long, searching ball over the top and that's to nobody! 
31'   He looked to just just a smidgeon on the wrong side of the line.
31'   Gerard Morano with the ball in the back of the net but he's offside.
29'   Piatti tripped up on the break by Achraf and ref plays on before he is pushed in the back and complains to the ref. He is lucky he's not booked and Espanyol get the free.
28'   Espanyol mess up and gift Real Madrid a chance but Bale can't find anyone with his cross into the box and Espanyol scramble it away.
27'   Cross comes in from Isco.
26'   Carlos Sanchez with a header back towards Gerard Moreno and he's one-on-one but Navas saves it and turns it around the post. Looks like a corner but ref says no.
25'   Break on. Real Madrid snuff it out.
23'   Isco with a foul on Sergio Garcia. He puts his hand up and acknowledges that he was slightly late.
22'   Real Madrid with a nice spell of possession.
21'   Great ball in behind by Varane to set Achraf free. Corner for Real Madrid.
20'   Then Nacho fouls Gerard Moreno.
20'   Long ball to Asensio and he takes it down nicely with the outside of his foot. He loses it when options ahead of him don't seem to develop.
19'   Aaron with a cross and it nearly falls to Piatti and he strikes on the volley at the front post but that goes well over the bar.
18'   Sergio Garcia wins a throw off Varane.
17'   Nacho foul as Espanyol try to counter.
17'   Asensio wins another corner as he gets in front of Lopez and crosses but it's blocked.
16'   Asensio turned upside down on the counter.
16'   Espanyol threaten. Cross in from the left and it nearly falls to Sergio Garcia but he loses out.
14'   So close. Varane heads wide from the corner.
14'   Isco cross and it hits an Espanyol knee before almost catching Diego Lopez out. Corner as he flicks it over the bar.
12'   Navarro drives forward and Nacho sees the ball out over the endline. Hint of a free but good defending from Nacho.
11'   Nacho goes long looking for Asensio but it's cut out by Espanyol and they start an attack. Soaking pressure up well so far but will want to get forward more often.
10'   Asensio down the right and makes his way down the endline but he runs it out for a goal-kick.
9'   Really risky from Real Madrid. Ramos to Navas under pressure and then onto Varane under more pressure and onto Llorente, who is fouled.
8'   Carlos Sanchez down hurt for the hosts. Not a good sign for Sanchez Flores, who was just saying before the game that they needed to be strong in the middle.
7'   Isco to Achraf and he crosses. Header by Bale and Lopez saves. Great chance.
6'   Isco flicks one into the box towards Lucas. His cross is deflected out for a corner and onto the roof of the net.
5'   Espanyol back on the ball. Looking for a way through before Navarro gives it away. Espanyol press and win it again before Ramos, dangerously, passes it back to Navas and he clears.
4'   Achraf dispossessed on the right. Espanyol recover and get their first chance with the ball, which they duly mess up. Real Madrid back on the break.
3'   Long ball by Varane towards Bale but that's cut out.
2'   Some early action as Ramos is fouled. Ref steps in to calm things down.
1' We are underway at the RCDE Stadium.
Real Madrid in their away strip for the trip. Espanyol in their classic blue and white.
We are ready for action here at Estadi Cornellà-El Prat as the teams emerge out onto the field.
  2nd time all season, the trio have started together. They started together in a 2-2 draw with Valencia and a 3-1 win over Real Sociedad.
Isco, Bale and Asensio starting tonight as the trio get a very rare start together.
    Interesting too that Theo Hernandez is rested tonight. Maybe, Zidane is testing out Nacho on the left in case Marcelo isn't back in time for PSG. Theo has been decent as Marcelo's deputy but not entirely convinced that Zidane trusts him just yet for a big game.
Real Madrid kept clean sheets in 16 of those games.
Real Madrid have gone undefeated in 22 against Espanyol.
Before the gameweek kicks off, why don't you have a look over our predictions. Away win is the prediction from AS' Oracle on this one...
Speaking before the game, Quique Sanchez Flores says "Real Madrid are a team that touch the ball and run a lot. We need to be physical in the centre of the field."
Espanyol haven't won against Real Madrid in LaLiga in a decade! Back in 2007-08, they won 2-1 and in 2012-13 there was a 1-1 draw but other than that, it has all been very bad news for the home side tonight.
Real Madrid have scord 27 goals in their last six games and are unbeaten in that spell. They have scored 7, 4, 2, 5, 5, 4 in those games.
Casemiro was a late drop-out from the squad and Carvajal is rested too. A strange XI for Zidane as he rolls with a very untested XI collectively.
Real Madrid XI: Navas, Achraf, Varane, Ramos, Nacho, Kovacic, Llorente, Isco, Lucas, Bale, Asensio
Real Madrid will have to do without Ronaldo tonight as Zinedine Zidane has decided it's time to start resting the Portuguese. He was rested for Leganes last week too as Bale and Asensio have a chance to build a connection possibly?

Diego Lopez, Victor Sanchez, Duarte, David Lopez, Navarro, Aaron, Carlos Sanchez, Garcia, Piatti, Darder, Gerard Moreno.
Espanyol XI is in: 

Hello and welcome to our live stream coverage of Espanyol vs Real Madrid from RCDE Stadium. Kick-off is at 20:00 and we will be bringing you team news, updates and a little analysis sprinkled with interesting stats of the encounter right here!