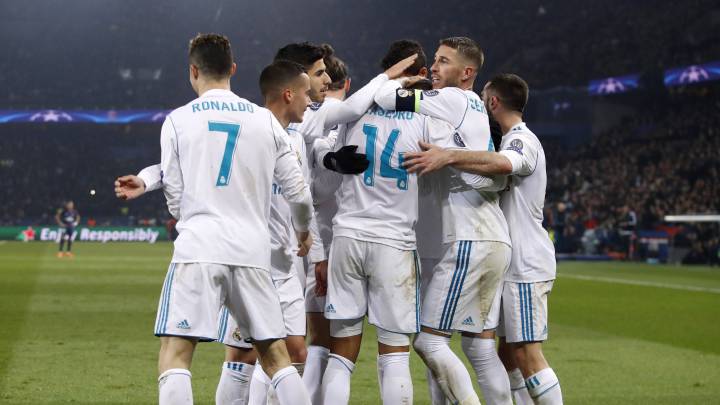 PSG 1-2 Real Madrid: match report
Holders Real Madrid cruised into the Champions League quarter-finals with Cristiano Ronaldo's second-half goal helping them to a 2-1 victory at Paris St Germain on Tuesday as the 12-time European champions went through 5-2 on aggregate.
Ronaldo headed home seven minutes into the second half and Casemiro added a second 10 minutes from time against a toothless PSG, who were without their injured talisman Neymar and had Marco Verratti sent off for a second booking in the 66th minute.
Ronaldo scored for the ninth Champions League game in a row, matching Ruud van Nistelrooy's record in the competition, before PSG striker Edinson Cavani equalised with 19 minutes left, only for Casemiro to give Real victory at the Parc des Princes.
Zinedine Zidane's side, who are 15 points adrift of arch-rivals Barcelona in La Liga but aiming for their third straight Champions League crown, were solid throughout as the home side rarely threatened and fully deserved their win.
PSG vs Real Madrid: as it happened
90'+4'   Real Madrid do the business. It's over in Paris and Real Madrid are through to the quarter-finals.
90'+3'   They said this was the kind of game that could have been a final. Thankfully it's not.
90'+1'   Cavani with a ball in the box but he falls over. Casemiro there to win it off him after the tackle.
90'   Isco with a lovely strike and Areola turns it around the post.
88'   Real Madrid on the attack again. 
87'   Vazquez down the right now and he drives wide. 
87'   Cavani loses out and PSG are finished.
86' Yellow for Cavani as he catches Casemiro on the shin. Nasty one.
85' Mbappe off for Lass.
84'   Ronaldo hits the post now. The other one this time. Just wide.
83'   Bale cuts back for Vazquez and he hits the post.
82'   Real Madrid fans enjoying themselves. Kroos has an effort just before that sub. Curls it over.
82'   He takes his time coming off too.
82' Isco coming on now for Asensio.
80'   GOAL! Casemiro with a goal. It takes a wicked deflection. Ronaldo broke and played it to Vazquez but Rabiot half-cleared and Casemiro strikes off Alves and it loops over Areola.
79'   Poor from PSG. They win it in a nice position and stop, turn back and then go on the counter. 
78'   Pastore was the man he fouled.
78' Kroos all over Cavani and he won't let him by. Ramos with a foul and a booking in the end.
76' Bale on for Benzema.
76' Draxler comes on for Di Maria.
74'   Benzema through on goal and misses. What a miss that is with Ronaldo in support. Just kicked it out of play.
73'   PSG applying pressure now. Rabiot picked off by Asensio and Real Madrid break. They slow it down though.
71' Kovacic taken off for Kroos.
71'   GOAL! Pastore gets slightly lucky and ball hits Casemiro and then Cavani and it beats Navas.
70'   Cavani in a nice position but really poor touch lets him down and Navas clears. 
69'   Asensio hits the post. So close to two. Ball in from the left.
68'   Pastore with a lovely through ball to Cavani and Carvajal does an excellent job of stepping out. Caught offside.
67'   At a time when PSG need leaders, they have players stopping and complaining to the ref. That's surely it now?
67'   That's just ridiculous.
66' Verratti sent off now for dissent. He wanted a free, didn't get it and gets sent off.
65'   Pastore wanted a handball and just stopped running and looked at the referee.
63'   Carvajal with a bullet of a cross and it's blocked out.
62'   Rabiot bulldozes through Marcelo and concedes the free. Real Madrid with a nice spell of possession now. No leadership in PSG's side and nobody willing to take the game on his shoulders.
61'   Real Madrid looking dangerous on the break now.
61'   Ball in from the left and Cavani nearly gets a foot to it but Navas saves.
60'   Di Maria hits the ground outside the box and referee waves it away. A dive for sure as he left his leg in there. 
59' Pastore replaces Motta.
58'   Cavani with a volley off a Mbappe kick in the air. It's deflected out for a corner.
58'   Rnaldo falls in the penalty area and referee tells him to get up. No foul there.
57'   Asensio down the left and crosses but it's cut out and Alves breaks. Can PSG figure out anything here? 
57'   Corner headed away.
56'   Corner for PSG.
56'   Benzema out to Ronaldo and PSG win it back eventually.
55'   PSG trying their best to get a goal. Alves offside after Verratti drives into the box.
54'   Mbappe offside after getting in on the right hand side.
52' Alves taken on by Asensio and he plays a lovely ball to Vazquez. He crosses and Ronaldo headers home. What a finish. PSG all of a sudden need three.
51'   PSG going all out in this half, it seems. 
51'   Kovacic on a yellow and he fouls Alves again. He needs to be careful now.
50'   Marcelo with a good cross and Ronaldo heads wide with a diving header.
50'   Cavani lays it off for Motta. He shoots from outside the box but that's a mile over the bar.
49'   We are back underway. Corner comes in and headed just wide.
48'   PSG had started the half well. Momentum might be gone now.
48'   Referee stops the fans with their flares. He stops the game as there is too much smoke on the field.
48'   They attack down the left then and win a corner. Di Maria to take.
47'   PSG applying more pressure now and they win it back Alves' cross is blocked.
46'   We are back underway in Paris. 45 minutes to save their season for PSG.
Players back on the field! Let's see if PSG can muster a response.
Plenty to chew on there. PSG struggling massively with any sort of coherent gameplan. They have been unable to link with Cavani up front and he is cutting a very frustrated figure.
45'+1'   PSG and Real Madrid half-time. 0-0 and going just like Zinedine Zidane will have hoped.
45'+1'   Cavani frustrated as he fouls Casemiro. He goes over the player and has a shout at him. Really not happy.
44'   It's getting heated now. Carvajal slides into Silva and no free and then Marquinhos jumps into the air with Vazquez and concedes a free. PSG fans not happy.
42'   Shot from Mbappe. He springs the offside trap and strikes. Navas saves. He had Cavani inside but went alone.
41'   Di Maria crosses and it nearly falls to Navas. Cavani has a kick at the keeper as he grabs the ball. He'll argue that he was going for the ball but he had no chance of getting to that.
39'   Corner. Real Madrid growing now as the first half continues. Lucas gets it on the right. Carvajal drives a shot towards goal after it's headed out to him.
38'   Benzema through on goal. Alves with the mistake as he stretched for the ball. He shoots and Areola saves into the side netting.
37'   Lucas corner. Ramos heads wide and fouls Verratti in the process.
36'   Real Madrid on the attack again and Thiago Silva urges his attackers to track back. He clears in the end as Vazquez sends one towards goal.
35'   Real Madrid win another corner. Asensio to Marcelo and back. He sends it in and PSG just about get it award before Asensio is ruled out for offside.
34'   Mbappe breaks free and plays it to Di Maria. He beats Marcelo and Cavani nowhere to be seen in the box as it's played in.
34'   Cavani really not happy with that decision.
33'   Di Maria will fancy swinging this one in. He sends Alves away and curls it in himself. Headed up in the air and Cavani fouls Casemiro.
32' Di Maria drives forward and Kovacic slides in. Yellow card for the Croatian for the late tackle.
32'   Ronaldo tries to go by Alves and the Brazlian gets in his way. No free, Ronaldo not happy and PSG have a goalkick.
31'   Real Madrid far more composed so far. PSG trying to figure out how to break them down but they're really not up to anything at all.
30'   Di Maria and Ramos in a race and the Argentine wins it, crosses but Ramos recovers and deflects it up into the gloves of Keylor Navas.
29'   Kovacic with another interception and Ronaldo ends up getting it but his cross is blocked. Throw.
28'   Mbappe and Yuri link up but Real Madrid defending very staunchly. Swung in by Mbappe eventually to the back post and wide.
27'   Kovacic with a nice run forward now and the pass to Ronaldo is miscontrolled and the attack breaks down.
26'   Real Madrid head away from the middle of the penalty area and they break. PSG win it back and start their own attack.
25'   Di Maria with the free but that's deflected up and out for a corner. Di Maria goes to take that too.
25'   Mbappe fouled by Casemiro.
24'   Foul by Vazquez on Rabiot as PSG try to break.
23'   Di Maria chopped down, it looks like, by Kovacic. Referee says play away. 
23'   Casemiro wins a throw as Rabiot runs down the left.
22'   Benzema looks for Marcelo in behind but way, way, way too much on that pass. 
20' Verratti in the book for a tackle on Casemiro. He might have talked himself into the book actually as he goes over Casemiro and tells him to get up.
19'   Then PSG break but that attack comes to an end too. They've gotten nothing going up front so far.
18'   Areola with a nice save from Ramos and Varane can't put the rebound on target. Wide! Real Madrid putting PSG under pressure there.
17'   Ronaldo wants a penalty. He was tripped in the box by Alves. Benzema skies it over anyway and Real Madrid won a corner. 
16'   Ronaldo with a kick on Alves. he didn't catch him but he is a very lucky chap.
15'   PSG with a decent attack. Mbappe tries a pull-back but it is blokced by Ramos and ricochets back up off Mbappe.
15'   Alves with a high, deep cross. Chested down by Carvajal, and Cavani almost sneaks in.
14'   Carvajal and di Maria having a right battle down PSG's left. Carvajal prevails again. Real Madrid on the break.
13'   All the way to the back post for Ronaldo. Real Madrid keep it. Comes in again and PSG clear. Alves fouled by Lucas Vazquez.
12'   Asensio with a long ball towards Ronaldo, who plays it to Benzema. He wins a corner now. fairly quick transition from Real Madrid. 
11'   Di Maria wins a corner. He has tried a few crosses now and each of them blocked. At least he gets a corner out of this one.
10'   Dangerous attack from PSG is stopped by Carvajal when he steps in front of Di Maria. Then the right-back seems to foul Mbappe but ref waves play on.
9'  He didn't think the ball was going to land to him and it hit his heel.
9'   Corner Real Madrid and Lucas whips it in. Headed out and Marcelo messes it up before giving away a throw.
8'   Benzema drops deep, wins it and plays it wide for Lucas. He wins a corner.
8'   Dani Alves puts his head down and tries to run forward but Marcelo stops him and Real Madrid win it back. Ronaldo cross is blocked.
7'   Real Madrid eventually get it away. Headed clear a couple of times before Ronaldo breaks clear and fouls Yuri in a footrace.
6'   PSG play it out from the back. D Maria looks for Cavani. Headed out but PSG back on the ball. 
5'   Di Maria with a throughball on the break for Yuri. Ramos shoulders him out of the way! Feisty.
4'   Di Maria wins a throw. 
4'   Fairly subdued start here. PSG with all of the ball. 
3'   PSG on the ball now. Long ball towards Cavani is cut out by Varane. 
2'   Verratti fouls Casemiro? Or maybe it was Rabiot? Looked fairly tame in fairness.
2'   Di Maria down the right and he is stopped by Marcelo. Throw for Real Madrid in the end.
1'   Cavani ruled out for offside early on. Really smoky on the field. Benzema offside now too.
1'   We are underway! 
Minute's silence for Davide Astori. Not very silence though, it has to be said.
Imagine what an early PSG goal would do?!
What an atmosphere! PSG did warn that the Parc des Princes would be boiling tonight. Seems to be just that. PSG fans in fine voice.
Antero Henrique was keen to stress the need for a referee "with an exceptional level" tonight. Brych is one of the best in the business.
We are ready. Teams head onto the field led by Felix Brych.
Hugs in the tunnale now. Navas and Ronaldo embrace. Ramos with a greeting for Thiago Silva.
The warm-ups are done and we are ready for actions. Debating who will win and I have abstained from voting because I don't have a clue! Rarely have I ever been so confused going into a game. 
Ronaldo has never scored as many goals in as few games to start the year. He has 14 in 10 and is improving slowly but surely...

So, Zinedine Zidane has set out his stall by picking a side that has speed on the wings after saying that Real Madrid will have to suffer tonight. It seems that PSG will dominate much of possession and Real Madrid will work on the counter. 
Real Madrid fans in Parc des Princes and ready for action. 

33% of the teams that lost 3-1 in the first leg have progressed to the next round, which is 4 out of 12, including 3 of the last 4.
Yuri Berchiche's wikipedia is incredible. 

  Casemiro has never been eliminated from the Champions League with Real Madrid. Three attempts and three trophies.
PSG starting XI: Areola; Alves, T.Silva, Marquinhos, Yuri; Motta, Verratti, Rabiot; Mbappé, Cavani, Di María.
Real Madrid team news: Keylor; Carvajal, Varane, Sergio Ramos, Marcelo; Casemiro, Kovacic, Asensio; Lucas, Cristiano, Benzema.
Hello and welcome to our live feed online here for PSG and Real Madrid from the Parc des Princes. The two sides are playing for their season effectively and Real Madrid are in the driving seat. Kick-off in Paris is 20:45 CET and we will have plenty of updates in the build-up and throughout the game!