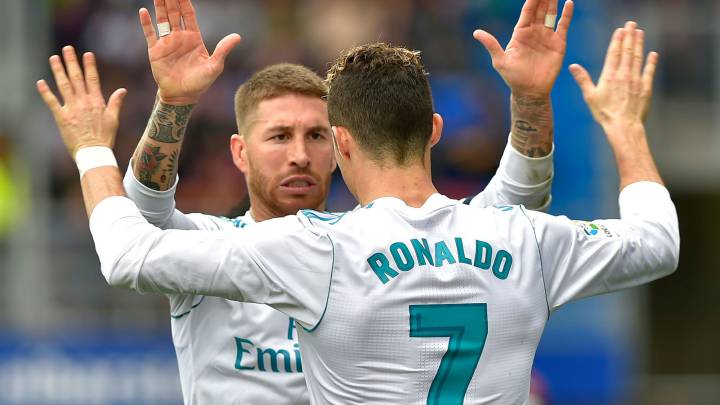 Cristiano Ronaldo struck late with a bullet header to give Real Madrid a 2-1 win at Eibar in La Liga on Saturday, taking his side to within four points of second-placed Atletico Madrid.
Ronaldo scored for the seventh successive game in all competitions by blasting into the net in the 34th minute after chesting down a long ball by Luka Modric, but eighth-placed Eibar pegged the champions back when Ivan Ramis outjumped Sergio Ramos to head home from a corner in the 50th.
Ronaldo was denied by an inspired save by Eibar's Marko Dmitrovic, who clawed away the Portuguese's header following a cross from Gareth Bale.
The irrepressible striker had the final say, however, meeting a cross from Dani Carvajal in the area and powering the ball beyond the Serbian goalkeeper in the 84th minute, scoring a 13th goal in his last seven games in all competitions.
Ronaldo has roared back from a feeble start to the season, when he scored just once in his first eight league games, to reach 18 goals in the campaign. His double against Eibar allowed him to move into the top three scorers in the league, trailing Luis Suarez and Lionel Messi on 24 and 20 respectively.
"He's from another galaxy," said Real coach Zinedine Zidane of Ronaldo. "He knows he's going to score, he's unique and special. His stats speak for him. And he's our player. He's always positive and if he scores twice, he wants to score a third."
Eibar 1-2 Real Madrid: as it happened
92'+3' GAME OVER! Real Madrid survive.
92'+3'   Pedro Leon with a really neat move to get free down the right. Cross is too deep and Real Madrid looked to have seen off the challenge. Just seconds left.
92'   Eibar trying but they're just not clinical enough.
92'   Two minutes of added time.
89'   Navas makes another save.
87' Escalante replaced by Kouli Diop.
87' Inui replaced by Charles.
87'   Eibar had the better of the chances but Real Madrid more clinical.
84' RONALDO GOAL! Dani Carvajal with a lovely cross onto the head of Ronaldo. 
84'   Lucas fouled by Pedro Leon on the break. Real Madrid looking for a winner. Less than ten left to find it.
83'   Real Madrid really struggling here.
82'   Eibar with a corner. 
80'   Eibar have a three on two. Kike Garcia gets it and his first touch is dreadful. Still gets his shot away but that's not troubling Navas.
79'   Ball in from the left now and headed just out by Eibar. Eibar counter.
78'   Oliviera with an acrobatic effort. Does well to get it on target and Navas saves.
78'   Corner for Eibar now. Pedro Leon wins it off Casemiro.
76'   Cross comes in from the left. Headed into Inui's path but he heads a mile over the bar. Awkward one for him to control.
74'   Accidental from the keeper, it looks like.
74'   Navas out and he slides to clear a ball with Kike providing pressure. Really sore one and very high from Navas.
71' Kroos and Isco off. Benzema and Vazquez on.
70'   Real Madrid counter falls to pieces. They're just off the mark with more passes today than usual.
69'   Nacho bulldozes Kike out of the way with the ball in the air. Lucky not to get a yellow. 
67'   Ronaldo gets a lucky break. It hits his back and straight into his path as he turns. Cuts inside and shoots with his left. Blocked and Bale picks it up but he's offside.
66' Ramis quite clearly can't continue. It's his right leg. Oliveira replaces him.
65'   Inui sends a cross in. Ramos heads away. Slightly more sloppy from both sides now. Real Madrid probably tipping it in terms of quality and they've had the better chances too.
62'   Bale headers wide.
62'   What a save! Ronaldo through again with a lovely pass to Ronaldo. Saved by Dmitrovic. World class save.
60'   Eibar try to counter and the ball is sent out to Capa but he can't control it and it's out for a throw. 
58'   Real Madrid want a penalty for a handball but that's waved away by the ref. Modric seemed to kick it into Jose Angel's arm.
57' Kroos pulled back by Dani Garcia. Yellow card.
56'   Modric moves into the box. Strikes and just misses. So close.
56'   Lucas Vazquez warming up for Real Madrid.
55'   Injury for Eibar as Escalante is on the ground.
54'   Modric to Ronaldo, who finds Carvajal. His cross finds its way to Modric and he lays off for Ronaldo. A snap shot from Ronaldo and that's well over the bar. Would have been a lovely goal if Ronaldo could apply the finish.
53'   Real Madrid need a response.
50' GOAL! Ramis with the goal. Free header from the corner.
50'   Escalante with a cross that turns into a shot. Might have been creeping into the top corner. Corner in the end as Navas put it over the bar. 
49'   Casemiro with an ambitious pass to Marcelo but that's out for a throw.
47'   Ramos and Pedro Leon battling and Ramos penalised. 
46'   We are back underway at Ipurua. No changes for either side, is looks like.
Ronaldo has scored in his last 17 games in a row too. Incredible.
45'+1' Ramos booked as he walks in for half-time. He's not happy with the tackle from Isco, it looks like.
45'+1'   HALF-TIME! Real Madrid lead through a Cristiano Ronaldo goal.
45'+1'   One minute of added time. Ramos with another headed clearance.
44'   Ronaldo finds Bale. He can't turn towards goal but passes to Casemiro. he chips one towards Ronaldo but that's cleared by Eibar.
44'   Modric with a lovely run into the box. Curls one but it's straight to Dmitrovic. 
43'   Corner. 
43'   What a save. Lovely ball into Ronaldo from Marcelo. Takes a nick and Dmitrovic gets a strong hand to it. What a save! 
42'   Inui takes it down lovely on the left. He brings it inside and drives a cross into the area. Navas saves.
41'   Ronaldo with a cross-field pass. Kroos seems to leave it for Bale but he leaves it too. Throw.
40'   Ramos contests but he can't get anthing on that.
40'   Corner headed out and another one. Headed out the other side for third corner in a row. Isco to take.
39'   Replays show he didn't get the ball. 
39'   Ramis down now. Ronaldo on the right, breaks free, and chips one into Isco's path. Late tackle by Isco, although he looked to get the ball. Corner.
38'   Kike Garcia battling for the ball in the area and Ipurua thinks he was obstructued trying to get the ball. Casemiro clears. Real Madrid working on the break now.
37'   Cross into the box headed back towards sideline by Inui. Eibar pick it up again.
36'   Dani Garcia chases Casemiro down and fouls him. He says there was an elbow from the Brazilian but ref having none of it.
35'   Eibar look for a way through. Cross in to the back post and Marcelo clears for a corner.
34'   Ronaldo! GOAL! He breaks clears and strikes beyond Dmitrovic.
32'   Bale denied by Dmitrovic. Then the rebound nearly falls for Ronaldo and he gathers it cleanly this time. Nice chance for Real Madrid.
31' Bale booked  for a really high foot on Escalante. The Eibar player gets some of Bale's studs on his shin as he clears the ball.
30'   Pedro Leon whips it in. Jordan gets a free header after Ronaldo lost him. Goalkick though as he can't get it on target.
29'   Carvajal puts Pedro Leon under pressure and nudges him in the back. Free for Eibar on the right and a dangerous position.
28'   Kroos with a free now and he sends it towards goal. 
27'   Nacho coming on for Real Madrid.
27'   Jordan fouls Marcelo and Real Madrid get the chance to build an attack. They've struggled more recently. 
26'   Eibar counter after a poor touch from Carvajal. Cross comes in but headed away.
26'   Dmitrovic a long way from home now and clears with Bale trying to get to the ball first. The keeper clears.
24'   Bale with a nice cross into the box and it falls to Isco but his shot is blocked.
22'   Replays show he handled the ball but the ref obviously didn't see it.
22'   Casemiro fouled just outside the box, he thinks, and reaches out to grab the ball! No handball given though?!?!
21'   Like a battlefield now after that corner. Kike and Varane clashed heads and remain on the ground. Both teams' physios out to help them out.
20'   Nice move from Eibar. Inui backheel into the path of Kike Garcia and he curls it and forces a save from Keylor Navas. Corner.
19'   Marcelo picks it up and moces forward. 1-2 with Bale and then feeds Kroos. Eibar pick them off and break.
18'   A ball lands in behind Real Madrid's back line. Pedro Leon chases it but Navas out and heads to his right. He was just outside his area. Lucky he didn't grab that!
17'   Long ball in search of Bale again and that's too long. 
16'   Lovely ball by Carvajal to Bale. Bale with an early cross but Ronaldo a good yard offside. 
16'   Carvajal jumps into Joan Jordan's back. Eibar back in possession. 
14'   Another cross in and that's chested down by Ramos to Marcelo. Capa giving Marcelo problems down the right hand side of the field.
13'   Pedro Leon and Ramos slide in. Corner for Eibar. Could have gone either way really.
12'   Isco gives the ball away again.
12'   Inui stopped by Modric down the left and Eibar win a throw. 
10'   Real Madrid starting to grow into this one but Eibar still with plenty of possession and confident on the ball.
10'   Isco takes a ball down in the middle but his ball in behind to Ronaldo is too long.
9'   Inui fighting with Carvajal for the ball. The defender wins it and Real Madrid break. Long ball from Modric but that's too hard for Bale. Goalkick.
8'   Varane launches it out for a throw. Hectic start to this one.
7'   Another cross and Bale can't head it towards goal this time.
6'   Ronaldo on the break. Real Madrid's first break. He crosses to Bale but two Eibar players converge and put it behind for a corner.
5'   Ramos might have hurt himself there as he battled with Kike at the front post.
5'   Inui wins the ball back high up the field and Inui plays it to Kike but his cross lets him down. They win it straight back and it comes across the goal and clear. 
5'   Inui cross but it's cleared to Isco. Real Madrid win a free. Eibar continue to put Real Madrid under pressure.
4'   Varane throws Kike to the ground as the battle in the air. Eibar free.
Eibar continue their good start. Corner for Pedro Leon. That drifts over everyon'e heads though and out for a goalkick.
2'   Some nervous moment for Real Madrid early on. Ball in from Capa and is falls to Inui before a poor touch from Ramos gifts it to Capa again. Strike comes in and Real Madrid survive again as it's headed over the bar.
1'   We are underway at Ipurua. 
19 degrees in the north of Spain's Eibar today. Rain has held off and it should do for the whole game! 
Teams in the tunnels and almost ready to go onto the field.
Kroos and Modric are back for Real Madrid and Benzema drops out for Bale and Asensio for Isco, or whatever way you want to look at it. Really strong team picked by Zidane.
A quick look at the table before the game today. Eibar dreaming of Europe. Real Madrid trying to catch Atlético in second.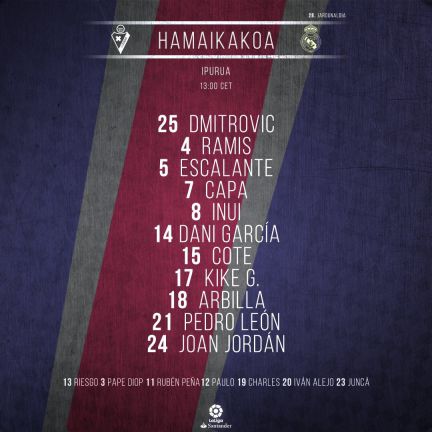 Pedro Leon has been was out for the first 24 games of the season but has played in Eibar's last three. A win, a draw and a loss against Celta, Villarreal and Depor respectively. 
Eibar XI: Dmitrovic, Cote, Ramis, Arbilla, Capa, Kike, Dani Garcia, Escalante, Inui, Pedro Leon, Joan Jordan.
Real Madrid XI: Navas, Marcelo, Ramos, Varane, Carvajal, Kroos, Casemiro, Modric, Isco, Cristiano, Bale
Here is a look at Real Madrid's squad for the day with Dani Ceballos looking like the odd man out at the moment. He doesn't make the squad again. 
Zidane has moved to hush rumours about Gareth Bale and in his press conference yesterday made sure to outline the importance of the Welshman to the squad.
Hello and welcome to our live online coverage of Eibar vs Real Madrid from Ipurua as Zidane tries to help bring his side's form in the Champions League back into LaLiga. Kick-off from the north at 13:00 CET.