CHAMPIONS LEAGUE
Manchester United 1-2 Sevilla Champions League: report
Two second half goals from Wissam Ben Yedder at Old Trafford means Manchester United have been knocked out of the Champions League by Sevilla. USA vs Mexico: FIFA Friendly live online

Manchester United 1-2 Sevilla: match report
Substitute Wissam Ben Yedder scored twice as Sevilla stunned Manchester United 2-1 in Tuesday's last 16, second leg at Old Trafford to advance to the quarter-finals of the Champions League.
Following a goalless first leg in Spain, Ben Yedder struck on 74 and 78 minutes in Manchester before Romelu Lukaku grabbed a consolation for Jose Mourinho's under-par side.
Manchester United 1-2 Sevilla: as it happened
90'+4' GAME OVER! Sevilla knock Manchester United out of the Champions League. What a performance from Sevilla.
90'+4'   Pogba with a ball into Martial but it's won by Sevilla.
90'+3' Rashford fouls Mercado and gets booked. Just a little push in the back but slowed him down enough and it was a foul. Sevilla delighted it will take another few seconds off the clock.
90'+3'   De Gea launches one forward. 
90'+2'   Smalling with a header. Wide.
90'+2'   Ben Yedder for a hat-trick. He is one-on-one and De Gea saves it.
90'   What a game. Mourinho complaining. 
90'   4 minutes.
90' Sarabia booked now. He threw the ball away when he conceded a throw.
89' Correa replaced by Geis.
88' Correa throws himself into a silly challenge with Bailly and gets booked.
87'   El Mudo Vazquez replaced by Pizarro.
87'   Alexis with a cross onto the head of Rashford. He heads wide. Rico at full stretch but never threatened.
86'   Kjaer blocks a cross and Sergio Rico saves it. Martial got the touch onto the ball there. So, so close. United pushing on now. They still need two.
85'   Ball into Ben Yedder from the right. He hits it first time.
85'   Old Trafford trying to push their side on. They still need two.
84' GOAL! Lukaku with the finish. Corner comes in and he buries it.
82'   Lukaku puts it over as Mata crosses into the box.
82'   Lenglet heads wide. De Gea rooted to the spot.
81'   Correa with a stepover and he strikes. De Gea into the path of Ben Yedder but he hits it off the defender. Corner. Sevilla ripping United to shreds on the break.
80'   Ball in at the back post. Smalling throws himself at it.
78'   Ben Yedder with the goal. He headed towards goal. De Gea kept it out but it went in behind the line. Weird, weird goal! Game over? United need three.
78' GOAL! Sevilla go 2-0 up.
77' Mata and Martial coming on for Valencia and Lingard. Let's see what they can do.
77'   Sevilla on the break again. 
76'   Mercado takes Rashford out of it and doesn't get booked. Probably deserved one there.
74'  GOAL! Ben Yedder gives Sevilla the lead! He strikes past De Gea. Sarabia feeds it to him and he buries it. United need two goals.
73'   Ben Yedder replaces Muriel.
72'   Pogba ends up shooting from way out but that's wide.
71'   Rashford down the left as Old Trafford starts to get very, vert antsy. Cleared by Sevilla and they attack but then United attack! No chances but really exciting.
71'   Correa down the left and it's flicked towards Vazquez. He sends it acorss goal and De Gea gathers.
70'   Foul by Mercado on Rashford. He got the back of Rashford's ankle.
68'   Sarabia sends that one in and it's wide. Nobody even close to it.
68'   Smalling fouls Sarabia. Chance for Sevilla now to whip one in. They've no advantage in height and a serious disadvantage actually so these often don't work out that well for them.
67'   Rashford with a free. Drives it over.
66'   Pogba gives the ball away. Sevilla back in posession. They try to work their way out from the back but can't. United break now. Rashford fouled by Mercado.
64'   Sevilla win it back. They've acquitted themselves well tonight regardless of the score.
62'   Sanchez with a terrible pass to Pogba but United keep it. 
61'   Lukaku holds off Lenglet and he gets a shot away. Blocked by the defender for a corner.
59' Pogba replaces Fellaini.
59'   Pogba ready to come on. A proper slobberknocker here.
58'   Vazquez is lucky that Fellaini skied that shot! Waited and the Belgian took the ball off him.
57'   Sevilla break. They work a nice chance. Sarabia with a lovely ball into the box towards Muriel and Bailly does well to force him to hit it wide.
57'   Sanchez finds Rashford again and he stumbles before getting the ball to Sanchez. He drives a shot towards goal but it's blocked.
56'   Muriel too isolated when he gets the ball in the box. Easily dispossessed that time. United break and Lukaku crosses and Rico grabs it.
55'   Rashford has a chance to take on Escudero but his cross looking for Lukaka is way off target.
54'   Smalling gives the ball away and Sevilla attack. Ball comes across to Mercado on the right and he can't control it.
53'   Correa with a lovely run into the box. He strikes but that dribbles by De Gea's post.
52'   Rashford now with a chance and he absoluely fires it across goal. Nobody to get on the end of it.
52'   Lukaku feeds Lingard and Sergio Rico gets down to save it.
51'   Pogba, Martial and McTominay are all warming up for United.
50'   Referee gives a free again N'zonzi for a tackle on Sanchez.
49'   Bailly again with a block on Correa. Sevilla playing the better football to start the second half.
48'   Correa is through on goal! Rashford races back before Bailly gets a tackle in. What a chance that was.
46'   Sanchez just touched it into his path.
46'   Lingard with a chance but he's stopped by Kjaer.
46'   We are back underway at Old Trafford.
45'   HALF-TIME! No goals yet.
45'   N'Zonzi with a shot from miles out. And it goes up into the top row!
44'   Muriel tries to find Correa in behind after he overlaps. Valencia clears.
43'   Rashford finds Lingard. He races clear and crosses but it's blocked.
42'   Better from United as they push forward a little bit more.
42'   Lingard kicks Escudero and no free. 
42'   Fellaini shot is stopped by Banega and United want a penalty. No way.
41'   Getting as feisty as anything out there. Bodies lying all over the place.
40'   Sanchez wants a foul now as he tries to break into enemy area. No free.
39'  Rashford down the left but he's offside even if it takes the referee about 10 seconds to blow his whistle.
38'   Corner bobbles around in the box but is cleared.
38'   SAVE from Rico. Fellaini looked to push Banega out of the way and he moves into the box. Drives a shot towards the keeper but he stands up well to it.
36'  Fellaini and Lenglet get tangled up thanks to Fellaini's arms. Lenglet pushes him over.
36'   Alexis with a cross. That's straight to Sergio Rico.
35'   Banega gets a shot off and it goes well wide. United look afraif of their lives.
34'   Muriel chance. Another save by De Gea.
33'   Ball into the back post and Fellaini heads back.
32'   Sevilla being pushed back a little bit more now.
31'   Rashford with a lovely move but loses out eventually and Sevilla win a throw.
30'  Ball into the box and Correa wins it and takes off before he is foule by Fellaini.
29'   Ball into the box and Lukaku tries to control it but he can't and Lenglet gets a toe on it.
28'   Sarabia coughs up possession and then Sanchez does. Poor quality so far from both sides.
28'   Sarabia with a pass into the path of Muriel. He strikes just wide of the post. Close but, again De Gea had that covered.
26'   Ball into the penalty area. correa steps over it but it rolls past Muriel. De Gea collects with ease.
25'   Alexis sends a ball into the box but it's headed out for a corner by Escudero. Rashford rushes over to take it. Old Trafford applauds.
24'   United put their foot on the accelerator here but nothing doing yet. Lukaku has started really well but far too deep to affect anything. Sanchez struggling to find a pass.
23'   Valencia goes through the back of Correa and he wins the free. 
22'   Another Sevilla attack breaks down. Throw for United.
21'   Lukaku fends of a couple of challenges and plays it to Rashford down the right. He does a stepover or three and crosses. Headed way.
21'   N'zonzi and Banega playing really well so far.
19'   De Gea gathers a cross.
18'   Vazquez with a very tame pass out wide and Young picks it up. 
17'   Young pulls back Sarabia and Sevilla win a free.
16'   Muriel gets it from Banega after a United move breaks down. Ends with a Vazquez shot that goes a mile over the bar.
15'   A few full-blooded tackles flying in now. Sevilla still looking the brighter here.
14'   Vazquez dives in on Fellaini and gives away a free.
13'   Bailly gives it away and Correa turns and opens it out for Muriel. His strike is a mile over the bar.
13'   Sevilla break but Banega and N'Zonzi slow it down. Played through to Correa and he shoots but Bailly blocks it.
12'   Sevilla putting United under increasing pressure not but no shots on target.
12'   Correa gets a kick in the ribs from Bailly but he got the ball. Vazquez follows it up with a shot that goes out for a throw - yes, that bad.
12'   Lenglet plays it forward to Correa. Valencia gets a foot on it. Throw.
11'   Rashford gets his body across Escudero and the defender goes down. Referee waves it away fairly theatrically. No chance of a free.
10'   Correa with the header from the corner. Matic ducked as he headed it. Just over although De Gea had it covered.
9'   Sevilla corner.
8'   Smalling does well to cut out a pass through to Muriel but gives it away and Sevilla lose it again as Young wins it back.
7'   Lukaku in his own half, takes the ball down and wins a throw. Sevilla having trouble with him.
6'   Rashford with the free. Takes a deflection and Rico avoids the corner. Really well done the keeper.
6' Some South American aggression there. Banega fouls Sanchez and gets himself a booking.
5'   United with all the ball early on. Lingard sent down the left. He clips one towards Lukaku and he strikes but Sevilla survive.
5'   Muriel gets the ball on the sideline but it's out for a throw.
4'   Nice move again from United. Lukaku touches it into the path of Sanchez and he passes to Rashford but his shot is blocked.
3'   Lingard moves forward and Kjaer dives in but Lingard's touch takes it out for a throw.
1'  Vazquez looks for Muriel in behind but United cut it out and counter. Lukaku bulldozes Kjaer out of the way and plays a nice one-two with Sanchez before driving the ball wide. Lovely move from United all from Lukaku.
1'  We are underway at Old Trafford. 
Good interview in The Guardian with Sergio Rico, who will likely go to the World Cup with Spain along with David de Gea this summer.
Rico and Valencia up for the toss.
    Anthem time is done. 
Teams in the tunnel and emerge to the din of a packed Old Trafford.
The theatre of Dreams the location tonight! Mourinho masterminded a Europa League win for United this year. He won in Europe as an underdog when at Inter and Porto, can he win United a Champions League when nobody expects them to?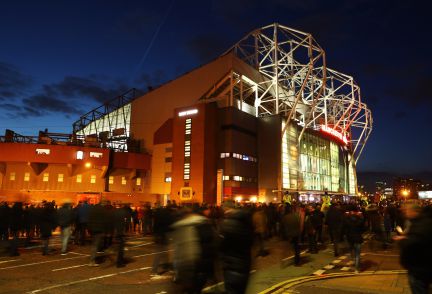 To be fair, Fellaini did say he was going to surprise us with his next haircut. He has gone above and beyond to do just that!
A cpuple of really interesting battles will be Sarabia vs Young and Valencia vs Correa. Correa has two assists and a goal in his five Champions League games this season. Sarabia not as goos stats-wise in the CL but is their joint top scorer. If they can provide a couple of chances for Muriel, he has to take them!
Really important that Manchester United press Sevilla high up the field tonight. With the likes of Mercado there and Sevilla's slow build-up, Alexis Sancehz and the likes could really cause problems with their speed. If they sit back and let Sevilla build-up slowly, they might beat United but not if United pile pressure on them, like we saw with Atletico when they beat them 5-1 recently.
Sevilla emerge onto the field. Atmosphere building at Old Trafford!
This man will be right-back tonight. He has played there seventeen times this season according to WhoScored.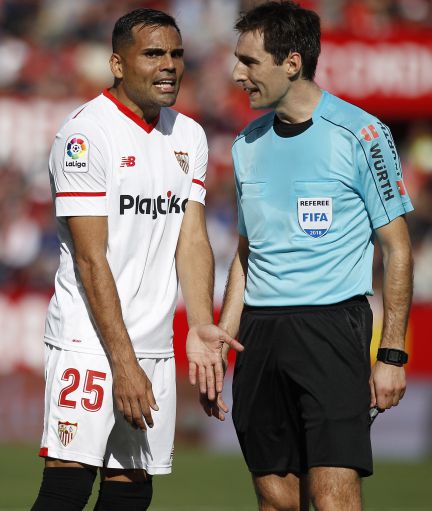 Banega has been excellent this season for Sevilla. If they are to have even a modicum of control tonight, he will have to be at his best. 
Meanwhile, Montella picks Mercado as a right-back. He has none with injuries to Jesus Navas and Corchia. Let's see how he does against Rashford.
Pogba doesn't make it in the end but given the Liverpool result, not entirely sure if that's a bad thing for United. 
Sevilla XI: Rico; Mercado, Kjaer, Lenglet, Escudero; N'Zonzi, Banega; Sarabia, Vazquez, Correa; Muriel
Manchester United XI: De Gea, Valencia, Bailly, Smalling, Young, Matic, Fellaini, Lingard, Sanchez, Rashford, Lukaku.
Follow all the action live from Old Trafford, as Manchester United welcome Sevilla in the UEFA Champions League last 16 second leg with kick-off at 20:45 CET.