BARCELONA - CHELSEA
Chelsea denied penalty as Piqué challenges Alonso in area
Chelsea were two goals down as their wing-back Alonso broke into the Barça penalty box, and as he was about to pull the trigger, instead went down under pressure.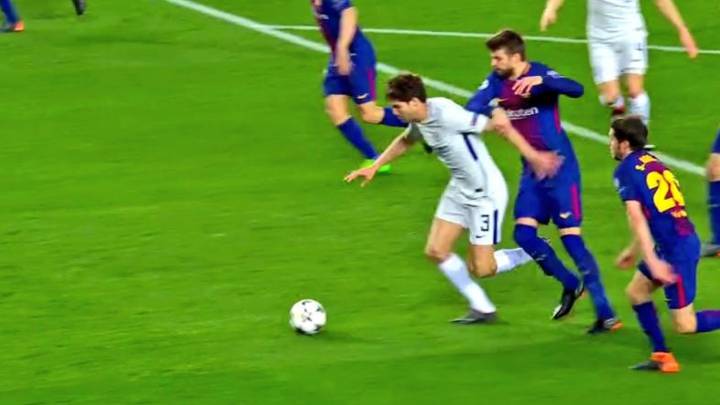 A Champions League knockout tie between Barcelona and Chelsea was always likely to produce some controversy, and early into the second half at the Camp Nou it came.
Piqué hand on Alonso
Chelsea were two goals down as the game neared the 50th minute and a neat ball from Willian put Marcos Alonso free, running into the centre of the Barça penalty area. Before he can get a shot off he goes down, but claims for a penalty are quickly waved away by the referee, much to the anger of Giroud who is booked for his protests.
Speaking on Spanish TV show Carrusel Deportivo during the live game, resident AS referee Eduardo Iturralde was clear about his views:
"Marcos Alonso had Piqué on his left and it is he [Alonso] who tries to get tangled in Piqué's legs. It's nothing, there is no penalty."
Despite those views, there are many others who have a different opinion on the incident, one that could have proved decisive in what ended up being a relatively comfortable 3-0 victory for the hosts. Barcelona join compatriots Real Madrid and Sevilla in Friday's draw for the quarter finals.