UEFA YOUTH LEAGUE
Real Madrid 2-4 Chelsea match report: UEFA Youth League
10-man Chelsea held on in the drenching rain at the Di Stéfano stadium to dump Real Madrid out of the Uefa Youth League.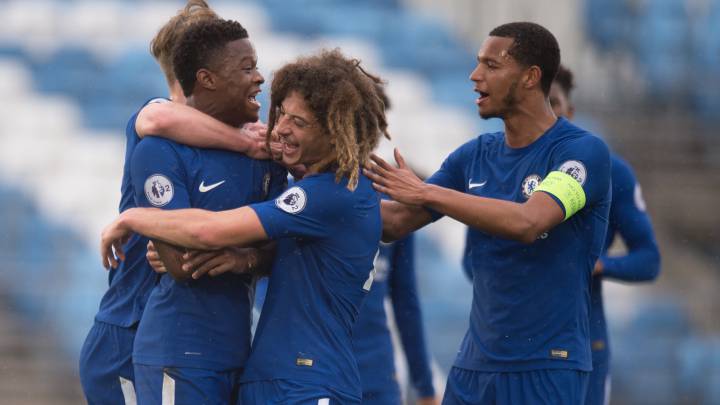 Real Madrid 2-4 Chelsea
Under leaden Spanish skies, which by the end of the match had opened in an authentic cloudburst, Guti's Real Madrid side came up short against the Kings of the Youth League, Chelsea, who have already won two of the four editions held. Madrid will feel they should have forced extra-time, playing against 10 men for 20 minutes, needing just one goal, but despite having several chances, they spurned them all. And, desperately trying to get the equaliser at the death, they were caught unawares at the back to make the scoreline even more flattering for the visitors, when keeper Moha tried to jink his way past Scottish lad St.Clair, who neatly picked his pocket and walked the ball over the line.
It had all started so brightly for Real Madrid when Óscar stroked a pearler of a free-kick home to give the home side the lead in the 6th minute. Watch him, he's probably the finest young striker of a dead ball in Europe right now, with pace and accuracy on almost every free-kick he hits.
But Chelsea were level soon after, the physically imposing Redan winning a ferocious tussle on the edge of the box before feeding McCormick, who slotted home neatly. And luck was on Chelsea's side five minutes later, when Redan threw himself at a cross and bundled the ball home with his arm, with the referee, unsighted, deciding it must have come off his chest. 1-2 for Chelsea and Real Madrid's composure beginning to come undone at the injustice of the goal.
Chelsea landed another hammer blow on Madrid right on the half-time whistle when Redan met a cross with a wonderfully deft touch to send the ball out of Moha's reach and into the corner.
In the second half Guti brought on Ismael and he pulled a goal back for the home side after 13 minutes on the pitch, following in intelligently to a screamer from Baeza Pérez which came back off the crossbar allowing him to nod home. 2-3 and Real Madrid now clearly felt they could push on to get the leveller, a belief that grew when Maddox, trying to dance his way through the midfield, lost the ball and in his frustration went in late and nasty on Alberto's ankle. Straight red card.
But Real Madrid failed to capitalise and the final goal of the game was a sucker-punch from Chelsea who go on to face Porto in the semi-final.
Real Madrid vs Chelsea live stream: how it happened
90'+4' GAME OVER!
90'+4' That is a massive mistake from Moya. He slips coming out with the ball and St. Clair scores. He quite literally walks it into the net.
90'+4'   Gelabert loses out. Is that it for Real Madrid?
90'+3'   St. Clair with a chance but Moya saves fromt point blank range. Real Madrid survive and they're on the counter.
90'+3'   Real Madrid all over them. Cumming gathers a cross low at the front post.
90'+2' Alberto wins a throw. Cumming punches away.
90'+1'   Isma couldn't have been any more free at the back post. Heads into Cumming's hands. What a chance. That was it?
90'+1'   Corner for Real Madrid.
90'   Alberto can't keep a cross-field ball under control. Way to high for him.
89'   They're camped out in Chelsea's half but no real chances.
89'   Cleared again. Real Madrid strugging to make a proper chance here.
88'   Real Madrid running out of time. 
84'   Oscar shoots and it takes a deflection. It actually takes the sting out of the shot and it's easy for Cumming. Real Madrid continue to push for that equaliser.
82'   Isma so close to drawing level! Cumming palms it away. What a chance that was. That was a brilliant, instinctive save.
81'   Grant heads clear over Isma. Corner.
81'   St. Clair offside as Chelsea push forward.
80' Ampadu is carried off the field. McEachran replaces him.
80'   Oscar strikes and that's just over the bar.
79'   Nervy times for Chelsea. Another corner as it's almost turned into the net by a blue jersey. Corner comes in and Chelsea clear.
77'   Ampadu and Cesar collide. Real Madrid win a corner.
75'   Close that time. Baeza with a chance. He arrives late into the box and pullback arrives too. Blocked and our for a corner.
74'   Sent into the box and Sterling gets a header on it but it's wide as Moya sees it off. Real Madrid ready for a late push here but nothing doing yet.
73'   Gallagher's first involvement is to be fouled by Moha.
72' Gallagher replaces Redan.
71'   Conditions are getting worse at Alfredo Di Stefano stadium. Can Chelsea weather the storm?
68' RED CARD! Maddox sent off for Chelsea. Right on Alberto's ankle. Nasty one.
65'   Isma and Ampadu gets entangled and Isma throws him to the ground. Ref steps in to calm things down.
64'   McCormick at the back post and he heads down into the ground and off the post and wide. Very close to being 4-2.
63' Martin is replaced by Moha.
62'   Free kick for Chelsea. St. Clair was offside but Maddoz pulled back.
61'   Cesar fouled by James.
59'  GOAL! Real Madrid respond! Baeza Perez absolutely rifles one off the underside of the crossbar and Isma follows in with a header. GOAL!
58'   Alberto links up with Isma and he gets squeezed out by two Chelsea defenders. He wants a penalty but just good defending really.
57'   St.Clair makes his way down the left. Perfect chance as his cross meets Sterling's head but he can't keep the header down. That was point blank range.
55'   Real Madrid with an effort. Cesar strikes from outside the box. Over. They've been reduced to too many of those shots today. A little more patience wouldn't go astray but having said that, running into trouble against Chelsea not a great idea either!
54'   Perez fouls Chalobah as he jumps in the air to win a header.
54'   Chelsea attack and Sterling crosses but it's wide.
52'   Strike from Alberto but that's dragged wide.
50'   Much better from Real Madrid. Down the right again and Alberto crosses. Isma nearly gets there but Chelsea recover.
49'   Real Madrid pushing now. Ball comes in from the left and Cumming palms it away. Into the path of Alberto and he sends it to the back post. Sterling chests that away.
48'   Isma out to Alberto but he can't control it. It rolls right under his studs. That's poor.
48'   Good effort but Cumming grabs that. Decent free-kick. Up and over the wall.
46'   Free for Real Madrid in a decent position for Oscar.
46' Chalobah throws himself into a tackle and gets himself booked.
46'   Back underway! Chelsea leading 3-1.
Isma coming on for Real Madrid. Should add some much needed directness and strength up front. He replaces Augusto Galvan.
45'+2'   That's it for the first half. Guti upset on the sideline. His side were in this game until that goal. That really hurts them.
45'+2' GOAL! Just at the end of the half. Redan makes no mistake whatsoever. Ball in from Hames and redan just turns it home. No hint of handball there. Just a lovely finish.
45'   Alberto gives the ball away as Chelsea recover. Two minutes of added time.
44'   Chelsea on the ball now. They look so assured on it. Trying to see it out until half-time but wouldn't say no to a chance! Sterling into Maddox and it makes its way down to St.Clair. He gets it to McCormick but his left-footed effort is tame.
43'   Ball in behind the back and Redan looks for St. Clair but Moha gathers that with little effort.
43'   Weather worsening in Valdebebas. 
41'   Ball across the box for Real Madrid and nobody can get anything on it. Martin with another effort and that's well wide. Alberto the one who supplied the cross again and Galvan the man waiting for it, almost.
40'   Ball out to Castillo but just a little to fast off that slick surface and he can't control it.
40'   Alberto with a lovely ball into the box but Chelsea deal with it again.
39'   Sterling is very unlucky not to win a penalty from the free. Garcia pulls his jersey in the penalty area quite clearly and referee doesn't give it.
38'   Chalobah gets to the ball before Chust swings a kick before the Chelsea player gets the ball first. Free. Chust already booked and needs to be careful now.
37'   Chalobah with another effort but his accuracy, not helped by the wind, sends it well wide. Goalkick.
37'   Chalobah looks for McCormick in behind but his little dinked pass even catches out his own teammate.
36'   Chust booked now though as he shoulder Redan. Quite clearly a foul. Yellow might have been slightly harsh but no real complaints.
34'   Alberto tripped up by Sterling as they collide. Shoulder to shoulder and the referee says no free.
32'   A couple of chances for Real Madrid. Alberto crosses and forces Cumming to punch it away. Then Martin strikes and it's blocked by a Chelsea defender's knee.
31'   Real Madrid trying to get back into this one and forcing the issue slightly more nw. Gelabert's little flick onto Lopez is off target though and Chelsea intervene.
30'   Alberto gets in behind and crosses but that's cleared by Chelsea.
29'   Quite a physical affair. Galvan just muscled out of it earlier too a sign that the English side far stronger.
29' Redan with a hand in the face of Martin. He gets booked too. Free for Real Madrid.
27'   St. Clair trips up Alex Martin as he tries to get in behind Real Madrid's defence.
24'   Ball rolls out over the endline as another Real Madrid attack ends in tame fashion.
24'   Garcia wins a throw for Real Madrid and might have hurt his ankle in the process.
21'   Real Madrid playing it around in the penalty area but aren't looking dangerous in attack. Chelsea, on the other hand, are looking lethal every time they attack. Another chance as James headers into Moha's gloves.
19'   The Hand of Redan! GOAL! He handled the ball into the net and Chelsea go 1-2 up.
19'   Chelsea win it back and counter. Redan runs onto it. Plays it back and then to St. Clair, who goes back again. Counter over but Chelsea back in control.
18'   Real Madrid in more possession now. 
16'   Cesar finds himself on the ground and no free. He handles the ball and brings it back under his control. Free! 
14' GOAL! Just when I say that, McCormick buries a shot past Moya. Redan plays it into his pass and that's a very nice finish.
14'   Game has gotten scrappier now as Chelsea try to get control of it but Real Madrid looking slightly more calm so far. 
13'   Cesar bulldozes Sterling in the back and gives away a free in Chelsea's penalty area. 
12'   Cesar fouled again as Maddox tries to receive a pass that wasn't meant for him. It was meant for him but it wasn't meant to be! He closed down Cesar but fouled him. 
11'   Chelsea win a throw and James takes.
10'   Galvan on the counter. Links with Garcia but the ball into the box bounces around for a second and goes over from Martin's shot.
9'   Chelsea on the march again. McCormick turned around and James loses it. It was his cross earlier that nearly connected with a teammate in the penalty area.
8'   Some slack passing from Real Madrid and Chelsea put them under pressure. Cross comes in and headed away. 
8'   Chalobah tries to poke one towards goal but that's easy for Moha.
5' GOAL! Oscar with the free-kick. What a goal in off the crossbar.
5'   Cesar hit in the back by and Real Madrid win a free. Grant the culprit that time. Sore one for Real Madrid's number 11!
4'   Martin chased down by St. Clair but he sees the ball out over the endline. Goalkick for the home side. Windy and blustery conditions here in Madrid today. Not ideal.
3'   McCormick wants a free as he gets to the ball before Chust, who looks to clip his ankle. No free.
2'   Free for Chelsea from the right. Way too long at the back post.
2'   Martin lucky he's not booked there as he pulls back St. Clair.
2'   Chelsea on the ball to start and no real pressure from Real Madrid. Cesar and Perez leading the lune and they sit back.
1'   We are underway! 
We are ready for action at a rainy Valdebebas. 
If their previous games are anything to go by, this is going to be a hig-scoring game. Real Madrid beat Bayern Munich 3-2 and Chelsea beat Feyenoord 5-2! 12 goals between them.
Real Madrid manager Guti knows a thing or two about European success! He played for Real Madrid for 15 seasons and won three Champions Leagues.
It's rare Real Madrid meet someone in Europe with a better record than them! Chelsea have won this competition twice. 
Chelsea team news: Jamie Cumming, Reece James, Dujon Sterling, Ethan Ampadu, Joshua Grant, Trevoh Chalobah, Luke McCormick, Jacob Maddox, Daishawn Redan, Harvey St Clair, Juan Familio-Castillo
Real Madrid team news: Ramos, López, Chust, Álex Martín, Garcia, Martín, Alberto, Verissimo Galván, Oscar, César, Baeza Pérez
Hello and welcome to out live coverage of Real Madrid and Chelsea in the UEFA Youth League with kick-off at 16:00 CET.