Argentina presented their credentials ahead of the World Cup with a 2-0 victory over Italy in Manchester in the absence of both Leo Messi and adopted local son Sergio Agüero.
Substitute Éver Banega of Sevilla and West Ham winger Manuel Lanzini provided the goals for Jorge Sampaoli's side, who were well-organised at the back but lacked much spark in midfield and spent much of the game desperately seeking to get the ball to the feet of Gonzalo Higauín, who was duly bundled off it by the attendant Azzurri back four.
Gianliugi Buffon made three saves in the first half to keep the score at 0-0 at half time and after the break it was Italy who came out gunning for the 2014 runners-up, drawing a string of fine saves from Willy Caballero, who did particularly well to keep out Lorenzo Insigne and Ciro Immobile in the second period.
Messi-less Argentina too crafty for experimental Italy
As the game descended into a gloves-off end-to-end spectacle after a raft of substitutions, Argentina proved more capable of taking their chances as Banega beat Buffon with a low shot and Lanzini hit a glorious strike into the top corner, both goals coming as the result of sloppy Italian passing in midfield.
However, Luigio Di Biagio's side showed enough to give Azzurri fans hope for the future - and until the game was ruptured the caretaker manager also left his calling card on the table of the Italian Football Federation for the full-time gig.
But Italy will not be at the World Cup. Argentina will, and the travelling fans in manchester were afforded a glimpse of what Sampaoli has in mind for Russia: a ball-playing defence, plenty of service to the wide men, particularly Ángel di María, and a lot of energy in midfield. In the absence of Messi, Argentina can also look to the summer with optimism as Sampaoli's well-stocked bench were deployed to good effect in the second half, essentially turning the game after Italy had looked the more likely to take the lead.
Argentina vs Italy live online: as it happened
90' And that's it! Argentina win 2-0. Thanks for joining!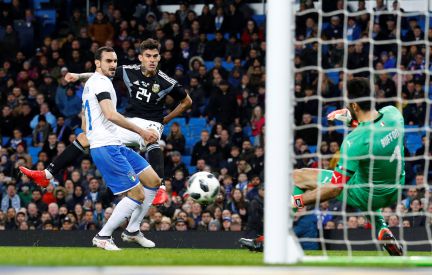 89'   A minute left of normal time as Italy come forward again eager to reduce the deficit. But Pellegrini hits a wild shot that Caballero watches fly into the stands.
87' Another Argentina change, Bustos off for Mercado.
87'   You'd have to say that overall, Argentina deserve a lead, but two goals after the second half Italy have put in is a bit of a blow for the Azzurri, who are not exactly riding the crest of a morale wave in any case.
85' Belotti on for Jorginho.
85'   It's chaos now as both sides have forgotten whatever tactical nuggets were delivered at half time. Completely open, but Argentina have taken their chances and Italy haven't, as the score line suggests.
84' Gooooooool! Lanzini! He pratically takes the net off with that one. Argentina break three on two and the West Ham man picks his spot and hammers a shot beyond Buffon and into the top corner. Argentina 2 Italy 0!
83'   Perotti! The Roma man draws a fine save from Buffon straight afterwards.
82'   Perotti finds his way to the byline but hits one of those crosses that goes out behind the goal and lands back in play on the other side. They look lovely, but don't count of course.
80'   Cutrone sees a swath of green in front of him and hares down the Argentina right but he's just offside. He would have been clean through there.
79'   Can Italy find a reply with 10 minutes on the clock? They've been worth a goal this half but have come up against an inspired Willy Caballero.
78'   Bizarrely, it was Italy's most experienced defender, Bonucci, who failed to close down Banega for the Argentina goal.
77'   Italy take their turn to play russian roulette in their own half and it's down to Otamendi to get across to mop up with Curtone closing in.
76'   Pavón involved immediately as he chases a long ball from Higauín but Rugani beats him in a foot race.
75' Another Argentina change, Lo Celso off and Christian Pavón coming on.
74' Gooooooooool! Banega breaks the deadlock. Jorginho gifts the ball to Argentina in his own half and it's worked forward to the Sevilla midfielder, who hits a low-left-footed shot beyond the dive of Buffon. 1-0 to Argentina!
73' Another corner for Argentina on the left. Cutrone coming on for Italy in the meantime. Immobile the man to make way.
72'   Italy working the press to good effect in the Argentina half and then dropping back in numbers as soon as the opposition reach the halfway line. Di Biagio has certainly displayed his tactical chops in Manchester this evening.
70'   But they win a corner on the left. Banega takes it short and it's worked out to Diego Perotti, who fires high from the edge of the box.
69'   Italy are all over Argentina now. The Albiceleste are having huge trouble getting the ball out of their own half.
67'   Caballero again! Insigne finds himself alone in the area after a ball over the top and hits a shot across the Argentina keeper that he has to parry away from two onrushing white shirts. He picks his spot perfectly as well, making what adds up to an excellent save with his left glove.
66'   Pellegrini releases Immobile on the left but he's closed down by Otamendi.
65'   As is often the case with friendlies, there's a bit of a truce as both sides adjust to the substitutions.
63' And Di María heads off for Argentina, Perotti coming on. Banega also enters the pitch, Paredes making way.
62' A couple of changes for Italy: Parolo for Pellegrini and Chiesa for Candreva.
61Caballero called into action again as Italy try one from distance. The Azzurri have come out after the break a much improved attacking unit.
58'   Another fine move from Italy as Verratti picks out Insigne on the left after Di María gifted possession on the other side trying to play his way out of trouble but Caballero is there again to make the save.
56'   What a providential hand from Caballero! The keeper gets down to flick a ball bound for Immobile's boot after some nice build up play from Italy picked Argentina apart.
55'   Di María finds club teammate Lo Celso on the edge of the Italy box and although the PSG man hits a decent first-time volley, the proximity of a white shirt means it doesn't warm Buffon's gloves. 
54'   Marco Verratti goes on a wonderful run through the Argentina defence but there's nobody on for a through ball and he's forced to play it back again.
52'   There's a Mexican wave going round the stands now as the fans appreciate a game that has suddenly taken on the appearance of a competitive fixture.
51'   Chiesa is down in some discomfort after a challenge in midfield and will head off for a quick date with the magic sponge. 
49'   It's a much more open game now, both sides playing with a bit more abandon and the ball moving swiftly from one end to the other. Argentina get upfield and it's Di María again who looks for the final ball but Italy clear.
48'   Insigne! How did he miss that? Italy nick the ball in midfield and Immobile plays the Napoli man in. He has a clear shot, but somehow conspires to put it wide from yards out. A real let-off for Argentina there, caught napping in the post-break snooze zone. 
47'   Otamendi concedes a free kick on the Italy right for a robust challenge on Verratti. Insigne swings in a tempting cross but Caballero gets a firm punch to the delivery.
46'   And we're back underway!
  We imagine there'll be a raft of changes at some point after half time and we're rather hoping that Lautaro Martínez will get a run-out. The Racing player has been on fire lately and will fancy his chances of a debut goal if he gets on.
Italy on the other hand have hardly bothered Willy Caballero at the other end. Chiesa has certainly been full of running but the Fiorentina winger hasn't been able to deliver much from the right while Lorenzo Insigne has been fairly anonymous on the other flank.
If it was a boxing contest Argentina would be ahead on points at the break after testing Buffon a few times in the opening 45 but the Italy keeper was equal to everything thrown his way.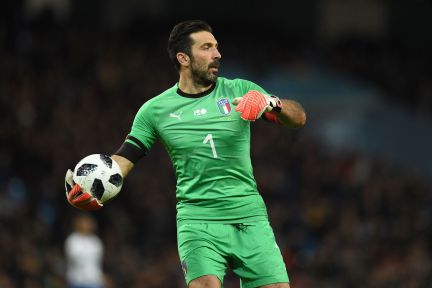 45' And that's the half! Fairly entertaining stuff in Manchester, being played at a fairer clip than many a firendly you'll see even if there have been few genuine moments of class, other than from the evergreen Buffon, who has ensured his side go into the break with a clean sheet after three decent stops.
44'   And Buffon again! Higuaín finally gets a clean sight of goal but the Italy keeper calls on all of his experience to make the target as small as possible to deny his club teammate. Fantastic work from the Italy stopper there.
43'   Buffon! The Italy keeper makes a smart stop from Tagliafico, getting down low to the Ajax defender's shot.
42'   There's a snapshot of Italy's organisation and the reason Argentina are not having much luck so far. Di María picks the ball up on the edge of the area, looks up, and sees nine white shirts in front of him.
40'   Nice from Lanzini to get past two defenders but then the West Ham man bangs his attempted pass to Di María straight out of play.
39'   Higuaín looks miffed as he's pulled up for a foul on Jorginho. It's been a frustrating half for the Juve striker, who has lacked support in the middle.
38'   Paredes chances his arm from a long, long way out and it's not far wide. You fancy it'd take more than that to beat Buffon from there but it was still a decent effort.
36'   Verratti smiles ruefully as he brings down Biglia in full flight but the Italy midfielder knew exactly what he was doing there. It was necessary and in a non-friendly probably a yellow card.
35'   Buffon is out quickly to hoof a loose ball to safety after a ricochet in defence lands for Argentina but the flag was up anyway.
34'   Part of Argrntina's problem in generating chances appears to be that Lanzini and Lo Celso seem intent on occupying the same areas of the pitch, leaving Di María to plough the wings on his own. The PSG man gets through again and hits a sort of cross-shot that is neither.
33'   Di María into the area and his attempted ping towards Higuaín hits an Italy arm, or so Argentina think. It was a half-hearted appeal though and inconclusive.
31'   Di María again, in towards Higuaín again, and Buffon mops up with ease. Higuaín's frustration starts to show as he trips Verratti, muttering darkly to himself as the ref blows for a free kick.
30'   Italy find a way through but the flag is up against Chiesa.
28'   Argentina still pursuing their slowly, slowly approach at the back when you wonder if a few swift balls into the channels for Di María and Lanzini to chase might be more profitable.
26'   Lanzin iworks it out to Di María on the left and the PSG winger sends in another cross towards Higuaín but the Argentina striker is struggling to work his magic on his own against Italy's back four and is beaten to the punch again.
25'   Caballero has to be quick off his line as Immobile is played in.
24'   Lo Celso picks Italy's pocket and gets Argentina moving forward but Higuaín picks a poor option with Di María outside him and plays a pass straight to a white shirt on the other side.
23'   And it's another teasing delivery but De Sciglio beats Higuaín to it.
23'   Di María lining up a free kick from distance...
21'   Italy have all the time in the world to build from the back at the moment with only Higuaín applying the press. Argentina do eventually win th eball through and Di María dances through the defence but it thwarted by Florenzi.
20'   Nice work from Verratti to win the ball in midfield and Italy break down the right but Chiesa can't reach the final ball, which is overcooked and rolls out for an Argentina goal kick.
18'   Di María swings in a beauty but Paredes had switched off and was caught offside. Lovely delivery from the PSG man there, who is up for this one tonight.
17'   Italy penalised for handball and Argentina have a free kick outside the area. Parolo inists it hit his chest and he looked to have a point there but the ref is unmoved.
16'   Buffon! What a save from the Italy keeper to deny Argentina from a corner as Nico Otamendi met the delivery with a crunching effort off his bonce. No sign of any reflexes slowing in the 40-year-old veteran there.
15'   Uffff. A loose ball from Italy in midfield and Argentina break through Lo Celso, but his final ball gets caight in Higuaín's feet. If that had been played ahead of the Juve striker Italy would have been in trouble.
14'   Jorginho looks to release Chiesa on the right but his pass is overhit.
13'   Italy win a free kick in their own half as Marco Verratti is taken down. A short free kick is almost pounced upon by Argentina but Verratti is fouled again.
12'   Di María shows some lovely footwork on the left to leave Florenzi floundering but his ball into the box towards Higuaín is cut out.
10'   Italy look to build an attack but as you'd expect from a Sampaoli side, Argentina are well-organised at the back. Bonucci, of all people, tires of the patient approach and belts the ball towards Immobile but it was not an accurate one and Caballero was first to it.
9'   Argentina have clearly been instructed by Sampaoli to play the ball out of defence and that's causing a few problems at the moment with Italy harrying them at every turn.
8'   It's a decent delivery and Parolo is there to meet it at the far post but he can't keep his header down and it plops onto the top of Caballero's net.
7'   Lanzini gives away a free kick on the left with what we'll describe as a striker's challenge. Late and not very pretty. Early opportunity for Italy.
6'   Italy look to go over the top, Sly Stallone style, but Argentina aren't falling for that old trick and clear.
4' Higuaín is playing as a lone striker this evening, with Lo Celso, Lanzini and Di María in support.
4'   Argentina come forward now and Di María gets a shot off but it's not one with sufficient zing to bother Buffon.
3'   A decent start from Italy, pinning Argentina back with the sort of press that was all too absent during their playoff loss to Sweden. Di Biagio, of course, will be out to impress as he may have an eye on the vacant Italy job himself.
1'  Italy off on the front foot and Argentina looked a bit shaky at the back there as the Azzurri poured forward. It's eventually halted for a foul though and Caballero belts it upfield.
1'   And we're off! Argentina get the ball rolling in Manchester.
More or less impeccably observed as well, to everybody's credit.
And now both sides and the stadium will observe a minute's silence for Davide Astori.
Federico Chiesa is making his Italy debut tonight. It will be interestting to see what the Fiorentina striker can do.
  The Italian anthem is sounding out across the Etihad Stadium speakers. Buffon is giving it some particular welly.
The teams are out on the pitch now and we're about to get underway.
Argentina have won the last two meetings between the sides by a score line of 2-1 but Italy will fondly remember the 1982 World Cup in Spain when they beat Argentina by the same score in the second group stage to reach the semi-finals.
Is charisma a big deal in football? Gabriel Batistuta thinks so, claiming that Messi is no equal to Maradona due to a lack thereof.
Meanwhile, Azzurri fans (and let's face it, everybody else) will be more than happy to see Gianluigi Buffon between the sticks this evening. The veteran stopper said he felt compelled to return in honour of his firend Davide Astori.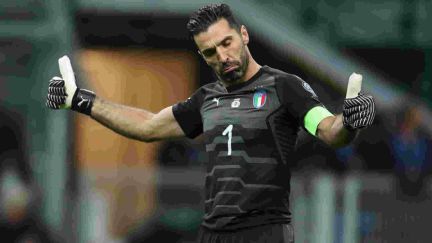 Here's the full low-down on Messi's absence this evening.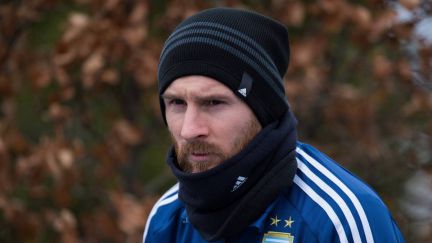 As ever, we've put together a handy guide as to how and where to find this one among the swirling seas of Fifa friendlies taking place on Friday.
2014 World Cup runners-up will be among the favourites in Russia this summer and Jorge Sampaoli's side will be looking to fine tune their preparations against a wounded Italy in the Etihad Stadium.