Argentina were, unsurprisingly, roundly castigated by the country's media after Jorge Sampaoli's men were thrashed by Spain in Tuesday's international friendly in Madrid. Isco hit a hat-trick for La Roja as a visiting side missing the injured Lionel Messi suffered a record-equalling 6-1 defeat at the Wanda Metropolitano - a humbling that left their preparations for this summer's World Cup in disarray.
The reaction in Argentina:
Olé: "We need three Messis"
"A historic beating. With Messi sitting in the stands, an Argentina side showing a degree of fragility rarely previously witnessed were on the end of a tremendous thrashing: Isco grabbed a hat-trick in a 6-1 defeat that strikes a massive blow [to the Argentinians]; the kind that takes some getting over. Conceding six goals just isn't normal - the extent to which Argentina were taken to the cleaners by Spain was something to behold. With three months to go until the World Cup, this is a thrashing that hits Argentina hard."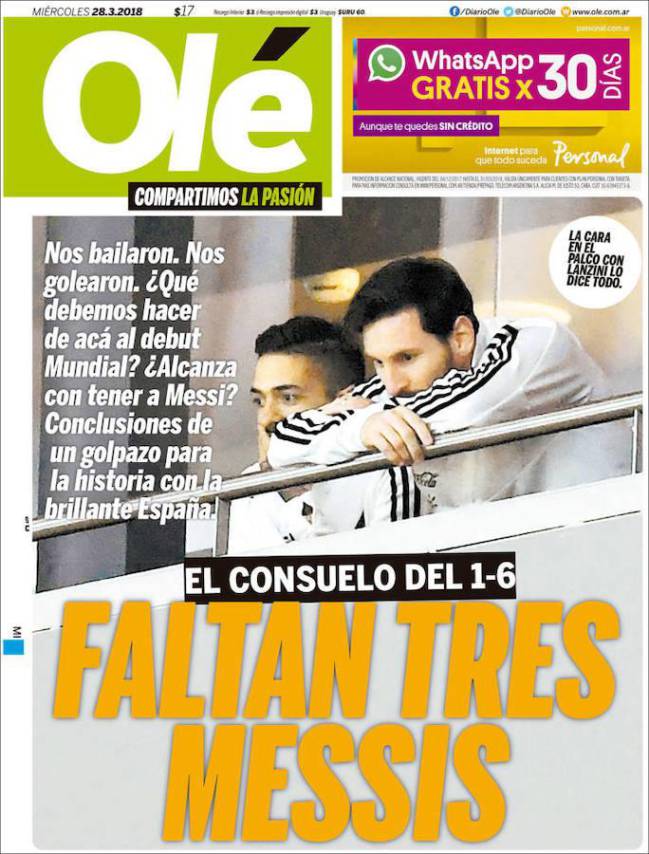 Clarín: "Disaster in Madrid"
"Spain crushed Argentina in a drubbing that will go down in history. The Spaniards have everything that Jorge Sampaoli wants his Argentina to have; they brought to bear a game plan based on movement and combination, showing an authority in the way they play their football that proved simply devastating."
TyC Sports: "Embarrassment of the decade"
"It [suffering a memorable thrashing every decade] appears to have become a habit for Argentina: there was the 5-0 defeat to Colombia in the 90s, the 6-1 loss to Bolivia in the noughties, and now this 6-1 against Spain, in which a side that are past masters at chopping and changing were led a merry dance by a team that has followed a clearly defined style throughout this century."
La Nación: "A slap in the face"
"A true humbling, with under three months left until the long-awaited event. A cold, hard demonstration of a problem as colossal as Russia, the country that Argentina aim to conquer: without Messi, the team isn't good enough against the major sides. They may battle, get stuck in, put their foot in, push; but it's unlikely you'll see them play good football, that you'll see them seriously compete against those who carry the tag of candidates to win the World Cup."