Man City-Liverpool: Guardiola sent off over disallowed goal
Man City boss Pep Guardiola was sent off at half time for furiously remonstrating with referee Antonio Mateu Lahoz over Leroy Sané's disallowed goal.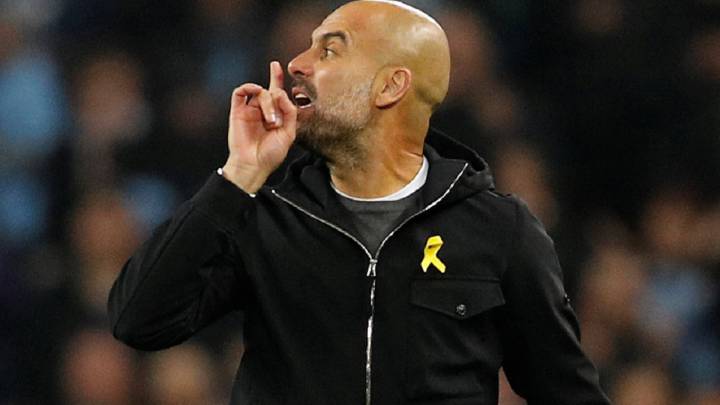 Manchester City manager Pep Guardiola was sent to the stands in Wednesday's Champions League quarter-final defeat to Liverpool after remonstrating with the referee over a disallowed goal.
Guardiola furious about Sané disallowed goal
With City leading 1-0 at the Etihad Stadium as they sought to overturn a 3-0 deficit from last week's first leg, Leroy Sané had a second for the hosts chalked off shortly before the break when he was flagged offside.
That led Guardiola to furiously approach referee Antonio Mateu Lahoz at the half-time whistle.
Sané was ahead of the play when he received the ball but, as it came to the Germany international courtesy of a touch by Liverpool's James Milner, City felt the goal should have stood.
Sané decision depends on whether Milner touch intentional
AS's resident ref, Eduardo Iturralde, says the decision to give or rule out the strike depends on whether Milner's contact with the ball is viewed as intentional.
"If the ball comes from a clearance, the player standing in an offside position becomes onside," he explained. "If it bounces [off Milner], he isn't played onside."
Vamos a poner en su sitio el fuera de juego con el gol anulado al City.
Si el balón viene de un despeje habilita al jugador que está en posición de fuera de juego y un rebote no le habilita.
Ahora os dejo a vosotros decidir si es rebote o despeje

— Eduardo Iturralde (@itu_edu) 10 April 2018
According to Fifa's Laws of the Game, "A player in an offside position receiving the ball from an opponent, who deliberately plays the ball (except from a deliberate save), is not considered to have gained an advantage."
Salah, Firmino goals seal Liverpool progress to semi-finals
Mohamed Salah and Roberto Firmino later scored one each for Liverpool to clinch a 2-1 win on the night for the Reds, and a 5-1 aggregate victory.
Champions League
*Update 10 de abril de 2018