Bayern Munich held Sevilla at arm's length to qualify for a fourth Champions League semi-final in five years. The recently-crowned Bundesliga champions managed the game with precision and experience to ensure that a fortuitous 1-2 victory in the first leg was enough.
Steven N'Zonzi came closest for the visitors in a game of few clear-cut chances when he nodded Éver Banega's free-kick against the cross-bar in the second half. Javi Martínez was a rock of stability in the Bayern midfield, patrolling across the pitch to ensure Sevilla could not launch the counter-attacks that form the foundation of their threat.
Frustrations boiled as the match edged past 90 minutes. Joaquín Correa committed a foul on the touchline and proceeded to take centre stage in a brawl that followed between the two benches. The referee responded with a red card that made little difference to the outcome. That Correa lost his cool is testament to the way Bayern smothered Sevilla. They were clinical, cold. Real Madrid's unconvincing passage to the last-four means Jupp Heynckes's side will move in to the next round with a quiet confidence.
Bayern Munich 0-0 Sevilla (2-1 agg): as it happened
90'+4' FT. Bayern are through to the semi-final.
90'+2' Both benches have a scrap on the touchline and Correa sees red. His crime was a late, frustrated tackle on Martínez. 
90'   The fourth official shows three added minutes as Sandro Wagner dives in to the box upon feeling a touch from Navas. Nothing from the referee. 
89'   Bayern gallop forward with Robben on the ball. Sevilla are leaving plenty of spaces now, but the move breaks down as James edges marginally offside. 
88'   Sandro Wagner is doing a great job of holding the ball up in attack for Bayern. 
86' Rafinha strolls off. Niklas Süle comes on to sure up the defence. 
84'   Javi Martínez hassles Nolito in the centre circle. A little too much for the referee's liking. Banega will chip the ball in... and Bayern clear. 
82'   Eight minutes for Sevilla to score two goals. 
81' Banega booked. He twisted away from Martínez and made sure the Bayern man couldn't steal possession by poking him in the eye. Martínez gets up and squints around before trotting back in to midfield. 
81' Franco Vázquez makes way for Nolito. 
80'   Navas wellies the ball behind for a corner, taking no chances with Kimmich's deflected cross. 
77' Sandro Wagner replaces Lewandowski, who walks gingerly to the bench after an evening of being kicked and elbowed across the pitch. 
76'   Sandro rolls the ball back to N'Zonzi on the edge of the box. He's leaning back and curls it well over. 
75' 75' N'Zonzi clatters James to make sure Bayern can't surge forward on the counter. He's lucky to avoid a booking and the Bayern players remind the referee of that.
74'   Sandro crosses deep to Vázquez, who is ghosting in at the far post. It bounces up awkwardly for the Sevilla man and he can't direct the ball on target. The away side maintain the pressure, however, and win a corner. 
72'   Robben feigns to go inside before accelerating on the outside of Escudero. He shoots in to the side netting from an acute angle. 
71' Both sides make a change. Thiago replaces Ribery for Bayern, Sandro replaces Sarabia for Sevilla. 
70'   Müller is the next man to suffer as Lenglet continues his quest to stand on the ankle of every single Bayern player. 
68'   Ribery twists Navas inside and then out again before winning a corner. The two put their arms around each other and have a chuckle. N'aww. Football friends. 
66'   Jupp Heynckes looks dischuffed on the touchline as Robben dips inside and slices a shot in to the advertising hoarding. 
66'   Robben lays it back to Kimmich and Bayern try to build from the back. It doesn't work and Sevilla have it back. 
65' Muriel replaces Ben Yedder before the free-kick is taken. 
65'   Very dirty stuff from Lenglet, who leaves his foot in on Lewandowski and scrapes a stud along his Achilles. Robben will swing in a free-kick from the touchline. 
63'   Robben and James both scuttle around the edge of the Bayern box, and neither find space to shoot. Not at first, anyway. James eventually works an opportunity and looks for the top corner. Soria sees it coming and plucks the ball from the air. 
60'   That crossbar-clanger has injected Sevilla with belief. Banega goes close, skimming a low shot just wide of Ulreich's post from 25 yards.
59'   Steven N'Zonzi climbs highest and heads the ball flush against the crossbar! 
59'   Rafinha leans in to Navas a little too much for the linesman's liking, and Banega has a chance to swing a free kick in. 
56'   Kimmich's cross is just, just too high for Lewandowski, and Soria claims. 
54'   Kimmich does superbly to keep the ball in play with a perfect touch on the slide. Bayern move the ball across to the right, and then back to the left, where Robben stings Soria's palms with a fizzing shot. 
52'   Ben Yedder stretches to meet Escudero's cross and sends the ball up in the air. Ureich claims, Correa tries to shove him off the pitch, and a brief episode of handbaggery ensues. 
51'   Soria catches Ribery's cross and sets Sevilla away on the counter-attack. Ben Yedder ends up with it in the Bayern box, but he tangles with Rafinha and William Collum awards the Bundesliga champions a free kick. 
49'   Lewandowski ghosts in at the far post and nods Rafinha's cross downwards. The angle is acute and it kisses the side netting on its way out for a goal kick. 
48'   Correa lies on the floor with his arms outstretched behind him. He feels he was pushed in the box by Kimmich. The referee does not agree. 
48'   Robert Lewandowksi has got a plaster across his left cheek and a nice shiner forming under his black eye - a scar from his first half scuffling with Meracdo and Lenglet. 
47'   The first chance of the half falls to Martínez, who loops a volley over from 30 yards. 
46' Sevilla get the second half going! No changes at the break. 
Out they trot for the second half. A Sevilla goal will spice things up. 
It's still open at the Allianz Arena. Neither side has fashioned a clear opportunity, although Franck Ribery forced a smart save from Soria towards the end of the half. 
45'+4' HT.
45'+4'   We're in added, added time here due to Rafinha's injury.
45'+3'   Lewandoswki is in the wars tonight. Lenglet clatters in to him after Banega gives the ball away on the edge of the Bayern box. 
45' Two minutes of added time. 
45'   Javi Martínez gives the ball away very cheaply and a clever touch from Ben Yedder on the edge of the box opens up space for Sarabia. A good touch will take him through on goal... but his touch is heavy and Rafinha clears. Rafinha goes down clutching his collarbone, but is back on the pitch now. 
43'   James Rodríguez whips in a free-kick from the left. It's too close to Soria, who plucks it from the air. Sevilla haven't been out of their own half for a while. 
41'   Vital, vital touch from Jesús Navas. He slides towards his own goal to turn Kimmich's cross behind for a corner. Ribery was loitering behind him in expectation of a tap-in. Bayern are turning the screw. 
40'   Robben breaks on the right and bears down on the box. Lenglet slips but still manages to prevent Robben getting a shot away. The ball falls back to the Dutchman, and his follow-up effort is well wide. 
38'   Navas shows his inexperience at right-back by allowing Ribery to cut inside with ease and shoot from 18 yards. He catches the ball well but it's straight at Soria, who batters it clear. 
36'   Hummels nods the ball back to the 'keeper with Ben Yedder lurking behind him.
34'   Bayern win a corner. Steven N'Zonzi heads it clear. It feels like that has happened several times already. On this occasion he only clears it as far as Mats Hummels, who lashes a shot just over the bar. 
32'   Bayern bound forward on the counter-attack after Sevilla fail to pick their way through the defence. Rafinha swings a cross in towards the far post. Lewandowski goes down and appeals - unsuccessfully - for a penalty, while Robben can't quite apply a touch at the far post. 
28'   Escudero is now down after landing awkwardly from an aerial challenge with Lewandowski. He stands up rather gingerly and walks to the touchline. The physio pours water on his head, which suggests the initial impact with Lewandoswki may have been the problem. 
26'   Sevilla knock the ball around, probing for a gap. The entire Bayern team are camped inside their own half, yet through intricate passing the visitors still manage to fashion a half-chance for the overlapping Escudero. He does well to get to the ball in the first place, but drags his shot wide. 
24'   Hummels loses sight of a long pass and it thuds off his back just outside the box. It looks for a moment like his error could gift Sevilla a chance, but Bayern recover their positions and Banega overhits a cross that bounces through to Ulreich. 
22'   David Soria gets down to half-clear a cross from Kimmich. Mercado is on hand to finish the job and avert the danger. 
20'   Boateng fizzes a diagonal ball across the pitch towards Robben. He asks to much of the 34-year-old and it skids out for a throw-in. 
18'   It's finely poised at the Allianz Arena. Bayern are marginally on top, but that suits Sevilla, who like to cavort forward on the counter. 
17'   Oooh, a big chance goes begging for Sevilla. Navas kills the ball with a silken touch on the right before flashing a cross through the penalty area. Tucu Correa fails to get a clean contact on it. The ball loops in to Ulreich's arms and Bayern win a foul when Correa tries to make up for his bluntness by hacking it out of the 'keeper's arms. 
15'   Franco Vázquez leads the appeals for a handball by a Bayern player inside the penalty area. It's unclear whom he is accusing of handling the ball, and referee Willy Collum doesn't look sure either. He waves play on. 
14'   Kimmich does a Robben (flashing a shot wide after cutting in from the left).
12'   Pablo Sarabia simultaneously takes Rafinha out of the game and moves inside with a clever touch on Banega's pass. He eyes up a shot to the top corner, but it's loose and Bayern restart play with a goal kick. The home side go straight up the other end and win a corner, but the pressure comes to an end when Hummels commits a foul. 
10'   Ben Yedder snakes his way through the Bayern defence, using the futsal skills that he developed in his early career. Hummels makes a crucial interception to rob the Sevilla striker on the edge of the box. Lewandoswki is back down, meanwhile. The cause of his most recent ailment is a stamp by N'Zonzi, who is booked. 
7'   Kimmich hangs the ball up for Lewandowski, who climbs above Mercado and Navas and forces Soria to tip his header over the bar. The Bayern striker - who has scored 14 goals in his last 13 matches - has knocked his cheekbone, but gets up so the corner can be taken. The referee blows his whistle as soon as it's delivered for a foul on Mercado. 
5'   Escudero knows exactly what is going to happen as Robben scampers towards him, but he can't stop it. The Dutch winger cuts on to his left foot and shoots. Soria watches it past the far post.
3' Gabriel Mercado is lucky to escape with a booking for a flailing tackle on Lewandowski, who appeared to be through on goal. James stands over the free-kick, 25 yards out, and flashes it just over. Mercado will miss the first leg of the semi-final, if Sevilla progress. 
2'   Sevilla settle in to an early spell of possession. Most of it is in their own half, but it's important that they settle in to the match with the ball at their feet. 
1' Aaaaand we're off! Bayern get the game going. 
Out come the two teams, led by Scottish referee William Collum and a legion of mascots. 
A tiger on one calf and a passage of text on the other. Joaquín Correa cares not for tattoo symmetry.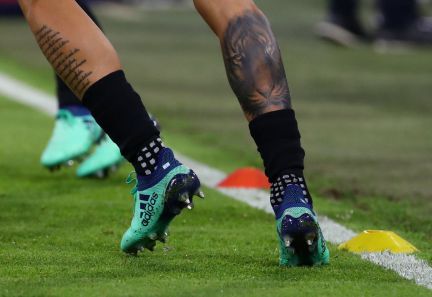 Danish centre-half Simon Kjaer is unavailable for Sevilla due to injury. That is a blow for Montella. Kjaer possesses the less glamorous attributes that all defenders need: he reads the game well and his positioning is excellent.
Six Sevilla supporters were stranded in Spain yesterday due to a Lufthansa strike. Luckily for them, the Sevilla team were leaving at the same time, and the club found space for them on the official plane. Jesús Navas was also allowed to sit in the cockpit, so everyone was generally being lovely to each other.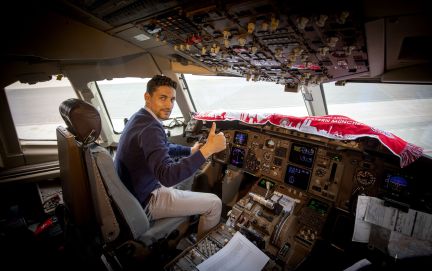 What are the chances of Bayern taking a spot in the semi-final? 94.5% according to a report by UEFA. 
There's an outpouring of adoration towards Banega here in AS Towers. Not because of anything he does with the ball at his feet, but because in 2012 he escaped his Ferrari 360 Modena when it burst in to flames on the way to Valencia training, before proceeding to the training ground on foot. This came about a year after he forgot to put the handbrake on his Audi R8, which then rolled over him and broke his leg. Loveable rogue. 
Argentine midfielder Ever Banega returns to the Sevilla midfield after serving a suspension in the first leg, and he will be key to Sevilla's chances. In the first leg, Sevilla looked dangerous on the counter-attack but devoid of creativity when in possession. Banega's presence should address that problem. As Manchester United found out in the last-16, he can pick a pass when given time and space.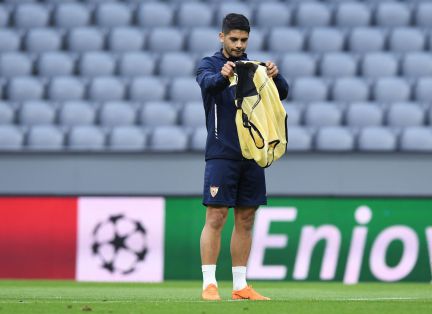 And here is the scene for this evening's clash. I now want a sprinkler in the foreground of every stadium shot.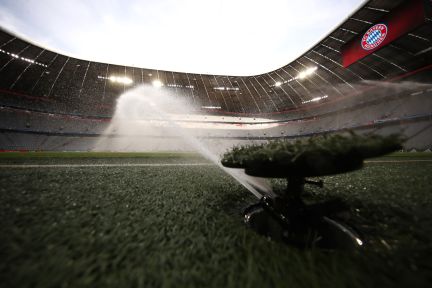 Buenas noches! Welcome to our coverage of Bayern Munich vs Sevilla, as the LaLiga side look to overturn a 1-2 deficit from the first leg and progress to the semi-final stage for the first time in the club's history.