REAL MADRID 1-1 ATHLETIC
Real Madrid vs Athletic Bilbao live: goals, match report
The Portuguese subtly helped the ball on its way into the net following a drive from Croatian Luka Modric to secure a draw for Zidane's side. USA vs Mexico: FIFA Friendly live online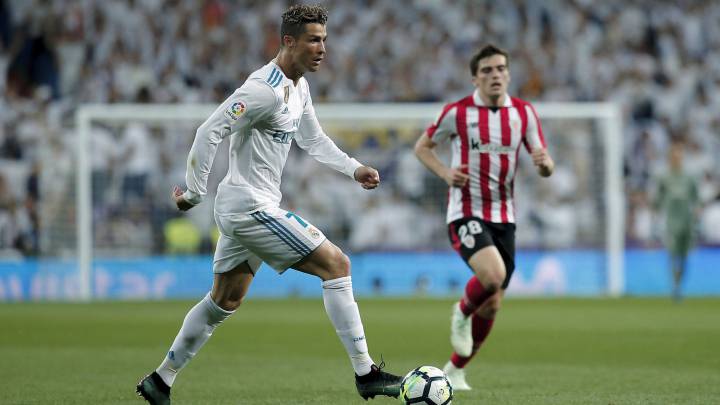 With one eye on Tuesday's Champions League tie, Zinedine Zidane will be mildly content with tonight's late goal to salvage a point at home but even more importantly for the LaLiga side was the good news that no player suffered injuries on the night.
The game itself lacked the traditional tension associated with a meeting between two historical names in Spanish football and the Bernabeu crowd were stunned when in the 14th minute Iñaki Williams slotted home a delightful through ball from Cordoba. This was the detonator to begin the monologue that dictated the pattern of the night... Madrid pushing and probing with Athletic comfortable in defending deep looking to hit Williams on the break.
It could have been 0-2 had Raul Garcia taken more time instead of thundering the ball onto the bar from close range. Athletic started to tire and failed to pick up Modric as the clock ticked down. The Croatian's strike appeared to be goal-bound but repeats showed how a sublime flick from Cristiano was enough to finally beat Kepa.
A word apart from the Athletic keeper who in January seemed destined for life at the Bernabeu. A virtuoso display from the stopper tonight will have many of the home fans wishing that the 23-year-old had decided on a move to the Spanish capital.
Real Madrid 1-1 Athletic: as it happened
93' FT all over: Real Madrid 1-1 Athletic 
93' Last min. of action
92' Carvajal booked for a poor challenge on Munain 
91'   Toni Kroos leaves the ball for Bale who opts to strike on target but drives over the bar.
90'   San Jose fouls Vazquez...dangerous free kick here for the home side ...3 minutes of time to be added
89'   Madrid now looking for the winner and the Bernabeu crowd (for the first time tonight) make some serious noise 
2 minutes to go
88'   Real Madrid 1-1 Athletic
Gooooool.....Madrid draw level.... Ronaldo gets the slightest of touches as Modric drives right footed
86'   Yet another corner for the home side 
Williams off and Aduriz on for Athletic
84' De Marcos booked ...clumsly challenge on Marcelo
82'   Madrid still probe but still unable to break down the red and white wall of resistance... It has to be said that the defensive display from Athletic has been top class too ! 
80'   Ten to go... Real Madrid close to tasting their sixth LaLiga defeat of the season. 
Leque off/Susaeta off  
78'   Looks like a muscular problem... as Susaeta gets his tracksuit off ready for action
77'   Just over 10' remaining at the Bernabeu as Leque needs attemtion
Kepa... a wall tonight at the Bernabeu  

75'   Madrid still pile on the pressure but no end result with a combination of poor finishing and Kepa in the Athletic goal keeping the scoreline at 0-1.
73'   Williams sloppily gives the ball away and Madrid break with Kepa once again called into action.
71'   Flick from Bale that almost catches Kepa off guard.... ball drifts wide.
70'   Isco...first touch and whacks the ball over the ball.
Change for Athletic: Munain on for Cordoba 
Isco on Asensio and for Bale on for Benzema
68'   Cristiano with his less favoured left foot hammers the ball at Kepa. Changes imminent ...
66'   11-2 on the corner kick front but once again Bilbao deal well with the dead ball from Kroos
65'   Another corner for Madrid... this one comes to nothing.... Isco and Bale poised to make an entrance
63'   Crossbar !!!!! Raul Garcia almost makes it 0-2 and his shot whacks off the crossbar.
61'   Ronaldo appeals for a penalty after a barge from Nuñez. The match official waves away the appeal.
San Jose booked for a shove on Modric
60'   Possession stats on the hour mark: Real Madrid 66%-34% Athletic
Ramos is on the floor and seems to be in trouble after a clash of heads with Lekue
57'   Zidane tells Bale and Isco to warm up 
55'   Apart from the traditional noise coming from the RMCF supporters, there is a very solemn atmosphere at the Bernabeu tonight. 

Excellent pic of Iñaki Williams following his first half goal

53'   As we were before the break.  Madrid pushing, Athletic defending (well) and striking on the break, always looking for Williams.
51'   7-2 on the corners front 
48'   Poor challenge from Martinez on Cristiano...studs up .... and should be a yellow
No changes at the break. 
46'   We're back in action at the Bernabeu. Can Madrid find a way back or are the players minds firmly fixed on the Bayern game?  
HT: Real Madrid 0-1 Athletic Club
45'+2'   That's the half time whistle....0-1 at the Bernabeu... 
45' 2 minutes to be added as Lucas Vazquez trips Cordoba 
44'   It's somethimg of a monologue now as wave after wave attack is launched by the men in white.
43'   Asensio weaves his way into a shooting position and drives a left footer but once again Kepa is on his toes to tip away.  
42'   The game is lacking a certain degree of edge and tension. Obvious I'd say given that Madrid have a top 4 place sewn up and the small matter of a trip to Munich next week.
41'   The ever elegant Zidane on the Bernabeu bench tonight... 

38' Carvajal now tries his luck but Kepa does well to tip away. Williams carded for a foul on Marcelo. 
Possession after 37': Real Madrid 70-30% Athletic Club
36'   Clear pattern to the game now ... Madrid applying the pressure with Bilbao defeding in numbers.  
33'   Carvajal on the turf in distress after an elbow in the ribs from Cordoba...play held up.  
31'   Free kick for Madrid with Kroos to deliver... great hit from the German as Kepa pulls off a wonderful reflex stop from a Varane header. 
29'   Benzema this time to fire over... whistles ring out at the Bernabeu aimed at the French international.
Tonight's goal scorer....

26'   Marcelo fires in a dangerous cross but once again the men in red and white are up to the task and clear the danger. 
25'   Athletic with 11 men behind the ball now and defending solidly. Iñaki Williams their main outlet in attack putting in a shift.
21'   Asensio this time but the young Mallorca born player fails to observe that golden rule when striking the ball...."keep your head over the ball". 
Possession after 20': RMCF 62%  vs. Athletic 38%
20'   Raul Garcia forced to leave the pitch to recieve attention. 
19'   Raul Garcia caught a Marcelo drive and the veteran player is now on the ground in pain. Game held up. 
Real Madrid's Marcelo in action with Athletic Bilbao's Raul Garcia

16' Cristiano again.... this time with  a low left footed effort which is cleared for a corner. We've seen this so many times at the Bernabeu. The visiting side score first, the goal shakes Madrid up who go on to win 5-1 or another convincing scoreline. 
Wonderful finish from Williams after a fine assist from Cordoba. Composed finish form the young striker. 
Real Madrid 0-1 Athletic
Gooooooooooooooooooooooooool Williams puts Athletic ahead.
12'   Ronaldo goes close again... Right footed effort which lacked power and  pace and more importantly...accuracy...
11' Asensio fires but his rather tame shot is straight at Kepa. Madrid on top now after the early Sam Jose scare.
The view from the fourth tier of the Bernabeu tonight. 

8'   Ronaldo off the bar....Great header from the No 7 rising wonderfully to a pin-point Carvajal delivery. 
7'   First chance of the night falls to San Jose who brings out a fine save from Navas. 
5'   Composed start from Madrid moving the ball around with purpose....Plenty of gaps in the seats with the midweek and late start affecting tonight's crowd. RMCF Fans are in fine voice as always in the South stand decked out in their usual white garb.
 Real Madrid's Cristiano Ronaldo during the warm up before the match

Real Madrid's last game before heading to Munich to face Bayern in the Champions League semi-final on Tuesday. Zidane will be crossing fingers that no hamstrings are pulled or muscles tweaked.
Real Madrid in their classic all white kit with Athletic also in their iconic red & white stripes, black shorts & red socks. 
Not quite a packed house at the Bernabeu as Martinez Munera sounds is whistle and gets us underway ...
All eyes turn to the Bernabeu with the last game of the day. Madrid with only 2 home games after tonight (vs. Leganes J35 & Celta Vigo J37)
Currently 21C in the Spanish capital. A warm but pleasant evening with 0% chance of rain.  

Just confirmed by LaLiga, the last Clasico of the season will be played at Camp Nou on May 6 with a 2045 CEST start.

The scenes outside the Bernabeu

The good news for Real Madrid fans is coming in from Valencia where "Los Che" are 0-2 at home to Getafe (with 20' to play). A loss for Valencia coupled with a Real Madrid win would see Zidane's men move 5 points ahead of Marcelino's side. 
This game has all the hallmarks of a (1) home win with one having to go back to 2005 for the last time the Basque side recorded a win at the Santiago Bernabeu on Feb 19th.  Since then not even a draw has been mustered by "Los Leones" in Chamartin. 
Hello and welcome to our live coverage of Real Madrid-Athletic Club from the Santiago Bernabeu.
Real Madrid vs Athletic: match preview
Tonight sees Real Madrid's last competitive game before they head to Munich to face Bayern in the first leg of the 2017/18 Champions League semi-final given that weekend league rivals are involved in the Copa del Rey final and is somewhat for Zidane's side.
The French coach has insisted that his objective is to finish second in the league table and will elect a strong starting line-up with defender Nacho the only absentee.
It's still not clear the role the former player will select for Gareth Bale. Will the Welsh international start and if so does that rule him out of a place on the team-sheet in Munich?
Athletic come into the game off a 2-3 defeat at home to relegation threatened Depor and the 2017/18 is one that fans of "Los Leones" will be happy to see the back of with "Cuco" Ziganda failing to galvanise the side who languish in mid-table.
All eyes in the Bernabeu are certain to be on Bilbao keeper Kepa Arrizabalaga who turned down a move to the Bernabeu when it appeared that the stopped was destined for the Spanish capital.
Possible starting teams:
Real Madrid: Keylor Navas; Carvajal, Ramos, Varane, Marcelo; Isco, Casemiro, Kroos; Bale, Benzema & Cristiano Ronaldo.
Athletic Club: Kepa; De Marcos, Íñigo Martínez, Yeray, Balenziaga; Iturraspe, San José; Susaeta, Raúl García, Muniain; & Williams.