‪2018 NFL Draft live
    That's it from the first round.
The Patriots pick Sony Michel. Number 31.
    The Steelers pick Terrell Edmunds. The first time two brothers were picked in the first round in the NFL Draft in the same year.
    Lions Pick Frank Ragnow. 
    Lions pick is in. 
    Packers up.
They're talking about how good Edwards can be in various positions.
    Tremaine Edwards goes to the Bills.
He can play on the left or at right tackle. 
Kolton Miller goes to the Raiders. 
    They were convinced it was a quarterback speaking about how Payton is lining up Jackson to sit behind Brees.
Marcus Davenport. "He's a freakish athlete but he's incredibly raw. I love the matchup for him in Seattle. Stick your hand in the dirt and hunt quarterbacks," says Mayock.
Mayock says: "Up there with Vita Vea as the best run stopper in this draft. He's got a little more twitch for a big guy than people think. He also has some potential pass rush upside."
Da'Ron Payne goes to the Redskins. 
"A life-long dream," says Vea. An inspiring story.
    Dolphins pick Minkah Fitzpatrick.
    Yes, it's Josh Rosen. He's excited and wants to play football and "compete for Super Bowls". He's slightly upset not to have been selected earlier. Time for talking is done.
    The most natural passer to come out since Andrew Luck. Quite the compliment. 
If it is Rosen, they have Bradford too. Issues with injuries for both. 
    They think it's Josh Rosen. 
Trade is in! Cardinals gets the number 10 pick off the Raiders.
The 49ers invest in their offensive line. Mike McGlinchey goes number nine. A huge left tackle.
    On Smith: "Great player. Really fun to watch because he can get to just about any play on the field and he's only going to get better. You would love to play him inside but he may have to slide to WILL." -- AFC team personnel director
The Chicago Bears pick Roquan Smith from Georgia. 
    He's confident, I'll give him that much.
"This is the only thing I ever wanted to do," Allen says.
He almost had the same measurable as Carson Wentz. "A power pitcher with some accuracies issues," is how Mayock describes him.
    He needs to work on his accuracy is the general feeling. He has a big arm though and that might suit Buffalo.
    It's Josh Allen. 
Mariucci says he would go with Rosen. Aikman says Rosen as well but he thinks it will be Allen.
They're giving up two second round picks and giving up 12 too. They want a QB, it looks like. One of the two Joshes, either Allen or Rosen.
Who do Buffalo want. They obviously think the Bears are interested. 
The Colts pick Quenton Nelson from Notre Dame. 
The Colts' pick is in! 
    That's a huge surprise from the Browns! 
    Darnold says no matter where he goes, there will be pressure. He says he couldn't be happier and that they should expect lots of wins from him! Confidence.
Mayock says he can play early but he has issues with fumbles. Says he loves when he extends the play and is highly accurate on the run. He's a three-sports star and can beat you with his legs too! He is a little bit loose when he is holding the ball though.
The New York Jets pick Sam Darnold with the third pick. 
The Giants have picked Saquon Barkley. Broncos don't trade for the pick in the end. 
    Mayfield being compared to Johnny Manziel. Aikman says the spotlight won't be too big for him and says not to be surprised if Mayfield is the starter in week one of the NFL season.
Mayock speaking about Mayfield. Mayfield had 12,292 yards in college and was 33-6 during his career.
The Browns have picked Baker Mayfield. 
Pick is in! Giants up. Browns ready to make the pick.
    Why would they need ten minutes after a few months of deliberating.
This is just awkward. "I can't believe you're booing the Cowboys", says Roger Goodell.
There is talk of the Broncos moving up and coule be in contact with the Giants at number 2. They might want a particular quarterback but we will have to wait and see. We'll fill you in as it happens!
We are talking about trades in the first round!
    A rendition of the Star-Spangled Banner. We are ready to go! 
Here's the story of how Vita Vea and his family were evicted from their house, which has lef Vea to want to buy them a home when he gets drafted!
"If you look back at it, I didn't write a lot of those words," Allen said. "Obviously we were young and dumb. I was 15, 16 years old at the time. I never realized that could hurt me down the line."
Vota Vea just speaking some Tongan. What they are saying about him: "At Washington, Vea excelled at one thing above all others: Virtually every play, he demanded a double- or triple-team from opposing offensive linemen, giving the Husky defense a frequent numerical advantage. Even so, Vea frequently found his way to the ball carrier, averaging nearly 3.4 tackles per game.
At 6'4" and 347 lbs., Vea has ideal measurements for a true zero-tech nose tackle prospect. What really separates him from his peers, however, is his speed and ability to move laterally. His 5.1-second result in the 40-yard dash at last month's NFL combinespeaks to that skill set, but take it from me: You don't truly know happiness until you watch your team's 347 lb. defensive tackle chase down a 180 lb. running back or wide receiver on a check-down or screen pass, make the tackle and force a punt on fourth down."
Ward one of the best cornerbacks in the draft. "I would say my speed separates myself from other players," Ward said. "Other than speed, my footwork at the line of scrimmage and my ability to be able to mirror receivers and stay in the hip pocket of receivers. I definitely feel I want to uphold the tradition of being the next guy coming out of Ohio State and being a first-round draft pick and being able to produce in the league."
Denzel Ward was named after Denzel Washington. Says his top movies from the man he was named after are Man On Fire and The Equalizer.
Josh Allen speaking quite confidently about the controversy recently. He says he has spoken to some teams that said it didn't matter to them! He will be picked tonight, I'd imagine.
Shaquem Griffin was just interviewed. Here's his story.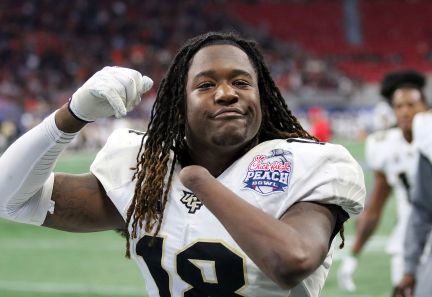 Rashaan Evans speaking about playing with Alabama and being born in Auburn. Pushed on where he thinks he's going but he doesn't bite. He's talking about how he developed his speed by chasing horses.
Shaquem Griffin being introduced now and Irvin talking him up. 
  Here is how SB Nation rate Chubb: "Chubb is a sparkling mix of talent and maturity. He epitomizes the upheaval of the draft process. Entering the 2017 college football season and throughout most of it, he was projected as the No. 1 overall draft choice. Since then, he has waffled in predictions to landing anywhere among the top five picks or even slightly lower."
  Bradley Chubb showing off his jacket now that has a load of stars inside the jacket. He's always wearing slippers. He changed his name to @astronaut on Twitter recently and that's why. 
Re-living Michael Irvin's 1988 draft selection. 
We have the NFL Draft red carpet right now! riveting stuff.
Six first-round quarterbacks & two top-10 trades - 2018 NFL Mock Draft.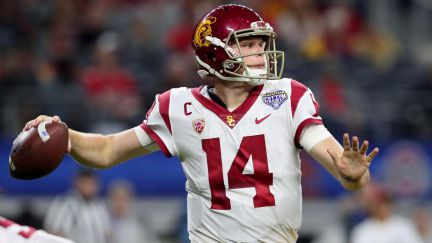 Also, if you have an hour to kill,
Hello and welcome to the NFL Draft 2018. We will be bringing you live coverage of the draft from pick 1 to pick 32. 
NFL Draft: preview
In the hours leading up to Thursday's NFL draft, Baker Mayfield is gaining buzz as the No. 1 pick by the Cleveland Browns.
Head coaches and general managers around the league believe that Cleveland will tab the Oklahoma quarterback with its first pick, according to a report from ESPN's Adam Schefter. Earlier this week, Schefter reported the Browns wouldn't rule out taking Mayfield No. 1.
Meanwhile, another supposed top-10 has been caught up in controversy in the last couple of days as racists tweet from high school were found on his Twitter account.
On a day he hoped would be a celebration, Wyoming quarterback Josh Allen is instead in the news for an apology. Allen acknowledged and apologized for years-old Twitter activity unearthed on the eve of the 2018 NFL Draft.
Meanwhile, you can check out Mike Mayock's 2018 NFL Mock Draft to get a feel for where he feels the draft-hopefuls will go this year.
NFL Draft Order
1. Cleveland Browns
2. New York Giants
3. New York Jets from Indianapolis Colts
4. Cleveland Browns from Houston Texans
5. Denver Broncos
6. Indianapolis Colts from New York Jets
7. Tampa Bay Buccaneers
8. Chicago Bears
9. San Francisco 49ers
10. Oakland Raiders
11. Miami Dolphins
12. Buffalo Bills from Cincinnati Bengals
13. Washington Redskins
14. Green Bay Packers
15. Arizona Cardinals
16. Baltimore Ravens
17. Los Angeles Chargers
18. Seattle Seahawks
19. Dallas Cowboys
20. Detroit Lions
21. Cincinnati Bengals from Buffalo Bills
22. Buffalo Bills from Kansas City Chiefs
23. New England Patriots from Los Angeles Rams
24. Carolina Panthers
25. Tennessee Titans
26. Atlanta Falcons
27. New Orleans Saints
28. Pittsburgh Steelers
29. Jacksonville Jaguars
30. Minnesota Vikings
31. New England Patriots
32. Philadelphia Eagles