REAL MADRID 2 - 2 BAYERN MUNICH
Bayern's Spanish Twitter: "Stop saving everything Keylor Navas!"
After Keylor Navas saved Alaba's shot the Spanish language Bayern Twitter account handler had had enough and told the Costa Rican to just stop.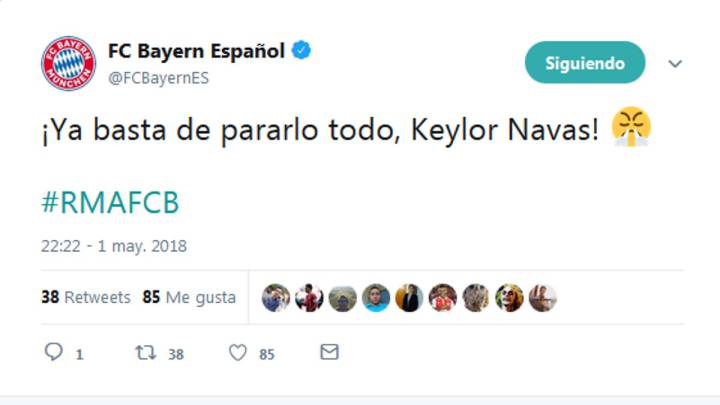 Real Madrid's hero in their 4-3 aggregate win over Bayern Munich in the Champions League semi-final was goalkeeper Keylor Navas, who produced eight saves, some of them stunning reflex blocks, as well as dominating his area with several key punches and interceptions.
Bayern CM pleads with Keylor Navas
The Costa Rican number one was on inspired form and, James goal aside, stopped everything Bayern threw at him, frustrating their players and fans alike. And the community manager of the Bayern Munich Spanish language Twitter account, who demanded: "Stop saving everything, Keylor Navas!", plus a snorting with anger emoji.
Seconds later, and seeing the reactions pouring in, the CM got cold feet and deleted the tweet.