LALIGA
Sevilla 3-2 Real Madrid: LaLiga Santander 2017-18
Despite scoring twice late on, Zidane's B team fell apart again as Sevilla earned victory with strikes by Ben Yedder and Layún, and a Ramos own goal. Jamaica vs USA: Gold Cup live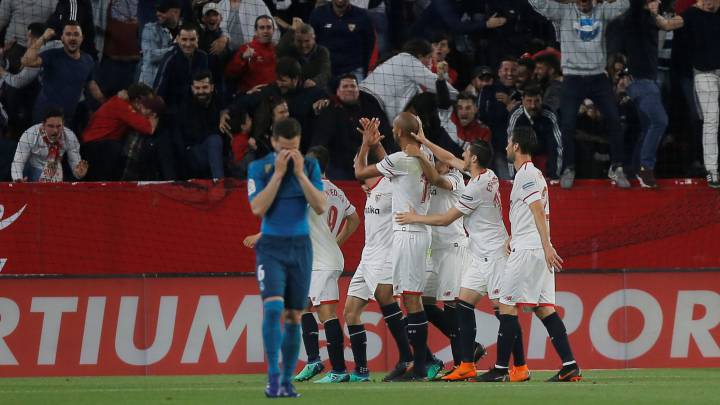 Sevilla 3-2 Real Madrd: match report
Real Madrid showed up to the Ramon Sanchez Pizjuan with their second unit and they performed like one as Sevilla outplayed them for most of the game on Wednesday night.
There were chances for Jesus Vallejo, Dani Ceballos and Theo Hernandez along with a mixture of young and old all over the field for Real Madrid. It hardly worked though as Sevilla took the lead after 26 minutes after some very generous defending from Vallejo and Sergio Ramos.
It didn't get much better from there for Real Madrid as Miguel Layun buried Sevilla's second on the stroke of half-time. It was more questionable defending from the visitors.
Sergio Ramos missed a penalty after Asensio was fouled in the area. He rattled the crossbar and would score an own-goal in the 84th minute from Gabriel Mercado's cross from the right.
Borja Mayoral headed home a consolation with three minutes to go and Ramos scored a penalty, his second attempt, when Mercado pushed Theo Hernandez in the chest right in front of the referee.
Ramos became the dubious owner of a rare record when he sent Soria the wrong way as he became the first player to miss a penalty, score an own goal and score a penalty in a game in the Spain's top flight.
Zidane won't be too upset given there's little to play for and says he won't reproach the players for the effort in the second half. There is that worry, however, that this form will creep into their form in Europe and that's when it becomes problematic.
Sevilla vs Real Madrid live stream online: minute-by-minute
90'+5'   Game over! That was a strange game.
90'+3'   Ramos to take. He scores.
90'+5'   You can't do that. So, so silly from Mercado.
90'+3'  94'   Mercado with an elbow on Theo. Penalty!!!
90'   Foul by Llorente on Sandro.
89'   Soria punches clear as Ramos looks for a header in the box.
87' Asensio sends one into the box and Mayoral heads home.
86'   Borja Mayoral with a strike but that's into the hands of Soria. He parries and gathers at the second time of asking.
85'   It might have been an own goal but it was going in anyway, maybe. 
84' Mercado with the goal to make it 3-0. Real Madrid are all over the place.
83' Ramos booked for a hand ball. Looked harsh. Layun tried to go by him and it hit his hand.
82'   Another counter and Sandro ends up shooting straight into Casilla's chest.
81' Ben Yedder coming off for Carrico
80'   Ben Yedder on the ground and the Sevilla players wanted him to put it out.
80'   Asensio with a strike that goes a mile over the bar.
80'   Ben Yedder with a run down the line. He's offside. 
79' Roque Mesa replaces El Mudo Vazquez.
78'   Casemiro with a strike. Looked very close but it's wide. He absolutely buried that shot!
77'   Escudero with another block on a Vazquez cross. 
76'   Benzema with another strike. Hits it with his right, hits his left ankle and bounces over the bar.
75'   Benzema with a shot. Over the bar.
73'   Benzema goes in late on Mercado. Free.
71'   Ball into Real Madrid's half and Casilla is a mile off his line. Real Madrid deal with it.
69' Pizarro with a foul on Casemiro. Yellow.
69' Borja Mayoral replaces Ceballos after 70 minutes.
68'   Sevilla looking increasingly dangerous on the counter.
68'   Casilla does really well by stopping Sandro. Ramon Sanchez Pizjuan want a penalty but Lahoz says no, and he rarely gives penalties anyway.
66'   Corner comes in and Soria palms it into Ramos' path. He flicks over as a reaction.
66'   We are back underway. Lucas Vazquez wins a corner.
64'   That was Ceballos' point.
64'   He dropped the ball and grabbed it again.
64'   Weird. Soria down with an injury and he has the ball but Ceballos runs in to try and take it off him. He gets up and throws it out of play and gets treatment.
62' Sandro comes on for Muriel.
61'   Real Madrid all over the place.
59'   Muriel through on goal and Casilla saves. One-on-one.
59'   They have another shout for a penalty as Ramos is caught on the rebound.
58'   Ramos absolutely rattles the crossbar.
57'   Penalty! Lucas Vazquez caught by El Mudo Vazquez.
56'   It's cleared off the line as Casilla scrambles across and saves.
56'   Casilla with gift for Sevilla. Almost, so very almost, 3-0.
56'   Ramos with a free. Just wide.
53'   Slide in on Vazquez after he loses the ball. No free. Real Madrid continue playinf after winning the ball. Ceballos fouled.
52'   Corner! Real Madrid looking slightly more dangerous but still no real problems for Sevilla. Corner arrives and it's headed out at the front post.
51'   He sends it towards Muriel but Nacho clears.
51'   Ben Yedder catches out Vallejo and Ramos again.
50'   Asensio finds Theo and he is dispossessed.
48'   Lucas Vazquez gets a little impatient and has a strike from distance after a nice spell. Over the bar and never troubles Soria.
48'   Theo to Benzema and then back to Vazquez. They spread it across the field. Real Madrid holding possession well early on.
47'  Foul on theo as  he throws Layun to the ground. Fairly needlessly, it has to be said.
46'   Back underway! 
45' Half-time.
45' GOAL! Layun. Ben Yedder causing all sorts of problems. He played it to N'Zonzi and he played it to Layun. He buries it.
44'   Heating up here. Real Madrid no real reply since the goal.
42'   No Mateu Lahoz is gaving a word with Ceballos for saying something.
42' No penalty but there is a yellow for Mercado for complaining.
42'   Sevilla almost have a goal! Cleared off the line. Ben Yedder into the center and a couple of Sevilla players get something on it. Nacho catches it and then clears it off the line. Sevilla want a penalty from Mercado's shot that looked to catch an arm. 
41'   Vallejo with a pass across the field to Theo. Out for a throw.
40'   Real Madrid blocked up in the middle. Sevilla defending them so easily.
38'   We have a defender, Sergio Escudero on the ground holding his face. Lucas Vazquez made a run to get by him an caught him with a stray finger. All good.
37'   Muriel takes possession into him and plays it out wide. Sevilla back on the ball. Clipped into the middle and Lucas Vazquez handles the ball.
37'   Asensio caught by Mercado from behind. Real Madrid keep the ball and play continues. 
37'   Actually, it's a throw in the end for Sevilla.
36'   Lucas Vazquez wins a corner for Real Madrid.
35'   Real Madrid B team not really cutting it tonight at the moment.
35'   Ceballos with a poor ball into the box. He throws his hands up looking for options. None emerge.
34'   Sevilla motoring now. They put loads of pressure on and then win it back from a bad Lucas Vazquez pass. The Ramon Sanchez Pizjuan singing!
33'   Corner for Sevilla. Arrives in and Lenglet heads over.
31'   Kovacic looked to be caught there and he was. Free Real Madrid. Ceballos out wide to Nacho and Soria kicks away the low cross.
31'   Asensio out on the left touchline. Cross comes in and that's headed clear.
30'   Ball back to Casilla and he nearly gets caught out by Muriel. Half-blocked but cleared.
29'   Benzema with a touch-down from a pass into him but that's out for a throw.
27'   Vazquez hits the ground under the challenge from Nacho. 
26' GOAL! All that possession and all of a sudden, Ben Yedder breaks free and slots under Kiko Casilla.
26'   They're doing something. They're holding possession. 
25'   Sevilla trying to make something happen.
23'   It was like a Benny Hill video. Ben Yedder being chased by a number of Real Madrid players before he lays it off and the shot comes in from Layun. That's really and truly wide.
22'   It comes in from Asensio and it falls to Kovacic on the volley and he hits it wide.
21'   Nacho with a really meaty challenge now on Nzonzi. The referee is speaking to Caparros and a few others on the bench and tells them to calm down. It was a free for Real Madrid that time.
20'   Theo and Layun get into it as Layun takes him out of it with a trailing leg. Theo has every right to be upset.
19'   Ball into the box from the left side. Theo with the delivery. Asensio with a stylish and acrobat effort at the front post but that's wide.
18'   Benzema might have been in there but he was offside. Couldn't take it around Soria in any case. 
16'   Real Madrid assert control on this one again. Casemiro back to Ramos and Ceballos takes over.
15'   Asensio lines up the free but Casemiro comes flying out of nowhere, with cape on his back, and takes the free! No. Saved by Soria.
15'   It was a push on Pizzaro by Nacho but never a penalty in reality.
14'   Ceballos fouled by Vazquez. Free from a dangerous position for Real Madrid.
14'   Nacho with a trip and it looks like a penalty. Referee says no. 
13'   Cross by Escudero and Vazquez shoots. Ramos recovers and concedes the corner. Mercado misses.
12'   Pizarro with a lovely move and Casemiro trips him up. He suddenly turned into Johan Cruyff there.
11'   And so did his teammates. It was never really close.
11'   Benzema picks off and Mudo Vazquez moves forward. He strikes just over. He had options either side of him but went alone and suffered the consequences.
9'   Another free for Real Madrid in the middle. Sevill really taking the sting out of things in the middle.
7'   Lovely ball by Kovacic into Nacho and he squares to Asensio. It's just half a yard behind him. Close!
7'   Real Madrid down the left with Asensio, then back to Ramos and all the way out to Kovacic.
7'   Kovacic fouled now.
7'   Long ball to Vazqyez and Kovacic touches onto Ceballos. He is bundled over and takes the free.
6'   This is quite sloppy to start. Neither side really controlling. Trying to, sure, but not really succeeding. 
6'   Tame start here in the Ramon Sanchez Pizjuan.
5'   Or a throw even.
5'   Long ball and Nacho fakes a header as it goes out for a goalkick.
4'   Sevilla attack comes to nothing as Real Madrid bring the ball out.
3'   Real Madrid building now.
3'   Marco Asensio picks up the ball very deep!
1'   We are underway!
Two teams out. Real Madrid in their lue strip and Sevilla in their white and red.
We are just ready for action in Sevilla! 
While Ronaldo is out of this game, Zidane assures that he will be "150%" for the final in Kiev.
Real Madrid are unbeaten away in four games in the league. Their last loss came in February against Espanyol.
The big news today came via Brazil as AS report Neymar and Real Madrid have already had a meeting over his potential €260 million move.

Barcelona leading comfortable against Villarreal in the other game tonight. 
Zidane with seven changes to the side that drew 2-2 in El Clásico. Caparros with six as he removes Roque Mesa and looks set to sit back against los Blancos.

It was expected byut Zidane has plenty of young talent in his squad to face Sevilla tonight.

Sevilla XI: Soria, Layun, Lenglet, Mercado, Pareja, Escudero, Nzonzi, Ben Yedder, Muriel, Vazquez, Pizarro.
Real Madrid XI: Casilla, Nacho, Ramos, Vallejo, Theo, Kovacic, Casemiro, Ceballos, Lucas, Benzema, Asensio.
We have team news for tonight's affair.
 Follow all the action from the Ramon Sanchez Pizjuan as Madrid travel to Sevilla to play in LaLiga on May 9 2018 with kick-off at 21:30.
Sevilla vs Real Madrid live stream online: preview
Sevilla and Real Madrid play at the Ramon Sanchez Pizjuan on Wednesday night in a game that was re-fixed for the Copa del Rey final in which Barcelona hammered Vicenzo Montella's side. He has since been sacked with Joaquin Caparros replacing him and the side from beside El Nervion responded to his coaching thus far. They beat Real Sociedad last weekend and look to continue their fight for a European place.
Zinedine Zidane has opted to rest several of his star players with some of them injured and suspended to help with his rotation. Cristiano Ronaldo, Isco and Dani Carvajal are injured while Gareth Bale is suspended. Marcelo, Varane, Modric, Kroos and Navas are all rested.
Sevilla, on the other hand, have Jesus Navas out injured with Carole, Sarabia and Kjaer joining him on the treatment table. Caparros says before the game that, "We said we had to go step by step. Friday's match is history now. Now another match arrives against a great team. We depend on ourselves."