Barcelona 1-0 Real Sociedad: match report as Iniesta says goodbye
A Philippe Coutinho goal settled matters at the Camp Nou on the final day of the season as Andrés Iniesta said goodbye to Barcelona and Spanish football. Cruz Azul vs America: Liga MX, live online

Barcelona 1-0 Real Sociedad: match report
It was an emotional night at the Camp Nou as Andrés Iniesta said goodbye to Barcelona after 16 years at the club. Xabi Prieto also bowed out on a night of goodbyes in LaLiga on the last day of the season.
It would take a Philippe Coutinho strikes in the second half to separate the sides in what was a feisty game. With nothing to play for, the two sides were vying for three points to finish the season.
Iniesta started and came off after 82 minutes. Prieto didn't start and only played for the last couple of minutes.
It is unclear as to where the little Spaniard goes next and while memories of the midfielder will endure at the stadium, he will no longer pull on the Barcelona shirt. It was a frustrating season for Barcelona, who were knocked out of the Champions League but won a domestic double in Ernesto Valverde's first season at the club.
Barcelona vs Real Sociedad: live coverage
90'+2' GAME OVER! That's it as Iniesta and Xabi Prieto say goodbye to Spanish football.
90'+1'   Fans singing for Iniesta. He can hardly keep it together. Very emotional last few minutes.
88' Xabi Prieto comes on for Zurutuza.  Legend of Real Sociedad makes his last appearence.
86'   Paco Alcacer breaks free and shoots but that's well over.
80'   Heartbreaking as Iniesta says goodbye to the Camp Nou. Tears in his eyes. A big clap for the legend!
80' Awwww man. This is it. Iniesta is coming off for Paco Alcacer. 
80'   Odriozola with a cross and that's put out for a corner.
79'   Messi and Suarez almost link up. The latter with a chipped pass towards Messi. Moya gets a hand in and saves.
79'   Paco Alcacer ready to come on now too.
78'   Another good attack from Real Sociedad. Odriozola with a cross and Pique rejects it for a corner.
75' Rakitic with a foul on the counter and that's a free for Real Sociedad, who have improved lately.
75'   Iniesta with a nice run and he pops it inside to Busquets. Busquets tries a clever pass to Suarez but too clever in the end as Suarez didn't know what he had planned.
72'   Odriozola with a run down the right. Crosses and that's blocked for a corner.
72' Cross comes in but it's too high for Suarez. Cleared by Real Sociedad and Alba pulls Canales arm and gets himself booked.
71' Odriozola comes on for Artiz.
69'   Messi with the run into the middle. He plays it to Denis Suarez and he shoots wide. He passed to the wrong Suarez. Luis was streaking down the left too.
68'   Pique caught that one just nice but too tame in the end.
68'   Shot by Pique from the corner. It falls nicely to him but that's into Moya's arms.
67' Coutinho coming off for Messi.
67'   Semedo fouled by Raul Navas.
65'   So close. Iniesta trying to get on the scoresheet and the ball is stolen off his toe. Rakitic shoots in the end. Wide.
64'   Shot comes in from Canales but that's miles over. It's also his last game with Real Sociedad tonight too.
63'   Canales replaces Januzaj.
62'   Suarez peels off and loses the ball. Nothing going his way.
60'   Moya gets the ball stuck under his feet and eventually clears. Nervy moments.
58'   Semedo hits the ground. He's rolling around on the ground, doesn't get a free, and then jumps straight back up.
55' What a goal! Coutinho with an absolute belter with his right foot. He curls it in and it hits the post. A real beauty from the Brazilian.
53' Denis Suarez replaces Ousmane Dembele.
52' Yellow now for Januzaj for a foul on Yerry Mina. For a game that means nothing, it has plenty of bite! 
52'   Suarez not happy after being fouled. He's got a sulk on now after that yellow at the end of the first half. 
52'   Real Sociedad with the ball now, somewhat bossing it. Ball into the right wing and Alba slides and La Real have a throw.
50'   Slow start to this half for Barcelona. 
47'   Free arrives in from Willian Jose. Corner. And that is sent in but cleared by Barcelona. 
46'   We have action in the second half.
45'+1'   That's it for the first half. Let's see if Dembele comes out for the second half.
45'+1'   A minute of added time. Pique called for offside. 
45'   Dembele comes back on but he doesn't look right at all.
44' Luis Suarez booked now for having a go at the referee.
43' Rakitic sends Dembele free. Oh, that's a nasty one. Raul Navas takes him out of it.
42'   A strange game this. A couple of one-twos involving Iniesta and then Suarez loses it. 
41'   Juanmi offside. That was the wrong decision, it looks like. Ter Stegen rushes out to stop him and can't. He scored but the flag was up.
40'   Willian Jose hits it first time from a squared pass. Well over.
39'   Yerry Mina gets left on his back and Real Sociedad have a chance before Rakitic sneaks in and robs it. Danger averted for now.
36'   Dive from Semedo, it looks like.
36'   Alba down in a heap and is in some pain. Collided with Yerry Mina. 
36'   Semedo hits the deck in the penalty area. Camp Nou thinks it's a penalty. Referee doesn't. Referee wins the argument. 
35'   Another attack from Barcelona breaks down. Ball falls to Suarez but his touch takes the ball away from him. He didn't know much about it to be fair to him.
33'   Alba attacks down the left now but Real Sociedad stand firm. Barcelona forced to recycle and start again. It ends up with Dembele and then Rakitic. Nothing doing for Barca so far. Dembele looks for Suarez and loses it.
32'   Another goalkick for Real Sociedad.
29'   Semedo on the right. He plays it to Dembele, who twists and turns before a cross to nobody. Suarez stands like a statue. He has a glance around trying to figure out who the pass to. He still can't figure it out!
28'   Another Dembele delivery. Low this time to Suarez and he just knocks it wide. Tough angle, coming at him at speed. He did what he could in the end.
25'   Coutinho with a lovely run. He lays it out wide to Dembele and his delivery is perfect. Rakitic greets it with his noggin and it goes just wide. Can't remember the Croatian ever scoring a header. We'll have to wait.
24'   Mina fouled by Zurutuza in the end. Barcelona on the attack again.
23'   Corner for Real Sociedad is swung in and Yerry Mina heads it away. 
21'   Coutinho called for offside. 
19'   Barca have slowly won control of this one. They're pushing for that goal. Feels like it might be coming.
19'   Corner falls to Pique and he's wide open. Dribbles a half-volley into Moya's arms.
18'   Dembele with a nice ball into the box. Luis Suarez almost gets something on it but it's out for a corner.
17'   Suarez with the free but it doesn't get by the wall.
16'   Luis Suarez fouled outside the box and chance now for a free. No Messi to take it.
14'   Chance not for Real Sociedad. Yerry Mina clears for a corner. Januzaj swings in the corner. Hand ball by Artiz. Barcelona free.
11'   Dembele with an effort. He kind of pokes it towards goal. Punched away and Coutinho also shoots. Cleared.
10'   Iniesta with an idea. He shoots from outside the box and that goes just wide. Hits the site netting. It looks like it went in for a second. Hopes dashed.
9'   Willian Jose strikes and that goes just wide! Very, very close.
7'   Shot comes in from Januzaj and Ter Stegen gets a hand to it as it bounces. Corner for La Real.
6'   Coutinho gets the ball from Suarez. Iniesta with the ball and he lays it off to Suarez. Recycles it again and ball goes out for a goalkick after he threads it through to the Uruguyan.
5'   Another cross by Willian Jose. Cleared by Barcelona. 
5'   Lovely buzz every time Iniesta gets the ball. 
4'   He has to settle for a corner.
4'   Real Sociedad with another attack. Willian Jose sends it towards goal but Barcelona clear. Iniesta out to Dembele and he almost gets a shot away after some lovely footwork.
2'   Free header for the Brazilian.
2'   Januzaj with a ball into the box and Willian Jose heads into Ter Stegen's arms. 
1'   We are underway at the Camp Nou for Andres Iniesta's final game in a Barcelona jersey. Feels strange even writing that.
    Legends of football all over the place! 
Xabi Prieto and Iniesta exchange gifts for each other. A hug, a photo and then Xavi hands Messi the player of the month award. 
I can't even imagine how emtional it must be for Iniesta. I'm not looking forward to him going off either. Its going to be a proper tear-jerker. 
The last sprinkles of water being sprayed on the turf at the Camp Nou before we close out the LaLiga season. 
Reports too that Asier Garitano will be named the manager of Real Sociedad in the next few days. He is leaving Leganés and is highly rated after what he did with the club.
This was from the farewell on Friday night when Iniesta's teammates gathered to say goodbye to him.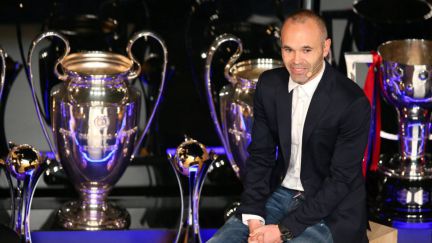 After more than 46,000 minutes, 675 games, 57 goals and millions - we're guessing - of passes, Iniesta about to call it a day.
Messi and Iniesta are set for a sub during the Real Sociedad game in a symbolic gesture.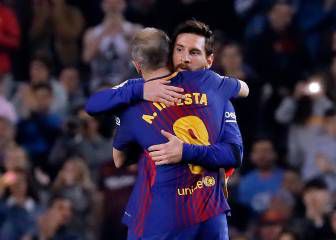 Iniesta starts! Nobody was expecting any different but Prieto, who is on his last legs, doesn't start for Real Sociedad.
Hello and welcome to out live coverage of Barcelona versus Real Sociedad. Kick-off from the Camp Nou is at 20:45 CEST where Andres Iniesta and Xabi Prieto will play their last games for their respective clubs. Promises to be an emotional night.
Barcelona vs Real Sociedad: match preview
Andrés Iniesta will pull on the blaugrana colours for the last time tonight at the Camp Nou. The Spanish legend announced his departure some time ago and despite various tributes already having being made to the star midfielder, the home crowd - along with all the players and staff that are present from both teams - are likely to make this a very, very, special send off.
Little at stake
As far as what's at stake for both sides, well not a lot. Barça already have the league and cup double sown up and celebrated. La Real take to the field knowing that they can jump up the table by a couple of places with a win but either way they will remain as part of that middle cluster. It's a game more about pride, World Cup places and fitness, and, most of all, players.
Prieto farewell
The Iniesta focus will take most of the attention but Real Sociedad have their own hero to acknowledge. Xabi Prieto starts on the bench but will be brought on at some point to a well-deserved applause from the whole stadium, as he signs off his LaLiga career at the home of the champions. Two club legends. Lots of emotion. And let's not forget that it should be a competitive 90 minutes to enjoy too with plenty of talent on show.