Liverpool manager Jürgen Klopp does not tend to say something just for the sake of it. And so when he pointed out the defensive weakness of Real Madrid full back Marcelo as the most obvious route to victory for The Reds, it increased the focus on how dangerous this could be for Zinedine Zidane as the teams meet in the Champions League Final on Saturday.
Marcelo's defensive regression
The numbers seem to back up the German coach's statements, revealing the drift of the Brazilian's return over the past three seasons (see table).
With him on the pitch this campaign (3,581 minutes spread over 43 games), Madrid have conceded 46 goals of which half have come down his flank. The growth of this statistic season on season in the Zidane era (23%-38%-50%) seems to suggest a gradual abandonment of defensive duties from the Brazilian.
Marcelo has various factors working against him. He is often found disengaged from tracking back. This has been shown in several, very different, matches. From run-of-the-mill league encounter like that against Celta Vigo, to those high-profile clashes such as El Clásico against Barça or Bayern Munich in Europe (note that eight goals have been conceded down his side in their Champions League run). We see him standing still more after losing possession up the field and he now struggles with the required acceleration to cover back. His exaggeratedly relaxed retreat puts different pressures upon Madrid's left-hand side.
For all his talents, Toni Kroos is not perfectly suited to fill in when the Brazilian gets his attacking fervour. In addition, Casemiro has plenty to do in the centre of the park as the opposition look to flow forward, and this in turn regularly puts the onus on Sergio Ramos (or sometimes Raphael Varane) to sprint out to flank and nullify the threat. This problem could be aggravated further, as Klopp aluded to, when they come up against a specialist counter-attacking side like Liverpool. Salah, Mane and Firmino, who can leave defenders trailing with top speeds well over 30km/h, will be hoping for just these type of openings.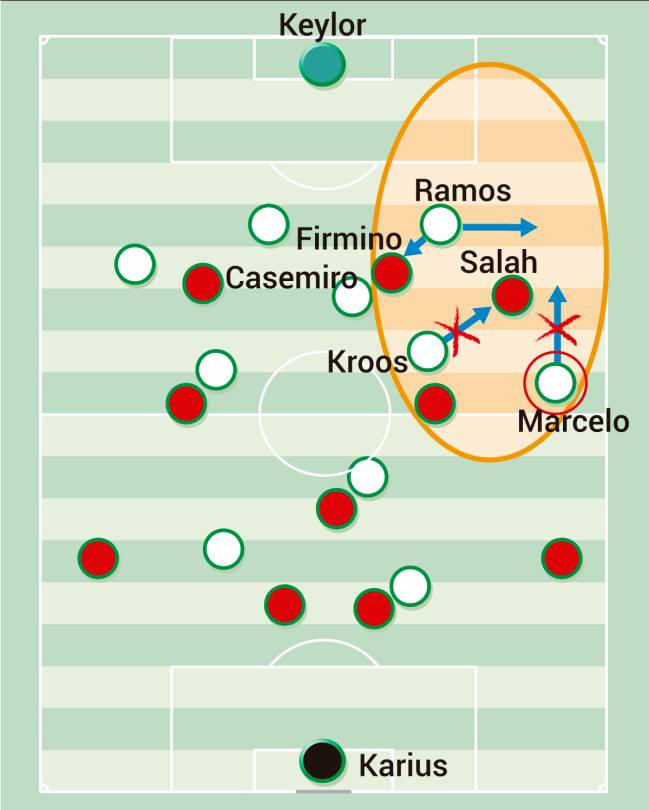 Marcelo's defensive infection contrasts with his attacking productivity. The statistics clearly recognise his offensive value. Of Madrid's 96 goals with him on the pitch, the Brazilian has been involved in 23 of them (24%). In an even more direct way (goals or assists), he has participated in 14. In the Champions League he has scored against PSG, Juventus and Bayern Munich - their own league's champions - on the most recent steps along the road to the final. His technical ability, his presence and creative link-up play mean that he complicates defensive decisions.
"Marcelo goes forward a lot," Klopp said. Maybe he should have also added how well he does it.
Passiveness from Marcelo
Marcelo has never stood out as one of the particularly aggressive players when involved in one-on-one duels, clearly shown against Douglas Costa and Kylian Mbappé in this run . His contemplative attitude when defending crosses has also been questionable (demonstrated in games against Bayern and Juve).
Champions League goals against Madrid on Marcelo's side

Champions League goals for Madrid when Marcelo has been key