Morocco 2-1 Slovakia: report
Morocco dominated almost every aspect of the game in Stade de Genève on Monday night but found themselves behind in the second half thanks to a Gregus piledrover from outside the box.
The side managed by Harvé Renard won the possession battle early on and had a number of chances with Leganés' Nordin Amrabat impressing in particular in the opening half. they failed to score but it looked like it was only a matter of time.
That was before Gregus nailed a shot into the bottom corner leaving Girona's Bono sprawling across his goal line in an effort to stop it. After that goal, it was straight back on the attack for Morocco.
Their patience paid dividends when Belhanda headed a corner home thanks to some slack defending. Shortly after that, substitue El Kaabi drove a low shot into the bottom corner to complete the comeback.
Morocco play one more friendly against Estonia before their World Cup opener against Iran on June 15. They were the better side by far on Monday night in Switzerland but will have to prevent goals on the counter during their time in Russia this summer.
Morocco vs Slovakia live: as it happened
90'+2'   GAME OVER! Morocco fans mob their favourite players.
90'+2'   It goes back and forth a bit before Slovakia win ia back and win a free. 
90'+2'   Harit down the left. Cross in by Fajr but that's to nobody in particular even if Morocco keep it. 
90'+1'   Skriniar down after taking a stud or two to the foot from Amrabat.
89'   Last couple of minutes in Geneca. Slovakia have a corner. Headed out.
86'   Nah, that's not going to work. Nemec with a shot off his left but it goes well wide.
84'   Beofre Slovakia win it back of course.
84'   Carcela Gonzales with some serious speed to run down the right. He cuts inside but loses possession. He was a little loose with the ball anyway and never fully in control at that speed. Dangerous though.
83'   Achraf drives forward down the left, where he is playing in this half. He loses out though with two Slovakians for company.
81'   Morocco playing slightly more defensively now. Long ball clipped over the top and Valjent is offside.
78'   He gets up and walks to the side holding his hip. Might have been just a stinger. He will continue, it looks like.
78'   Morocco player on the ground now and it's Harit. Looks like he took a kick to the stomach. Let's hope he is okay to continue and nothing serious. Heartbreaking to see injuries before the World Cup.
75' Carcela-Gonzales replaces Ziyech. Loads of changes for Morocco as Fajr comes on for them too.
72' GOAL! One of those shots from distance was going to go in. Belhanda with a strike that skids along the wet surface and in! Nice finish. 
68'   What a strike! Da Costa forces a save from Sulla from downtown. Lovely trajectory on that shot. Tipped over.
65'   Another chance. Harit gets a foot on a through ball and blasts over. 
64' GOAL! El Kaabi heads home in the middle. Poor defending as he just stoops down and nods it home! 1-1.
62'   What a save. Lovely move by Morocco that sees them sweep up the field. Boussoufa heads it towards goal and Sulla saves. Corner.
59'   Corner swung in and Harit almost gets a foot on it at the back post. Out for a goal kick though.
56' GOAL! Out of nothing and Gregus drives a strike beyond Bono. A piledriver. He didn't have it planned but just popped up at the right place and the right time. 
54'   Golden chance for Slovakia but it comes to nothing. Pacinda with the ball out to the right and a great chance to strike it but he doesn't Morocco get back and survive.
53'   Amrabat with an effort. He drives it straight at Sulla though.
51'   Ziyech and Harit link pup and that's behind for a goal kick but not bad from the sub. Lovely ball with a little too much pace on it.
50'   We did have a change at the break. Harit, who won Bundesliga Rookie of the year is one. He drives forward and is tripped. Much need speed to Morocco's attack. Cross comes in from Amrabat but that's low and easy to defend for Slovakia
49'   Closer again. Ziyech with a nice one-two and he slams a shot wide. All of these shots coming from some distance but still not bad. Morocco might be lacking a strong number nine with the quality they have wide on deliveries. Either that or they are under-utilising what they have.
47'   Morocco start as they finished. Shot from Belhanda. That's well over but a decent little pot shot.
46'   No changes for either time at the break.
46'   We are back underway for the second half! 
45'   Half-time. Boussoufa sits down on the field as the ref blows it up. He looks uncomfortable. Let's see if he can continue.
44'   Free comes in. Headed out for a corner and then Morocco are offside or foul? It's not quite clear. Free for Slovakia whatever it was the referee blew the whistle for.
43' Skriniar two for two with another foul and he gets booked this time. Fouls Amrabat with a hefty and late challenge. Free from the right now for Morocco.
42'   Sakulic unhappy again. I think he's just unhappy in general. It was Skriniar with the foul on Zyiech but the right-back got involved and isn't happy.
41'   Free for Slovakia. Bousouffa gets a yellow for the foul on Kuco. He is having a word with his teammates, who got him into trouble to begin with.
38'   Achraf down the right and Slovakia's Mak puts it behind. Offside before that though, it looks like.
37'   Mendyl shows off his speed and defensive acumen with a nice slide tackle to repel Slovakia again.
36'   Amrabat with another chance as he rolls the ball into a favourable position before striking. Blocked for a corner.
34'   Another dangerous ball in as Belhanda almost gets his head to it and Amrabat too with his foot. Close call!
32'   Hamsik, who else, has a shot for Slovakia. Ball comes in from the right and he curls it just over. Not bad at all. Morocco have looked suspect at the back.
31'   Ziyech with an effort. Bounces before it goes wide. Nice effort from the attacking midfielder. Morocco getting closer.
30'   How many chances down he need! Benatia gets one chance that comes at him quickly and he dribbles one into a defender. It comes back out to him and he drives it towards goal but that's blocked too. Shoddy defending by Slovakia as Morocco tap gently on the door. Amrabat sends one in now and Sulla gathers.
30'   Cross comes in and Kucka heads over. Corner for Morocco.
29'   Foul now as Sakulic takes Amrabat down. Free in a dangerous position. Slovakian defender isn't happy. Ziyech to take.
27'   Foul now on Saiss. Morocco back on the ball.
26'   Achraf with a deep cross to Amrabat. He strikes, it's blocked, and then shoots again on the rebound. That hits the side netting. Lovely cross from Achraf. 
25'   Amrabat to Mendyl as he runs out of real estate in front of him. Morocco recycle and start again. Ball into Boutaib but he loses out.
24'   Achraf to take a throw now. Whips it across to Mendyl and Morocco in a nice position now. They're switching play with ease and look comfortable on the ball.
23'   Hamsik with a pass in behind and Sais forced to slide in on Duris. Goal-kick.
22'   Hamsik fouls now as he collides with Amrabat. Not a tackle for the faint-hearted - two big men!
21'   Slovakia with a rare spell of possession now. Morocco win it back though. Morocco have enjoyed 63% of the ball so far!
19'   Cross from the right and Girona's keeper, Bono, gathers it.
18'   Al Ahmadi fouls Hamsik with a stud on the back of his leg.
17'   Achraf wins it back for Morocco and they start to rebuild.
14'   Morocco threaten again. Another good shot and Sulla saves. 
12'   Slovakia throw.
11'   Morocco looked dangerous earlier but have cooled off. Still, they have full control of this one. It's not really ideal because they probably won't have any control against Spain or Portugal.
8'   Amrabat, hugging the touchline, sends a ball into the center. Ziyech with a strike from way out. It hits the bottom of the post. Sulla didn't know what happened. It went under his arm and the attacker nearly scored.
7'   Morocco have started really well here. Slovakia under pressure.
6'   He does and he launches it to the back post. Slovakia clear. Morocco counter and Amrabat crosses from the right. That's saved by Sulla.
6'   Corner for Morocco and Boussoufa set to take. 
5'   Maybe there are more Morocco fans. Slovakia on the ball and the boos around the stadium suggest the Slovakians are outnumbered.
3'   Another half chance for Morocco. Falls to Boutaib but his shot is blocked and Slovakia survive again.
2'   Hakimi down the right and he crosses into Boutaib. Slovakia recover but Morocco press high up the field and win it back. Good start by Morocco.
1'   We are underway as Morocco tip off in Geneva in the rain.
Seems most of the crowd is Slovakian. They have a massive flag and all. It's absolutely lashing rain in Geneva.
Not the biggest crowd in Switzerland to watch the game but why would there be. The teams out now and lining up for the national anthems.
Morocco XI: Bono; Achraf, Benatia, Saïss, Mendyl; Belhanda, Boussoufa, El Ahmadi, Ziyech; Amrabat, Boutaïb.
Slovakia XI: Sulla; Sekulic, Satka, Skriniar, Hubocan; Hrosovsky, Kucka; Mak, Hamsík, Duda, Duris.
Very interesting read on Morocco and their European connection.
And Atlético were linked with striker El Kaabi. He finished the African Nations Championship - CHAN, for short - as the top scorer with nine goals.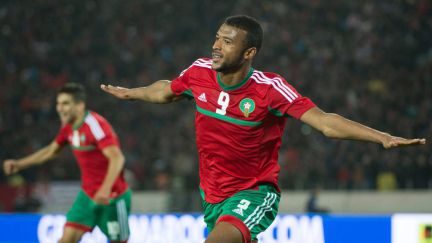 There is loads of talent in this Moroccan squad. They have Amine Harit, who won the Bundesliga Rookie of the Year award too.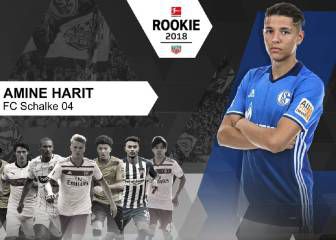 Hello and welcome to our live coverage of Morocco and Slovakia from Stade de Genève. Kick-off is at 20:00 CEST and we will have live updates, team news and all the rest for you long before that! 
Morocco vs Slovakia live: preview
The pre-World Cup friendlies continue with Morocco and Slovakia playing on Monday June 4 in Switzerland with kick-off at 20:00 CEST.
Morocco have their work cut out for them in Russia this summer with Spain and Portugal in their group for the World Cup along with Iran. Slovakia did not qualify for the tournament despite finishing as runners-up to eventual Group F winners England.
Coached by Hervé Renard, they have plenty of experience in their side with a mixture of youth. They don't have the strongest squad in terms of quality in depth but have important players in every line of the field including Mehdi Benatia and Achraf Hakimi of Juventus and Real Madrid along with Hakim Ziyech, who won the Dutch footballer of the year award this season, and Youssef En Nesyri, who impressed for Malaga despite their relegation from LaLiga.
Morocco's World Cup squad:
Goalkeepers: Mounir Mohamedi (Numancia), Yassine Bounou (Girona), Ahmad Reda Tagnaouti (Ittihad Tanger)
Defenders: Mehdi Benatia (Juventus), Romain Saiss (Wolverhampton Wanderers), Manuel Da Costa (Basaksehir), Nabil Dirar (Fenerbahce), Achraf Hakimi (Real Madrid), Hamza Mendyl (Lille)
Midfielders: Mbark Boussoufa (Al Jazira), Karim El Ahmadi (Feyenoord), Youssef Ait Bennasser (Caen), Sofyan Amrabat (Feyenoord), Younes Belhanda (Galatasaray), Faycal Fajr (Getafe), Amine Harit (Schalke)
Forwards: Khalid Boutaib (Malatyaspor), Aziz Bouhaddouz (St. Pauli), Ayoub El Kaabi (Renaissance Berkane), Nordin Amrabat (Leganes), Mehdi Carcela (Standard Liege), Hakim Ziyech (Ajax), Youssef En Nesyri (Malaga)