Julen Lopetegui was presented as the new coach of Real Madrid in the presidential suite at the Bernabéu on Thursday afternoon, just a day after his shock sacking by Spain, for the way in which his signing at Madrid was handled. After signing his three-year deal with the Spanish giants, Lopetegui gave an emotional speech to the assembled Real Madrid staff and former players along with reporters.
Lopetegui focused in the first part of his speech on how proud he was to be signing for the club and how he would, in line with the club's aspirations, aim to "win everything". Only at the end of his speech did he mention the events of yesterday, saying: "Yesterday was, possibly since my mother died, the saddest day of my life, but today is the happiest day of my life".
In the question and answer session with the journalists Lopetegui made it very clear that he felt that both Real Madrid and himself had done nothing wrong in the way they handled his move from Spain to the Bernabéu. He provoked laughter and applause when he said he wished Spanish FA president "Rubiales had done things differently". Lopetegui repeated again and again the words "honesty", "transparency" and "loyalty".
The new Real Madrid coach said that the announcement that he was signing for the club had made no impact on the Spain squad, and in fact they had had the best training session of the week after the players had been told.
The one bright spot, Lopetegui said, was that he can now start working earlier than expected for Madrid, and that tomorrow he would be at the Valdebebas training ground getting stuck into his new job.
Live coverage of Julen Lopetegui's presentation as new Real Madrid coach
That's all from the Bernabéu. We'll have live coverage of all the World Cup games tomorrow, including Fernando Hierro's debut as Spain coach against none other than Portugal. Have a good evening!
Lopetegui was very emotional when he spoke about yesterday being the saddest day of his life.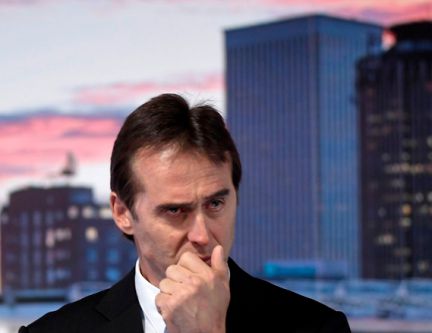 Julen Lopetegui came across very well in that speech. He didn't want to speak much about the sacking by Spain but made it perfectly clear he's beyond hurt by what happened and that he's certain it was unfair. "Yesterday was the saddest day of my life, after the day my mother died".
Here's Lopetegui and Pérez: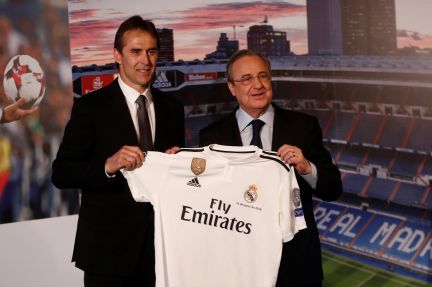 Lopetegui clearly feels wronged by Rubiales, and was quite certain that signing for Real Madrid wouldn't have affected the Spain squad spirit.
What's clear from that is that both Real Madrid and particularly Lopetegui feel they did absolutely nothing wrong in agreeing a deal for the coach to join after the World Cup, and that what they did was absolutely standard, and they tried to be honest and transparent with the Spanish FA.
And that's it! No more questions. Some photos with his family on the podium at the moment.
The most emotional message he received was "You're coming home" from someone he met at Real Madrid when he was just 18.
Lopetegui says the one good thing is that he can start working for Real Madrid tomorrow.
Asked if he would have signed for another club Lopetegui says simply that it's a great question. 
Lopetegui says he thinks the team spirit will be fine for Spain, because it's a great group.
Sergio Ramos has said it feels like a funeral with Spain right now. Lopetegui says he doesn't feel that he's responsible for that.
Lopetegui says he's convinced they did things honestly and clearly.
Lopetegui says Spain are in great shape, they've worked incredibly hard and with a bit of luck can do very well in Russia.
Lopetegui says yesterday was surreal. The players though showed him lots of love, and that helped him through it.
Lopetegui gets more wild applause for that one.
Is Ronaldo the best player in the world? He's the player I always want by my side. And the best player is always at Real Madrid.
That one gets a big round of applause.
Lopetegui says he wishes Rubiales had done things differently.
Lopetegui says he's very relaxed about the way he went about the move. He was honest and clear about it all. "When the players found out we had the best training session of the week".
Lopetegui asked if there was a lack of communication between himself and Rubiales. The new coach says there's not much more to say. That he and Real Madrid tried to be transparent. That the timeframes when a coach signs a new contract are very tight and that in the first place he was congratulated, and then several hours later he was fired.
Lopetegui says he doesn't want to say much more, just that the Spain squad are a great bunch of players.
Talking about the sacking now. Asked about the fact that there was no sporting reason for the firing. Lopetegui is clearly angry about what's happened to him. Lopetegui says he doesn't know what happened between telling Rubiales and then being fired.
Yesterday was the saddest day of your life you say, do you want to watch Portugal - Spain tomorrow? Lopetegui says of course. He still feels part of it and he'll be supporting Spain like any other Spainiard.
Lopetegui says living Madrid's values, loyalty was incredibly important for him. Pointedly mentions loyalty again.
What does it mean to come back to Real Madrid? Today is the happiest day of my life.
Questions to Lopetegui
Lopetegui showing off his shirt with Pérez now.
No camera on his wife when Lopetegui said today is the happiest day of his life...
Lopetegui says today is the happiest day of his life.
Lopetegui mentions the death of his mother and he's got tears in his eyes...
Lopetegui: "Real Madrid aspires to win everything and that's what I aim to do"
Lopetegui says he'll do everything he can to be at the level of the club and to attempt to, if he can, improve it.
Lopetegui says thanks to Pérez, thanks to Real Madrid, and that he's proud to be the new Real Madrid coach.
Lopetegui's turn...
Pérez now turning to the "beautiful" challenge at Real Madrid, saying everyone at the club will be behind him.
Pérez says that for him the Spain players wouldn't have been affected by Lopetegui signing with Madrid. "There's not a single reason why Lopetegui coudn't have been in the dug-out tomorrow" for the Portugal game.
For Pérez Real Madrid have only contributed to the successes of Spain. "The most important thing is for Real Madrid to stay united" and "continue to be the most beloved club in the world". Pérez clearly feels the attacks are just a means of besmirching the image of the club.
Pérez fighting back against the criticism of Real Madrid for reaching a deal with Lopetegui. Saying Real Madrid was attacked unfairly over the move and that it was an absurd reaction from Spain.
Pérez says Real Madrd and Lopetegui had reached a contract that they were perfectly free to do. And the best thing was to make it public as soon as possible. For him this is the first time that a national coach has reached a contract with a club and that's been taken as a sign of disloyalty by their federation.
Pérez saying that it was perfectly possible to be Spain coach and want to be Real Madrid coach.
Pérez reminding everyone that Lopetegui was unbeaten as Spain first team coach.
Pérez says welcome to Lopetegui, and says he's well known at the Bernabéu  and is coming home.
Pérez probably won't say anything more about why it's happening today.
Pérez says thanks to everyone for coming. "We wanted to do this after the World Cup, after winning it again, but a series of circumstances have meant we're here today"
Florentino Pérez first up.
Lopetegui looks a little wistful as he watches his time with Spain. But that's all in the past now...
Footage of his time with Spain now.
Lopetegui played one season in the first team at Real Madrid.
Here we go... a lovely video presentation to get us underway. Footage of Lopetegui's previous time at Real Madrid as a goalkeeper. Oh, nice tip over the bar there. Stirring music. You can imagine it. No strikers are getting past him in this film.
Lopetegui enters, big round of applause.
Raúl's there, high fiving with Lopetegui's son it looks like.
Lopetegui's family coming into the presidential suite. Not long now.
Lopetegui's shirt has the date of his signing, 14 June 2018, emblazoned on the front. He looks very pleased with it. The 13 European Cups behind him must weigh a little heavily though...
No photos through from the Bernabéu yet. We'll post some as soon as we have them. Lopetegui is with his wife and children at the moment. More Real Madrid shirts being handed out.
Lopetegui now having his photo taken with a Real Madrid shirt alongside Pérez and in front of all 13 European Cups.
They haven't made it to the presidential suite yet, they're in one of the other executive rooms up there, for the signing of the contract. There you go, pen to paper, and that's Lopetegui under contract for three years.
And here comes Lopetegui, with president Florentino Pérez, and he looks very relaxed and smiling.
It will be fascinating to see Lopetegui's emotional state. While joining Real Madrid is an absolute dream for any coach (even with all the difficulties and pressure you know you're going to face), he must still be in shock that his tenure as Spain coach finished the way it did. He'd had a great qualifying campaign with the side and must have fancied his chances of taking Spain deep into the tournament. But no. And now here he is in the Bernabéu.
On Real Madrid TV they are lamenting Zidane's departure, saying he had such a good understanding with the players.
The presidential suite at the Bernabéu is packed with the Real Madrid great and good, plus lots of reporters. Photos of Lopetegui up.
Julen Lopetegui spoke very briefly en route to the airport after being fired yesterday, to say that he was "very sad", but hoping that Spain would "win the World Cup".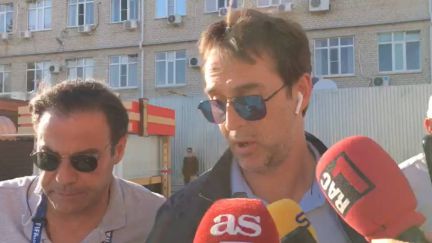 No movement yet at the Bernabéu. If you're looking for something to do until Lopetegui appears a marvellous choice would be to follow Robbie's live coverage of Russia v Saudi Arabia, which is nothing less than the opening game of the World Cup. Russia cruising so far 3-0.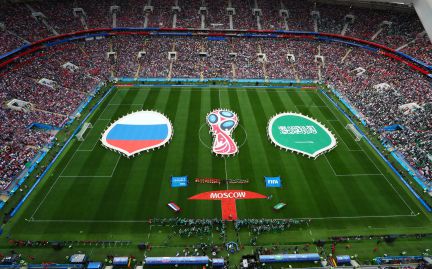 Here's an interesting look at Lopetegui's style of play - examing eight of his key tactical approaches to the game, including his love of overlapping full backs, goalkeepers who enjoy using their feet, and the precise type of winger he wants to play...
So Real Madrid seized the opportunity and decided to present Lopetegui as soon as possible. No matter that there's a World Cup starting today. Though some might say that by doing a deal with Lopetegui on the eve of the tournament they'd already shown how important the World Cup is to them. 
Julen Lopetegui of course wasn't expected to be presented until after the World Cup. He was Spain coach until yesterday morning, when Luis Rubiales, the president of the Spanish FA, summarily sacked him, for the way in which the coach had dealt with his transfer to Real Madrid - basically because the Spanish FA, who renewed Lopetegui's contract just a couple of weeks ago, found out about the move just five minutes before Real Madrid announced it.
Hello and welcome to our live coverage of the presentation of Julen Lopetegui as the new Real Madrid coach. Proceedings should be kicking off around 19:00 CEST.
New Real Madrid coach Julen Lopetegui to be presented this evening
Julen Lopetegui will be presented as the new Real Madrid coach this evening at the Bernabéu at 19:00, the latest chapter in what has been a remarkable couple of days for the 51 year old. Real Madrid announced on Tuesday that Lopetegui would be taking over at the Bernabéu after leading Spain at the World Cup in Russia. However the Spanish FA reacted both badly and quickly to the news and sacked the coach the next day, installing Fernando Hierro in his place.
Having been fired, a distressed Julen Lopetegui found himself on the next plane back to Spain. Real Madrid were keen to take advantage of the opportunity and install their new coach as soon as possible, hence this evening's hastily arranged presentation. Florentino Pérez will be there to show off his new signing, one which he picked up cheaper than expected, thanks to the Spanish FA firing Lopetegui, meaning Real Madrd don't need to pay his buy-out clause. Don't expect Florentino Pérez to show any contrition for upsetting Spain's World Cup plans...
Lopetegui's to-do list
Lopetegui has a pretty full in-tray to deal with, including Cristiano Ronaldo's renewal demands, the goalkeeping situation, Bale's potential departure, the returning loanees... But don't expect Lopetegui to do much more than say how honoured he is to be joining such an amazing club and that he's going to give it his all. And no doubt, despite the inspiring setting of the Bernabéu, most his thoughts will be 1,500 miles away in Krasnodar