Qatar 2022 invites eight workers to the opening match of Russia 2018
The invitees, who were chosen out of 3,000 candidates, are in Moscow alongside Xavi, ambassador for Generation Amazing.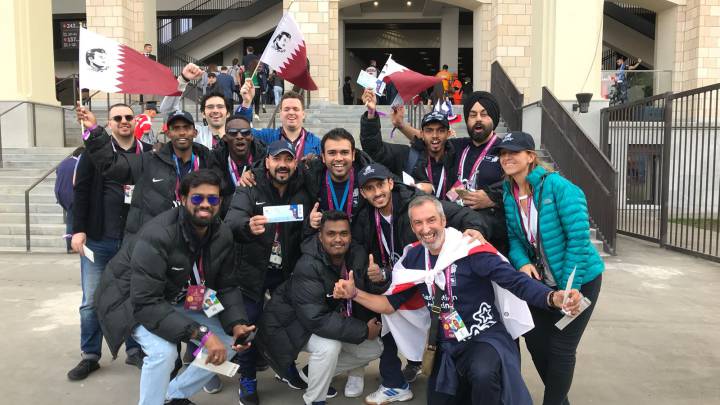 Generation Amazing, Qatar's social programme to improve conditions in neighbouring countries as well as helping immigrants who have come to Qatar, has helped realise the dreams of some of the workers who are turning the World Cup 2022 into reality. Eight of them were invited to Russia to watch this edition of the tournament, which precedes Qatar 2022, and yesterday they attended the opening match between Russia and Saudi Arabia. "You see an excitement about the football that sometimes those of us who have dedicated our lives to the game don't perceive. Just seeing their faces filled with happiness is enough", said Xavi, ambassador for Generation Amazing.
"It's the first time we've brought them, because the idea came about in 2015 and this is the first World Cup since then. They work in construction, catering… We're using the fact [of them being here] to give them leadership workshops which they can then pass on to their colleagues in Qatar. We've got projects in six countries and we're going to have them in eight more, in the countries where we'll be setting up football camps", said Isabel Gultresa, corporate social responsibility senior manager of Generation Amazing.
One of the workers enjoying his first World Cup experience is Sadique Rahman. He was born in India but has been working for many years in Qatar. "Coming to the World Cup is beyond my wildest dreams. To be here at an event like this, and for us to be hosting it in four years time in Qatar is incredible. We're enjoying it to the full. And what can I say about the fact Xavi is here with us. We're making the most of it, taking leadership classes in the morning. It was fascinating going to the opening game of the World Cup. When they told me, I couldn't believe it. One dreams of these things", he said.