France vs Australia live online: updates
90'+5' GAME OVER! France nearly messed that one up in which they were massive favourites. They get the win through Griezmann penalty and Pogba solo goal.
90'+5'   Fouled! good run by Pogba, who knew exactly what he needed to do. That should do it now for France.
90'+5'   No way through for Australia. And Pogba breaks. 
90'+4'   They're running out of time and they know it.
90'+4'   Pavard puts the ball out for a throw. Launcher coming in from Behich.
90'+3'   Lucas Hernandez puts the ball out for a throw, breaking up a dangerous looking Australia attack in the process. France filter men back now too.
90'+2'   France win a throw and are in no hurry to take it.
90'   Lucas Hernandez down now after being caught by Risdon.
90'   Five minutes of added time.
90'   Mat Ryan gets caught off his line as he chases down Mbappe. He loses out and Mbappe sends it back across to Fekir. He thinks about shooting before passing to Pogba, who loses out. 
88'   Fekir, maybe a little selfishly, shoots from the free. It was a tough angle and blocked in the end by the wall.
87' Yellow for Behich. He fouls Fekir on the break. He definitely pulled the sub back as he moved forward. 
87'   Giround with a foul as Australia look for an equaliser.
86'   Mooy took a knock to the face as he uses his jersey to ease the pain somehow. He's okay.
85' Arzani comes on for Kruse.
83'   Corner comes in. Ryan punches clear and a shot comes in as a result but that's over.
83'   France have improved since that goal.
83'   Cross comes in from the left again and Giroud is waiting for it. Headed up into the air and Ryan gathers.
82'   France take the lead but the have a lot to work on if they do end up winning this. Mbappe down the left. 
81' GOAL! Pogba with the goal. What a run. He just drifted up the field and got a little but of luck in the end. It took a deflection but it was definitely a goal. 
79' Matuidi for Tolisso.
78'   Matuidi ready to come on.
77'   Mooy with the free out to Risdon. He crosses and it's blocked. He wants a penalty for Lucas but his hands were very much by his side.
76' Tolisso booked for a clip on Juric. They were away there.
74'   Irvine wins it back and Australia break. 
72' Irvine on for Rogic.
70' Giroud and Fekir on for Griezmann and Dembele.
69'   France trying to force the issue now but they're still not out of second gear really.
68'   Giroud coming on, as is Fekir, for France.
67'   Dangerous ball back to Ryan and Mbappe closes down the keeper. He clears but just in the nick of time.
66'   Behich down the left as Australia start to grow in confidence.
66' Kruse thrown to the ground and wins a free.
64'   Juric on for Nabbout.
64'   We have a change for Australia.
62'   I think even Umtiti knows that was very silly. 
62' Mile Jedinak! Straight down the middle. No mistake. Not as good as Griezmann's but same result.
61'   He handled the ball with a teammate behind him to clean up. Cross came in and he handled it. Ridiculous.
61'   Umtiti concedes a penalty! 
60'   France with their backs up now. Mbappe down the left. He cuts it back to Griezmann. He shoots and it's blocked back out to him. Another shot and with his right, it's quite tame really.
59'   Plenty of debate over the penalty. Lots of people saying it wasn't a clear enough mistake to go to VAR in the first place. 
59'   A sliver of luck that France needed.
58' GOAL! That's quite a good penalty. No doubt. Ryan left rooted to the spot.
57' All a bit slow but it was a penalty. Risdon is booked.
55'   Looks like a penalty based on VAR! He just did the television thing and then pointed to the spot...
55'   But we are going to VAR!
55'   No penalty. 
55'   France through on goal with Griezmann. Australia have defenders chasing and the slide comes in from Risdon, Griezmann hits the ground.
53'   Referee has a chat to Dembele and Behich now and tells them no more messing. 
53'   Ball into the box from the right for Nabbout but he can't reach it. Dangerous from Australia.
52'   Australia weather that storm and win the ball back. Well, it wasn't quite a storm. It was more like a light drizzle.
51'   Looks like Giroud preparing himself now. A few more French players warming up too.
50'   Dembele with a nice ball to Lucas on the left but there's too much pace on that. Catches out a defender and Lucas Hernandez.
50'   Leckie with a ball down to Kruse. All the way back to Lloris as France recover and start again.
48'   Leckie needs to be careful. He fouls Hernandez in the air. There was no free there though when you look at the replay.
48'   Umtiti fouls Nabbout. Livelier from France but they started the first half that way too.
48'   Lucas cross and it's cleared by Australia.
47'  More pressure high up the field now and they force Australia into a mistake.
47'   Foul by Tolisso. 
46'   We are back underway. No goals in that opening 45. Has Deschamps made any change with his tactics?
No changes for France and I'm fairly sure Australia won't be changing anything either.
Disappointing from a France perspective. Australia defending very well but France coughing the ball up in midfield and not applying any pressure is really helping Australia to defend well. Plus they have no width whatsoever up the field.
45'   Half-time.
45'   Mooy into Rogic. Wide open to Behich on the left. The cross is sent in and it comes back out to him. He tries to curl it by Lloris but that's well wide. Looked good for a second though.
45'   Ryan collects from Dembele and he tells his players to calm things down... They're content with taking it to half time. But there's more time!
43'   Pogba with a lovely ball into Griezmann. He had very little space to hit that into but that was so close. Griezmann loses out in the end as Sainsbury gets a foot to it. 
42'   Tolisso into Griezmann and a backheel from the Atlético player. Tolisso gets it again but his touch takes it away from him. Australia crowd them out again.
40'   Kante fouls Rogic as Australia set themselves up for another attack. France not pressing Australia and making it easy for them in their own half. They've been able to build from there and that's where France's problems are starting.
39'   A real clash between Nabbout and Lucas. The striker comes in behind the defender and that's a free for France. Quite a sore one. 
38'   Australia really putting it up to France. France don't really know what they're doing.
37'   Foul by Griezmann as it's sent into the box.
36'   Quite sloppy from Australia as Mbappé and Tolisso combine to win it back. Then Mooy launches himself at Mbappe and wins it back before kicking it out for a throw.
35'   Hernandez with a throw not down to Mbappe. 
34'   Corner is taken and Ryan grabs.
33'   Closer from France. Lucas gets it after some neating movement outside the box. Lucas shoots and it's blocked for a corner.
32'   Tolisso almost finds Mbappe. Australia slide in and recover again! 
31'   Mbappe gets it from Pavard.
31'   Mbappe tries to buy himself a yard in the box. Can't and Australia recover. Not for long though as it's sent back up the field. Griezmann tries to control but Australia recover and clear. Better from France.
29'   They had to stop the game as there was something wrong with the ball. Anyway, back with Ryan for a goalkeeper.
29'   Umtiti to Griezmann and he lays it off the Lucas. He is dispossessed and the ball ..... bursts?!?!
28'   Mooy with a dangerous enough looking free but Lloris rushes out and grabs it.
28'   Foul now on Leckie. Pogba the one who fouls him.
27'   Goal kick for Australia.
26'   Nabbout kicks the ball out after Australia win it back and counter. Looked grim ahead of him there and no options whatsoever. 
25'   Tolisso has his arm pulled back by Rogic and he falls on the ball and grabs it. Ref had no option but to give him a free really.
24'   Another one in behind and Mbappe is lurking. Ryan grabs it after it's kicked up into the air by a defender.
23'   France back on the ball now and trying to solve the algorithm ahead of them! Struggling to far except for a few nice through balls into Mbappe.
23'   Looked a certain free.
23'   Dembele looked to be fouled. He tried to run by Sainsbury and he caught him with a shoulder. No free and the Barcelona attacker can't believe it.
22'   Australia dominating possession.
20'   Quite unneccessary. Jedinak catches Tolisso with an elbow to the back in the air. Lucky he didn't get a yellow card.
18'   Griezmann beckons his team forward! 
18'   Umtiti caught by Leckie and France have a free. This game has evened out in the last couple of minutes. France's good start largely over.
17'   Sainsbury gets a foot on the ball on the back post. It might have hit Tolisso as Lloris gets down and palms it away. Mooy with the free.
16'   Pavard has started poorly. Free now after clipping Kruse.
16'   Australia with a spell of possession now. hey move forward and Varane puts it out for a throw.
15'   Pogba with a dangerous ball into Mbappé but a little too much pace on it.
14'   Headed out again at the front post.
14'   Mooy with the header clear. Corner!
14'   Another lunge, another foul. Lucas the man fouled again. Free for France. Maty Ryan forced to organise his defence again.
13'   Headed up and out for a goalkick.
11'   Pavard very lucky not to be booked now as he pulls back an Aussie attacker. Free for them on the left hand side. Chance to whip it in and maybe test Lloris.
11'   Through ball for Mbappé but he's not that quick.
10'   Some pressure from Australia and Pavard wins a throw.
8'   Mbappé sends it in, Griezmann glances one towards goal and Ryan saves again.
7'   Another foul. Lucas this time the man felled. Risdon pulled him down quite cynically.
7'   Pogba fouled but referee plays advantage.
6'   Dembele down the left-hand side. He cuts in and Griezmann gets it, shoots and forces another save from Ryan.
5'   Pogba the man who shoots. Decent effort but too straight as Ryan grabs that easily.
4'   Free for FRance. Pogba and Griezmann stand over it. 
3'   Griezmann with the corner and it's headed up and out for a throw in the end. France back on the attack.
2'   Ball through to Mbappé. Lovely pass and his speed sets him free. He shoots and forces a really decent save from Ryan at the near post.
2'   France on the ball to start us off. 
1'   We are underway! 
Griezmann "one of the big attractions" in this game according to the commentator. He's not wrong. And Griezmann looks very zen if a little fired up! 
The Aussies in the crowd really blaring their national anthem! 
    We have a wonderful day in Kazan as the sun shines. It's the first daytime early afternoon game.
Teams emerge onto the field! 
I guess the common sense approach from Bert van Marwijk today would be too frustrate France and try to infiltrate their midfield. They have the players to do that in Mooy and Jedinak and than it's a matter of taking advantage of any scraps of chances up front. Have a feeling Lucas Hernandez could be a problem for the Aussies though. France are so dangerous that stopping every threat is impossible and they'll have to home in on one aspect of France's play and they should try to make it a battle in the trenches of midfield. 
The injury worries over Mbappé have been allayed with his name being on the teamsheet.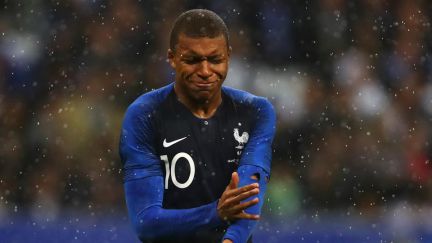 Australia XI: Ryan, Milligan, Leckie, Kruse, Nabbout, Mooy, Jedinak, Behich, Risdon, Sainsbury, Rogic.
France XI: Lloris, Pavard, Varane, Umtiti, Hernandez, Tolisso, Kante, Pogba, Dembele, Griezmann, Mbappé.
If you missed the decision, you can read back how it happened here! It was bizarre, to say the least.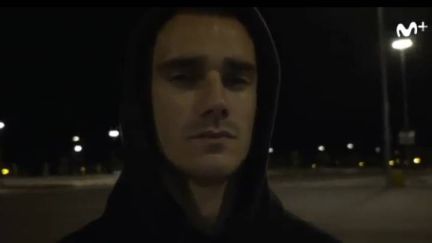 Hello and welcome to our live online coverage of France vs Australia as we build on the momentum from last night's thriller between Spain and Portugal. It's France and Australia as the first of four games today with kick-off from Kazan Arena at 12:00 CEST.
France vs Australia live online: preview
On the third day of the World Cup and Group C kicks off with France playing Australia at Kazan Arena with kick-off from 12:00 CEST.
After Antoine Griezmann's decision, Didier Deschamps will be hoping his side can put that behind them and get on with business. After making it to the Euro Championship final on home soil in 2016, this France side is expected to eventually make the leap and it could be this summer. Much of the expectation falls on Griezmann's shoulders but Paul Pogba has been called out to improve too. France will be expecting to dominate this one and will have plenty of the ball.
Australia almost sprung a surprise or two in the last World Cup when they were drawn in a really difficult group. They took the game to Chile, ran Netherland close with a 2-3 loss and then fell to a wounded Spain side. They are far more pragmatic this time around and beat Syria and Honduras in a couple of difficult games. That style will stand to them today, however, as they will look to grind out a result instead of being forced to play on the front foot.
Potential line-ups:
France: Hugo Lloris, Benjamin Mendy, Samuel Umtiti, Raphael Varane, Djibril Sidibe, Blaise Matuidi, N'Golo Kante, Paul Pogba, Antoine Griezmann, Kylian Mbappe, Olivier Giroud
Australia: Mathew Ryan, Aziz Behich, Trent Sainsbury, Mark Milligan, Josh Risdon, Aaron Mooy, Mile Jedinak, Massimo Luongo, Robbie Kruse, Andrew Nabbout, Mathew Leckie