Peru were left to rue their missed chances as they slumped to a 1-0 defeat to Denmark, with Poulsen scoring a very decent goal in the 59th minute, slotting it under Gallese.
The Peruvian's biggest chance came via VAR. Cuevas went down under Poulsen's challenge, but referee Gassama gave nothing in real time, before trotting over to have another look on his handy touchline monitor and giving the spot-kick to Peru.
Cuevas took it himself and after a Zaza-eque run up he leant back and slammed the ball over the bar.
Peru had several chances to level the match after Poulsen's opener, including a cute backheel from sub and talisman Guerrero, which slipped just past the post, but they couldn't take any of them, and now face an uphill battle to get out of Group C.
Peru vs Denmark: as it happened
90'+5'   Lovely game. Hard luck from Peru as the ref won't let them take the last throw. Brilliant stuff.
90'+5'   Ten seconds. Cross comes in. Cleared. One more throw for Peru.
90'+4'   One more corner for Peru.
90'+2'   Carrillo concedes the corner. 
90'+1'   Cross by Cueva and Carrillo can't reach it. This has been good stuff from Peru but they can't score.
90'   Carrillo with a run down the left now and lose sit. But Peru are back on the attack.
90'   Joergensen squeezed out and falls in a heap! Peru attack.
89'   Ruidiaz with a hand ball in the box. A good chance goes begging for Peru.
87'   Aquino on for Tapia.
87' Farfan off for Ruidiaz.
86'   Eriksen through now. He strikes but that's a good save by Gallese.
86'   Cueva in at the back post but he can't keep it in.
85'   But Peru have a free from downtown.
85'   Off the line! 
84'   Carrillo down the right again. He cuts it back and that's saved off the line.
83'   Denmark go close to getting a second.
81' Christensen goes off limping, it looks like. Jorgensen replaces him.
81'   Carillo offside. 
78'   Carrillo breaks free. Makes its way to Cueva and he plays it Guerrero. Backheel and he misses. That went so, so close.
77'   Cueva, lovely outside of the boot cross, but Denmark clear.
74'   Corner comes in and Tapis gets clattered by Kjaer.
74'   A couple of corners for Denmark now to relieve the pressure. Ref intervenes before the second one. He has a word with a couple of lads messing in the box and tells them to cut it out.
73'   Carrillo links up with Advincula. He cuts inside and tries to curls one. Schmeichel hardly troubled.
72'   Peru all over Denmark now.
71'   Carrillo with a ball into the back post. Poulsen heads up into the air and Schmeichel comes back and grabs it. Peru getting really, really close.
70'   Peru are though. They have a free and have been improving.
70'   Delaney being given one last talking to. Referee not happy.
69'   come sback in and Farfan is at the back post along with Carrillo. Rodriguz the one who headed it back towards goal.
69'   Good ball in and dangerous from Peru. Advincula can't get a strike away.
67'  Free for Peru. Tapia the one felled by Delaney.
67' Sisto off for Braithwaite.
67'   Cross comes in for Poulsen but that's far too deep. 
65'   Advincula to Guerrero. He loses out. Guerrero has injected something into Peru's attack. They have a proper target man now. He's doing well to hold up the ball and invole the other more creative attackers.
64'   Carrillo with the cross and Guerrero heads into the chest of Schmeichel.
63'   Eriksen gets toppled over but no free. Carrillo breaks and Peru win a throw. They're trying to speed up everything they do now.
63' Flores off for Guerrero.
60'   Chance for Peru. Cueva feeds Flores and he shoots. Schmeichel is equal to it!
59' POULSEN! Denmark go 1-0 up thanks to Poulsen. He slots it under Gallese. Eriksen with a lovely ball to the winger and he makes no mistake.
58'   Farfan out to Carrillo but he loses it. Peru looking dangerous again but that final pass is letting them down.
57'   A proper chance gone without even getting a shot away.
57'   Cueva inside, pops it to Carillo and he fails to hit it before Flores fails to hit it cleanly on the follow up.
56'   Peru improving now. They attack down the left. Advincula to Carillo. Denmark defend well and stand up to the challenge. It's not over yet though.
55'   Tamer start to this half. Advincula tempting all night to take off! Hasn't gotten the chance yet though.
55'   Poulsen now but he's offide. 
53'   Eriksen with a dangerous one but he didn't really have a plan there. He just hit it hard into the danger zone and there was a Peru defender standing in the way.
52'   Eriksen is the taker, as you'd expect.
52'   Sisto takes Advincula and plays it inside to Eriksen. Denmark have more purpose in this half but no proper chances yet. Poulsen pushed in the back now and they have a chance to send it into the box.
51'   Poulsen into Joergensen, who does a little pivot and it nearly falls to Eriksen. Advincula clear and a shot comes in. Over! Denmark better though, it looks like, which could make Peru more dangerous if they commit bodies forward.
50'   Peru counter. Cueva sets Farfan free. He comes back inside and loses his footing. Christensen wins it back.
50'   Yotun with a foul on Schoene.
50'   Denmark enjoying 58% of possession.
50'   Sisto trying to make things happen but not really working for him. He has been on the ball more though to start this half.
49'   Long ball from the free. Denmark win it again. Sisto loses it with poor control.
48'   Quite a patient build-up before a vertical pass into attack. Peru lose out and Sisto takes over. He gets a kick on the shin but continues. Denmark throw the ball around outside the box and Sisto launches it into the box. Joergensen at the back post but he's about two yards offside.
47'   That's a foul on Flores. Peru get their first taste of the ball in this half.
46'   Dalsgaard with a throw. A long one. But Peru defend it and clear.
46'   We are back underway for the second half. No changes for either side. Aage Hareide willing to let the second half play out for a bit before he makes a change.
    Teams reemerge for the second half. Cueva is here too! He seems to have recovered and looks like a man on a mission.
Peru doing a good job of limiting Eriksen's involvement and Sisto has been really poor. Denmark need to do something here in the second half. they're outpassing Peru but Peru have had the best chances by far.
Here are his teammates helping him when the whistle went.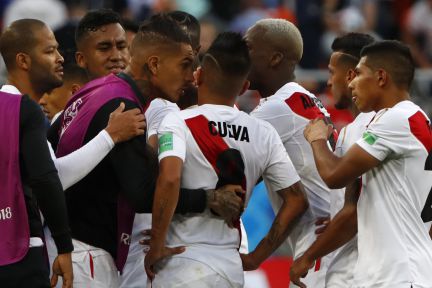 Not entirely sure why you would let Cueva take a penalty when he might react like that. He was crying going down the tunnel at half-time. He needs to shake it off. Been one of Peru's best performers.
45'+3'   that's it for the first half.
45'+3'   Into the third minute of added time. We were supposed to only have two. The VAR is throwing us off here.
45'+1'   Cueva drives it about four miles over the bar. Dreadful penalty.
45'   Just before half-time. Cueva to take after winning the penalty.
44'   Penalty indeed! VAR is the winner here as Poulsen concedes the penalty.
44'   Cueva's leg was caught by a Denmark defender. Surely a defender. Really well worked by Peru. Some nifty footwork by Cueva.
44'   Yotun fouled. Ramos brings it forward.
44'   Peru start their own attack. Advincula back into the center and Rodriguez and Ramos link up.
44'   Eriksen gets the ball but he can't keep it in.
43'   Poulsen wins it back and Denmark are building here. Peru not seen much of the ball recently.
43'   Goal kick for Gallese.
42'   Better from Denmark. Delaney sends a shots that turns into a pass as Poulsen slides in at the back post and can't reach it.
41'   Peru fans on their feet again as they urge their team on.
40'   Farfan with a strike but he fouled Christensen on the way to the ball. He's very aggressive when searching for the ball. He's give Diego Costa a good run for his money.
39'   Eriksen goes for power in the end and it hits the wall. It's comes back out and Schoene hits one off the turf and into Gallese. He fumbles and gathers at the second time of asking.
39'   It's slightly to the right for a right-footer.
39'   Free now for Eriksen. He can be dangerous from here. The referee organises the wall!
38' Pione Sisto races through and Tapia pulls him down just outside the box. He's booked and he's also lucky it wasn't another half a yard down the field that he fouled him. Very close to the penalty.
37'   157 passes for Peru's 107. Denmark haven't felt in full control of the game though.
36' Schoene replaces Kvist.
36'   Farfan whistled for playing the man before the ball as it came to him.
35'   Denmark currently playing with 10 men.
34'   Joergensen out on the left and he crosses but that's cleared by Peru.
32'   Replays show he did take a really heavy knock to the ribs.
31'   He's down again and Schoene is warming up.
31'   Kvist looks like he can't continue after that knee in the ribs from Farfan earlier.
30'   Peru with a sloppy pass, from Carillo, and Denmark counter. They lose out and Farfan takes offup the field. His touch, under pressure from Kjaer, puts it out for a throw.
30'   Peru with another cross. Headed out by Denmark.
29'   Real chance for Peru. Farfan gets the ball on the right hand side and shoots, sees it deflected and out for a corner.
28'   Kvist takes a knee to the ribs as Farfan competes with him in the air. Think he's just winded. All good.
27'   Delaney with a shot on his left foot. Over the bar without troubling Gallese. It did trouble the camera though behind the goal. Nearly broke it.
26'   Kjaer gets a head to that corner but it goes the wrong direction. Denmark win it back and Eriksen sends it towards goal. Cross is a mile too high.
26'   Corner comes in and that's headed up and out by Tapia. Another corner.
26'   Corner now.
25'   Denmark asserting themselves on this now.
24'   Peru's good start beginning to fade to memory.
24'   No fouls gives. Peru recover and Poulsen can prevent a throw. 
24'   A wrestling match in the penalty area from a throw.
22'   Offside from the free. 
20'   Up the other end and Farfan wins a free as he is fouled by Kjaer.
20'   Sisto into the box. He plays it to Delaney and gets it back. Denmark want a penalty but it's not coming. Referee waves it away. 
19'   Gallese, the keeper, bundled out of the way for the corner and that's a free.
18'   Delaney wins a corner for Denmark.
17'   Cueva attacking now and he tries to clip one into the box for a couple of Peru players. Blocked and cleared.
16'   Slide comes in from Christensen and Advincula's speed looked like it might cause a problem. Looked like he won a corner. 
15'   Rodriguez with a header on the corner.
15'   Strike comes in from Yotun and that's a corner as it's deflected.
14'   Foul as Denmark attack. Stryder gets it into the box. Peru clear and attack.
13'   Carrillo with a lovely stepover and buys himself a yard. Schmeichel saves. 
11'   Flores with the strike. Never troubling the keeper but a decent effort.
10'   Farfan and then out to Advincula. Ball is sent into the middle again and Schmeichel kicks it out as it's touched back to him by a teammate. 
9'   Another Peru attack ends, this time it's Cueva, who is offside.
9'   Ball into the box and Schmeichel saves. Peru in control of this one.
7'   Advincula, faster than Gareth Bale apparently, takes off and starts an attack for Peru. Shot comes in and Schmeichel saves.
6'   Eriksen really not happy with whatever is happening in front of him. I think he was looking for a short pass for someone but Schmeichel didn't see it and never gave it. Anyway, long ball and Denmark lose out.
4'   Peru have started well. Ball into Cueva but as he tries to find a path through to goal, he's cut off.
3'   Joergensen nearly pulls the jersey off Christian Ramos. Free to Peru.
2'   Peru get their first taste of the ball and they have a shout for a penalty. Poulsen goes in through the back of the attacker. No penalty.
1'   We are underway! Peru in their white with red stripe. Denmark wearing their red jersey.
    Fairly basic but this can win plenty of games for Denmark!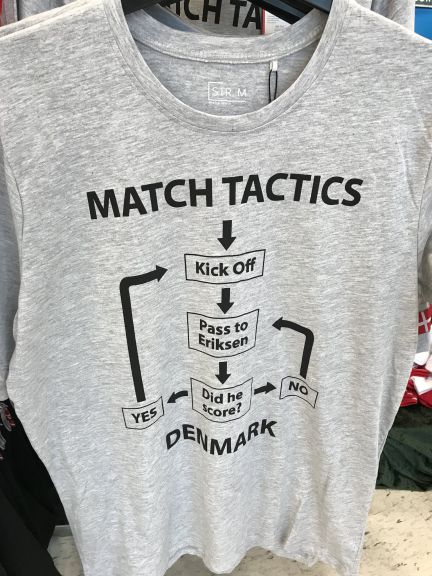 Peru's fans loving life back in the World Cup.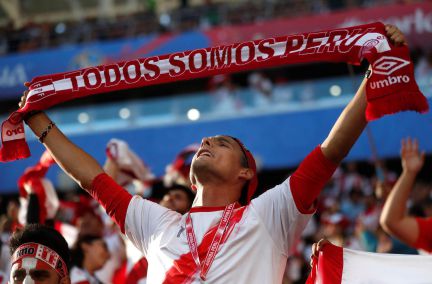 Peruvians absolutely blaring the national anthem. Quite an emotional affair for them.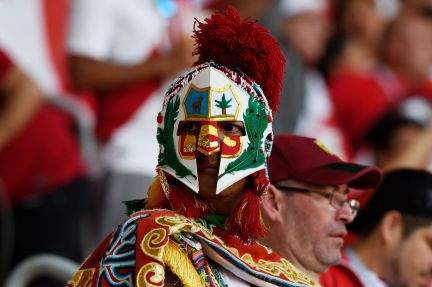 Just a couple of minute out now from the live action! It's game three of the four day game. We haven't had a single 0-0 draw yet in the World Cup.
And this is some really in-depth stuff on Denmark.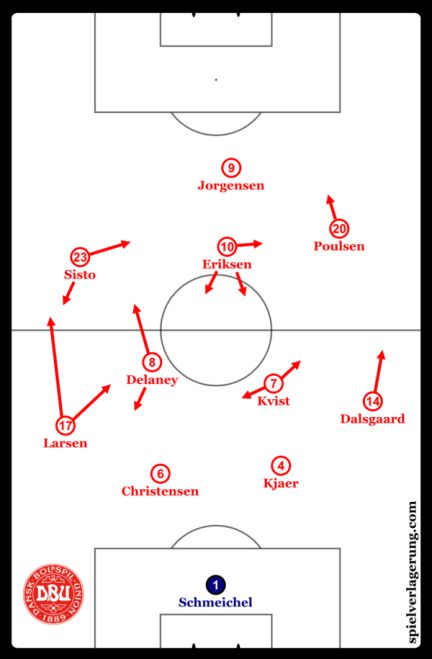 Pione Sisto could be important today. He started off very well for Celta Vigo but fell off at the end of the season. A technically good winger with speed and pace. He is good taking on defenders and cutting inside and creating problems with his link play. He is a multi-dimensional threat!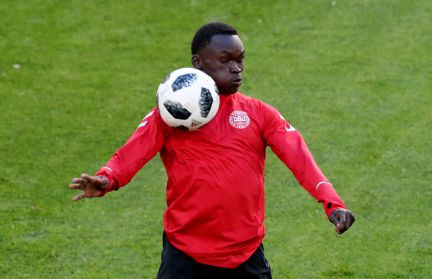 A quick look at Peru's strengths from the Guardian's guide: Ricardo Gareca has made Peru go back to their roots and they now play with a blend of determination, discipline and creativity. Edison Flores is a wonderful attacking midfielder.
Denmark team news: Schmeichel, Kjaer, Christensen, Dalsgaard, Stryger, Kvist, Delaney, Eriksen, Jorgensen, Yuray, Sisto.
Peru team news: Gallese, Rodriguez, Trauco, Ramos, Advincula, Cueva, Tapia, Yotun, Farfan, Carrillo, Flores.
Hello and welcome to Peru vs Denmark in Group C of the World Cup. The venue is Mordovia Arena and kick-off in this one is 18:00 CEST.
Peru vs Denmark live stream online: preview
Peru and Denmark play in the second game in Group C after France beat Australia earlier on Saturday afernoon. Mordovia Arena is the venue tonight with kick-off at 18:00 CEST.
Denmark's path to the World Cup was not easy and they qualified after thumping Ireland in the second leg of their play-off. Christian Eriksen was outstanding in that game and it's no surprise that they will be relying on the number 10 again during the World Cup if they have any hope of advancing. Even Peru's manager has his eye on Eriksen and thinks the Spurs player will bring the best out of his side.
Peru have Jose Paolo Guerrero back after appealing his ban for a positive drug test but he doesn't start. Ricardo Gareca deserves credit for helping Peru to the World Cup and they might just be one of the best supported teams at the tournament.