0

1
Iran 0-1 Spain: World Cup 2018 Group B result, match report
Spain had to work hard for their victory against Group B rivals Iran, but with the help of Isco's trickery and a Costa strike, they won to go top of the group. Cruz Azul vs America: Liga MX, live online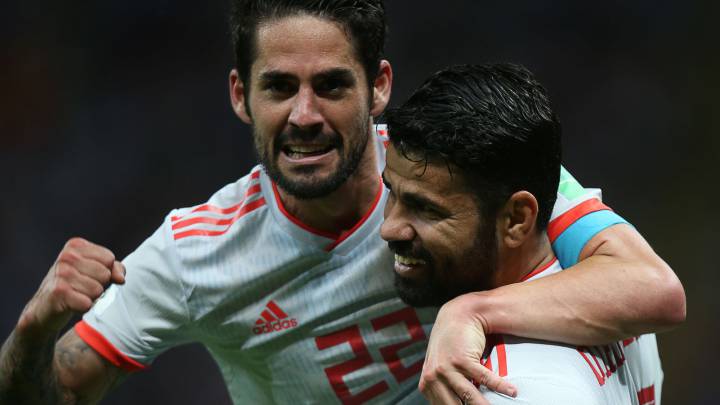 Iran 0-1 Spain: match report
Spain were made to work for their one-goal win at Kazan Arena on Wednesday night against a defensive and determind Iran side, who have eyes on a knockout place in the World Cup themselves.
Fernando Hierro made two changes to the side that drew with Portugal in the first game and stuck with David de Gea after a rare error-strewn game. The keeper was barely needed in the opening half, however, as Spain set up shop in Iran's half.
Playing with six men at the back, Carlos Quieroz' side were fighting fires for most of the opening 45 minutes. On the rare occasions when they did break free though, they did look quite dangerous. This became mor prevelant in the second half but the signs were there in the first.
Spain couldn't find a breakthrough in that opening phase with David Silva going closest with a chilena-themed strike that went over the bar. The tiny amounts of space Silva and Isco were finding were being exploited but nothing to the point were Iran felt truly threatened.
That changed in the second half when Spain came out with added purpose to their attack. Isco was looking increasingly dangerous and influential from the left half-space too. All of their huffing and puffing paid dividends when Diego Costa unwittingly knocked a shot beyond Alireza Beiranvand in Iran's goal nine minutes into the game.
After that, Iran loosened their shackles and get it a proper go. They had the ball in the back of the net only for VAR to rule out Ezzatollahi's effort for an offside. Spain looked nervous and when Amiri nutmegged Piqué and swung a cross in, it looked like Mehdi had drawn his side level. His point blank header blazed over the bar thought and Spain survived.
They killed off the game in the end with the fresh legs of Rodrigo, Koke and Asensio proving important in keeping Iran honest and not going for broke. Iran, however, will be buoyed by their display, which was almost flawless.
They play Portugal now and a win will see them through while Spain face an already-eliminated Morocco. Group B has had plenty of twists and turns and we aren't done yet with one more matchday to play.
Iran vs Spain live online, World Cup 2018: latest news
Iran vs Spain: World Cup match preview
Spain play their second game of the World Cup against Iran on Wednesday night in Kazan Arena with kick-off at 20:00 CEST from Russia. Both sides saw goals scored late in their first encounters in this version of the tournament. Spain had their hearts broken with a Cristiano Ronaldo free-kick and a late Morocco own goal saw Iran nick all three points at death in their opener.
De Gea in the eye of the storm after Portugal gaffe
The big debate in Spain is whether David de Gea should start after a howler in that Portugal game along with questions over some of his other involvement, including the set up of his wall for Ronaldo's dagger at the death. The debate is only happening outside of Spain camp, however, as Fernando Hierro says his keeper is "one of the three best keepers in the world" before saying he believed completely and utterly in his number one. De Gea has the chance to cast doubts aside against an Iran side who were lucky in that first game. They have no fresh injury worries after the first game with Dani Carvajal coming into contention in the last couple of days.
Iran well placed to make last 16 after opening win
Under Carlos Queiroz, who is stepping away from his role at the end of the season, Iran have a chance of making it to the knockout stages for the first time in their history. It would be quite the farewell for their manager. He is not giving up hope of an upset and appreciated that, despite Spain's greater credentials, they still have to go and perform. They will be relying on Sardar Azmoun up front along with a strong unified effort if they have any chance of toppling Spain.