France 1-0 Peru: match report
Kylian Mbappe became France's youngest scorer at a World Cup when he earned Les Bleus a 1-0 win against Peru in their second Group C game, sending the South Americans out of the tournament on Thursday.
The 19-year-old Mbappe tapped in after Olivier Giroud's shot looped over goalkeeper Pedro Gallese when it took a deflection off a defender in the 34th minute of a high-intensity match.
Peru, in their first World Cup finals since 1982, played boldly and had their best chance five minutes into the second half when Pedro Aquino's fierce shot hit the post.
France will need a draw against Denmark in their last game to top the group after the Danes were held 1-1 by Australia earlier on Thursday.
France vs Peru live: latest news
90'+4' GAME OVER! France stumble towards the knock-out stages and Peru are out.
90'+4'   Giround breaks free and strikes with his left. Blocked and out for a corner. 
90'+3'   Free now for Peru. Crossed into the mixer. Guerrero heads it but that dribbles to Lloris.
90'+2'   Volley from Matuidi.
90'+1'   Peru give away the corner. Dembele on the ground in the box. He was tripped up on his way into the box. He wants a penalty...or something! He gets nothing. 
90'+1'   Into added time and we have four minutes! Peru no closer to scoring now as they were before. 
89' Pogba coming off for N'Zonzi.
87' Free for Peru. Guerrero eyeing this on. Six men in the all. Shot by the striker but it's tame. Lloris gathers that one. 
86' Pogba fouls Farfan and he gets a yellow.
85'   Peru running out of minutes here on the clock! They need to get a move on. 
84'   There's a corner for Peru. 
84'   Pogba fouls Carrillo.
82'   Fekir fouled and it's Aquino again. He needs to be careful.
81' Griezmann off for Fekir too.
81' Cueva off for Ruidiaz.
81' No wait, the referee rights his wrong. Aquino booked.
81'   Yellow card for Flores. He looks bemused and he should be. Aquino the man with the foul and Flores fingered for the crime.
79'   Guerrero knew he was offside himself. Ball through but he was miles off. He stopped his run and just waited for the whistle.
77'   Peru moving forward again. They just have no finisher in the side and no way of getting it to the one man who might score in Jose Guerrero.
75' Mbappe replaced now as he jogs off the field. The ref in his ear trying to speed him up but it's hardly working. Dembele jogs on with a little more gusto.
73'   So close. Farfan at the back post. Carrillo with a cross that's a little too deep. Farfan has to hit it with an acrobatic volley and he hits the side netting.
72'   Peru looking for a way through now and back on the attack.
72'   Lucas Hernandez puts pressure on Aquino and he blocks his clearance for a throw.
70'   Peru have one more sub left. They might have to make it soon! They're not really going all out here like we thought. They have improved but no chances on target. 
69'   Cross in for the corner. Ref saw an infringement. Giroud fouled by Farfan. 
68'   Advincula cuts onto his left and slams a shot over the bar! France forcing Peru to shoot from those positions is a good thing for them. Peru no way through yet and Lloris even had that one covered.
67'   Cross in and Guerrero heads it towards .... someone. Peru win it back after losing it that time. France retreating.
66'   Peru on the ball. Carrillo gets it on the right and takes a touch before dropping it into the box. Headed away with ease.
64'   Mbappe takes the ball down at the edge of the box. Has options in Pavard and Griezmann inside. He drops his shoulder and tries a cut-back. Blocked for a throw. Peru win it back and move forward!
63'   Guerrero frustrated. Another ball towards him that Lloris grabs.
61'   Farfan to Carrillo. He drives over the bar.
61'   Advincula ball inside. Headed out by Matuidi. Peru trying to force the issue now. They have to. They have a half an hour left to save their World Cup. Guerrero sends it towards goals and it's cleared. 
59'   Cueva moves forward but he loses out. France collapse around him and he was going nowhere anyway.
58'   Carrillo down the right and crosses. Guerrero close but he can't reach it. Carrillo picks it back up and drives forward. He hits the ground but no free, or penalty, as it was close to the box. Referee tells him to get up.
56'   Lovely move by Mbappe and he sets it up for Matuidi. His shot is deflected and it's saved by Gallese.
56'   Corner from Mbappe. Driven away by Peru. They're pushed back a bit now. France putting pressure on for that second goal but haven't had too many chances.
56'   Pogba wins France a corner.
55'   Another free for France.
54'   Free comes in and Gallese gathers it. Bobbled around for a bit before he did though.
53'   Foul by Peru and Griezmann stands over it. 
52'   Lovely ball by Griezmann and that's just too far for Lucas Hernandez. 
51'   Almost a goal. What a hit that is. Aquino with the outside of the right and he hits the crossbar. Wow!
50'   Ball across to Pavard and that's out for a Peru throw.
49'   Umtiti bsvk up as he tries to walk that one off.
47'   Foul on Umtiti. He is down grabbing his thigh. That looks like a dead leg. Really sore one. Knee straight to the thigh in the air.
47'   Gallese the one who takes the free in the end.
46'   Advincula and Matuidi get all wrapped up and Matuidi fouls. Advincula to take the free... he had a sneaky little kick out at the French midfielder in the middle of that.
46'   We are back underway.
  Santamaria replacing Rodriguez.
Yotun coming off for Farfan.
We have a couple of Peruvian changes. Santamaria is coming on and so is Farfan.
Two teams in the tunnel and ready to come back out onto the field.
45'+2'   Enough to get us to half-time.
45'+2'   Greizmann into Giroud but the defender slides in and he loses out. 
45'+2'   France on the ball to see us to the break. 
45'+1' Pogba has been magnificent though.
45'+1'   Giround is strong and holds off the defender. France lose it though and Peru win a throw. Better from Giroud, who has struggled today.
43'   Griezmann to Mbappe but it has a lot of pace on it. He makes it but is on the endline. The 19-year-old sends it across goal and Peru clear.
43'   What a chance. Ball across to Lucas with Griezmann poking it out to him after starting with Mbappe on the right. He shoots and sees it saved. It comes back out to him and he misses the target! Close though. France breaking through really easily when they can manage to beat their midfield.
42'   France holding the ball now. No way through for them.
42'   Aquino jumps on top of Giroud. The Chelsea striker and Rodriguez having quite the battle.
40'   France, when they have attacked have looked really good. Counter that time was almost perfect as Gallese rushes out and gathers.
38'   Griezmann looked to be fouled but the referee now blowing late hits. Giroud blown then for a foul on Yotun.
37'   Peru holding the ball well now but France stand tall and win it back off them. 
36'   Peru, who haven't scored yet, need a goal or two to stay in the World Cup. They attack now and have nothing left to lose at this point.
33' France goal! Mbappe just touches it home. Pogba won it back high up the field and Giroud shots. It takes a deflection up over the keeper and Mbappe is on home to just poke it home.
33'   Pogba with a perfect ball into Mbappe. The problem is that Mbappe is facing with his back to goal. He tries to get a little flick on it and Gallese nearly gets caught out. He gathers it after a little bit of a fumble though.
33'   Kante with a foot in and Peru win a throw. France frustrated.
32'   Umtiti having issues with Guerrero. He lost the defender very easily for that chance.
30'   And now a chance! Cueva with a cross low to Guerrero. His touch takes him away from the defender. He shoots and Lloris saves. Lovely chance for Peru. He needed to hit it either side of Lloris and he had a problem.
30'   Peru keep their good spell going. They've really kept France away from the danger zone. 
28'   Peru win it back and counter. Flores gets the ball stuck in around his feet and Umtiti pokes it out for a throw. Wasted chance there.
27'   Long ball to Cueva but it's no use. France recover and move forward. They really haven't looked all that dangerous moving forward aside from a set-piece and a long ball.
26'   Headed on by Guerrero to Cueva. He thinks he should have won a throw but it's France's ball.
25'   Matuidi with another foul. Just a light little push in the back that time. Peru have recovered from earlier wobble.
23'   Advincula down the right and crosses. Lucas blocks it out for a corner. Peru with another set-piece. No luck from them so far. 
22' Guerrero booked. But he won the free?! 
22'   Guerrero with a hand to Umtiti's face. He hits the ground but the defender fouled him before that.
21'   Flores cross. Looked like it went out but it didn't. Guerrero nearly reaches it but Varane clears.
21'   Throw for France as Guerrero battles with Varane. More even now in the last few minutes.
20'   Umtiti ends up on the ground as Alberto Rodriguez.
19'   Hand ball by Pavard. Cross from Trauco and it hits the unwitting right-back. Free for Peru from a dangerous area on the left. Delivery incoming.
19'   Peru with some possession now. Much needed too. They were under the cosh for the best part of ten minutes. 
18'   Ball sent across by Griezmann. Gallese glad of that one.
17'   Umtiti with a clearance that goes the wrong way and up into the hands of Lloris. 
16'   Really nice strike from Griezmann from before. He caught it on the half-volley.
16' Advincula with a run down the right and Matuidi moves across to close him down. He pulls him back and that's a yellow card. First of the game.
16'   Griezmann shot now as it's send long and falls to him. Save with Gallese's legs.
16'   Mbappe hits the ground in the penalty area. Looked like a penalty as he's pushed in the back. No penalty, says the referee.
15'   Free for France in the middle again. Pogba fouled.
15'   France taking control of this one. 
14'   Second corner in a row and Varane heads it just wide. Very, very close.
13'   Referee not happy just yet. He is talking to players in the box. Mbappe ends up on the ground from the corner and he wants VAR.
13'   Mbappe looking dangerous on the right. He plays it inside and France move forward. Lucas threatening but Cueva gets goalside and puts it out for a corner.
12'   Kante vs Flores on the right. The Peru midfielder slides in and Kante keeps it. He plays it back to Pogba and that's just wide. He had Gallese reaching but it didn't trouble him in the end.
11'   Griezmann through on the right-hand side. He has to shoot with his right too as a defender is coming across. He strikes it well wide.
11'   France back on the attack. This game is very physical so far and Peru coming out on the right end of it to start. Referee suits them too.
10'   Peru dealing with a counter now and Pogba fouled. No card.
8'   Sent down to Carrillo and he completely eliminates Lucas with a lovely move. His cross is far too deep though.
8'   Free for Peru.
7'   Ball down to Cueva and he can't control it.
6'   Some really meaty challenges going in. Advincula on Pogba the latest but ref doesn't give a free.
5'   Lucas chips it forward to Giroud but he's crowded out of it again and no free. Never a free, to be fair.
5'   France try to move forward and Mbappe wins a throw. France back on the ball. 
4'   Peru look really lively so far. Deschamps up off the bench and prowling that sideline.
3'   He is down and seems to have an issue with his shin. He gets up and jogs it off though.
2'   Ball from Griezmann to Giroud. He wants a free but it's not coming. Carrillo down the right again. Battles with Lucas and wins. Peru on the ball now but Carrillo is down in a heap.
2'   Carrillo picks up the ball after a pass from Guerrero and Lucas slides in and concedes the throw.
1'   France on the ball to start. They're throwing it around, getting plenty of touches for their players. Mbappe, Matuidi and Varane.
1'   We are underway as Griezmann gets the first touch of the game!
    Advincula versus Lucas Hernandez today should be brilliant.
    That Peruvian anthem being absolutely belted out. Not so much signing as shouting.
    The teams emerge onto the field. France's national anthem up first.
    Peru had far more control and looked more pointed and dangerous in attack when Guerrero came on against Denmark. Think France might be in for a long night tonight.
    Corentin Tolisso is replaced by Juventus' Blaise Matuidi and for Peru, their changes include Paolo Guerrero starting in place of Jefferson Farfan. Pedro Aquino replaces Feyenoord's Renato Tapia, who is not 100% and was not for the Denmark game.
    And the France vs Australia game saw the first VAR decision of the World Cup.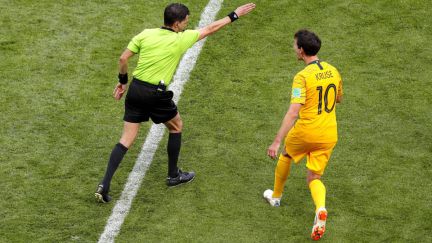 Just in case you missed the Peru and Denmark game, here's how we saw it. Peru are really exciting to watch!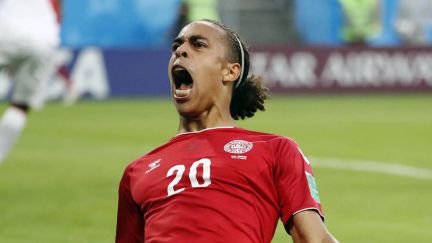 Peru XI: Gallese, Rodriguez, Trauco, Cueva, Guerrero, Ramos, Advincula, Carrillo, Yotun, Flores, Aquino.
  France XI: Lloris, Pavard, Varane, Umtiti, Pogba, Griezmann, Mbappe, Kante, Matuidi, Hernandez, Giroud.
    Some good hearty stats for you ahead of this game. Everything from good crosses to punched clearances by a goalkeeper.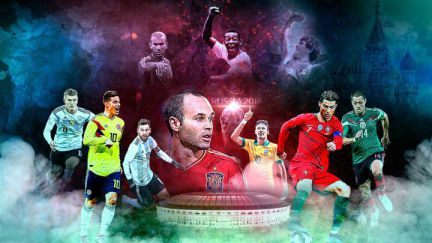 Ahead of this glorious tournament we pulled together some info on all the teams. Here is the one for France and another for Peru. You're in for a treat if you like seeing World Cup clobber!!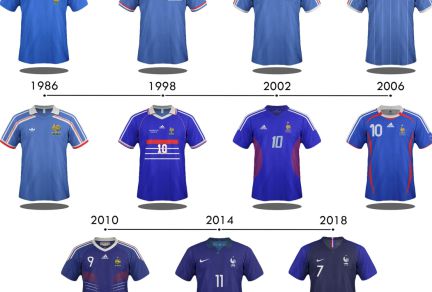 Denmark and Australia are playing out an enthralling match right now. They are currently drawing 1-1, but there are probably more goals in this one. Follow it live. (Our automated service, so it's not quite as entertaining as Robbie's feed here will be later on, but it's got all the vital stats).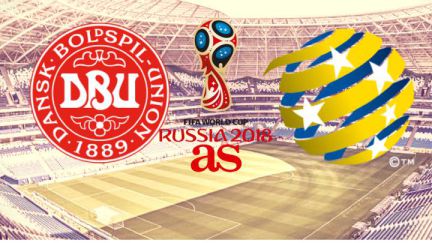 f you're keen to watch the game on the box, our handy TV guide might help.
Hello and welcome to our coverage of France vs Peru live from the Ekaterninburg Arena. Kick off is at 17:00 CEST, but we'll have plenty of info to keep you entertained until then.
France vs Peru: preview
Many will have forgotten, but it's worth remembering. Griezmann started the first game of the last European Championships and Deschamps subbed him in the 66th minute. France were winning at that point 2-1. In the next game Griezmann was a substitute against Albania. A lesson he learnt at that tournament. Last Saturday, Deschamps substituted Griezmann in the 69th minute with the score at 1-1 against Australia. France ended up winning 2-1. It might be tempting to conjecture that the Little Prince will be send to the bench again, but it won't happen this time. That said, France will make changes. Back home, just like in every country during the World Cup, there are millions of managers. And they've scolded Deschamps for changing the system at the last minute, going for a 4-3-3 when they qualified with a 4-4-2. The fans also want less exuberance and more experience. Deschamps may well be willing to back down. The veterans Giroud and Matuidi, 31, could start instead of the the youngsters Tolisso and Dembélé. The Barcelona player appeared more pragmatic than Mbappé, but he doesn't have his status.
Peru ready to make their mark at World Cup 2018
Peru come into the game somewhere between hopefulness and resignation. Their football was a joy to watch against Denmark, but nobody knows exactly how costly Cuevas' penalty miss will turn out to be. Peru's hope has a name: Paolo Guerrero. The spiritual leader of the team, the decision by the Swiss court to suspend his ban means he has the chance to fulfil his dream. Gareca won't wait any longer and after giving him half an hour in the first match, he'll line him up with the another big name: Farfán.