0

3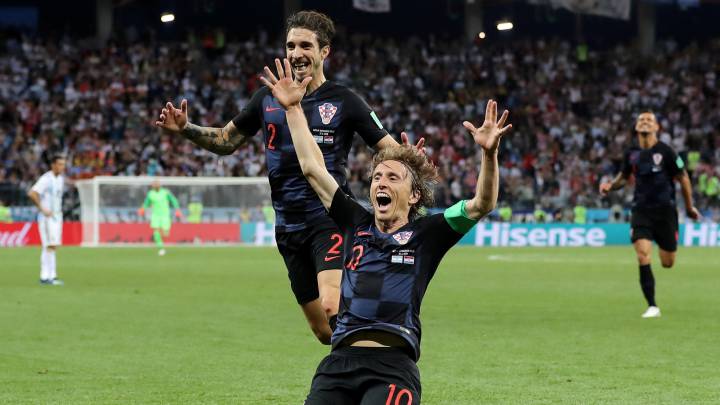 Argentina 0-3 Croatia: match report
Argentina's World Cups hang by a fraying thread after being thumped by Croatia in a Group D showdown that was billed as a game where Jorge Sampaoli's side had to show their credentials. From the start, they looked like a confused, nervous side with no cohesion and even fewer ambitions after the final whistle.
The opening half was a rollercoaster adventure with foul play more frequent than the flowing football many expected when Sampaoli took over the Argentinian side. Ante Rebic for Croatia was throwing his weight around and was lucky not to be sent off but Lionel Messi wasn't. He touched the ball less than Willy Caballero in the first 45 in a system that didn't seem to exentuate his qualities.
It was Rebic who got Croatia off the mark when a routine clearance was fluffed by Caballero as he tried to chip it over the attacker. The burly Rebic turned a struck a beauty past the keeper and a dagger to the heart of Argentina's chances.
It got worse from there as Sampaoli threw on Higuain but little changed. Croatia were looking increasingly dangerous on the break and Luka Modric struck on 80 to make it an even more bleak last 10 minutes. His curler into the bottom corner a expression of the game as he twisted and turned before striking beyond the reach of Caballero, who was at full stretch. This was Croatia in total control of an Argentina team who were gassed and never going to get where they needed to with how they were set up.
Ivan Rakitic, who was impeccable on the night and who had hit the crossbar from a free earlier after a nasty kick on the ground from Otamendi, really piled the insult on top of the injury. Kovacic squared him the ball and he rolled it home to make it 3-0 as time expired.
Messi and Argentina have Nigeria left and can still qualify but you have to wonder if it's even worth it for them if they stand a chance of being embarrassed again in the knock-out stage. Croatia took what Argentina had to throw at them and hurled it back in abundance and with two wins in two can look forward to the last 16 with confidence.
Argentina vs Croatia live online | World Cup 2018: as it happened
Argentina vs Croatia live online | World Cup 2018 Group D: preview
Leo Messi's labyrinth
The labyrinth in which Leo Messi tends to lose himself every time he plays with Argentina sees him on yet another tricky route in Russia. The slip-up against Iceland in their opening game needs to be quickly corrected against Croatia. This Croatia side of Modric and Rakitic no less. The team who changed Spain's fate at the last European Championships and now see themselves as title contenders rather than mere participants. It's not going to be an easy afternoon for Argentina, for who anything less than a win makes life very difficult for them in their bid to top the group.
The criticism has been fierce since Argentina made their debut against Iceland. Messi came in for it too. His penalty, saved by Halldorsson, a film director, well reflected the match. It's not the Messi who plays for Barcelona, they say in Argentina. He never has been for his country. The '10' ran 7,617 on his World Cup 2018 debut, changed pace 17 times and took 11 of his side's 26 shots. He finished up with a success rate of 79% in the actions he attempted. That's to say a lot better than most, according to InStat data. Not enough say the critics.
Sampaoli's group management doesn't help either. The coach is so impulsive some of his decisions seem like shots into the sky. Against Iceland he put out an incomprehensible defensive double pivot (Mascherano-Biglia) against a rival looking to park the bus. Today he'l make changes - a constant search for solutions that never fixes the problem. The main difference today will be a change of set-up - moving to three central defenders with Rojo, Biglia and Di María missing out.
Croatia for their part come into this very differently. The win over Nigeria was built on the maturity of the team. Two goals from deadballs, and the idea to free up Modric as much as possible just a couple of examples of the fact they have a strategy. Luka scored, set one up and made another three goal scoring opportunities that weren't taken. As if that wasn't enough, Rakitic brought leadership, Madzukic the fight, Perisic the drive and new boys Rebic and Kramaric the freshness…