Brazil - Costa Rica
Brazil vs Costa Rica live: World Cup 2018, Group E match report
Late goals by Coutinho and Neymar were enough to see Brazil get their first win at the World Cup against a resolute Costa Rica side in Group E.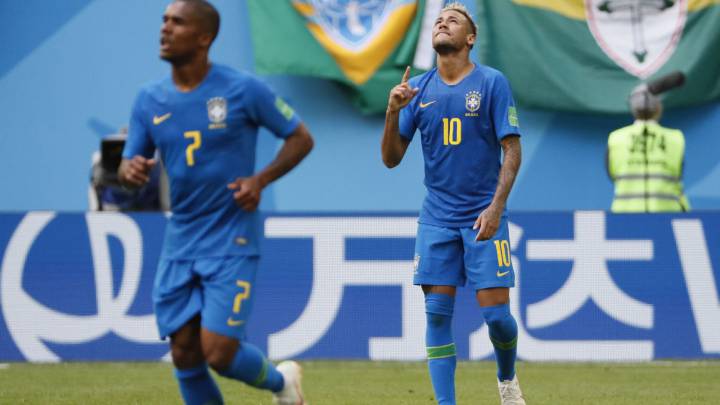 Brazil 2-0 Costa Rica: match report
Dramatic late strikes by Philippe Coutinho and Neymar gave Brazil their first win of the World Cup against Costa Rica in St Petersburg on Friday and broke Central American hearts by sending them out of the tournament.
The result leaves the five-times world champions with four points from two games after they drew 1-1 with Switzerland in their opening match, and they provisionally rise above Serbia to top Group E.
We also saw a penalty won by Neymar and ready to be taken by Neymar ruled out minutes after it was awarded thanks to VAR. Bjorn Kuipers had blown for the spot kick but went to the VAR screen for a second look and ruled it out. Neymar and Coutinho were booked soon after as it looked like Brazil's emotions would spill over.
They did after the final whistle as Neymar sat weeping on the turf. A relieved Brazil put themselves into a nice position in Group E with a game against Serbia to come next week.
Brazil vs Costa Rica live: latest news
90'+6' GAME OVER! It was hard work for Brazil but they stuck to the task and finished off Costa Rica in the end. 
90'+6'   Casemiro drives forward. Douglas Costa onto Neymar. GOAL! GOAL! GOAL! He finally gets his goal.
90'+6'   Neymar with a lovely rainbow flick but he's dispossessed in the end. That should do it now.
90'+6'   Brazil won't be hurrying to kick this one. 
90'+6'   Ball across and that's out for a corner. 
90'+4'   Lovely football from Brazil as Firmino blazes a shot over that he received from Coutinho.
90'+3' Fernandinho replaces Gabriel Jesus.
90'+3'   That should be game over now. It goes through Keylor Navas' legs. What a finish to this game.
90'+1'   Heartbreaking for Costa Rica but you have to admit that it was coming and much deserved.
90'+1' GOAL! Coutinho with the finish. Ball comes to Gabriel Jesus and he turns before poking the ball home.
90'+1'   Six minutes of added tim!
90'+1'   Costa Rica with a foul as they drive up the field. Venegas the one with the foul. Six minutes of added time!
90'   We should have about six minutes of added time here.
90'   He did take a heavy hit there from the backtracking Casemiro. He's back up the field.
89'   Neymar pokes it into the box. Casemiro close but Navas pucnches clear. He's down now.
88'   We have two Costa Rican players down. Acosta and Duarte on the ground. The two of them with head injuries. Duarte collided with Neymar. Marcelo with a hand to Acosta's face. 
86'   Bryan Ruiz, who has been excellent, loses it and Brazil attack. Douglas Costa sends it to Casemiro and he shoots. Saved by Navas!
86'   A logjam of Brazilian players in the penalty area. Casemiro flicks it on to Jesus and Neymar is in the vicinity. Neither of them do anything with it.
86'   Brazil back up the field.
85'   Coutinho with one of his curlers but it doesn't have any zip on it. Caught by Navas.
84'   Neymar cross is blocked and Brazil have to try again.
84' Yellow card now for Acosta as he wastes time over a throw.
84'   Guzman comes off and replaced by Tejeda.
82'   Costa Rica struggling now. Ball kicked out for Venegas. We have a Costa Rica player on the ground.
82'   Cross comes in and Costa Rica defend it.
82' Coutinho bumps into the ref. Booked.
81' Neymar punches the ball into the ground. Booked!
81'   Neymar loses out. He looks exhausted. Acosta down on the ground and the ref stops play after Brazil win a throw.
80'   The referee decides to have a look at VAR and says it is NO PENALTY! Absolute scenes at Saint Petersburg Stadium. Incredible.
78'   Ball through to Neymar and he cuts it back. There's a hand on him but he makes a meal out of it.
78'   Correct decision. 
78'   Neymar wins the penalty.
77'   Brazil attack again. Outside of the boot cross by Coutinho now. Doesn't work as Navas gathers.
76'   Neymar again. He tries to squeeze one into the bottom corner but it's blocked out for a corner.
75'   Neymar fouls Venegas.
75'   Coutinho tries to chase one down and Navas gathers.
74'   Costa Rica ready not for the goal-kick. Injury for a Costa Rica player too as Calvo gets ready to come on.
72'   Golden chance! Costa Rica need to be careful. The whole thing opened up for Neymar. Good idea but it was just overhit.
72'   Guzman loses it to Firmino and Brazil start an attack.Neymar with an effort. He curls over.
72'   Celso Borges on to Venegas and Costa Rica back on the ball. They might have weathered the storm.
71'   Bryan Ruiz starts a counter for Costa Rica but Brazil recover.
71'   Casemiro with a header now as it bounces up to Navas.
70'   We have a stoppage too as Venegas is down and says he got an elbow to the head. Referee didn't see it.
70'   Another corner.
70'   Casemiro pulled down at the front post. Cleared by Costa Rica.
69'   Neymar through but has two defenders by his side. They get a touch and out for a corner.
68'   Maybe slightly late as that change, or any change involving Firmino shoudl have happened a while ago.
68' Paulinho taken off not for Firmino.
68'   Costa Rica go very close. Miranda heads clear and the ball back in sees Costa Rica ruled out for offside.
67'   Firmino coming on for Brazil. He's getting his last orders from Tite.
66'   Brazil on the attack now. Costa crosses and Costa Rica win a throw.
65'   Neymar with a dangerous ball into the box. Paulinho puts his foot in and catches Duarte on the head. Free to the defender.
64'   Venegas is onside. Allisson off his line and clears though. Looked like he was clean through! Well done to Allisson for bursting off his line to kill the danger. Brazil back on the ball now.
63'   Neymar with a shot on his left foot. Navas fine with that even if he did parry it and then gathered at second time of asking.
62'   Free for Costa Rica but the ball down to Gamboa is way to long. He chases but had no chance.
61'   Bolanos with a ball down the line looking for Venegas, who has gone up front. But that's out for a throw.
61'   Brazil break with Neymar and he looks for Costa. He can't get a foot to it though. Brazil keep it now and Gabriel Jesus tries a stepover. Shot blocked.
60'   Bolanos delivers but it's headed out. 
60'   Neymar on the ground before the corner is taken. 
60'   Bolanos with a corner. Marcelo gets some studs on it and Costa Rica with a chance to create something from a set-piece.
59'   Neymar with another foul. Gamboa the man pushed.
58'   Brazil up the other end. Costa sends the ball in, laid off by Paulinho and Coutinho strikes but Navas gathers.
57'   Bolanos drives forward after Brazil lose the ball. His touch is terrible though and Miranda steps in.
56'   Only a matter of time now for Brazil, surely.
56'   Corner. 
56'   Paulinho with an effort. Paulinho wins the ball back and sends it towards goal. Navas palms it over. 
54' Bolanos replaces Urena. They need an outlet and Oscar Ramirez thinks Bolanos can be that man.
54'   Fagner gives it away and the Costa Rica give it straight back. Neymar lays it off to Marcelo and his outside of the boot cross curls wide. Well wide. A wasted chance. Navas not hurrying himself either to take the kick-out.
53'   This is going to be a long half for Brazil.
53'   Brazil win it back.
52'   Costa Rica with a rare attack and Coutinho puts it out for a throw as he tracks back to make a nuisance of himself. Costa Rica taking their time and the referee has a word.
52'   Costa Rica pushed all the way back.
52'   Deliver in by Costa and Ruiz stoops down to head clear.
51'   Casemiro cross is blocked. Another corner.
51'   Corner sent in and Costa Rica kick it out. 
51'   Brazil really turning the screw here.
50'   Neymar in the penalty area from the corner. He's dispossessed.
50'   They follow that up with a proper best chance. Gabriel Jesus heads off the crossbar. Coutinho follows up with a deflected shot that went just wide.
50'   Best chance for Brazil even if they didn't really get a shot at goal.
48'   Through ball to Paulinho and it's touched back to Navas by a defender. He clears but only out to a Brazil player. It's sent back in and Neymar gets a touch on it. Navas gathers and then the PSG player takes the keeper out of it. Free to Navas. Nervy for Costa Rica.
48'   Really, really nervous moment for Costa Rica.
47'   Costa nearly gets on the end of a sloppy pass back by Costa Rica. Brazil do recover it though even if it wasn't the half-time sub.
46'   We are back underway! Just the one change for Brazil.
Costa Rican together now for one last pep talk.
Willian replaced by Douglas Costa.
Brazil make their way back onto the field. Costa Rica just behind them.
Brazil have to really push out the boat here though because a draw might actually be disasterous for them. 
Costa Rica had the best chance of the half. We might see some changes at the break. Firmino for Gabriel Jesus perhaps?
Neymar and Marcelo talking to the referee at the break. Not sure what the issue is?!
45'+1'   Ball out over the other side of the box and that's half time.
45'+1'   And that minute it up.
45'+1'   One minute of added time.
45'+1'   Miranda fouls Urena on the sideline. Chance from a set-piece now just before the break.
45'+1'   Slide comes in and Neymar's touch takes the ball out for a goal-kick. He wants a free, the Costa Rican defender wants a yellow for a dive. Someone's lying.
45'   Venegas the target of a through ball for Ruiz. He loses it and Brazil recover to launch an attack. 
44'   Ball to Neymar but he's offside. He slips anyway and loses out. Costa Rica had the ball so it's a strange one that he stopped play. Approaching half-time and I don't think Costa Rica will mind too much to get a breather.
43'   Willian pokes the ball forward to Paulingo and Gabriel Jesus slides in with the delivery. He can't reach it. Brazil back on the ball though and looking dangerous.
41'   Marcelo cuts inside on his right with a neat stepover. Shot and that's saved by Navas.
41'  Another Costa Rica attack comes to nothing. They are going to have to do something here to fix their lack of options in attack. They'll be exhausted and eventually picked off if this keeps up.
40'   Bryan Ruiz drives forward and is fouled. The referee waits for advantage and there is none. Costa Rica given the free way back in midfield.
39'   End to end for a second there. It ended fairly abruptly though. Brazil back on the attack.
39'   Cross into the box and a Brazil player ends up on the ground. Referee says nothing to see here. Costa Rica attack and they're offside. 
38'   Neymar on the left and he's picked off. Costa Rica with a counter but the ball out wide if off target and Brazil recover.
37'   Urena with a very unneccesary foul on Thiago Silva as he plays it back to the keeper.
37'   Willian almost saves an attack from breaking down but the ball rolls over the line. Duarte with the throw and he is taking all of the time in the world over this one.
36'   Ball into the box from Marcelo and Costa Rica head away again. Gabriel Jesus fighting for scraps in there.
35'   Brazil have slowly started to asserted their control on this one. Costa Rica haven't had a kick off it in a while.
34'   Willian on the right. He cuts onto his left but he never looks comfortable shooting it. That's well over the bar.
33'   Brazil enjoying 68% possession here and definitely improving. Slide comes in on Neymar and that's a throw. Fair tackle.
33'   Gabriel Jesus on the ground now after fouling a Costa Rican.
31'   He clips it inside and Gabriel Jesus very close. He was offside though.
31'   Dangerous from Brazil. Neymar down the right-hand side. 
31'   Neymar falls on the edge of the square. He fell over a defender, who was on the ground, and the referee says he got the ball.
30'  Costa Rica with a throw now and a chance to slow things down.
30'   Coutinho with a strike that was almost identical to his goal against Switzerland. He drives that one over though.
29'   Navas with his arms out as if he had it covered but I'm not sure he was that convinced himself.
29'   Brazil turning up the heat now. Marcelo with a strike that goes just wide. 
28'   Ball onto Neymar's big toe in the box. His touch is slightly heavy and Navas rushed out. Wonderful pass and great stop from Navas.
26'   Neymar with a chance to run at the defence. It breaks to Marcelo and he strikes. Gabriel Jesus gathers and drives it home. But he was offside! Really smart from Oscar Duerte to step out.
25'   Brazil back on the ball now. 
25'   Long shot comes in from Brazil and Navas sees that off.
22'   In terms of shooting that is. Coutinho with a nice ball into Thiago Silva and it's headed wide.
22'   Coutinho stands over it. Another foul in a non-dangerous position.
22'   Gabriel Jesus fouled now. All fairly tame fouls but that one maybe a little more aggressive. Duarte the man with the foul.
21'   Celso Borges with the ball out to Gamboa but it takes a Brazil deflection and out for a throw. Gamboa tells his teammates to slow things down.
19'   Cross from Costa Rica's right. Allisson gathers as it is blocked up into his path.
19'   Keylor Navas tries to kick the ball out and Miranda runs across his path. He catches him with an elbow too. 
18'   That's surely a yellow card. Neymar with a lovely flick over Gamboa. Venegas with the arm over the shoulder.
18'   Willian fouled now. He is tripped up on the right-hand side.
17'   Way out though and no way that he shoots here. He doesn't. Nice ball in that is headed away.
17'   Neymar fouled again. He's lining up the free.
15'   Neymar doesn't looked very comfortable.
15'   Neymar is fouled and his ankle is turned. He collided with Guzman. Ref has a word and it was a little but heavy of a tackle but not nasty.
15'   Bryan Oviedo with an effort from downtown. That's blocked.
14'   Costa Rica growing into this one. Fagner can't control the ball and it's a Costa Rica throw. The fans can sense they are every bit as good as Brazil to start this one.
13'   Really slick move by Costa Rica. It's Celso Borges arriving late in the box and the cutback reaches him. He strikes it wide though! Best move of the game so far.
12'   Neymar picked off and Costa Rica attack ends with a Neymar foul.
11'   Brazil down to ten now as Casemiro gets looked after on the sideline. Seems to be bleeding quite heavily.
11'   Casemiro runs off the field. He has a bloodied nose. Unclear as to what happened to him.
10'   Neymar chips it into the box but it's headered out. Several Costa Rica players lining up to head that one clear.
9'   Neymar wants this one.
9'   Brazil holding onto the ball but they don't look dangerous. Willian on the right and he wins the ball back after a failed cross. Foul.
8'   Brazil build. Coutinho on the ball but this is all very slow from both sides. 
8'   Costa Rica win back the goal-kick but that's kicked out over the sideline. Wayward pass.
7'   David Guzman with a shot from distance. He drives that well over though. 
6'   Costa Rica attack now down the left. Borges drops it off to Gonzalez. They're passing the ball around well so far and they win a throw.
4'   Ball into the box by Fagner and Jesus is robbed. It bounces nicely to Coutinho though and he drives over! Loves a crack from outside the box as we saw against Switzerland.
3'   Willian's ankle clipped by Bryan Ruiz. Free for Brazil.
2'   Long ball out by Navas and that's picked off as Brazil attack for the first time today.
2'   Costa Rica with all the ball to start. 
1'   Fairly tough challenge from Paulinho as Costa Rica win a throw.
1'   We are underway! 
    Very sunny in Saint Petersburg Stadium as the sun reahces only about a quarter of the field. The rest in the shadows
    And we have the Costa Rican national anthem ringing in our ears. Steely focus on the faces of the players.
    Players emerge onto the field!
    Brazil looked far more dangerous with Firmino on the field opposed to Gabriel Jesus but the 21-year-old keeps his place today anyway.
    Remember the emotional moment when Fagner was named in the Brazil squad? 
The big news in the last couple of days was that Neymar trained fully after an injury scare with his foot. What was most interesting, however, was that Tite said it would take him five games to get fully match fit. They must be planning on getting to a final!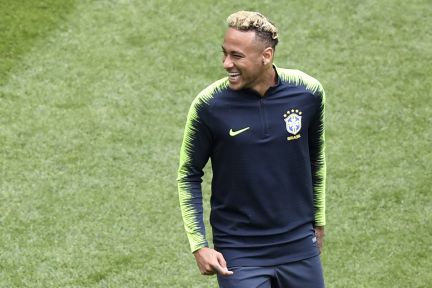 Fancy watching the game in addition to following it here, check out our guide.
Brazil sit second after the first round of matches, which saw the Seleçao surprisingly held by Switzerland and bottom side Costa Rica go down to Aleksandar Kolarov's fine free-kick for Serbia, who lead the way and take on the Swiss this evening. 


The fans in St Petersburg are in the party mood ahead of today's clash. But there will be sad faces afterwards for whoever loses. Costa Rica would be out and Brazil in big, big trouble...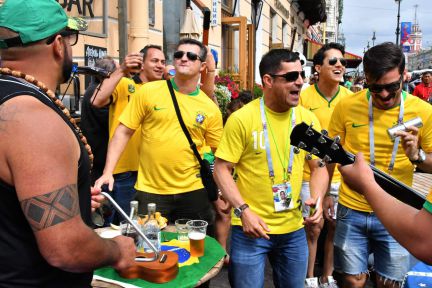 Hello and a very warm welcome to our live coverage of Brazil vs Costa Rica. Kick off is at 14:00 CEST, so in two hours time, and we'll be keeping you updated with all the team news, stats and facts as we build up to the big match.
Brazil vs Costa Rica live: preview
Brazil arrived in Russia as the out and out favourites, but their opening match was a let down. They could only draw with Switzerland in a match which left them wide open to criticism back home. Today, at 14:00 CEST in St Petersburg, Tite's players have a chance to calm the waters and avoid getting themselves into a fine mess.
Tite causes problems for Brazil
It couldn't be said the coach has done everything to avoid turmoil - as an example, when he was asked about Neymar in the press conference yesterday he got himself in a right state, saying Neymar "would play" but "he's not 100%" and he "needs five games to be in top form". Five games being of course the number of matches that would take Brazil to the final of the World Cup. Or to put it another way, the coach believes Neymar will only be properly ready just when it's time to head off on holidays. Surely not the best way to settle the nerves of the fans worried about the way the team are playing, and the PSG star in particular.
There will be only one change to the starting line-up for Brazil from the first game. Danilo, due to injury. Tite will continue with the side that struggled against Switzerland, including the Four Fantasticos up front. One other change will be who wears the armband, with TIte decreeing that in each game Brazil will have a different captain. The first day was Marcelo, today it's the turn of Thiago Silva. The PSG defender was the captain under Scolari four years ago and lost his leadership role due to his flagging spirits before, during and after the games. The pressure was too much for him; today he gets another chance.
Costa Rica trust in Keylor Navas
Costa Rica meanwhile need to pick up something if they don't want to be out of the tournament at the first hurdle. They lost to Serbia in their opening game, with Keylor Navas once again their best player. The entire country will be trusting in him today; Brazil need to find a way past him if they want to avoid a fine mess.