England booked their place in the last 16 of the World Cup with a 6-1 drubbing of Panama in the Nizhny Novgorod Stadium and will now take on Belgium in a mouth-watering shoot-out to decide who tops Group G.
On Saturday, Gareth Southgate's side were presented with an opportunity to take some pot shots at fish in a canal as Panama, who started brightly enough, wilted under a sustained first-half assault that reaped five England goals, which marked only the fifth time in the history of the tournament that a team had rattled in that number in the opening 45 minutes of a game.
Marking proved to be Panama's Achilles heel: four of England's goals came from set-pieces with two dispatched from 12 yards by Harry Kane as Panama's defenders attempted to wrestle their opponents to the turf every time an opposition player stood over a stationary ball.
John Stones got the rout underway with a bullet header from a corner before Kane, who moved to the top of the Golden Boot standing with a hat-trick, hammered in the first of his two penalties on 21 minutes. Jesse Lingard and Raheem Sterling combined to produce England's third, a glorious strike from the edge of the area by the Manchester United forward after a one-two with his club rival giving Panama keeper Jaime Penedo no chance.
England then turned on the style with a training ground routine from an innocuous looking free-kick, Henderson working it to Kane, who nodded back across to Sterling to head home. Penedo prevented the Manchester City forward from getting on the score sheet but Stones arrived unmarked at the back post to finish the job for his second of the game.
Panama beaten but unbowed as Baloy spreads the joy
Moments later Kane was standing over the penalty spot again after being hauled down in the area and duly dispatched another unstoppable delivery into the same corner.
After the break England took their feet off the pedal but added a bizarre sixth when Ruben Loftus-Cheek's effort clipped Kane's heel and looped past a stranded Penedo for the Spurs striker's hat-trick.
Panama could have been forgiven for letting their heads drop at that point; it seemed nothing would fall kindly for Los Canaleros. But the travelling support for Hernán Gómez's side had their moment in the sun in the 77th minute when captain Felipe Baloy, who had recently joined the fray from the bench, met a delicious out-swinging free kick to crack a first-time effort past Jordan Pickford for the first World Cup goal in Panama's history.
England will now take on Belgium in the final group game with both sides locked on six points and a goal difference of plus six. If that encounter ends in a draw the two sides' fair play record will decide who tops the group, and if that is all-square at the end of the 90 minutes it will go to the drawing of lots.
England vs Panama: as it happened
90'+4' And that's it! England defeat Panama 6-1 and secure their place in the last 16!
90'+3'   Panama launch one final attack and Arroyo tries a bicycle kick but fails to connect! What a goal that would have been.
90'+2'   Rose comes out best from a tussle with Murillo and its an England throw. No urgency to the affair now though and it winds its way all the way back to Pickford from the opposition half.
90'+1'   England play it long down the right and it rolls out for a goal kick. All eyes on the clock now as Southgate's side have pretty much hit the snooze button.
89'   Young fires it in and there's a bit of ping-ball in the area but Penedo gathers. Four minutes added.
88'   Free kick to England, rather soft it has to be said. One more roll of the dice as Southgate's men look for a seventh. Young over it...
87'   Panama probe the England right but are forced back. They have full control of the ball at the moment but Davis is finally dispossessed in the area.
85'   Panama now pushing up, all pretence of defending out the window as they try to add a second.
84'   Another free to Panama, similar position to the one for the goal, but this time it's cleared.
83'   Free kick to Panama, and their fans are still jumping up and down after that strike, the nation's first World Cup goal. Amazing scenes.
82'   England being urged forward by Henderson as they look to finish strongly here...
80'   Sterling flashes a shot past the post as his personal drought continues. He'd love to bag one here and that's probably why Southgate left him on the pitch.
77' And it's there! Goooooooooooal! Substitute Baloy slots in from the free kick, which was rasped across the back of the England defence. It was a cracking finish as well. The Panama fans are celebrating like they've won the World Cup and why not!
76'   Another free kick to Panama on the left...
75'   So close from Panama! A corner is fizzed in, headed on by Arroyo and it falls to Torres, unmarked on the far side, but he can't land his shot on target. We think everyone in the stadium would cheer if Panama were to pull one back.
72'   Young sends it in, Maguire heads it back across goal and the clearance lands to Jordan Henderson, whose shot whistles just wide of Penedo's upright.
71'   Free to England on the left...
70' Murillo finds his way into the book for a pull on Sterling and he will also be suspended for Panama's final group game.
69'   England looking now like they're intending to play out the final 20 as sedately as possible. Except Vardy of course, who harries a couple of defenders after a fairly aimless ball into the box.
67' Double change for Panama, Barcenas off for Arroyo, and Gómez off for Felipe Baloy. Trippier off for England with Danny Rose coming on. 
Gody also went off for Panama during that last change, Gent midfielder Ricardo Ávila on to replace him.
65'   Chance for Panama! Murillo bursts into the area and tries to lift the ball over Pickford but the Everton keeper but he stands firm.
65' Vardy will be loving the look of this Panama defence as he aims to get off the mark in the World Cup.
63' And off goes Kane, Vardy on to replace him. Lingard also heads off with Fabian Delph on in his place.
62'   No, it's given! Kane didn't know anything about it as a shot hits his heel and bounces past Penedo but he'll take it. He's now leading the Golden Boot stakes.
61' Gooooooooooooal! Maybe he won't mind so much now as Kane scores a bizarre goal to bag his hat-trick. But it's gone to VAR....
60' England preparing some changes, it looks as though Vardy will be handed a run-out, which won't please Kane...
58'   A long period of England possession comes to an end as Sterling it dispossessed and bundles his marker over for a free kick.
57'   Trippier picks it up on the right but the flag is up.
55'   Panama sling a cross in and Trippier clears it on the second attempt. The Panama fans in the stands deserve at least a shot on goal for their efforts to cheers their side on today.
54'   England are treating this as a training game now. Hardly any movement in the midfield, no runs being made. Energy being reserved for the decider against Belgium.
53'   In it comes but Torres clears with little fuss. That's possibly the first time there hasn't been panic in the Panama area under a cross. 
53'   Godoy getting a talking to for clinging to Kane again...
52'   Lingard wins a throw on the right on in line with the area. Loftus-Cheek steals into the area and it's another corner for England...
51'   Free kick to England as Kane is bundled over by Godoy. Will they try that routine again? No, it's taken quickly out to Young.
50'   Rodríguez delivers but Walker clears. Panama come again but Rodríguez overruns it and it's out for a goal kick.
49'   Panama win a corner... can they make anything of it?
48'   Sterling is clean through but Penedo is out like a whippet to meet the England forward on the edge of his area and wins the race by a nose.
47'   Panama have to really tighten up from set-pieces, four of the five they have conceded have come from that avenue.
Another fun statistic: John Stones now has more World Cup finals goals than Wayne Rooney.
From the BBC: This is only the fifth time in World Cup history a team has scored 5+ goals in the first half of a match, with Germany vs Brazil in the 2014 semi-final the most recent occasion.
The record for goals in a single World Cup match is 12 - Austria 7-5 Switzerland in 1954. If England decide not to ease up that could be in danger here. 
England now also level on goal difference with Belgium...
No player in the history of the World Cup has ever scored a hat-trick from the spot in a single game. The way Panama are defending corners, Harry Kane may well just be the first today.
45'+3'   And there goes the whistle. England 5 (five) - Panama 0 at half time.
45'+2'   It's descending into farce now as both sides remonstrate in midfield. The ref shakes his head like a parent watching his kid go ballistic in Tesco. Finally the ball is back in play.
45' Goooooooooooal! Kane goes into exactly the same spot, with exactly the same result. He'd be handy in a fairground, that boy. England 5-0 up now! In 45 minutes. Panama in danger of a historic drubbing here.
44' Further delays as Panama argue the issue... Escobar goes in the book for his troubles. Kane waits patiently.
42'   Penalty! Goodness gracious. Maguire gets up under pressure to meet the corner but it seems that Kane was pulled down in the melee and the ref points to the spot again!
41'   So 4-0 to England it remains. Another corner...
40'   Oh here we go.... VAR poking it's nose in... but no, it stands, Panama thought they had an offside shout there but the eye in the sky says no dice.
38' Gooooooooooooal! A training ground routine a la carte! Trippier plays it short, it's clipped into the area by Henderson, Kane back across goal for Sterling and Penedo stops his header but is powerless to intervene as Stones appears at the far post, unmarked again, to pop it in for 4-0!
37'   Free kick to England about 30 yards out from the centre of Penedo's goal. Plenty of discussion as to what to do with it...
36'   Panama launch an attack and Barcenas pings in a cross that turns into a shot as it eludes every red and white shirt in the vicinity. Pickford watches it like a hawk though as it bobbles wide of his upright.
34' Gooooooooooooooal! Lingard and Sterling combine with a neat one-two on the edge of the area and the Manchester United forward cracks a pearler into the top corner! In off the bar, which we do enjoy. 3-0 to England now and Belgium will be nervously fingering their collars if they're watching this. That goal difference is being chipped away quite efficiently in the opening 45 minutes.
As an aside, is it not time that brass instruments were banned in football stadiums? Surely they count as a dangerous weapon and they are certainly an assault on the ears.
33'   England go long again and Young desperately tries to wrangle the ball back into play but it's narrowly over the line for a goal kick.
32'   Panama have shown some guile going forward but they're extremely suspect at the back. The Leicester defender was completely unmarked there, as was Stones for the opener.
30'   Free kick to England a fair way out, all the big defenders are up... Young clips it towards Maguire at the far post and he gets up to neet it but can't keep his header down and it flops onto the top of the net.
29'   England's turn now as Panama invite to them come on, Tripper hits a ball from deep towards Sterling but he can't get there even at Raheem speed.
27'   A bit of a seesaw in midfield as Panama adjust to the blow but it's the red shirts that are in control of the ball at the moment. England have dropped back to ensure they don't get an unpleasant surprise. Throw to Panama on the left, Godoy switches play to Murillo, Panama work it to Rodríguez and he's in a good shooting position but misses the target by a mile.
24'   Panama try to release Rodríguez on the left but the pass is overcooked and out for a goal kick.
23'   Panama with plenty of work to do now... England firmly in control in Nizhny Novgorod.
22'   England 2-0 up now as Kane bags his third of the tournament.
21'   Gooooooooal! Kane hammers it into the top corner and Penedo couldn't get anywhere near that. A perfect penalty. Penedo went the right way but it was too high, too tucked into the corner and too ferocious to even get a glove on.
20'   Kane two from three for England from the spot... Panama still causing a ruckus and Kane is forced to wait.
20'   A chance for Penedo to become a national hero. Kane placing the ball on the spot. Panama still protesting but it was a clear penalty.
19'   Penalty! Lingard is through on goal, controls on his chest and is floored by a combo of Torres and Escobar. The ref points straight to the spot.
17'   England building patiently from the back again as Panama harry from the front. Walker tires and goes long again, but can't find Trippier.
15'   Román Torres is down and that takes some doing. Panama wave the invisible cards furiously but the ref is unmoved.
14'   Panama win a free in midfield but knock it backwards. They retain the ball though and build and attack, finding Barcenas on the edge of the area. His shot is decently struck but wide of Pickford's far post. 
13'   England of course are trailing Belgium significantly on goal difference ahead of their final Group G game against the Red Devils. Henderson tries to slip Kane through but Penedo is alert to the danger and out swiftly to thwart the Spurs striker.
12'   England go long but Trippier fails to control Henderson's ball and it's out for a Panama goal kick.
10'   How will Panama respond to that? They'll need to come out a bit more now and Barcenas does just that on the right, but Maguire clears the ball into the area.
9' Cooper goes in the book for a clip on Lingard's heels in midfield and he'll now be suspended for Panama's final game against Tunisia.
8' Goooooooooooal! Stones! The corner is whipped in by Trippier, Panama are all at sea and the Manchester City defender has a free header, which he buries past Penedo with a proper thump. England 1-0 up.
8'   Plenty of jostling in the area and Maguire goes down under an innocuous touch from Gómez. Nothing given...
6'   England look for a crack in the Panama wall but it ends up going all the way back to Pickford. Hernán Darío Gómez has set up his side well. Corner to England...
5'   Another free for Panama as Loftus-Cheek clips Rodríguez in midfield. It's over the top and out on the far side though.
4' Panama put together a glorious move and split the England defence but Godoy snatches at his shot and it's high and wide. He had plenty more time there, the San Jose Earthquakes midfielder.
Lingard is back in the fray after a lengthy examination from England's physios. Panama have a free kick out on the right and Kane is under it to clear.
2'   Loftus-Cheek gets away down the right but Lingard can't control it. The Manchester United man goes down under a challenge in the area and he appears to be a in spot of bother here...
1'   England in control of the ball early on, Panama camped in their own half as Southgate's side feel out the opposition.
1' England get us underway... we're off!
Panama keeper Jaime Penedo bears more than a passing resemblance to Gigi Buffon... Los Canaleros will be hoping he sticks in a performance like the Italy great today. He's likely to have a fair bit of work to do. 
And the Himno Istmeño rings out over the stadium, a bit more lively this one it has to be said. The Panama players are giving it some proper welly.
Here we go with God Save the Queen...
  It's a glorious arvo in Nizhny Novgorod, the teams are in the tunnel and we're about to get the ball rolling on day 11 of the World Cup!
Just 10 minutes to go now until kick-off...
Panama unchanged from their opening 3-0 defeat against Belgium.
Calm and collected. The furor surrounding the England team this week has been a leaked team sheet showing the Three Lions' starting line-up and tactics for this game. However, England boss Gareth Southgate was quick to take the sting out of the situation: "There's no drama for me about it. The picture the other day wasn't even the team. It was just a front sheet and the front sheet is always the runners and riders for training. I'm totally relaxed".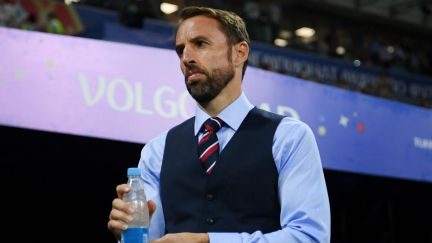 Hello and welcome to AS's live coverage of the build-up to the game between England and Panama at Nizhny Novgorod Stadium. Stay with us for analysis, stats and images of all the action in and around stadium as the fans and players warm up for this Group G fixture.