Japan twice came from behind to draw 2-2 with Senegal in their World Cup Group H encounter on Sunday.
Inui, Honda goals cancel out Mané, Wagué strikes for Senegal
Goals from Senegal captain Sadio Mané and Moussa Wagué were matched by strikes from Takashi Inui and Keisuke Honda for the Samurai Blue.
Senegal took the lead in the 11th minute when Japan goalkeeper Eiji Kawashima punched a cross into Mané's leg and the ball bounced back over the line and in, before Inui's curled finish on 34 minutes meant the sides went in level at the break.
Wagué's powerful shot into the roof of the net on 64 minutes looked to have secured the points for Senegal, but Japan substitute Honda turned in a brilliant Inui pull-back with 12 minutes remaining to give the Asian side a share of the points.
Both on four points going into final Group H matches
The draw means both nations go into the final round of matches on four points at the top of the group.
Japan 2-2 Senegal: as it happened
94'   And that's that! Japan twice manage to peg Senegal back as an entertaining encounter in Yekaterinburg ends all square. Both teams move onto four points. Whatever happens in tonight's second Group H match between the as yet pointless Colombia and Poland, this is a pool that is going to be decided in its final round of games. It's Japan and Senegal who are firmly in the driving seat to reach the knockout stages, although a four-way tie on four points - including one that sees them both knocked out on goal difference - is still a possibility...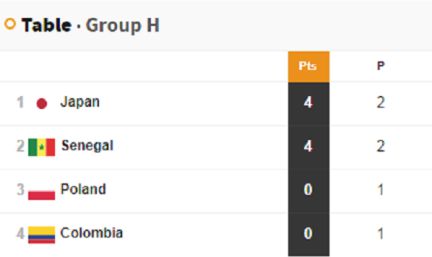 93' Non-stop yellow cards now. Hasebe is booked for breaking up a Senegal counter. The resulting free-kick is pumped forward into the box, where it finally falls to Diouf - but he can't steer his shot on target.
92' Senegal win a free-kick on the right. Can they make this late chance count? No. The initial delivery is cleared, before a high foot hands Japan a free-kick, and Akira Nishino's men can clear.
91' N'Doye follows Sabaly into the book after catching Yoshida in an aerial challenge.
90'   Sabaly earns himself a place in Gianluca Rocchi's notebook after bringing down Usami in full flight. It's a yellow card he'll take, as he halted a dangerous-looking Japanese break, and the resulting free-kick came to absolutely zilch.
88' Sané and Koulibaly almost get themselves in a mighty old mess as the former's attempt to clear a right-wing cross thuds into the other... but noobdy in a blue shirt is in close enough attendance to capitalise, and Senegal survive that mini-scare.
86' Japan also make their third and final change: Takashi Inui comes off after a fine, goalscoring display, and Takashi Usami trots on in his stead.
84' And here comes said sub. A fairly shattered looking Niang limps off to be replaced by Mame Biram Diouf. Five minutes for someone to find a winner and put one foot in the last 16.
82' N'Doye has an immediate chance to make an impression, but nods a headed chance well wide. Senegal are preparing a third sub.
80' 80'   Now it's Senegal's turn look to the bench in a bid to change things. Midfielder Badou Ndiaye is replaced by fellow engine-roomer Cheikh N'Doye.
78' Osako hangs it into the box, where Senegal keeper N'Diaye makes a tremendous hash of his attempt to come out and claim. The loose ball falls to Inui at the back of the box, and when he pings it back across the goalmouth, Honda is there at the far post to drive home! What an impact!
78' Japan level again! Honda steers it into the corner from close range!
75' Japan make a second change, Genki Haraguchi making way for Shinji Okazaki.
74'   Chance for Japan! The Samurai Blue win a corner, which falls to the feet of Osako in front of goal - but his strike is blocked by Sané. Despite suggestions of handball, that looked like it was nothin' but knee. 
71' Japan respond to that Senegal goal by throwing on Keisuke Honda for Shinji Kagawa.
70'   Sabaly produces a neat bit of skill to get himself into a crossing position on the left, Niang touches on the left-back's low ball with his heel, and Wague arrives like an express train to bosh the ball into the net at the back stick!
70' Wouldn't you know it! Senegal re-take the lead, just when they were enduring their worst spell of the match!
67'   Inui earns himself a deserved yellow card after tugging back Sarr, and Senegal have an opportunity to deliver a free-kick from the right. They go for a cleverclogs training-ground routine, and it is fair to say that the execution could have been better. Chance lost.
65' Alious Cissé reacts to Japan's ascendancy by replacing Alfred N'Diaye for Cheikhou Kouyaté.
64'   Inui comes so close to his second! Japan have firmly taken the upper hand now. Osako is again involved, finding the run of the midfielder into the box with a cute little backheel. Without breaking stride, Inui sidefoots first time towards N'Diaye's far corner... but the ball bounces back off the bar!
63'   Japan have started to click in the past few minutes. They attack Senegal once more, and Sakai does brilliantly to keep the ball in, and Osako shows great fight to get to the ball before Koulibaly and exchange passes with Kagawa... but then plops a woefully overhit cross out at the far post.
60'   Osako should put Japan ahead! Gaku threads a low cross slap-bang down the middle of the corridor of uncertainty, and all the striker has to do is nudge the ball past Khadim N'Diaye from five yards out. But instead he swings, misses, and comes away looking jolly miffed. 
58'   Niang comes together with Shoji as the pair challenge for an aerial ball, but replays show there was no elbowing going on. The Senegal forward still gets booked for his troubles, though.  
54'   Badou Ndiaye is left in a heap after trying - and failing - to connect acrobatically with Mané's cross from the left, before Niang gets the ball out of his feet and fires a low drive towards Kawashima's goal. It's right at the Japan custodian, however, and the striker is a picture of exasperation. 
52'   There's another shooting chance for Senegal, but Badou Ndiaye thrashes at the ball on the edge of the box and it sails over. He looks less than chuffed with his effort, and quite right too.
50'   Just as I write that, Japan create the first chance of the second half: Nagotomo stands the ball up towards Haraguchi, who nods it on for Osako to head at goal - but it's a weak effort, and N'Diaye claims comfortably. Niang then volleys one over for Senegal at the other end.
48' Senegal win a corner, which comes to zip. Just like the first half, though, they look to have started the better.
47'   "A draw isn't a bad result for either," says AS's own Aritz Gabilondo on Spanish TV. "It'll be interesting to see how they weigh up that consideration in this second half."
46'   No changes in Yakerinburg.
45' Peeeeep! Back underway!
Out come the teams for the second half...
45' Peeep! All square at half time. Sadio Mané gave Senegal a richly deserved early lead, but Japan improved in the later stages of the opening 45, and Takashi Inui's sweet curling strike brought the Samurai Blue level ten minutes before the break.
44'   Senegal come again, and Mané wins a free-kick off Sakai on the left. With time running out in the first half, it's another chance for the Senegalese to whip one into the box... but Japan step up and the flag is (eventually) up.
42'   Sabaly wins a corner, which Sané flicks on neatly at the near post - but nobody in a white shirt can take advantage!
39'   And just as I say that, Senegal carve out an opportunity to re-establish their lead. Badou Ndiaye slips a lovely little ball in between the Japan backline to get Niang haring towards goal, but Kawashima makes himself big to repel the striker's angled shot! 
37'   Now it's Japan's turn to clear a right-wing ball into the box, Yoshida getting his forehead to Sarr's cross into the mixer. Hasebe then does well to shield the ball out for a goal-kick, and the Japanese are suddenly feeling a whole lot better about themselves.
36'   Japan have their tails up now, and Sané has to be alive to head away with Kagawa lurking behind him and waiting to nod in a teasing right-wing ball.
33'   Well, so much for those Japanese long balls being a bad idea, then. Nagatomo brings one down inside the box, and though his control slightly gets away from him, it falls to Inui, who gets the ball out of his feet and curls it beautifully past keeper Khadim N'Diaye's despairing dive! 
33' Equaliser for Japan! Inui curls one in!
30'   Mané is calling for a free-kick on the edge of the box after tumbling under Sakai's challenge as the pair tussle for a high ball, but referee Gianluca Rocchi could not be less interested in the Liverpool man's appeals. 
28'   Japan play another high ball towards the Senegal box, and it's dealt with comfortably by the Africans. Koulibaly and Sané will head those balls away all day long, one suspects. "It doesn't seem like a very good idea for the Japanese to be playing it long all the time," says our commentator on Spanish TV, and he finds little argument from this humble scribe.
26'   Mané wins a corner, which Sarr pings onto Sané's head. He can't get the connection he needs, though, and Senegal end up fouling Gaku. Nevertheless, the Senegalese look a better bet to extend their lead than Japan do to cancel it out.
25'   Nagatomo crosses, but Sané deals with it with the minimum of fuss. Senegal look comfortable.
24'
Now there's a stat. It's also worth noting that Senegal are yet to lose a group-stage game at a World Cup.
21'   Japan play a corner short, and succeed only in losing it. Senegal break, and Badou Ndiaye steams to the byline only to see his cut-back evade the waiting white shirts, before the ball comes back to Sarr in a shooting position, but his bouncing effort is meat and drink for Kawashima. 
20'   Inui pulls it done nicely on the left and sets off past Sarr, who brings the new Real Betis man down. Shibasaki has the chance to deliver the ball into the box, but Sané heads away. 
17'   That goal appears to have, in some small measure at least, woken Japan up. Back they come in search of an equaliser, but Haraguchi's ball into the run of Osako is overhit.
16'   That's better from Japan. Inui and Nagatomo combine neatly on the left of the Senegal area, before the ball comes back out to Hasebe, who doesn't need a second invitation to pull the trigger from range. He catches it sweetly, but it hits a white shirt and the Japanese are denied.
14'   Senegal are well worth their lead, even if they got something of a helping hand in the process of getting it.
13'   Japan coach Akira Nishino looked utterly fuming on the touchline, and one would be hard pushed to blame him. Schoolboy defending.
12'   The ball is whipped into the Japan box, where Haraguchi makes a complete hash of his defensive header, plopping it straight down to the feet of Sabaly. His shot is straight at Kawashima, but the keeper pushes his save onto the lurking Mané, and it's into the net off him!
11' Goal! Senegal take the lead, and it's a defensive horror show for the Japanese!
10'   Sarr picks the ball up and drives towards the byline, but his ball into the middle fails to find a white shirt. Still, he's looking very lively.
8'   Japan earn themselves a first set-piece chance, Kagawa standing over a free-kick in the left-hand channel that's got plum swing-it-into-the-mixer potential. Senegal have had a couple of corners that they have summarily failed to capitalise on; can the Samurai Blue make the most of their first dead-ball opportunity? No. Not this time.
6'   Japan look to get themselves on the ball, but Kagawa's long ping towards the back stick is too long for Inui. Up the other end, Sabaly shows Haraguchi a clean pair of heels and gets to the byline, but his cross into the middle is an easy take for Kawashima.
5'   Senegal win another corner, which finally falls to Sabaly waiting about 35 yards out. He goes for the Hollywood effort, and slaps it high.
3'   Senegal come again, Sarr winning a corner on the right. Aliou Cissé's men have started the brighter. Niang delivers, but it's too long. He ends up getting another chance to cross, but Japan clear. 
2'   Senegal make the first forward forway, Wague fizzing in a low ball towards Mane in the middle - but the Liverpool man can't quite get on the end of it.
Peeeeeep! We are underway.
  Japan are unchanged from the side that beat Colombia, while Senegal make one change to the team that saw off Poland: midfielder Badou N'Diaye comes in for striker Mame Biram Diouf, with the Africans seemingly switching to a 4-3-3 formation with Mané and Sarr flanking Mbaye Niang in attack.
The teams are out in Yekaterinburg and we have had the national anthems. Almost time to go!
Whoever wins this game, a draw between Colombia and Poland puts them through.
If Japan win and Colombia do not beat Poland, then the Samurai Blue are into the knockout stages with a game to spare. Meanwhile, if Senegal come away with the three points and Poland fail to defeat Colombia later this evening, then Alious Cissé's men are through. 
Whoever wins today will be on the brink of qualification to the last 16, and could qualify today - depending on the result of Colombia and Poland's clash at 20:00 CEST.
So here's how Group H stands, with Japan and Senegal sitting pretty on three points from three so far:

Japan vs Senegal

live: preview

After an impressive opener against Poland, Senegal return to World Cup action to play Japan, who were no less impressive against Colombia. Kick-off from Ekaterinburg Arena is at 17:00 CEST.
"Grow 5cm and put on 5kg"
The Japanese were fortunate enough to see Colombia reduced to 10 men in that game early in the first half when Carlos Sanchez received his marching orders but they used the ball well and made their opponents work hard out of possession. Their manager was asked how he would deal with the task of beating Senegal and he replied, "In the last few days I told my players to grow 5cm and put on 5kg. They couldn't do it. Instead we'll have to try to win by using the ball well." So we can expect a possession-based approach from the Asian side. They have no injury concerns after that first game against a physical Colombia side. Yuya Osako and Shinji Kagawa proved to be their most important players on that occasion and they will need a similarly composed performance from them again if they are to prevail in their second game.
Senegal, on the other hand, were excellent against a rather poor Poland side. They were active in attack and secure at the back even if the Poles never really troubled them. Their ability to negate Robert Lewandowski, who was starved of possession was quite the feat. Sadio Mane played a more complementary role in that game and it was M'Baye Niang who caused Poland the most problems with his long limbs and energy. He pounced on a poor Krychowiak pass to score and was a general nuisance for defenders in that opener. They have no injuries either after that first encounter.