Poland 0-3 Colombia: World Cup 2018 Russia Group H goals, result
Goals by Yerry Mina, Radamel Falcao and Juan Cuadrado saw Colombia knock Poland out of the World Cup inSunday's Group H clash in Kazan.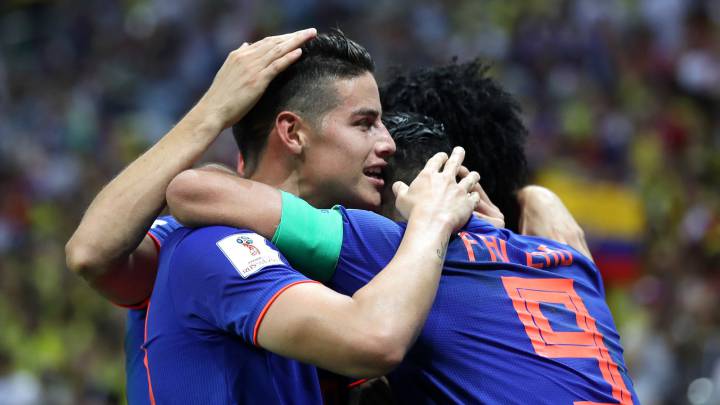 Poland 0-3 Colombia: match report
Colombia exploded to life against Poland at Kazan Arena on Sunday night to get their World Cup back on track after a stumble to start the tournament against Japan. Poland might end up going home with zero points in what has been an drab World Cup from them despite the quality in their squad.
From the start, it was clear Colombia were keen to make amends for that poor opening game. They started quicker than Poland but Lewandwoski and co. gave as good as they got in those opening exchanges. That was before Colomba wrestled control of them game off them and started to create chances with James, Falcao, Quintero and Cuadrado all improving as the minutes ticked by.
Three of the Fab Four were involved in the opening goal with Quintero finding James with a disguised pass he received off Cuadrado. James lofted a perfect pass into Yerry Mina's path and he nodded home, rising higher than Szczesny in the six-yard box.
Poland had no response and while they were having more luck going forward in the second half, Colombia killed any hope of a comeback on 70 minutes when Quintero found Falcao and he sent a sliding outside-of-the-boot ball beyond the onrushing keeper.
Their despair was compounded minutes later when Juan Cuadrado raced clear from an inch-perfect from James Rodriguez. He curled home and Colombia were home and hosed. They play Senegal in their third game in a must-win situation while Poland's postmortem will begin in earnest immediately.
Poland vs Colombia live online: as it happened
90'+5' GAME OVER! The referee blows full time on proceedings and Colombia grab a very important win. Poland can't mathematically qualify for the knock-out stages of the World Cup.
90'+5'   Colombia passing it around now to end this one.
90'+3'   Colombia arrived tonight and were not leaving without three points! What a high intensity performance this has been for them.
90'+3'   Poland's goose is cooked and they know it.
90'+1'   Five minutes of added time.
89'   Colombia defend it and counter.
89'   Lewandowski with a shot. Ospina with a save. Really good effort that almost caught the keeper napping. Corner for Poland.
88'   Grosicki concedes a throw down the left hand side. His reaction says it all. He's almost in tears. Nothing will go right for them.
86'   Colombia holding the ball now.
84'   Cross sent in by Cuadrado and it falls to Uribe. He backheels it but Poland recover.
84'   Ospina down injured again. He's okay though.
81'   Chance for Krychowiak but that's saved. Poland can't catch a break. 
80'   And just ike that, Colombia have announced themselves on the scene. This has been an exceptional performance. 
78' Falcao being replaced. He gives James the captain's armband. Carlos Bacca coming on for him.
75' This is prime time! What a move from Colombia. Juan Cuadrado free through on goal. James with the ball across the field into his path. Poland all over the shop.
73' Teodorczyk replaces Bereszynski for Poland as they throw they try to inspire change.
73' Colombia make their second change. Lerma of Levante comes on for Quintero.
70' FALCAO! What a finish that is. 2-0. He springs the offside trap and slots it under the keeper as he advances. 
69'   Ospina with the kick-out.
67'   Very central and quite far out. Sent in deep and Krychowiak gets a foot on it and he kicks it back up into the air. Lewndowski versus Falcao and the Bayern star hits the ground grabbing his face. No penalty.
67'   Zielinski to Lewandowski. There's a foul on Barrios. He takes Goralski down and says he didn't. The midfielder was barging through and the slightest touch was always going to take him down. Free for Poland.
66'   Poland trying to figure out a way through. Uribe steps in and wins it back off Zielinski but it's out for a throw. Piszczek sends in the long throw and Poland go close but Colombia clear. Lewandowski versus three defenders.
66'   Colombia sitting back. 
63'   They haven't looked as dangerous since their goal but Poland have no threat so they should be fine.
63'   Wilmar Barrios fouled by Zielinski. Barrios been really good today. Really controlling in the middle for Colombia. 
62'   No, that won't do it for Poland. Long diagonal ball under pressure and it rolls out for a corner. Nobody even in the general vicinity.
61' Bednarek hauls down Uribe. Really cynical tackle and wouldn't be out of place in a rugby game. 
60'   Poland much improved.
58'   What a ball down to Lewandowski. He takes it down and gets a shot away. Ospina saves that and stays down grabbing his ribs. So close to an equaliser.
57' Change for Poland. Grosicki comes on for Kownacki
57'   Pazdan down injured now after the corner.
56'   Wilmar Barrios playing really well for Colombia. Quintero, who is not afraid to shoot, shoots against and that's a corner. 
55'   Poland building. Piszczek with a cross that Ospina grabs low. Poland need a change. 
54'   Okay, there is movement on the bench. Grosicki coming on for Poland, it seems.
54'   At what point does Adam Nawalka make a change?
52'   Cuadrado pulls it back to Falcao and he strikes with his left. That is always going over the bar.
51'   Quintero effort from outside the box. His left-footed effort drifts wide but plenty of pace on it.
51'   Barrios out to Quintero. Cuadrado runs at the defence.
50'   Piszczek throws it in and it's wide by Lewandowski.
49'   Bereszynski with a cross into the box. Only one waiting is Arias and he clears for a throw. 
48'   Cuadrado fouled by Goralski. Colombia keep the ball. Some really hefty challenges going in here. Referee playing away.
47'   Ball into Bereszynski and he heads it back towards goal. Collides withMojica in the process. 
46'   We are back underway. No changes for either side.
Poland really need some divine intervention here. Nothing working for them. Lewnadowski being manhandled and brushed aside too easily by a combo of Mina and Sanchez.
45'+4'   Ospina launches clear and that's it for the first half. What a half of football. Arguably the most exciting 45 minutes of football in the World Cup.
45'+4'  Cleared and Colombia try to counter. Out to Quintero and he brings it forward before thinking twice and retreating.
45'+4'   Poland with a corner now.
45'+1'   James fouled.
45'+1'   Four minutes of added time. It felt like the ball never went out of play but there were those earlier injures and then Aguilar sub too.
45'   Approaching half-time.
44'   Cross comes in from Rybus and that hits the roof of the net. Ospina had his eyes all over that.
43'   Time for Colombia to take a breather now. But will they? They are in possession of the ball and passing it around but it feels like they're just plotting their next assault.
42'   Colombia deserve that. 
40' Beautifully crafted goal! Quintero with the feign and he plays it to James. James delivers it onto the head of Yerry Mina and he heads home.
39'   James plays it short.
39'   Poland really being pushed back here. Falcao runs by a few tacklers and plays it to Cuadrado. Corner.
39'   Ball down to Ospina and he restarts Colombia.
38'   Lewnadowski having quite the ball with Yerry Mina.
36'   Lewandowski on the ground again and wants a free but referee not complying.
36'   Szczesny punches the corner away. 
36'   James to take the corner and he urges the crowd to raise the volume! It's loud enough already.
36'   Juan Uribe sets up Mojica and he launches one of those crosses in from deep. Much better this time as Falcao has a chance to compete, at least. Colombia keep it and Cuadrado gets on the end of it before slaloming to the endline. Szczesny saves. Corner.
35'   Colombia very keen to get the ball forward. Mojica had it and his last option was to pass it backwards. He did eventually but he wasn't happy.
34'   Cuadrado with a show from downtown. No chance with that one. 
34'   Crossed in and Poland get it away.. twice! Colombia pick it up against and Mojica moves forward. Crosses and Poland clear again.
33'   Referee talking to Sanchez and Krychowiak and says he'll have no more of that lark under his watch!
33'   Long ball down the line to Cuadrado as he races through. He lays it back to Quintero and he lets one in with the outside of his foot. Lovely ball but it's headed out. Colombia win a corner. Quintero to take.
32'   We are back underway. Both sides probably glad of the breather there.
31'   Looked like a groin issue for Aguilar.
31' We will have a change here. It's actually Abel Aguilar who is injured and he will be replaced by Juan Uribe.
30'   Colombian players having a proper go at the referee here. Not really sure why?
30'   We have another injury. Arias down now and he looks like he can't continue. Ref calls for medical attention.
30'   Piszczek hits the ground after clashing with Quintero. 
29'   Poland try to take the sting out of this one now as they pass it around. Colombia happy to sit back. James Rodriguez is not though. He just tells his teammates to get themselves up the field! 
27'   Colombia have definitely looked more dangerous here but not efforts on target yet.
26'   Mojica cross and it's blocked before catching him on the way out. Unlucky and he knows it.
25'   james down after taking a heavy hit to the face. He's okay though. Colombian players want an explanation from the ref for that.
25'   Colombia counter and Falcao is through on goal. He backheels it to Cuadrado after finding himself at a difficult angle. Corner.
25'   Poland on the ball now. Pazdan to Rybus. And back. Pazdan launches forward and it's cleared.
24'   Pekerman chilling on the bench. How his heart rate isn't at 100% is beyond me. Maybe it is and he needed to sit down.
24'   Corner is headed away.
24'   Poland try to respond but that Lewandowski shot is cleared for a corner. More like a cross maybe, to be fair.
23'   Sublime football from Colombia. Cuadrado plays it out and it comes back into Arias, who had man the third-man run in behind. He squares and that's cleared. Best move of the game so far.
22'   High intensity but the quality on display is questionable here. But who cares, this is being played like a knockout game! Neither team taking a step back.
22'   Quintero looks for Falcao but it's just slightly out of his reach.
21'   Falcao breaks free and looks for the pass out wide. Taken away and Poland win it back. Falcao cross is blocked.
20'   throw coming in from Piszczek and the referee has a chat to a couple of players about pulling and dragging. 'No more,' he says.
20'   Ball into Colombia's defence dribbles through with Bereszynski looking to get on the end of if Sanchez slides in and clears for a throw.
18'   Deflected effort by Zielinski. Corner for Poland.
17'   Davinson Sanchez fouls Lewnadowski. He grasps at the back of his shin.
17'   Ball bobbles around and Colombia win it. James out to Cuadrado and another one of those crosses. Headed clear.
16'   Mojica with another cross from way out on the wing. He whips it in. Looks to be a tactic for Colombia.
15'   Goralski bundles Falcao over with a push in the back. The veteran striker was waiting for that one. 
13'   Colombia win possession and try to build an attack. Barrios sends it out to the right. Cuadrado gets it and absolutely zips a cross into the box. Cleared by Poland. A little bit rushed from the Juventus winger. Poland regain the ball.
12'   Poland in a 4-3-3. That's about all I know as of now.
12'   No make or shape to this game so far. So, there will be some form of tactics talk as soon as it settles down.
12'   Ball back to Ospina. 
11'   James with a foul now on Krychowiak.
11'   Zielinski all the back to Bednarek and back to Szczesny but his pass, under some pressure, is off target. Throw Colombia, which they give away.
10'   Colombia win a throw. Mojica to take now as he takes one big long breath. The other 21 players probably joining him. This has been some start.
9'   Colombia chance. Mojica sends it into the box and it's cleared and then shot comes in that Szczesny gathers.
8'   Kownacki catches Cuadrado as he races by the Pole. 
8'   Four players down injured already. 
7'   Now Yerry Mina is injured. He is in all sorts of agony, he's wriggling on the ground like a worm. Lewnadowski stood on his finger after fouling him. Sore one. Maybe slightly exaggerated. Free Colombia. Ospina is okay too, just in case you were worried!
6'   Sub keeper warming up. There was no way the game could continue at that pace. It was mayhem.
5'   He's down now grabbing his shin. Looks to be in some pain.
5'   Ball into Zielinski. Then it's crossed in and Ospina gathers. He is tripped up by Kowacki as he races out to kick the ball up the field.
4'   The Polish defender is back up and gesturing to the referee that he got an elbow. Slight delay in the game but we are back underway! 
3'   Nothing can slow down this game. Other than an injury to Pazdan's ribs. This game has started at break-neck speed.
3'   Now Pazdan is down.
3'   Corner worked short and Johan Mojica gets a ball to the groin. Man getting hit by football in the groin leads to a break in play. 
3'   Lewandowski runs down the left and wins another corner. He looks like a man on a mission tonight after just three minutes.
2'   A completely different Poland from the one that played against Senegal.
2'   Cross whipped in and Lewandowski goes close but Yerry Mina saves the day. Corner for Poland.
1'   Ball down to Szczesny as Falcao stalks him looking for an early mistake. It's not coming. Long ball arrives down to Lewandowski and Yerry Mina fouls him in the air.
1'      Poland get us underway!
   Falcao and Lewandowski up for the coin toss. A plethora of handshakes, a photo, a coin toss and we are ready for action.
    Carlos Valderrama pops up too. A Colombian legend. Hair hasn't changed.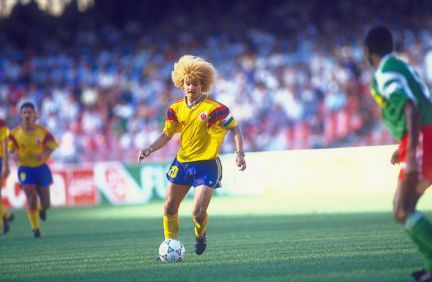 And now the Colombia anthem. Very regal. The players giving it loads here. Some with eyes closed, all with their hands over their hearts. Inspiring stuff.
    Polish national anthem rings around the stadium. A proud, and grinning, Lewandowski pops up. He looks cool and calm ahead of this one which might means Colombia are in for a long night.
James was the revelation in Brazil 2014. He hasn't started off great but this is his first start in this World Cup so there is still time and hope! All we want is one moment
The sum total of interaction between Milik and Lewandowski against Senegal. If they have any hope, getting Lewandowski involved should be the prime focus today. 
It will be Mojica's fifth cap. He spent the season on loan at Girona. An aggressive left-back who plays more as a wing-back or winger than anything else. 
    "Prototype Mascherano" is quite the complement.
    That draw opens up things in this group. Colombia will feel like with 10 men, they can compete with anyone but Carlos Sanchez took the chance to show the world just that away from them. He's been replaced today dur to the suspension from that red card.
Well, now it's 2-2 and that means both Japan and Senegal will have four points if it remais this way for the final few minutes. That will make it a really, really must-win game for both Poland and Colombia.
As things stand in the other Group H game being played, Senegal will move top with six points and Japan will remain on three after Moussa Wagué put The Lions of Teranga ahead in Yekaterinburg. There's still about 20 minutes to go in that one though. 
The least time the sides met, in a 2006 friendly, Colombia came out on top in a 2-1 win. They have never before played each other at the World Cup though. 
James Rodríguez is set to start this evening after coming off the bench against Japan, a game he was unable to save with Colombia playing with 10 men for almost the entire 90 minutes. José Pékerman will hope his talisman can get Colombia off on the front foot.
It's a must-win game for both sides in the Kazan Arena tonight after both Poland and Colombia were beaten in their opening World Cup fixtures.
Poland vs Colombia live online: preview
Two teams who are looking to rebound after disappointing opening games take each other on at the Kazan Arena on Sunday evening. Poland, who were beaten well by Senegal and Colombia, who were given a lesson against Japan, need to win this game to give themselves a fighting chance of qualifying for the last 16 of the World Cup.
Poland were humbled by an energetic Senegal side with their inability to get the ball to Robert Lewandowski causing the most concern. Manager Adam Nawalka is expected to ring the changes after his striker and Arkadiusz Milik, his number 10, combined for just one pass in that first game. That is the symptom of a broken system and Kamil Glik, Jacek Goralski and Bartosz Bereszynski could all come in to replace his faltering starters. They have no injury concerns ahead of the game.
James Rodríguez should return after a calf injury kept him out of the first game. He came on in that opening tie but Carlos Sánchez had already been sent off in the fourth minute and Colombia were fighting a losing battle. With the Bayern star set to start, Colombia will be an entirely different proposition. Sánchez is suspended but aside from that, Luis Muriel is pushing for a place as is Carlos Bacca. It will be interesting to see what Jose Pékerman does in this must-win game as Colombia were seen as potential dark horses and a group stage exit would be a disaster.