2

0
Brazil 2-0 Mexico: World Cup 2018, last 16 goals, match report
Goals from Neymar and Roberto Firmino ensured a relatively straight-forward win against Mexico in the last 16 game at Samara Arena on Monday. USA vs Mexico: FIFA Friendly live online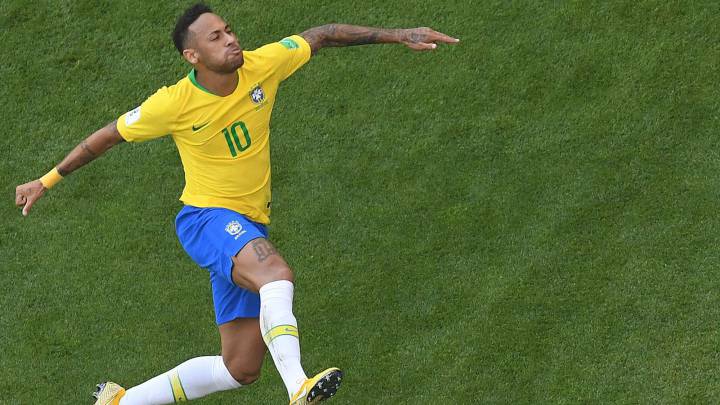 Brazil 2-0 Mexico: match report
Brazil made their way into the last eight of the World Cup thanks to a straight-forward win over Mexico at Samara Arena on Monday afternoon. Goals from Neymar and Roberto Firmino were enough to ensure the win as Mexico ran out of steam and couldn't find a way through Brazil's back four.
Mexico had the better of the opening exchanges but failed to capitalise on what looked like a solid plan. They were attack the full-backs, in particular Fagner on the right, and Hirving Lozano and Carlos Vela were having success down the wings.
Brazil, who started slow, ended up picking things up before long and had a flurry of chances before the half-time whistle.
The warning signs were there though. Neymar made it 1-0 after 51 minutes when a shot from Willian went awry. It landed at the feet of Neymar and he slid home. There was no way back for Mexico at that stage as they were torn between going for it and minding the house with Neymar growing increasingly more dangerous on the counter.
Any hopes of an El Tri comeback were ruled out when Roberto Firmino tapped home a Neymar shot that turned into an assist. It was 2-0 with just a couple of minutes to play as Brazil continued to reject any Mexico advances on goal.
It is the seventh time in a row Mexico have been knocked out at this stage of the World Cup while Brazil march on. And while they continue to flatter to deceive, they continue to get the job done when it matters most.
Brazil vs Mexico live online | World Cup 2018, last 16: latest news
Brazil vs Mexico live online | World Cup 2018, last 16: preview
Germany, Argentina and Spain have all left the World Cup building. Three of the favourites ahead of the Fifa tournament struggled in their groups and for the two that escaped, their end was just another game away. This leaves Brazil and France as the standout teams looking to lift the famous trophy in just 13 days time but with so many upsets already witnessed, today's clash will hold little fear for the underdog, Mexico. And their more illustrious southern counterparts would be wise not to let any amount of complacency filter into the camp.
Brazil
The samba boys strutted into this summer's spectacle feeling optimistic. Not only did they have a squad that most countries would dream of, their talisman was going to have recovered from his injury just in time to add the cherry on top of the icing of a rather tasty cake. Neymar, as it has turned out, has not been the star of the group stage, and has occasionally cut a frustrated figure, however, if those games were just to allow him to gather sharpness ahead of the business end of the competition then we may be in for something special over the next couple of weeks.
From their much-trusted goalkeeper, Alisson, to their Premier choice of Gabriel Jesús or Firmino to lead the line, this Brazil side is itching to deliver. Thiago Silva and Miranda can handle most forwards and despite the loss of Marcelo (this game likely to have come too early for his recovery) Filipe Luís is a more-than-capable replacement. Add the solidity of Casemiro in the middle of the park and the creativity of Coutinho ahead of him, and the expectation surrounding Tite's current Brazil makes sense. If Neymar does find anything close to his best swagger, watch out!
Mexico
We've seen both sides of this Mexico team in just three games in Russia. The positivity that swept them to a tremor-creating victory against World Cup holders Germany in game one, was reversed in their final game against Sweden, one that cost them top spot in the group. Although they may not be saying it out loud, the prospect of facing Switzerland (in the so-called 'easier' side of the draw) would surely have been preferred to matching up against the tournament favourites and five-time winners.
In saying that, maybe this is exactly the fixture that Juan Carlos Osorio's team needs. Mexico have after all won six of their last nine competitive fixtures against Brazil, losing just twice, and should go into the Samara Arena full of confidence. But the central American side aren't known for getting past this round at World Cups. Their defeat to the Netherlands in the last 16 in 2014 was the sixth successive time El Tricolor have been knocked out in the second round. They last reached the quarter-finals when they hosted the tournament in 1986 and despite featuring at 15 World Cups they have only appeared in the last eight twice, both times as hosts.
Hector Moreno is a big loss for Mexico. Without his presence in the heart of the defence, they know the team will be stretched even further by the guile of the boys in yellow.