North and South Korea hold friendly basketball games in Pyeongyang
A group of 50 male and female players from South Korea arrived in Pyeongyang, North Korea to begin with two days of friendly basketball matches.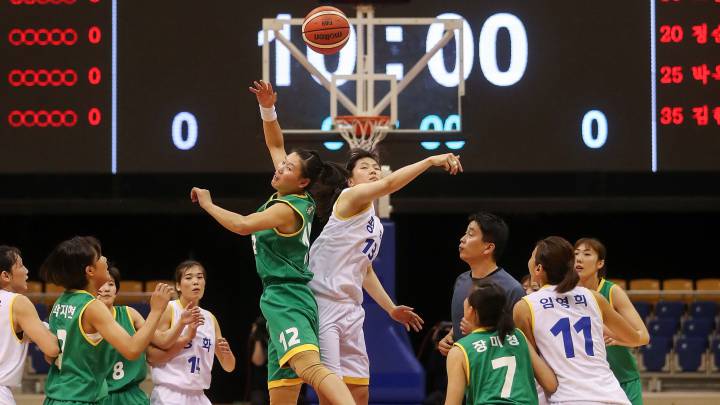 On Wednesday, the two Koreas, north and south, began a couple of days of friendly basketball games at the Ryugyong Jong Ju Yong Gymnasium in Pyeongyang, making this event the latest gesture amid a diplomatic push to resolve tensions between the neighbours.
South and North Korea will hold four basketball games, playing first mixed games, with players from both countries combined in two teams – namely Team Peace and Team Prosperity - and then, South and North's teams will go head to head on Thursday.
North Korean leader, Kim Jong Un, whose love of basketball is well known, didn't appear at the Gymnasium on Wednesday to watch the first two matches. It's still unclear if he will attend on Thursday.
First cross-border friendlies in 15 years
Led by Unification Minister Cho Myoung-gyon, a group of 50 male and female players from the South arrived in Pyeongyang on Tuesday to play the first cross-border friendlies in over 15 years.
According to Yonhap News Agency, Hur Jae, South Korea men's national basketball team head coach, said he was filled with emotions after visiting a gym in Pyeongyang for the first time since 2003.
"Fifteen years ago, I came here when the gymnasium was opened," Hur told reporters after practicing with his team at Ryugyong Chung Ju-yung Gymnasium. "It feels like something new and reminds me of old memories."
South Korean Hyundai business group built the Ryugyong Jong Ju Yong Gymnasium during a previous era of reconciliation between the North of the South in 2003. Back then, a joint game was also played.
This week's games are the latest result of a diplomatic outreach to the South that Kim Yong Un announced during his annual New Year's speech. Recently, the two Koreas announced they would field joint teams in canoeing, rowing and women's basketball at the upcoming Asian Games.