France and Croatia are our two World Cup finalists after two very tense semi-finals in which they saw off their opponents by a single goal. It has been a long three weeks and luckily for you, we have put together a compilation of all of their games and how they go to the final to help you recall their adventures in Russia this summer to date.
France's path to the World Cup final
France were far from convincing in their first outing against Australia. They needed a VAR decision that saw Griezmann awarded a penalty, which he converted, before Samuel Umtiti handled the ball and Mile Jedinak slotted home. Paul Pogba strode forward and poked one behind the line - a goal that was eventually given as an own goal. Regardless of that detail, the goal still stood and France were off the mark with three points.
They played Peru in the second game and Kylian Mbappe got off the mark too with his first World Cup goal and his first man of the match award to boot. He was excellent in attack even if France struggled at times despite always looking like they would win the game. Little did we know then that we were watching the World Cup finalists.
In the last group game and with France already through to the knockout stage and their opponents too, they played Denmark in a boring game that ended 0-0. It was the first scoreless draw we saw at the World Cup and both sides were content to save energy with bigger tests laying on the horizon. Denmark would be knocked out by Croatia in the next game but France were plotting their path to the final.
In the last 16 game, they played an Argentine side who had clawed their way to the knockout stage. After a last minute Marcos Rojo winner against Nigeria, they were seen as potential dark horses if they could manage to click despite never convincing during the group stage. But France and Mbappe put paid to that dream. Mbappe landed a brace and Pavard scored an absolute corker. Griezmann scored from the spot too after the lethal Mbappe was hauled down by that man Rojo.
They beat Uruguay convincingly even if Antoine Griezmann's goal to seal the 2-0 win was a result of a Fernando Muslera error. Raphael Varane's glancing header was no mistake though and France were building a head of steam. They had beaten an extremely attacking Argentina and an uder-defensive Uruguay as they swatted away all in their path.
Against Belgium, they were competent without ever being truly brilliant yet again. Another central defender, Samuel Umtiti, scored to give France a pass into the World Cup final on Sunday.
Their top goal scorers are Antoine Griezmann (3), Mbappe (3), Pavard, Umtiti, Varane. They have score 10 goals and conceded four in six games.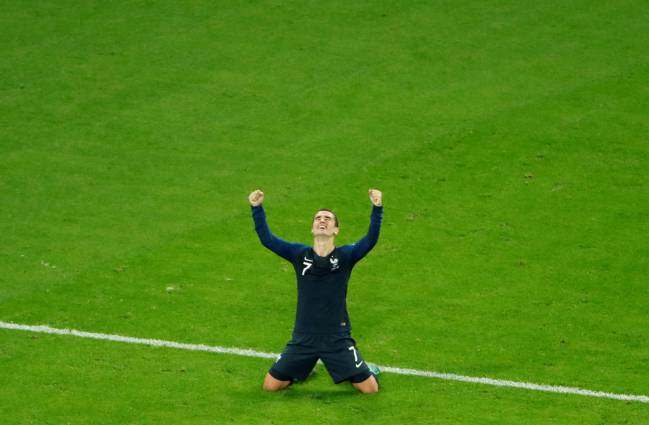 Croatia's path to the World Cup final
They finished at the top of the group of death and were unbeaten in their opening three games. Nigeria were first up and they needed an Oghenekaro Etebo own goal to get them off the mark. Luka Modric scored from the spot to make it 2-0 and give all three points to Dalic's side.
Against Argentine, they were sublime and they somehow managed to stifle Messi while scoring three themselves. Ante Rebic scored a cracker from a Willy Caballero mistake before Rakitic and Modric made it two and three nil late on. It could have been more too but this was the first sign we saw that Croatia were the real deal.
Having already qualified, they played a desperate Iceland side and won 2-1. It was the first goal they conceded in the tournament and they needed a late Perisic winner to seal it for them but they managed all nine points from nine in those early encounters.
And it was on to the last 16 where they managed to beat Denmark on penalties. It was a strange game with both sides scoring within the first five minutes. Out of shock, or fear, both sides retreated and we barely saw a shot in normal time. And it was on to extra-time when Luka Modric missed a penalty to end it. He missed and Croatia had to win on penalties. A little too close for comfort but it was job done and onto the next one.
After that, they played Russia and went 1-0 down early. An andre Kramaric header levelled matter and it was on to extra-time and penalties again. They managed to squeeze past with Ivan Rakitic rolling home the winner to put Croatia in the last four.
They made it hat-trick of extra-time games against England when Kieran Trippier scored a free within five minutes. Perisic levelled in normal time and Mandzukic slotted home in extra-time to set up the Sunday showdown against France in Moscow. Their first ever.
They have score 11 goals and conceded five. Their top scorers are Luka Modric, Mandzukic and Perisic all on two goals while Ante Rebic, Ivan Rakitic and Milan Bedlj all have one.