Toyota withdraw appeal over Alonso's disqualification
Rebellion Racing have been confirmed as winners of the 6 Hours of Silverstone after Toyota withdrew an appeal over their disqualification.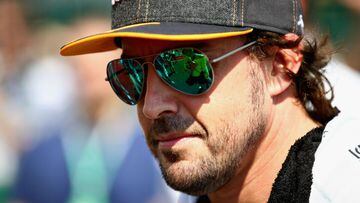 Toyota have withdrawn their intention to appeal against the ruling that saw Fernando Alonso stripped of his victory at the 6 Hours of Silverstone.
Two-time Formula One world champion Alonso triumphed alongside team-mates Sebastien Buemi and Kazuki Nakajima in the World Endurance Championship (WEC) race on Sunday.
However, a breach of regulations discovered in a post-event review of Toyota's two cars led to their disqualification and their one-two finish in the United Kingdom consequently being wiped off.
Toyota have opted against contesting the results, meaning Rebellion Racing have been awarded first and second position, with Mathias Beche, Thomas Laurent and Gustavo Menezes in the winning car.
A statement from Toyota president Akio Toyoda read: "All our drivers drove our cars with their full power and the fight for victory was truly exciting for the fans, so I truly feel disappointed to lose the result.
"I would like to apologise to the six drivers that we could not make a car with which they can win even though they drove all out.
"On the other hand, I would also like to thank our drivers for their trust in our cars and for pushing to the limit, as this meant we could learn about improvements which can be made.
"We will make our cars even stronger for the next race so that the drivers can drive all out again at Fuji Speedway and fight for another one-two victory to strengthen our challenge for the World Championship.
"For the fans, thank you very much for your continued support. I hope you are looking forward to seeing an exciting race in October."
Alonso, who announced recently that he will leave F1 at the end of the 2018 campaign, had already claimed two successive WEC victories at Spa-Francorchamps and Le Mans.
With wins at the Monaco Grand Prix and the 24 Hours of Le Mans also on his CV, the 37-year-old just needs to claim the Indy 500 to complete motorsport's famous 'Triple Crown', a feat only previously achieved by Englishman Graham Hill.