Juventus overcame Lazio at home in their second matchday of the 2017-18 Serie season thanks to a goal in each half. Cristiano Ronaldo, on his home debut was notably quiet.
Juventus vs Lazio: match report
As we should get used to this season, many of the world's eyes in Saturday evening's Serie A game between Juventus and Lazio were focused on their new signing, Cristiano Ronaldo. For what it's worth, although sporadically involved in the game, La Vecchia Signora's new star had a relatively quiet match. However, as many opposing teams have found out, that doesn't mean he wasn't involved in a decisive moment.
The opening exchanges were without any clear pattern. Both teams had possession of the ball for short periods but neither created any clear chances. This non-descript play would form much of the rest of the game at the Allianz Stadium but two goals, one in either half, would ensure a second win of the season for the reigning champions.
Bosnian midfielder Miralem Pjanić was the man to open things up after 30 minutes, and what a way to do it. A sweet cut down on the ball as it bounced up outside the area saw it fly into the bottom right-hand corner. Strakosha in the Lazio goal could do nothing about it. From then the hosts managed the game well without being overly adventurous.
Chances came and went, most for the home side, but both goalkeepers were, for much of the game protected from danger from the packs in front of them. That was until the 75th minute when Douglas Costa's cross from the right was far enough from the outstretched dive of Strakosha to allow only a deflection from the Albanian. That touch was enough to deny Cristiano a tap in, however, as the ball bounced up off the Portugal player's standing foot, Mandzukic was on-hand to volley home.
Juventus vs Lazio: how it happened
Thanks once again for joining us and we hope to see you again soon...
A win's a win, they say. And Juve fans will be heading home happy with another job done despite, as per the opening weekend at Chievo, not looking the dominant force expected.
90'+3' Full-time Juventus 2-0 Lazio | It's over. A relatively comfortable, while not overly-impressive Juve performance sees the title favourites grab another three points.
90'+3'   There's time for one more effort. Again Matuidi involved but Bentancur's finish goes wide. I think that'll be that...
90'+1'   Matuidi lets fly from the edge of the area but it's well blocked.
90'   There'll be three minutes added time but don't let that excite you. The result of this game is done and dusted.
86' Emre Can rightly booked there.  An enthusiastic run from Lazio's Acerbicould have opened something late in the game but instead the free-kick bears no fruit. One for the team, I believe they call that.
84'   Lazio's threat here appears to have been distinguished as Rodrigo Bentancur comes on for Khedira.
82'   Cancelo does well to get into the inside-right channel and fires a shot goalwards. Blocked for a corner.
81' Ouchie! Douglas Costa  rightly booked for a studs-on-the-heel challenge.
79' It's time up for the talented Sergej Milinkovic-Savic. Riza Durmisi comes on to see what he can do.
78'   Juve looking to see this game out now and drop plenty players deep to cancel out any creative ideas Lazio may have. 
A low cross from the right by Costa was at the mercy of the new talisman to tap home but a slight touch from Strakosha pushed it just behind him and rearranging his feet was an impossibility. The deflection off his heel popped up into the air and the Croatian volleyed home from close range.
74'   2-0 GOAL!! Mandzukic may have killed off this game but it was so close to being a home debut-goal for Cristiano 
70'   PING! Cristiano almost does what Cristiano often does. Cutting inside the covering defender, Ronaldo then hits a top-spin drive which is will tipped over by Strakosha. That's what they wanted, Cris!
69' Emre Can comes on into the Juve midfield with goal-scorer Pjanic heading to the dugout.
68'   Chiellini now gets an effort away from distance. Well blocked by the onrushing defender. Another sub coming up for Juve
66' Milinkovic-Savic goes into the book for a foul in the middle of the park
65'   More pressure building from Juve but still not enough to get people off their seats.
64' Badelj comes on for Parolo, while  Luis Alberto makes way for Joaquin Correa to make a difference.
64'   The play developed from the free-kick into a corner. Some threat then dealt with by the visitors.
62'   Free-kick to Juve in a useful position. Won by Ronaldo, after a clumsy foul by Leiva (something Liverpool fans were well accustomed to) and the number seven sets himself as the expectant crowd await. He runs up and clatters one into the wall (something Real Madrid fans were well accustomed to).
60' Federico Bernardeschi heads off to the applause of the home crowd as Douglas Costa comes on. I'll predict Costa's trickery makes a positive difference for Allegri's side.
58'   Ping! Lovely strike from distance from Luis Alberto which flies just to the right of Szczesny's post. First substitution coming up...
56'   There have been a couple of occasions in the last few minutes where Lazio have put pressure on the home defence but they've been mopped up with relative ease. Juve seem happy to let their guests have the ball, with little danger on offer.
53'   Marusic wins a free-kick on the right wing and this is another chance to get the ball into the mixer for Lazio. The delivery is good but Juve do well to clear.
52' Second yellow of the game as Marco Parolo goes into the book
50'   Cristiano-watch has something to report back on!. The number seven does a couple of step-overs on the left-hand side of the Lazio area. It generates enough of a gap to fire a ball across goal but it's just behind Mandzukic who would've needed elasta-legs to get a meaningful shot away. 
49'   Milinkovic-Savic picks up possession and looks to pick out a genius pass for onrunners in black. Nicely waited ball, no runners.
48'   Former Liverpool player Lucas Leiva tries to dictate play just inside the Juve half but finding attacking runs is proving difficult.
46'   Lazio's possession doesn't last long and then immediately Juve win a free-kick after Pjanic is obstructed. 
The second half kicks off
This man will be hoping to get more involved in the second half. Although being in and around the play, the former Real Madrid hasn't featured to the expectations that came with him.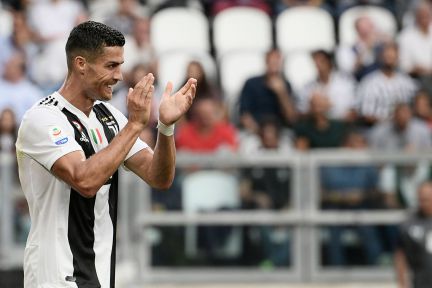 The Juve fans will be happy enough with the half-time score but need more to get them really going.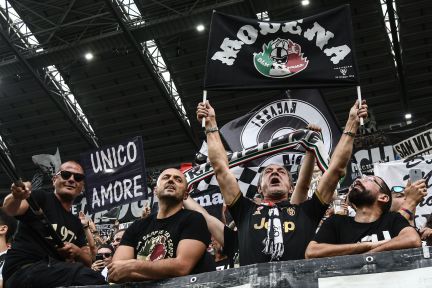 45'+3' Peeeeeeeep! The referee directs everyone to the changing rooms. Juventus lead by a goal to nil but it's not been the most exciting of games. Better expected after the managers have their say.
45'+3'   The delivery into the crowded area is decent but it's defended well and worked to safety. That looks like the last action of a rather tepid first half.
45'+2'   Lazio win a free-kick wide on the right (a delicious cross-field ball from Milinkovic-Savic started the danger) and this could be what is needed to go into the break level.
45'   Two minutes to be added here as Sandro goes into the book.
42'   I'd love to be developing finger blister by describing a flurry of action from both teams here but I'd be doing you a disservice.
39'   Patient 'we're a goal ahead so who cares' approach from Juve. Then the ball is picked up by Cristiano Ronaldo who takes a pot shot from just outside the area to the right. Nothing to write home about.
36'   Bonucci gets some sympathy from the crowd after taking a knock from Immobile. Quick magic spray and he's back in the heart of the black-and-white defence.
33'   Immobile has a decent effort from wide on the right. Szczesny watches it drift wide.
32'   Bernadeschi covering a lot of ground for Juve and looks the greatest threat. The goal has given an added confidence to the home team who, to be honest, still haven't looked particularly impressive, that stunning goal aside.
Pjanic is the one to finish a move that seemed to have petered out for Juve. Bernardeschi's timid cross was headed away to the edge of the area and the Juve midfielder drilled home the bouncing ball which nestled into the bottom right-hand corner. Beauty!
30'   1-0 GOAL!! What a hit! 
28'   Lazio build through the middle with Milinkovic-Savic and then work a cross deep from right to left. Miscontrol means nothing comes.
26'   Juve again look to lift the ball from deep into the Lazio area. Again it's sweeped up fairly easily. More invention required to make some sort of breakthrough here.
24'   Cristiano's nudge on Wallace has had the play stopped for a little time but the Lazio man looks like he'll be able to continue. Not a lot obvious in the challenge but these finely honed athletes don't need much to knock the wind out of them.
Ronaldo looked like he wanted to stick a hand on that curling shot.
18'   CLOSE! Juve create two great chances. First the ball falls to Khedira from Cristano in the Lazio area with what seemed like acres of space (relative of cousre!). He took an age to get his shot away and hit the near-side post. The resulting play ends with Bernardeschi curling a beautiful effort towards the far post which Strakosha pushes away for a corner.
15'   Strakosha does well in the Lazio goal to clean things up as Juve appear to move up one gear.
13'   For those asking us on social media about Cristiano's involvement...we'll get back to you when it becomes relevant to the game.
11'   Again more two-ing and fro-ing through the midfield. Some nice interplay eventually coming to nothing.
9'   CLOSE! Szczesny turns an effort from the edge of the area just wide of the post. It looks like it may have been sneaking in. The inswinging corner evades the congested area and is out for a goal kick. Lazio not looking nervy at the home of the champions.
7'   Refereee Massimiliano Irrati having a rather easy time of it out there so far as both side prod and probe. Mandzukic has shifted himself out to the left, allowing Cristiano to drop deeper. Not sure exactly what the home side are up to yet. If anything, Lazio look to have more of a structure.
5'   Lazio are sitting back when their hosts have the ball in their own half. The black shirts then come to life as soon as Juve step into across the half-way line. 
3'   Both teams get their boots on the ball as the game tries to find its shape. An inverted double-parallelogram would be the unclear outcome of the early exchanges. Neither team has found a rhythm.
  Lazio get things underway but immediately Juve win the ball back. A quick 'early touch' for Szczesny and then the ball is quickly moved forward. Lazio take control easily enough.
The captains toss, shake hans and decide that Lazio will kick off. Lets's go
Right, time to get this game going. The two sets of players head out onto the field with little mascots in hand. The starting XI's are wearing t-shirts in memory of those lost in the Genoa bridge disaster.
  The away fans will make plenty of noise and the menacing face of the crest's golden eagle can be seen in the crowd.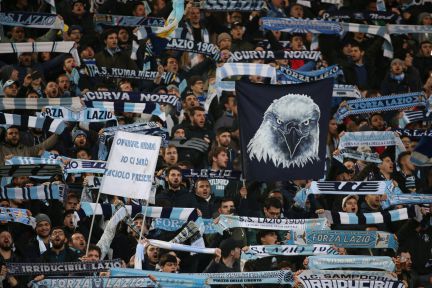 Just minutes remaining before the teams head out onto te field. A lot of the traffic we've had over the past few hours has shown the new interest in the Juve games thanks to their new Portuguese forward. The home crowd though - who, in the majority, haven't just jumped on the CR/ bandwagon - will actually be expecting Cristiano to perform ON the field. Marketing and social media influences don't win titles after all.
Juventus vs Lazio: preview
Cristiano Ronaldo will make his home debut at the Allianz Stadium this evening, as Juventus take on Lazio, and the home crowd will be hoping to see their new star bag his first goal Serie A goal.
The ex-Madrid striker failed to get on the scoreboard in Juve's 3-2 away victory over Chievo Verona last week, a game in which they were lucky to come away with three points. Coach Massimiliano Allegri, whose only injury concern is Leonardo Spinazzola, will be expecting a more convincing performance from his side this evening in front of the home crowd in Turin. Another summing signing, Emre Can could make his first start for Juventus and would also join Ronaldo in making his Serie A home debut.
Lazio will look to make amends for their opening-day 1-2 defeat at home to Napoli, although their defence will have their work cut out to keep Juve's probable Mandzukic-Ronaldo strike partnership in check. Lazio, who finished fifth last season, will be hoping to at least bag a point from this game as they push for a Champions League spot this year.
Juventus, meanwhile, will be expecting nothing less than winning their eighth successive Serie A title this season and two wins from two games would be the perfect start to the Cristiano era.