Mariano Díaz will be the new number seven at Real Madrid for the 2018/19 LaLiga season. It was confirmed by the Spanish club that the striker would make the move back to the capital club after a year at Olympique Lyon for a fee in the region of 23 million euros. And according to Spanish radio station Cadena COPE, the iconic shirt that has been worn by Cristiano Ronaldo for several years has been assigned its new home.
7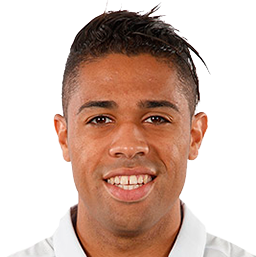 Iconic number 7 for Mariano
The striker is not expected by many to go straight back into the starting line-up but if the story is true, it will be unusual for Real Madrid to leave their iconic shirt on the bench. Cristiano has been the proud owner of the number at the capital - with his brand CR7 famous around the world - since the 2010/11 season. Before him it was another club legend Raúl González while others to have graced the Santiago Bernabéu in that shirt included Butragueño, Juanito and Amancio.
When it was announced that Mariano was to return to Madrid, AS.com asked fans which squad number they would prefer him to receive out of: 7, 15, 16, 23, currently unappointed. The greatest proportion, with almost 16 thousand votes, chose for him to inherit the number seven.
Mariano Díaz has already passed his medical in Madrid, which took place on Thursday morning, and on Friday 31 at 13:30 CEST will be presented as a new player for Los Blancos.

LaLiga Santander
*Update 30 de agosto de 2018