Morata says he was "pissed off" not to be at the World Cup
The Chelsea forward appreciates that his performances last season resulted in him being discarded for La Roja but did not watch the games at home.
After the Chelsea forward Álvaro Morata joined up with the Spanish national team, AS caught up with him to get his view on a variety of topics including the new manager, his feelings on missing the World Cup, and how Chelsea may influence the new squad.
What differentiates Luis Enrique from his predecessors as Spain manager?
"The instructions are not significantly different. Each manager has his own style and makes his demands. We are all happy."
What's it like having four Chelsea players here?
"We have lots of Spaniards there [in England]. I'm proud as a Spaniard to have so many compatriots in England. Every time there is a call-up, there are many possibilities in our team and we look forward to it. The club is proud."
How did you feel being left out of the World Cup?
"Pissed off. How was I going to live through the summer without going to the World Cup? It was a difficult time...because I expected to be going."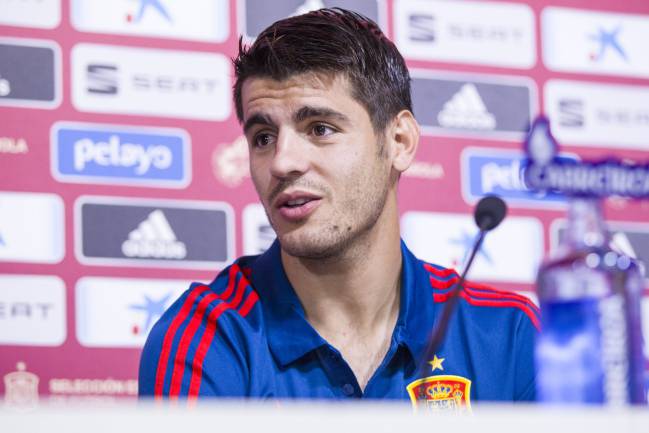 Any grudges towards Lopetegui's after his decision?
"I do not hold a grudge against Lopetegui. It was his opinion and I didn't have my best season, either. I wished him the best and more now with Real Madrid."
What's it like to be back
"It feels like it's the first time. I was nervous yesterday; I arrived an hour and a half early. Luis Enrique told us that he wants to return Spain to winning ways and that we all know what Spain is."
Have you considered returning to Spain?
"Yes, of course I have considered returning to Spain, or to Italy, but you can't always escape reality. I left to ensure I was at the World Cup, but I didn't go."
Do you have any regrets?
"I don't think so, and I wouldn't change anything. The important thing is that I have been very happy wherever I was. Last year started well but in the end it was a disaster. When I went out onto the pitch and didn't know where I was."
Are you happy now? What has changed?
"I am now a father, I have a new coach, I have got back into the national team. Many important things have changed in my life, especially my two children, which is a special motivation. Now I just hope that everything goes well on the field."
How are you feeling physically?
"I'm perfect!"
Morato went on to say that the style of football at Chelsea has changed since last season - Sarri vs Conte - with more passing, and possession used to attack the opposition spaces. He also revealed that the training sessions under Luis Enrique are intense, but there is a clear sense of sincerity from the new coach, someone, he says, who is determined to win.