Ronaldo and Bale's jaw-dropping bicycle kicks compared
Both goals, which have been nominated for the Fifa Puskas Award, were scored in the same competiton, for the same club, and in the same minute of the respective games.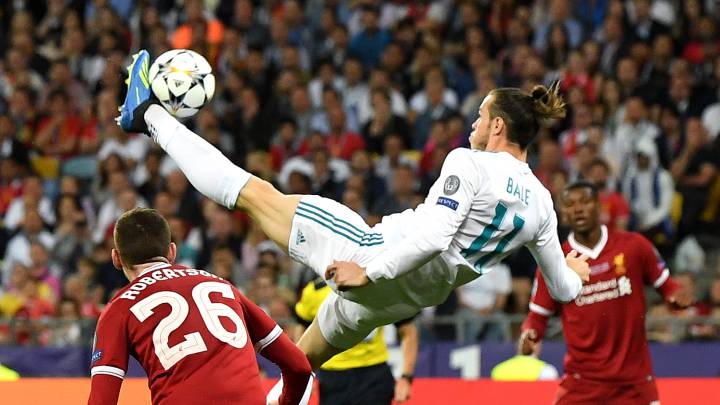 Ramón Unzaga (1894-1923) is said to have invented it; Pelé took it to the silver screen in the 1981 film Escape to Victory; Hugo Sanchez made it an art form; and in 2018, Cristiano Ronaldo and Gareth Bale took it to a higher level: la chilena, the bicycle kick, la bicyclette, la rovesciata … whatever you call it, it is a thing of beauty that never fails to leave mouths gaping.
The Welshman and the Portuguese, with their respective bicycle kick goals against Liverpool and Juventus, are amongst the nominees for this year's FIFA Puskas Award for the goal of the season.
The similarities
Both goals, almost equal in beauty, were scored in the same competition (the Champions League) for the same club (Real Madrid), and, incredibly, in the same minute of the respective games. In fact, just two seconds separates the time of Ronaldo's goal at 63:03 in the semifinal against Juventus, and Bale's at 63:05 against Liverpool in the final. The only major difference is that Bale scored with his left foot, while Ronaldo scored with his right.
According to the Biomechanics Department at the Polytechnic University of Madrid, Ronaldo's right boot was 2.38 meters off the ground when he made contact with the ball, allowing him to generate a force of 2,000 newton. It was an incredible piece of athleticism and beauty in motion that even drew a standing ovation from the Juventus home supporters that night in Turin.
Bale also brought the National Stadium of Kiev to a standstill with his moment of magic a few weeks later. His boot did not reach as high as Ronaldo's (his left foot made impact with the ball at 1.82 meters), but the force he generated made the ball, which reached a speed of 61km/h, equally unstoppable.
Perhaps the Welshman's goal carries more symbolic value for being scored int the final, but Bale and Ronaldo's respective goals would be equally deserving winners of the award.
The other nominees
However, there are also other deserving nominess whose breathtaking goals should not be overlooked: Lionel Messi (Argentina-Nigeria, World Cup); Benjamin Pavard (France-Argentina, World Cup); Lazaros Christodoulopoulos (AEK Athens-Olympiacos, Greece), Denis Cheryshev (Russia-Croatia, World Cup); Giorgian De Arrascaeta (Cruzeiro-America MG, Brazil), Riley McGree (Newcastle Jets-Melbourne City, Australia); Ricardo Quaresma (Portugal-Iran, World Cup); and Mohamed Salah (Liverpool-Everton, England).
Fifa will keep the voting open until August 24. You can click here to relive all of the goals and vote for your favorite. Good luck choosing one!