England - Spain match report
Luis Enrique's first game in charge of Spain was a mixed bag of sometimes exceptional, sometimes unsure football and three points following a scare at the end after his side beat England 2-1 at Wembley in the Nations League.
The Spain manager made six changes from the one that Fernando Hierro started in the World Cup opener against Portugal during the summer in what looks to be a brand new era with a slightly different style. In came Alonso, Nacho, Saul, Aspas, Thiago and Rodrigo as various players bowed out due to retirement, personal reasons, and in Jordi Alba and Koke's case, being dropped.
The former Barcelona boss said it was all about evolution and not revolution before the game and said that the objective was to stop being so predictable. He is a feisty character and his players had to show plenty of their own unwillingness to back down after England took an early lead through Marcus Rashford.
The ball was slipped through by Luke Shaw and Rashford poked home. That came after 11 minutes and the World Cup hangover got worse before it was about to get better.
Just two minutes later was all it would take, in fact, when Saul Niguez sent a shot home from a ball that was squared to him by Rodrigo. That came after an incisive run by Carvajal down the right hand side. If he was sloppy earlier for the Rashford goal, he was straight to the point with his attack for the leveller.
Spain were actively trying to not be predictable with more high pressing, switching of the play, shots from distance to avoid overplaying the ball and being caught on the counter and more direct football in general even if there was some confusion in their play.
They turned the tie on its head on 32 minutes when Rodrigo poked a shot home on the bounce from a lovely lofted free from the left. Spain were ahead and England's 24 game unbeaten streak at Wembley was under serious threat.
That threat did not lessen in the second half to start as Spain held the ball for long periods and made the hosts work hard to even think about winning it back. The game was stopped for the guts of ten minutes when Luke Shaw took a heavy blow to the head and had to be stretchered off as the Manchester United man continues to struggle through unfortunate and untimely injuries
After that brief spell and some more Spain dominance, the visitors seemed to switch off while England grew in confidence. It wasn't until the closing stages when Rashford had a couple of efforts saved by De Gea and Welbeck had a goal ruled out for apparently fouling the keeper when he came to gather, that England really started to force the issue though. They just couldn't beat De Gea, or the offside trap, as the clock wound down.
Spain got out of London with three points and their first win on their first try under Luis Enrique. It might have been a little too close for comfort for Spain after a dominant performance but they must appreciate there is plenty of work to do after such a shoddy World Cup.
The halcyon days are gone for England for now after a performance that landed them back on their feet. And as for Luis Enrique and his side: the evolution has just begun.
England - Spain live: live updates
90'+9' GAME OVER! Spain very lucky there. They took the foot off the pedal there.
90'+9'   Maguire heads down to Kane but De Gea gathers.
90'+9'   One more chance for England. Trippier whipped it in. Ramos cleared. 
90'+7'   Corner.
90'+7'   Ref says it was a free.
90'+7'   Ball in the back of the net. De Gea jumped up to gather the ball and Welbeck got in his way, he dropped the ball, and Welbeck scored.
90'+4' Rose booked for late kick on Carvajal.
90'+4'   Rodrigo has an effort from miles out. He curls it over the bar. Nice opportunity for Spain, kind of wasted by Rodrigo.
90'+3'   Isco with a very deep cross to the back post. Ramos drives the shot over the bar and wide. Nick contact but poor result.
90'+2'   Marinez with a cross down the left. That's out for a corner.
90'   Nine minutes of added time!
88' Inigo Martinez on for Marcos Alonso.
88'   Isco pulled back by Lingard. 
87'   Corner comes in and Maguire meets it at the back post. He heads down and wide.
86'   Spain have almost given up or something? Really strange one.
85'   De Gea with another excellent save. Rashford was offside but that was an incredible save. 
84'   Ball across the box to Alonso from Carvajal and he drives it out of danger. Dangerous game that Spain are playing at times.
83' There's a late and silly tackle by Carvajal and a booking too. He arrives late on Rose.
82'   Trippier can't control Maguire's pass. Throw for Spain. Spain under increasingly pressure here.
81'   Shot from Rashford. De Gea savesReally good save too but rashford didn't hit it cleanly.
80' Sergi Roberto on now for Thiago. Impressive display from Thiago.
79'   England counter. Trippier crosses and it hits Ramos' back.
78'   Ball in behind for Asensio but Gomez blocks it out. 
77'   Rashford shot. Half-blocked and De Gea picks it up as it rolls to him.
75'   Ball across to Alonso as Spain start another attack, or at least try to, as they're pinned back by England.
74'   Ramos slides in and puts the ball out for a throw. Rashford and him shoulder to shoulder as they raced for a through ball by Trippier. England stepping it up now.
72' Eric Dier replaces Henderson too.
72'   81,392 in attendance in Wembley tonight.
69'   Free sent in and that's cleared by England.
68' Asensio coming on for Iago Aspas. 
68'   Saul fouled by Trippier.
67'   Isco and Alonso stand over it but Isco the one looking more likely. He does take it and it's headed up into the air by the wall.
65' Stones slides on Rodrigo and gets booked. Saul sent the Valencia striker through. Looked strange but maybe Stones came in from behind. Chance now for Spain from a favourable position.
63'   Ball chipped over the top by Trippier and Kane strikes but he was offside.
61'   Pass into the box. Lovely ball that Aspas lines up and is ready to nod home but Rodrigo steals it off the top of his head. What a chance. Shot comes in from Thiago and it's saved by Pickford.
59'   Ramos with a ball into Saul not but way too much pace on that.
58'   Thiago runs into the middle and strikes. Shot is blocked. Out to Carvajal now and Spain back on the ball. Spain just a level above England at the moment.
57'   Aspas bundles Rose on as they chase for the ball. High pressure now on England and Spain win it back. Aspas to Rodrigo but he's offside.
55'   Ball into behind the defence by Henderson but Kane was offside and he didn't even run for it.
55'   Ball into the box and Thiago drills one with the side of his foot. Alonso with the pass. That was lovely. 
53'   We are back underway as Shaw is brought off on a stretcher.
50'   A real delay now. Shaw doesn't look to be in great condition. With all of his injury problems, he deserves a bit of luck. Unfortunate to see.
48'   Luke Shaw being helped off the field now on a stretcher. A look at Mourinho and Aitor Karanka in the stands. Mourinho is sending someone a text, it looks like.
47'   Danny Rose is preparing here as Luke Shaw is down injured.
46'   Vamos! We are underway for the second half. Ball into Rodrigo as he heads it under his control. He's offside though.
45'   Not as much as a red cent of added time. Half-time!
45'   Into the last minute of normal time. 
44'   Maguire pushed Isco and there's no free. Throw for England though.
44'   England soaking up an awful lot of pressure here. 
43'   Brilliant from Carvajal as he leaves Rashford for dead.
42' Luke Shaw booked for a late tackle on Carvajal.
40'   England on the ball now. Both sides have looked dangerous but Spain more clinical and have had way more chances.
37'   Really nice from Spain. They switch it a couple of times and eventually shots comes in and it's saved by Pickford. Saul with the shot.
35'   What a save that was from De Gea. Rashford heads it towards goal and De Gea with a strong hand to beat it away. Impressive.
34'   Corner for England. Cross in from Henderson and Carvajal puts it out. Kane and Alli either side of him. 
31' GOAL! GOAL! GOAL! Ball in from the free. Thiago delivers. Lovely touch at the front post by Rodrigo. 2-1 as Spain turn the tie around and take the lead. 
31'   Alonso hauled down by Trippier out on the left. Free for Spain now after that late challenge.
30'   Spain threatening again. Carvajal squares and it's cleared again.
29'   Aspas tries to curl one but it's chested up into the air by Stones and cleared by Spain. 
28'   Kane chips one towards Rashford now and he's offside.
27'   Busquets caught out of position and Dele Alli drives forward. He plays it through to Kane but there's too much pace on it. Kane gets a too to it but De Gea saves easily.
26'   Another free and it's headed down into De Gea's breadbasket.
24'   Free for England out on the left. Luke Shaw chips it in Harry Kane lines up a shot and he is tackled and loses it. Shout for a penalty but the Spanish defender got the ball. Headed down by Maguire and Saul takes it off his tow. Carvajal crashed into him from behind. He might have had a case.
21'   Rodrigo shoots. That's well wide.
19'   Saul down the left hand side and he switches play. Carvajal connects with Thiago. Spain back moving forward!
17' Marcos ALonso drives forward and Henderson pulls him down. Yellow for the Liverpool player.
15' That kickstarted proceedings. A little pep in both side's steps after that.
13'   Saul Niguez pegs Spain back. Just like that and Spain are level. Carvajal down the right, into rodrigo and he pulls it back for Saul to slam home. 1-1.
11' Rashford scores! Ball in from Luke Shaw and Rashford slots home. Very slick counter attack but very poor from Spain.
11'   Spain inside but they get it away. England on the counter now.
9'   Doesn't really amount to more than light sparring in the first ten minutes. 
7'   Spain with plenty of possession early. Free now swung in and it's headed up into the air for Pickford to grab.
7'   Saul thrown off the ball by Gomez and he wins a free. 
5'   England with a spell of possession and Isco wins it back. Aspas out to Carvajal and Rodrigo on the right.
5'   Trippier all the way back to Pickford. Aspas and co. put a load of pressure on. 
5'   Ball inside to Aspas. He can't take it down and England win a throw. 
4'   Kane wins the ball back and is fouled by Thiago but the referee plays advantage and they continue.
3'   Thiago a mile offside as the ball arrives over the top. Incredibly offside.
2'   Spain throwing the ball around at the back. No way through yet. De Gea aims one towards Thiago but he can't control his chested first touch. 
1'   Spain wearing white shorts, which looks slightly weird. Ramos gets the ball and he is booed very loudly.
1'   We are underway at Wembley.
    Kane's boots are already golden!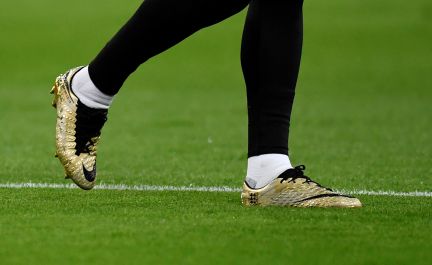 And now time for the national anthems.
    Harry Kane given the Golden Boot award from the World Cup. 
    The two teams make their way out of the tunnel. De Gea all smiles, England look very serious. Huge roar from the crowd.
    Southgate might be thinking of this as a chance to blood some new player. He has that little bit of wiggle room after such a good World Cup. He also obviously very much has the dressing room. Luis Enrique still very much trying to convince everyone of his style (although not his merit). 
    Southgate on his selection of the younger lions."Joe [Gomez] is a young player that we think a lot of, we want to have a look at him in a good-quality game. In Joe, Luke Shaw and Marcus Rashford, they are three young players we want to invest some time in now."
    15 minutes until kick-off.
    Spain released a poster with Piqué on it. They realised he had retired. And then they replaced him with Diego Costa, who pulled out of the squad.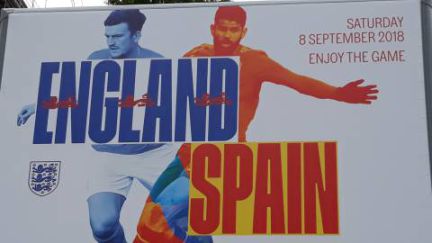 The scene is almost set. There will be 3,000 Spanish fans in the stadium tonight and it's expected to be close to a sell-out, which is 89,874.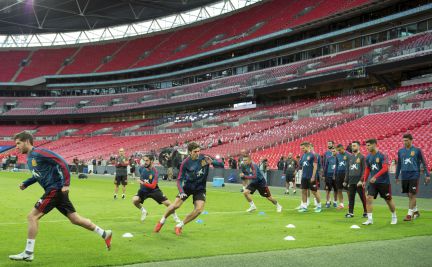 Here's what Luis Enrique said about Isco in his first press conference. "He can play midfield and attack. He is very complete, can play on the wing, up top, inside. He is decisive, can score goals, go by players, gives the final pass...he is a very complete player."
    There has been some strange narratives flying around about Sergio Ramos and Luis Enrique and whether the pair are able to co-exist. The captain was asked if he thought Luis Enrique was brought in to cleanse the squad of him! Ramos obviously responded in the negative. Here are the quotes from the press conference last night.
    The only Barcelona player in the team is Sergio Busquets. Wow. 
    Marcos Alonso only ever played 11 minutes for Spain before. It was under Julen Lopetegui against Argentina during the 6-1 victory. 
    Shaw's comeback story almost complete. He has been in excellent form recently. Exactly three years to the day that Luke Shaw started his last game for England on September 8th 2015 against Switzerland. Had an asisst for a Kane goal too.
    Six changes from the Spain side that started the World Cup in Russia. Piqué, Alba, Iniesta, Silva, Costa and Koke drop out for various reasons between being dropped from the squad (Alba, Koke), retiring (Pique, Silva, Iniesta) and not being available (Costa).
    England XI: Pickford, Trippier, Shaw, Gomez, Stones, Maguire, Lingard, Henderson, Kane, Rashford, Dele Alli.
    Spain's starting XI: De Gea, Carvajal, Nacho, Ramos, Alonso, Busquets, Saúl, Thiago, Isco, Aspas, Rodrigo Moreno.
    Three potentials debutants in Spain's squad including Pau Lopez, Dani Ceballos and Jose Luis Gaya. 
    Hello and welcome to our live coverage of England vs Spain as Luis Enrique kickstarts his time as the manager of the national team against Southgate and his side in London. Kick-off from Wembley is at 20:45 CEST. 
England - Spain live: preview
Wembley is the venue for Luis Enrique's first game as the manager of Spain having taken over after the World Cup last summer. England the opponent. Kick-off from London is at 20:45 CEST in the Nation's League as Spain try to shake off the hangover from the summer and England try to prolong the effects of their trip to Russia. It's a brand new era for the Spaniards after a bitterly disappointing World Cup while England, who are in the middle of the Gareth Southgate, are playing their first game since returning from Russia where they outperformed expectation. There is plenty of intrigue surrounding this game after the side's contrasting performances in Russia during the summer and the fact that Luis Enrique, a man who played 61 times for Spain and won nine trophies in his last job as the boss of Barcelona is not dampening expectation.
England made it to the semi-final of the World Cup and were beaten by fellow surprise package, Croatia, and while they might not have the shock factor anymore, they have their house in order under Southgate. The former England player has completely changed the England camp's set-up to the point where relations between the media have rarely been better and word of innovative training approaches are constantly making the back pages. The FA are looking to extend the manager's contract and a positive Nationa's league will only enhance their desite to keep him on the bench. He has a young, quick selection to chose from too. One of his better attacker in Raheem Sterling withdrew from the squad recently and he is also without Adam Lallana due to injury.
Luis Enrique has installed new rules in the Spanish camp which include no phones at meal time and with a focus on punctuality. The Spanish federation are keen to portray a house that's in order after the shambles that was the World Cup and Luis Enrique is the perfect manager to instill discipline in the side. He says Spain's goal is to "stop being so predictable" and that they will look to press and attack from the start of his reign. Gerard Piqué has retired as have David Silva and Andres Iniesta but there is a first call-up for Dani Ceballos along with chances afforded to Iñigo Martínez and Diego Llorente although the former will miss out due to injury. Diego Costa pulled out of the squad for personal reasons and Iago Aspas was brought in while Jordi Alba did not make the cut after a frosty ending to their relationship at Barcelona when Alba spoke out publicly about wanting more playing time. Meanwhile Alvaro Morata is back for Spain and Luis Enrique has ensured that he "never had a doubt about the goalkeeping position" as David de Gea looks set to continue despite a wobbly World Cup performance.