For the second year in a row, Barcelona can be the biggest spenders in LaLiga. According to the league's salary limites, Barça will be cut off after €632,971,000. Meanwhile, Real Madrid have a limit of €566,530,000. That's a €66 million difference between LaLiga's two biggest clubs.
Atlético have up to €293 million to spend. That is to say that Simeone will compete against the big two with less than half of their resources. The team with the least wiggle room when it comes to salaries is Real Valladolid, who have €23,882,000 available to spend.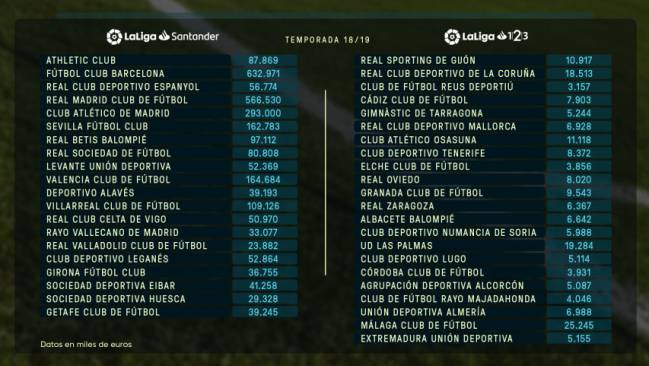 LaLiga fixes the salary limits they can spend on players' salaries, repayments, technical staff wages and investment in affiliated clubs, their academy and others areas. They get the number by adding all income and subtracting non-sports expenses.
Málaga: the team with the biggest margin in Segunda
1. Málaga - €25.2 million
2. Las Palmas - €19.2 million
3. Deportivo de La Coruña - €18.5 million
4. Osasuna - €11.1 million
5. Sporting - €10.9 million
6. Granada - €9.5 million
7. Tenerife - €8.3 million
8. Oviedo - €8 million
9. Cádiz - €7.9 million
10. Almería - €6.9 million
11. Mallorca - €6.9 million
12. Albacete- €6.6 million
13. Zaragoza - €6.3 million
14. Numancia - €5.9 million
15. Nastic - €5.2 million
16. Extremadura - €5.1 million
17. Lugo - €5.1 million
18. Alcorcón - €5 million
19. Rayo Majadahonda - €5 million
20. Córdoba - €3.9 million
21. Elche - €3.8 million
22. Reus - €3.1 million