NFL
NFL: redzone, scores, injuries and action from week 2
Follow all of the live scores as we keep you updated on NFL's week 2 with an eye on breaking news, injuries and fantasy football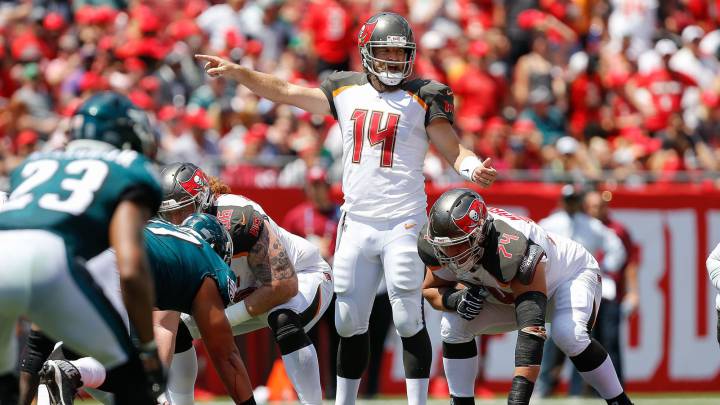 Another tie.
    Carlson misses again for the Vikings. 
    Tie and into overtime. Two failed possessions and next score wins!
    Only game left over from the early games is Vikings and Packers.
    Carlson misses for the Vikings on a field goal. 
    Kansas City beat the Steelers. 42-37 win for the Chiefs.
    Chargers hold on after mini-comeback. They beat the Bills by 31 to 20.
    Mason kicks the field goal but that's not going to do as Vikings called their last time out.
    Carolina can't come back. They lose to the Falcons 24 to 31.
    TD Vikings. They need a two-point conversion now.
    Tennessee with a late gield goal to beat the Texans! they win that one 20-17.
    Saints beat the Browns by 21 to 18 after the field-goal kicking controversy.
    Indy beat the Redskins. 21-9, that one is over. 
    That is terrible. Gonzalez misses with the chance to tie it up.
    Agholor catches a touchdown and Bucs not out of the woods yet. They still lead but only just.
    Cousins intercepted by Ha-Ha Clinton Dix and that might end that one! Packers still up by 2.
    There it is, like a dagger through their heart! It's a field goal. Saints ahead with little over 30 seconds left on the clock.
    Texans and Titans are tied. 17 apiece. That's at the two-minute warning.
    No other games close now as we approach the end. 
    Ted Ginn goes for a big gain and into field goal territory. They're going to lose this game.
    Gonzalez misses the extra point. That is just incredible. How? They might never win again.
    Taylor! Calloway catches the touchdown. Incredible. 
    Taylor sacked. He spins into a tackler. They need a touchdown and this is bad. Two-minue warning.
    Mahomes to Tyreek Hill and he has just thrown 10 touchdowns in the first two weeks of the season. That's the most ever in the first two games of the season in the SuperBowl era. They lead the Steelers now by 14.
    That was a 75-yard strike by Diggs from Cousins.
    Kirk Cousins to Stefon Diggs. Two point game, they'll try for two.
    Matt Ryan rushes for a touchdown. Falcons push agead again.
    Michael Thomas with a touchdown from Brees. The Saints take the lead. 16-12 with an extra point incoming.
    Kamara with a run for five yards. 
    Cosby kicks a field goal and pushes Packers ahead by nine. It's a two-score game.
    Incredible.
    Tyrod Taylor intercepted by Marcus Williams. Can the Saints come back. They trail by 2 and just need a field goal here. There is 4:57 left in the game.
    Hilton catches for a touchdown. 
    Jack Doyle catch from Luck for 12 yards. Colts still lead by 5. 
    Tennesse with a field goal and they kick it. Succop scores it tie game! 17-17.
    Ajayi with a touchdown. Can they make a late comeback. They trail by 13. 
    Review on that and the touchdown stands.
    Mahomes to Robinson and the Chiefs ahead again. They will not go away. 
    Taylor fumbles for the Browns. But they recover and he is up against and misses on a pass to Jarvis Landry.
    Kelca with a 31 yard catch and that's 109 for him today.
    Watson to Fuller and Texans take the lead against the Titans!
    LeSean McCoy is down injured for the Bills. One of his own linemen fell backwards and landed straight on him.
    Kamara has it in the redzone. Saints coming back. Thomas catches a two-yard touchdown pass. 12-9 now with extra point coming.
    The Steelers and Chiefs level again!
    James Connor rushes for a one yard touchdown. 
    Roethlisberger with an interception in the endzone. That's coming back though. Ball on the one yard line.
    Roethlisberger into the endzone. Holding on defence after they failed to connect.
    Darnold throws a pick in the endzone. Howard picks him off. Miami really comfortable against the Jets now and staring down the throat of a 2-0 start.
    Washington have to be happy with a field goal. They trail the Colts by eight.
    Touchback for the Chargers and they add another 2 points to their score.
    Matt Ryan rushes for a touchdown. 24-10 now.
    Mahomes to Kelce for another touchdown. The Chiefs are bach ahead!
    Crosby scores a field goal and they lead the Vikings by 20 to 7.
    But there's a flag and it doesn't count.
    Jimmy Grahan catches a touchdown and then does a Lambeau leap. 
    Bilal Powell picks up a touchdown. Jets are on the board! 
    Jets remain shut out now as Darnold misses on a pass to his tight end. 
    Carlos Hyde rushes for a touchdown and Cleveland go 12-3 up.
    Rodgers to Adams and that's a big game. And a flag too.
    Chris Ivory rushes for a touchdown. Buffalo coming back! They still trail by 14 with an extra point pending.
    Oh, Allen has Clay but it's tipped and he can't catch in. Engram grabs him around the neck and pulled Allen down and that might be a flag.
    Josh Allen rushes now and he gets the Bills even closer.
    Foul on Robinson. 
    1st and goal for the Browns. 
    Josh Allen rushes for 13 yards.
    Bills driving and they are in the redzone. If they score here, they might still be in with a shout to come back. 
    We are back underway with the Browns driving. Taylor takes off. 
    And Miami have shut out the Jets in the first half 20-0.
    Carolina and Atlanta is 10-17 in favour of Atlanta. 
    James Connor with the two-point conversion! 21-21.
    Steelers and Chiefs might be tied soon! They just scored a touchdown. Big Ben to James Washington and they need a two-point conversion to tie it up.
    Indy beating Washington 14-3. A lot of people's underdogs this year were the Redskins but Luck and the Colts are looking good. Ebron has 26 yards and a TD on three grabs. Hilton with 71 yards on five catches.
    Tennesse and Texans in a close one too. Titans lead 14-7. The top performer there is DeAndre Hopkins with two catches for 51 yards and a touchdown.
    Vikings trail the Packers 17-7 at Lambeau. Rodgers started and has 80 yards passing and a touchdown.
    LA Chargers beating Buffalo 28-6. Melvin Gordon the standout there with three touchdowns. Bills really struggling.
    Tampa Bay with a touchdown now. Fitzpatrick with a eight yards strike to Chris Goodwin.
    TF Falcons. Matt Ryan with a strike to Austin Hooper. 
    Cleveland lead the Saints 6-3. Very defensive affair with Taylor throwing for just 66 yards. Brees with 124 and not much better really.
    Let's take a look at the games that are in half-time now. 
    Rodgers with all the time in the world. He throws a strike to get them into field goal range. and Mason Crosby finishes the half with a field goal.
    Miami with another strike. Tannehill with a 19 yarder to A.J Derby. They are up 21-0. 
    Hopkins catches one from Watson. 10-14 for 120 yards and a touchdown. Texans just seven behind now as half-time approaches.
    Melvin Gordon's third touchdown and the Chargers beating the Bills 28-3.
    It was more Howard than Fitzpatrick but let's not let that get in the way. Impressive from Howard though, it must be said.
    FitzMagic agains with a TD to O.J Howard. That's 13-7 and the Bucs are for real. They missed the extra point.
    Okay, Steelers really are coming back. Smith-Schuster with the catch and that's a strike. 21-14 now. This is gonna be a game in the second half. Still 6:39 left in the second quarter though. 
    Keenan Allen with a nice pass and run for a nice gain
    Corey Clements touchdown for Philly. They are tied now, extra point pending, at 7 apiece.
    Hand off to Hyde. Browns pick up maybe a yeard. They are tied with New Orleans as two-minute warning approaches. 
    Matt Ryan finds Ridley and that's a tie game.
    Ryan hands off to Smith but that's a loss. Carolina still lead 10-3.
    Touchdown for the Colts. Hines rushes for eight yards. It's his first ever touchdown. They lead the Redskins 14 to 3. 6:51 left in the second.
    Falcons in the red zone. So are the Eagles. Smallwood rushes for six yards.
    Dalvin Cook with a catch and run for the Vikings. They trail by seven. 
    Eagles drops one of to Ertz now. Almost a first down.
    Foles is 9 of 12 for 83 yards. Not terrible but still no scores on the boards for the Eagles. 
    Philly 1 and 5 on third down. They trail the Bucs by seven.
    A nice look at injury updates here too.
    Wright catches a touchdown from Cam Newton. I think the Panthers' QB is good! 10-3 they lead.
    Fourth down for the Browns and the Saints stop Duke Johnson.
    Jesse James catches a touchdown from Roethlisberger. He bobbled it but that's a catch and a TD. The Steelers needed that. They trail 21-7 still but there's hope.
    Cam is back and he scrambles befire throwing to Funchess. Big gain. 
    Into the 2nd quarter in all of the games by the way. 
    Chargers in the redzone. rivers to Gordon. 2nd touchdown for the running back. Bills are falling to pieces. They trail 21 to 3.
    Newtown is okay. But this one is going to be pretty ill-tempered for the last three quarters. It's a tie game at 3-3. 
    We have an ejection. Kazee is thrown out of the game. 
    Watson throws a pick in the endzone. Looking for Hopkins but he can only find a defender. Titans still up 14-0.
    He slides and Kazee is the one who hit him. 
    Fight. Cam Newton slides and that is absolutely disgusting.
    Tyreek Hill and the Steelers are falling apart. 21-0.
    Sammy Watkins with another big game and they have a 1st and goal. This could be 21-0 if they can punch it in. 
    Gabbert with his first touchdown in 113 attempts. He drops it off to Taylor and Titans lead 14-0.
    Rodgers with a dodgy knee and he takes off. He dives head first and gets hit too! He is okay but not advisable given last week.
    LeSean McCoy gets a first down. Holding on the offense though so that's coming back. 
    Mike Wallace has been carted off the field for the Eagles. Update on his injury when we get it.
    Roethlisberger finds Brown for a nice yard. The Steelers WR corps was supposed to really go to town on this Chiefs secondary. Not really happening so far but Brown is coming into it now.
    Drake scored for the Dolphins after a Darnold interception. That's a nice cut as he comes straight back up the middle. They lead 7-0.
    Melvin Gordon with a touchdown, a 20-yard run. They're now 14-0 up against the Bills.
    Also, Jay Ajayi is on the sideline getting suited up with new armour under his pads. He could return.
    Browns and Saints also level with a field goal from New Orleans. 
    Vikings get themselves a otuchdown. Treadwell makes the grab. His first in the NFL. Tied in Green Bay 7-7.
    Chiefs not to be messed with. Kelce with a laser beam from Mahomes. They lead 14-0 over the Steelers.
    Packers looking to make it 2-0 with two wins against division rivals in a row. Good start by them!
    Titans touchdown. It's a Kevin Byard pass, a fake punt, to Dane Cruikshank. Wide open!
    Mike Williams with a touchdown from Phillip Rivers. Chargers 7-0 up against the Bills.
    Chiefs are up a score against the Steelers. It's Chris Conley with a 15 yard touchdown from Mahomes.
    The Dolphins go up touchdown now. 
    Hello and welcome to our live coverage of NFL's week 2. We will have all the scores, injuries, and some fantasy updates coming your way over the course of the next few hours! Stay tuned.
NFL live online week 2: scores, updates, fantasy
NFL live online week 2: preview
We will be bringing you all of the news from NFL's week 2. Here are just a couple of the big storylines coming out before the game.
Green Bay Packers quarterback Aaron Rodgers has an "unusual" injury that could take a couple months to heal, but is planning to be on the field against the Minnesota Vikings on Sunday, according to ESPN's Adam Schefter.
The Philadelphia Eagles will likely have Carson Wentz back under center next week against the Indianapolis Colts, provided he receives medical clearance this week, according to an ESPN report.
Defensive end Jadeveon Clowney was ruled out for the Houston Texans game against the Tennessee Titans on Sunday. Clowney was questionable with elbow and back injuries and was limited in practice this week.