Villarreal - Rangers live: Europa League 2018-19
Steven Gerard's Rangers team came alive in the second half, scoring two goals that sees them leave Villarral with a point.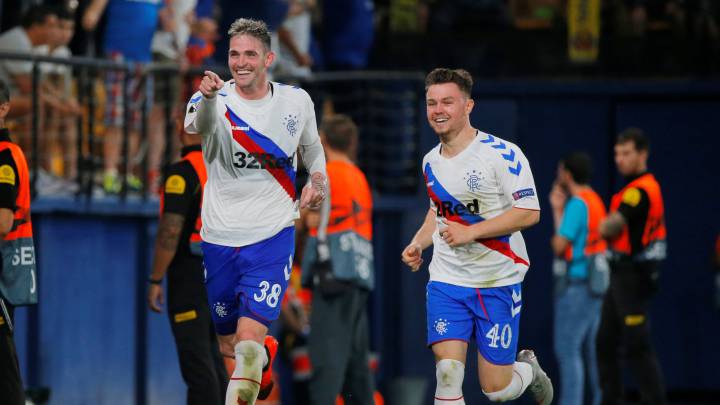 Villarreal vs Rangers live: latest updates
90'+4' GAME OVER! It looked like Villarreal would walk away with it in the first half but Rangers fight back twice for a point.
90'+4'   Bacca heads down and wide. Great ball from Miguelon and that's a good chance.
90'+4'   Corner and that's surely it. Moreno headers it just wide.
90'+3'   Pedraza drives forward and gets the through ball. He cuts back and he can't send it to a teammate.
90'+1'   Chance for Rangers. Lovely little through ball to Arfield and he just sees his shot saved.
89'   Villarreal were in control of this game but they've coughed up to goals on the break.
89'   Ball over the top to Moreno but that's no use. 
86'   Although Villarreal look like they're moving forward a little quicker than they had been. They're wary though because Rangers have proven themselves dangerous on the break.
86'   Ranger might go on an win this now. 
84'   They're stretching the back of his hamstring and it looks like his race is run tonight.
84'   Lafferty down now and is getting medical attention.
78' Sansone replaced by Chukwueze.
75' Lafferty goal! they draw them level again. This Rangers side refuses to lie down. Nice finish from Lafferty. Miguelon caught out in behind and the cross comes in as Lafferty just slices it home.
75'   Cazorla looks for Bacca but Rangers step in front of the pass and clear.
73'   Gerard Moreno drives forward but his pass is too heavy for Bacca. Rangers start again.
72' Yellow card for Miguelon. 
72'   Rangers way more confident now after that goal earlier. They feel like they can get at this side.
69' Coulibaly replaced by Midleton.
64' GOAL! GOAL! GOAL! Gerard Moreno buries it. fornals to baccas and then out wide Moreno. He cuts in and slots home with his left.
64' RANGERS GOAL! Arfield scores. Looked like the chance for a penalty if that wasn't a goal. Rangers counter and a good Tavernier run. 1-1.
64' Gerard Moreno replaces Funes Mori.
64'   through ball and McGregor slides in to clear. It breaks to Fornals and he shoots over as he tried to catch the keeper out.
64'   Cross comes in and Villarreal headed out. This game is opening up now.
64'   Ball in behind and Miguelon puts it out for a corner.
62'   Put behind for a corner. Ranger survive again.
61'   Good save as Villarreal start to push again. Shot from Funes Mori and McGregor is equal to it.
60'   Ekambi is being replaced by Trigueros.
58'   Lovely shot from Pedraza. Corner out to him and he hit it lovely on the volley. Over the bar though.
58'   That's a good ball too but it's just over Coulibaly's head. Nice training ground routine from Rangers too as Lafferty loops around the back as a decoy.
56'   Rangers growing into this one. They have a free just outside the box now as Kent is hauled down as he races into the penalty area.
54'   Chance for Rangers but Kent's ball in search of Lafferty is too far behind him.
50'   Ball sent across the box by Sansone and it falls to Ekambi. He drives it wide. Really poor connection with the ball as it hopped up to him.
48'   So, so close. Ekambi breaks and it's saved by McGregor. It falls to Bacca but he slices it wide with no keeper in net! He was offside though anyway.
48'   Corner for Rangers and that is cleared for a throw by Villarreal. Out for a goal-kick in the end.
46'   We are back underway for the second half. No changes for either side but Rangers need a change of approach to get something out of this.
45'   HALF-TIME!
44'   Sansone with a looped ball to Bacca but he's offside.
43'   Cazorla remains as neat and tidy on the ball as ever.
40'   Villarreal been the better side but at 1-0, they're not creating a whole lot. They do look dangerous at times though.
38'   Villarreal still in control here. Ekambi down the left now and inside to Fornals. He plays it to Cazorla and he strikes. McGregor saves. Another corner.
36'   That's a nice ball in from Worrall in the direction of Lafferty. It looks to catch his head last but the referee gives a corner. Rangers with a chance now to cause some trouble. They do as it bobbles dangerously in the area. Villarreal clear. It comes back in and Fernandez gathers and Worrall clatters into him. 
34'   Hand ball by Sansone. He tries to swivel and ends up handling the ball just outside the penalty area. 
34'   Another corner. Pedraza in an attacking position. He shoots from outside the penalty area and that's deflected out for another one. 
31'   Or wide of the goal, Villarreal keep it and continue to threaten.
31'   Lovely delivery and Funes Mori nearly heads it home. He glances it wide though.
29'   Goldson gets an elbow to the mouth as Rangers whip in a free. Couldn't get the ball and that's out for Villarreal. They break and win another corner. Sansone looking for a through ball but it's deflected out for another set-piece chance for Villarreal.
27'   Bacca attacks down the right and he squares to Ekambi. he left it a little short for his strike partner and Rangers clear.
25'   Corner for Rangers. Gerrard up off his bench now and firing out instructions. Not sure that delivery was one of them as Andres Fernandez scores.
22'   Ball forward is too heavy for Bacca. Rangers clear but the ball out to Barisic is out for a throw. Rangers need to protect the ball better if they have any chance of coming back into this one.
21'   Goal-kick for Rangers as Villarreal pressure them again.
18'   Ball into the back post from the free and victor Ruiz heads down onto the hand of Arfield. They want a penalty but it's just a corner. Would have been really harsh. In the end Bonera fouls from the corner.
17' Yellow card now for Goldson. He takes Pedraza out of it as he races up the left hand side. First card of the game.
17'   Rangers move forward again but that's offside. Not real consistency to anything they're doing in attack. Villarreal snuffing them out every chance.
15'   Rangers with a rare attack now but it's ended with a pass out wide to Candeias that's too heavy. Villarreal restart.
13'   Corner comes in and is headed out as far as Pedraza but that's a mile and a half over the bar.
12'   Cazorla out to Fornals in the center. He moves forward and Miguelon wins another corner for Villarreal.
12'   Villarreal with all of the possession now.
10'   Corner comes in and Rangers get it away but they're struggling to repel Villarreal at the moment.
9'   Fornals eases a Halliday off the ball and Villarreal attack again. Really good start from them. They could score a couple here tonight.
8'   Good ball in but that's headed out with a couple of Rangers' players in the vicinity.
7'   Ball sent in and sent up into the air. Villarreal counter and Ekambi leans into Halliday and wins a free. Halliday grabbed his legs as he tried to get up and run away from the challenge and he's lucky he's not booked.
6'   Foul by Fornals as Rangers get set to swing one into the mixer.
6'   Ekambi with a nice cross in from the left. It's low but Rangers clear.
5'   Rangers just settling into this one. They're stung now though and away from home, that's a rough start. Villarreal throwing the ball around.
4'   Another ball through and Fernandez rushes off his line to gather.
2'   Worst possible starts for Rangers. As far as the worst starts ever go, the only one worse is a red card for a keeper and a penalty.
1' GOAL! Just like that, Carlos Bacca loops one over Allan McGregor. 1-0.
1'   Villarreal and Rangers are underway and so is the Europa League 2018-19!
    Players emerge onto the field. Sun still shining! 
    We are nearly ready for action in Valencia.
    Gerrard start to life as Rangers' manager has been mostly good. In 14 games, they have only lost once and that was to Celtic and it was only 1-0.
    And this article by Sid Lowe in The Guardian is the difnitive piece on his comeback and injur hell. 
    Santi Cazorla was rested at the weekend as Villarreal won their first league game of the season. They beat Leganes 0-1. 
"The magic is back" was the slogan when the midfield maestro made his rather unforgettable return to the Cerámica...

The former Liverpool player is leading Rangers in their first European campaign since 2010-11, when the Gers were in the Champions League but failed to get past the group stage.
Hello and welcome to AS English's live coverage of the 2018-19 Europa League clash between Villarreal and Rangers from the Estadio de la Cerámica. Kick off is at 18:55 CET.
Villarreal vs Rangers live: match preview
A night of returns and reunions. Rangers are back in the competition proper of a European tournament after a six-year absence, having come through a painful period in the doldrums brought about by their bankruptcy-enforced drop to Scottish football's fourth tier. For Villarreal, the Glaswegians are familiar foes who they defeated in the Champions League last 16 in 2006, when the men from Castellón were starting to make themselves known to the wider world and got all the way to the last four of the competition. And Steven Gerrard, the fabulous former Liverpool midfielder, now manager of the visitors, will come up against Santi Cazorla, who he went toe to toe with so many times in the Premier League before the Spaniard's injury hell began. However, the striker Alfredo Morelos, who made his debut for Colombia in September, misses out on the chance to come up against his countryman and role model, Carlos Bacca. The 22-year-old is suspended, and is replaced by the towering presence of Kyle Lafferty.
On paper, Villarreal come into tonight's Group G clash as firm favourites. The LaLiga side are yet to lose in their previous three meetings with Scottish opposition and, in addition to being the team with the most games in the Europa League (62), they have the most victories (33) and goals (104). What's more, Rangers' less than impressive record in Spain merely offers the Submarino Amarillo further cause to be confident: the Gers (who, when refounded, dispensed with the 'Glasgow' at the front of their name), have not won in 11 previous visits to the country.
With a local derby with Valencia just around the corner, Villarreal boss Javi Calleja has said he'll be making changes to the team that started the weekend LaLiga win at Leganés. Ramiro Funes Mori could be handed an opportunity, while in attack the as yet goalless Toko Ekambi is expected to make way for Bacca. Rangers, who arrive at the Estadio de la Cerámica fresh from thrashing Dundee in the Scottish Premiership, have absences to contend with and are set to add defensive steel to their side by playing five midfielders. In attack, meanwhile, they have a clear gameplan: get direct passes forward, fight tooth and nail for the second ball and make the most of set pieces. Gerrard knows that this Villarreal trip will severely test their mettle, and not only because the hosts' support is twinned with that of Rangers' Old Firm rivals Celtic. Many of those who are substitutes under Calleja are looking to change that state of affairs.