Frosinone 0-2 Juventus live online: as it happened
90'+4'   Sloppy play from the home side lead to the ball being given away as the ref calls time ..... Frosinone will struggle this season and simply couldn't fend  off the deluge from Juve. Brave but Juve march on
Bernardeschi 0-2 ....
90'+4'   Last effort from the home side as the closck ticks down ...long throw given away ...Juve break and Bernardeschi scores
90'+3'   Juve content to hang on to the ball and maintain possession with their 100% win record about to stretch to five
90'+2'   Frosinine playing in a more positive manner now but one feels it's simply too late. 
90'   5 minutes of time to be added
89'   Next up for Juve is Bologna at home whilst Frosinone face Roma (midweek fixtures)
0 shots on target from the home side says much about the pattern of this game toinight
88'   Time running out for Frosinone. The fans behind the goal still sing ... a brave,  albeit always risky tactic from Moreno Longo tonight
86'   Watching the repeat of the goal, CR7 was totally unmarked with Frosinone briefly switching off .....
change for the gome side off Hallfredsson / on Cassata
Matuidi on and Mandzukic off for Juve 
83'   It was coming ..... Decent play from the No 7 ..latching on the lose ball
81'   Gooooll Juve go ahead ..CR7 on target
79'   Alex Sandro goes very very close to making it 0-1 with his drive grazing the post
78' Dangerous free kick for Juve....Pjanic to take .... cleared away by the home side who at this point have little intention of keeping the ball
"Predictable" is the word I'd use to describe the Serie A leaders tonight
76'   Possibly tiredness from Juve after their exertions at Mestalla midweek but Allegri's men look very "flat" this evening 
75'   Cancelo  looks to drive the ball down the middle but yet again the Frosinone rear guard are up to the challenge
73'   Frosinone launch a rare counter attack but a deflected cross falls comfortably for Szczesny as Juve win a corner at the other end
72'   Play held up as Capuano gets medical attention
Campbell off / Ciano on for the home side
Cuadrado off / Cancelo on for Juve
Mandzukic goes close heading just over 
68'   Tiredness will be the key here as the effort Frosinone are putting in is of merit ...but tiring....
67'   Another Juve moves comes to nothing as they simply lack the final ball to open the yellow lock.... A stalwart defensive performance from the home side 
65'   No let up from Juve as Dybala tries a long range effort.... no end product as once again Frosinone just give the ball back to the visitors 
The home fans find their voice and sensing the effort and tiredness from their side do their bit. Juve still with their seige on the home goal
63'   A back heeled effort from CR7 but the ball is smothered by the Frosinone keeper 
62'   Juve back to the long ball into the box looking for CR7 or Mandzukic tactic 
61'   Dybala is down and Molinaro earns a card for a foul on the No. 10 
60'   Free for Juve in a dangerous area ... Three Juve players over the ball as Dybala fires into the wall
59' Corner for Juve as a ball deflected off the ref is whacked away for a corner kick....CR7 latches on to a breaking ball and fires over left footed
58'   Frosinone just whacking the ball and giving possession back to Juve. A dangerous tactic and slightly premature.
55' Bernardeschi on and Bentancuroff for Juve 
53'   Frosinone applying intense pressure too which will further tire Longo's men as Mandzukic goes close. 
52'   Frosinone hanging on to the ball less and less as proceedings unfold in the Benito Stripe 
51'   Not sure if I can see Frosinone breaking their scoring duck tonight .... a dead ball situation seems to be their best option.   
48' Juve probing and still unable to find a way through a sea of yellow shirts
  Change for Frosinone: Maiello off / on Crisetig
45'   Speculative shot from Juve as Betancur tries his luck but the shot ever slightly off target ...movement on the home team bench as Maiello looks to be in trouble
Off we go in Frosinone again with the men in steel grey starting the action 
...but one feels it's only a matter of time that the Bianocneri find a way through given the gulf of quality (and budget) between both sides 
45' Teams taking to the field for the second period of play. The longer the ability the home side have in holding Juve at bay, is the key to tonight's game
45'   That's it .... Half time at Bento Stripe with 0-0 on the scoreboard 
44'   The Colombian recovers as Juve probe as we head into the final minute of normal time..... Dybala tries a long range effort but once agian hits hit over the bar.... 
43'   Cristiano heads away from the poorly struck corner as Cuadrado takes a knock.  
41'   Perica heads but sees his glancing effort fly wide..... Not much for Szczesny to do in the half it has to be said but Frosinone happy to hit Juve on the counter. Campbell is full of endeavour as Frosinone win another corner
40'   Juve almost break throigh as Sportiello pounces on a lose ball after a defensive mix-up at the back....  
38'   Frosinone break but are unable to feed the ball as Alex Sandro gives the ball away.... Campbell's lack of speed apparent as the home fans give us a rendition of the Icelandic Viking clap   
36'  Solid performance from Frosinone's Icelandic born Hallfredsson, bossing the midfield for the home side 
35'   32% vs 68% (Possession) Frosinone - Juve
30'   Solid defending from the men in yellow who are managing to frustrate Juve. It's true they have 11 men behind the ball and at present Juve happy to play the ball around and finalise the move by lumping balls into the box.  
30'   Pjanic delivers and Can tries an overhead effort that goes high and over the bar.  
29'   Free kick agian for Juve as Cuadrado's cross hits a Frosinone defender on the arm. 
Another card, this time for Perica (Frosinone)
First card of the night goes to Bentancur for a trip on Perica
Possession so far: 

27'   No shortage of free kick takers in the Juve side.....CR7 over the ball ..... Dybala too....it's Cristiano and his kick is straight into the Frosinone wall...Poor effort from the No 7 
25'   CR7 fouled on the edge of the area ...danger for the home side
24' Juver defend a corner as Emil Hallfredsson tries his luck but once again nothing for the Juve keeper to do. 
Mandzukic looks to be in trouble holding his ankle after a rough challenge from a rival. All seems okay with the striker as play resumes.
19' CR7 rifles a shot on goal but easy for Sportiello deflect back into open play. Juve really on top now with Frosinone sitting deep and inviting pressure 
18'   Added pressure as Juve win back to back corners. 
15'   Here's the tifo we mentioned at the start of the game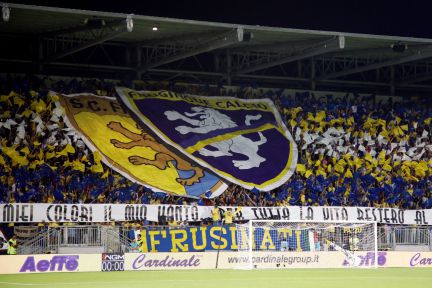 14'   Corner for the home side as Iceland born Hallfredsson knocks the ball off Cuadrado...the kick is poor and easy for Szczesny 
12'   Alex Sandro tries his luck from long range too but the left foot effort is high and wide  
11'   Long range shot form the home side which fails to trouble  Szczesny  
A 0-0 draw vs. Bologna is the source of the only point for Frosinone all season
9'   Can Frosinone get on target tonight? Yet to get off the mark this season and am sure their fans would love to see it come against Juve.   
7'   Credit too, to the Frosinone keeper Sportiello who got a hand on the ball
7'   The No. 7 gets to his feet and play resumes, Juve starting to apply pressure as Cristiano has a scuffed shot cleared off the line
6' Cristiano takes a knock and is slow to get to his feet..... 
5'   What can the home side deliver....poor delivery and the men in "steel grey" eventually clear their lines
4' Dangerous free kick for the home side as Cuadrado trips Molinaro
3' Juve trying to get their traditional passing game going but being well pressurized by the men in yellow.
1' Great noise being made from the home support.... about 500 Juve supporters tucked into the away section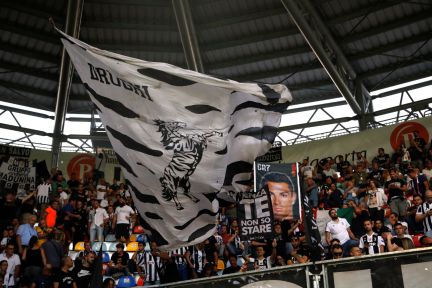 Off we go .... Frosinone get us underway.....
23C in Frosinone in the Lazio region of Italy....a balmy one but ideal conditions for the supporters who have packed the compact stadium tonight.
The sides take to the pitch at a packed Benito Stripe, great tifo form the home  fans hoping to pull off a major surprsie as the Frosinone club anthem belts out.
Who remembers this guy ? Former Arsenal & Villarreal player Joel Campbell starts for the home side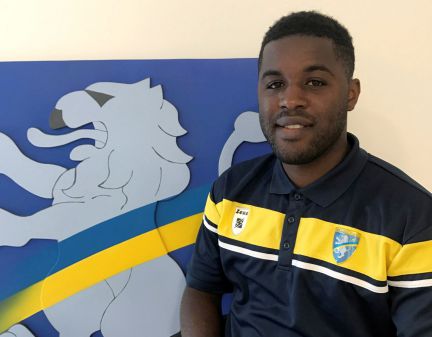 Frosinone's stats make for worrying reading for the home fans... W0 D1 L3 - goals for 0, goals against 10 !!!  
CR7 is ready !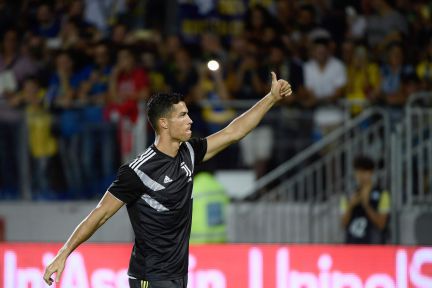 This is only the second season the Canarini  have enjoyed in the top flight of Italian football. After being refounded in 1990, the side played in Serie B for the sixth time in its history in 2014-15. The club earned its first promotion to the top flight Serie A in the 2015–16 season, but were relegated back down to Serie B after just one season. In the 2018–19 season it was promoted to Serie A for a second time.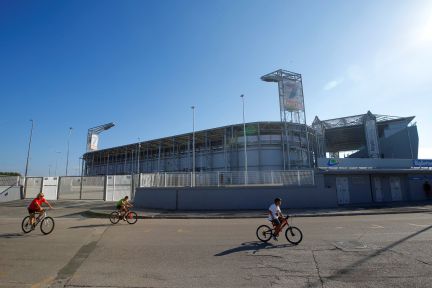 Juve will sport their all steel grey away kit at the Benito Stirpe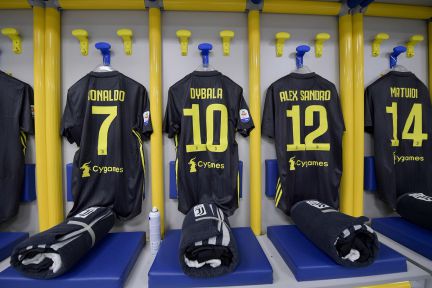 The home side will be in their traditional all yellow kit tonight.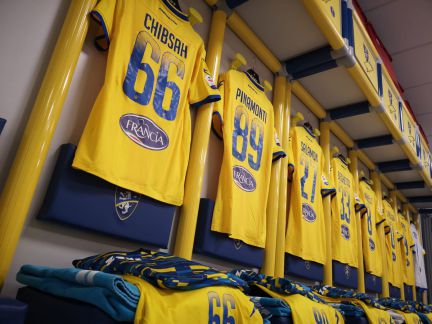 The ubiquitous merchandise stalls outside the Frosinone ground tonight for fans looking to pick up a Frosinone cushion or Juve wall clock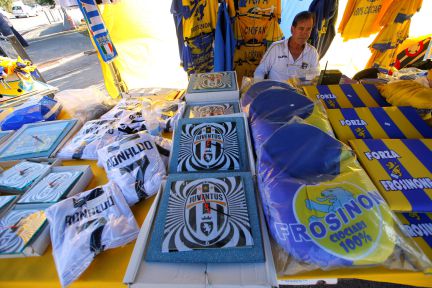 Good evening and welcome to our live coverage as Frosinone welcome Juventus
Frosinone vs Juventus live online: match preview
Juventus will seek to maintain their perfect start to the season against newly promoted Frosinone after winning their opening four league games to open up a two-point lead at the top of the Serie A table. The Italian champions backed that run up with a 2-0 win over Valencia in Europe despite being reduced to 10 men following Cristiano Ronaldo's dismissal in Mestalla, Miralem Pjanic scoring twice from the spot and Wojciech Szczesny saving a late Dani Parejo spot-kick to kick-start Juve's European challenge in convincing style.
Frosinone
The Canaries are back in Serie A for only the second time in their history and have found it tough going so far, failing to find the net in their opening four games and conceding 10 at the other end. A 0-0 draw against fellow strugglers Bologna – who are also to score this season – has been the sole ray of light in what looks to be shaping up as a Herculean battle against going straight back down for the home side on Sunday.
An expansive side willing to go toe-to-toe with Juve is unlikely; Moreno Longo has favoured a 5-3-2 this season and the hosts can be expected to approach the match in a spirit of damage limitation. Costa Rica international Joel Campbell returns to the squad after injury and offers a different dimension off the bench but regular strike partnership Stipe Perica and Camillo Ciano will start in the continued absence of the injured Federico Dionisi, Frosinone's third-highest scorer of all time.
Longo will also be without promising Uruguay under-20 striker Joaquín Ardaíz but can call on returning forwards Daniel Ciofani and Andrea Pinamonti as Frosinone look to open their Serie A account against the reigning champions.
Juventus
Ronaldo finally got off the mark for his new club last weekend away at Sassuolo, opening his account with a tap-in and then hammering a trademark left-footed effort on the run to seal a 2-1 victory for Massimiliano Allegri's side. That game was not without its controversy, but it was Douglas Costa not Ronaldo who saw red in stoppage time after picking up a yellow for elbowing Federico Di Francesco then a straight red for spitting at the same player.
Costa is injured as well as suspended for Sunday's game, joining Sami Khedira, Andrea Barzagli and Mattia De Sciglio on the sidelines. Allegri has one of the richest squads in Europe and while those absences rob Juve of plenty of experience, when the likes of Pjanic, Paolo Dybala and Juan Cuadrado are not guaranteed a start a coach can hardly complain about a lack of resources.
In the Stadio Benito Stirpe, Allegri is likely to field Ronaldo as a central striker with support from Dybala, Mario Mandzukic and Federico Bernadeschi. Emre Can and Pjanic will patrol the engine room in front of a flat back four with Cuadrado a possibility to come in at right back to hand João Cancelo a rest.