Munir poked home the leveller to give Barcelona a point after De Marcos gave Athletic Bilbao the lead in the first half at the Camp Nou.
Barcelona 1-1 Athletic Bilbao: match report
For the first time in 14 years, Athletic Bilbao will leave the Camp Nou with a positive result. They haven't earned as much as a point against Barcelona in the league since 2004 but while they went ahead against Valverde's side on Saturday afternoon, they had to work in the end to hang on.
Ernesto Valverde left Lionel Messi and Sergio Busquets out of his side with Tottenham Hotspur in the Champions League on the horizon. It wasn't long, however, before Barcelona players and fans were sending glances to the sidelines.
Athletic Bilbao looked like they might struggle based on the opening exchanges. Coutinho started brightly and Berizzo's side couldn't hold onto the ball for longer than a couple of seconds.
Slowly, however, they did find their feet. They were exploiting the space Busquets usually occupies and Raul Garcia was starting to win second balls and influence the game.
As the game ticked on, it looked increasingly likely that the visitors would take the lead. And that they did when Susaeta sent a cross into Oscar de Marcos at the back post.
Sergi Roberto failed to track the run properly and his arm in the air for an offside didn't impact the linesman's correct decision. Barcelona trailed and they needed solutions.
They were slow to appear but when Messi came on after Busquets within four minutes of each other, on 51 and 55, it looked like they might have the answer.
Suarez scored but it was ruled out for offside. Coutinho his the crossbar and Rakitic blazed over too. That was before the leveller came. Messi got the ball on the right after 84 minutes and shot, which Unai Simon saved. The Argentine reacted first and fired the rebound back towards goal. Munir, another sub, poked it home as Barcelona went in search of a second and a winner.
Athletic Bilbao had stopped attacking as they tried to prevent Barcelona ripping through them - it would take all of their focus to do that with no time or thought left to pushing men forward. They managed it just about as they pick up another point against a massive rival.
Berizzo's side still haven't won since the opening weekend and have drawn four, losing one in the meantime.
Barcelona neither picked up three points, or got any meaningful rest for Messi or Busquets. They did accomplish one thing and that is to raise more questions over their form and style ahead of an important game in the Champions League on Wednesday night.
Barcelona - Athletic Bilbao: live updates
90'+3' GAME OVER! Barcelona with two points in three games. 1-1 it finishes.
90'+3'   Athletic Bilbao counter again and Busquets slides in for a throw to the visitors. 
90'+3'   Pique drives forward. he finds Semedo. Barcelona recycle and they lose it. Athletic Bilbao break and lose it themselves.
90'+2'   Throw for Athletic Bilbao as they try to kill the clock. 
90'+2'   Athletic Bilbao resorting to fouling now at every chance. 
90'+1'   Good chance but was it THE chance?! 
90'+1'   What a chance. Rakitic gets it from Coutinho, he takes it down and then fires it over. 
90' Yellow for Dani Garcia...  Athletic Bilbao hanging on for dear life here. He turns Messi around and onto the ground with that tackle.
88' He gets a yellow for his foul on Raul Garcia. A whole lot of nothing really. 
88'   Barcelona almost play it through the middle. It's all too tight though and Athletic Bilbao break. Busquets fouls.
87'   SUAREZ! He scores but it's offside. Pique plays it through to him and he's a mile off. 
87'   Last time Athletic Bilbao got a point at the Camp Nou was in 2004.
86'   Athletic Bilbao looking for a pass in behind down the left. They are far to nervous to do anything other than hoof and defend right now.
84' GOAL! Munir pokes it home. Messi with the shot and it's saved by Simon as Messi is first to react. He plays it back inside and Munir with the finish.
83'   Goes to waste and Barcelona counter. Suarez into Messi out on the right. Way out on the right. 
83'   Athletic Bilbao win it high up the field. 
83'   Barcelona growing increasingly nervous as time ticks by. Bar a couple of Messi chances, they haven't created much.
82'   Raul Garcia catches Busquets in the air and that's a free to Barcelona and he's lucky he's not booked.
81'   They can't string passes together to keep it though. 
81'   Rakitic looks for a pass out wide and that's cut out as Athletic Bilbao counter. 
80' Munir coming on for Dembele. 
79'   Suarez dives and is lucky not to be booked. 
79'   Athletic Bilbao clear out for a throw. They're under increasing pressure. 
78' Aduriz is coming on for Athletic Bilbao. He replaces Williams.
78' Rakitic booked as it takes a clip and the ref doesn't give it.
78'   Another chance for Messi. He curls it wide.
77'   Messi links with Alba and he plays it back to him. Messi's shot rifles against the post and clear.
76'   Semedo with a run into the box but he's muscled off it and Athletic Bilbao recover. Williams loses it in the middle of the field and Barcelona look for their breakthrough.
75'   Iñaki Williams with the race against Pique and he beats him. He's in again just moments later and Semedo covers. He blocks it! 
74'   Shot from Messi looked like it was handled. Camp Nou certainly thinks so but absolutely no chance as replay shows.
72'   Messi's free is headed out. That was going into the top corner. Barcelona up the ante.
71'   Foul on Messi. He is tripped up just outside the box. Unai Simon looking nervous no doubt. Dani Garcia the one with the foul. 
68'   Rafinha warming up and looks like he will be the last sub.
66'   Foul by Busquets. He jumps into a tackle with with Dani Garcia. 
65'   Another Barcelona attack. Throw for them. Still 25 minutes for Athletic Bilbao to hand on here. Can they?
64'   Dembele down the line and it looked like it was out for a corner. He crosses and Unai Simon saves low.
63'   Coutinho hits the crossbar and Suarez follows it up with a ball that he kicks onto his own face.
63'   Barcelona really taking control over this one. They're planning their third sub but have improved since Messi cam on.
61'   Lenglet doesn injured after he goes over the top of Raul Garcia. Not sure how that isn't a free for the Athletic Bilbao player.
59'   Coutinho was offside.
59'   Athletic Bilbao under increasing pressure but they've cleared the ball before Messi gets it again and pops one towards Coutinho.
56'   This getting really heated now. Suarez goes flying again with a push in the back but the referee doesn't blow. Then foul for Athletic Bilbao. Camp Nou is all fired up since Messi came on. 
55' Vidal replaced by Messi, who gets handed the captain's armband. 
55'   Messi getting ready to come on. 
54'   Luis Suarez and Dani Garcia get tangled up and the Uruguayan gets sent flying. No Free and they have words after the game.
53'   It's just so falt from Barcelona. Suarez breaks and tries a tired looking cross that is blocked. Really good chance but it's wasted.
52'   Semedo blocks one out for a throw. 
50' Sergi Roberto not looking comfortable. He is going to be replaced by Busquets. 
48'   Sent into the back post and Vidal battles for it but it's out for a corner. 
48'   Yeray gets himself booked for hauling down Suarez. Coutinho ready to whip it in.
47'   What a touch from Coutinho. He takes it down as the ball arrives in over the top. Athletic Club survive and it's out for a throw. Ref points to the ball and say there was no foul! 
46'   Still no Messi as we get underway for the second half. No changes for either side but Busquets is warming up and so is Messi.
45'+1'   Half-time. They won't have time to take the corner and Barcelona aren't very happy.
45'+1'   Coutinho with the shot down into the ground and he sees it tipped over.
45'   One minute of added time.
45'   Another ball into Susaeta and that's offside. 
44'   Suarez with a ball into Coutinho. He heads down and Unai Simon saves.
43'   Right before half-time. 
41' Susaeta crosses and De Marcos pokes home.
41'   Drove into the front post and it's headed on. So, so close!
40'   Corner for Athletic Club. Headed down and Ter Stegen can't keep it in.
39'   Shot comes in from Coutinho but that's well over.
38'   Suarez with an absolute bullet of a shot at the neat post. Saved by Unai Simon.
36'   Dembele took it down and Athletic Club clear or a throw. Just under 10 minutes until half time. 
34'  34'   Athletic Club's turn to counter and he falls over under pressure from a couple of defenders.
34'   Rakitic shoots. Athletic Club had the ball but they lost it and Barca countered with the shot going well wide off the foot of the Croatian.
33'   Ter Stegen put under pressure as he played it out. Athletic Club smell blood and press up but Barcelona survive and keep possession.
32'   Pique slides in and puts it out for another throw. 
30'   Barcelona just out of reach of the final pass again. Dembele the target this time and it's too heavy.
29'   Barcelona hold onto position.
28'   Corner is cleared by Barcelona and that's a lightening break by them. Slowed down as Athletic Club filter men back.
26'   Corner for Athletic Club. Pique blocks Williams' cross. 
26'   Unai Simon. What a save from Suarez. Even Suarez doesn't know how he did it. Played through the middle by Vidal and Suarez strikes from point blank range. Saved by Simon's foot, it looked like.
25'   Athletic Club looking more rushed on the ball now every minute. 
24'   Fair game despite Barcelona's really bright start. They've cooled and Athletic Club have grown into it. Barcelona just sneaking ahead as it ticks on though.
23'   Martinez is gone off now and Barcelona have a corner.
22'   Iñigo Martinez down and it looks like he can't continue. 
21'   Dembele pulled to the ground when he lost that last challenge. He stayed on his feet though. 
19'   Susaeta runs into trouble down the right and Barcelona recover. Dembele wins it and slaloms into a tackle, which he loses. Back in again and Alba crosses. Headed out by Athletic Club. 
17'   What a chance. It bounces off Vidal and falls to Williams. He takes it around Ter Stegen but too far out wide. What a chance. He kicks it out for a goalkick after that.
16'   Yuri with the kind of effort that you see down at five-a-side on a Tuesday night. He mishits it up into the air.
14'   Raul Garcia gets thrown to the ground by Rakitic. Ref halts play and tells everyone to calm down.
14'   Athletic growing into this now as Raul Garcia drives a shot towards goal. Ter Stegen saves and puts it over for a corner. 
12'   Williams with a looping effort that nearly beat Ter Stegen. Ball into his path and he tries to lob the keeper. Poor decision, maybe, but poor execution definitely.
11'   Athletic Club's first proper chance to break free. Balenziaga down the left and he's offside. Replay suggest it might not have been.
10'   Barcelona do well to play it out from the back and Coutinho, again, with a miss move forward. Suarez lays it off to Alba but they were on different pages. Out for a goal-kick.
8'   Dani Garcia back to Unai Simon. He clears and Ter Stegen puts it out for a throw.
7'   Athletic Club haven't settled into this one at all.
5'   Suarez been taking tips off Messi. He blazes a free kick just wide. Not far at all.
4'   Athletic Bilbao pushing all the way up against Barcelona. They pressed high against Real Madrid and that worked. Barcelona more adept so far at breaking the press.
3'   Coutinho took a blow to the head. He's back up again though. Looked like he was a little worse for wear there for a second.
3'   Barcelona have started really well. Another push down the left and Suarez' pass is too heavy.
2'   Coutinho breaks free with a lovely move. He gets the ball back off Suarez and he gets bundled over. Looked like a penalty but referee says no. Push in the back?
1'   We are underway. 
    The Camp Nou is looking divine. 24 degress and an absolutely grand day for football.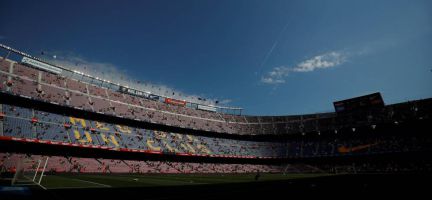 Here is a look at the table before the games kick off at the top today. This could be upside down by the end of the day!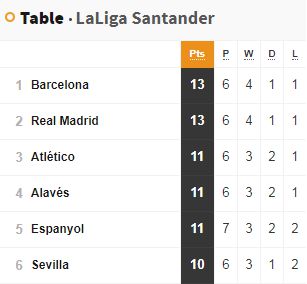 This is Messi's first rest all season. He has played every minute for Barcelona so far after eight games.
    Question brought up. Is Valverde in trouble if they don't win today? If they lose, it's 1 point from nine. Hmmm. Definitely worth pondering.
    Players in the tunnel now and almost ready to take the field.
    Barcelona have seemingly walked to the league title in recent years for the most part. They can't get near the Champions League trophy they last one four years ago though. With Messi and crew, and this generation of Barcelona players, winding down, they are keen to prioritise Europe. I think Valverde gets that and he has adjuste his LaLiga approach accordingly. They'll still be there or there abouts in the domestic competition but Europe is the Holy Grail for them this season!
    Aduriz made it back into the squad but can't make the starting XI with Williams again leading the line for Athletic Club.
    We have Athletic Bilbao team news too: Unai Simón, De Marcos, Yeray, Íñigo Martínez, Balenziaga; Dani García, Beñat, Raúl García; Susaeta, Yuri, Williams.
    No Messi or Busquets as both sit on the bench to start against Bilbao.
    Barcelona team news in: Ter Stegen, Semedo, Pique, Lenglet, Alba, Vidal, Roberto, Rakitic, Dembele, Suarez, Coutinho.
    Hello and welcome to our live coverage of Athletic Bilbao's trip to the Camp Nou with kick-off from Barcelona at 16:15 CET. 
Barcelona - Athletic Bilbao: preview
In two games, Barcelona have dropped five points and while Athletic Bilbao are not lighting LaLiga up themselves, they have improved massively under Eduardo Berizzo. Kick-off from Camp Nou is at 16:15 on September 29 2018 in what is sure to be a nervous affair for both sides and for various reasons.
Ernesto Valverde's side were dealt a massive blow during the week when Samuel Umtiti was ruled out for a number of weeks with knee ligament damage. Clement Lenglet and Thomas Vermaelen are the other options beside Gerard Pique but neither have been bastions of security this season. Legnlet was sent off in his first start for the club last weekend against Girona and the Belgian, Vermaelen, was whipped off after a poor showing at left-back when Jordi Alba needed rest against Leganes.
Denis Suárez, Malcom, Samper and Aleñá have been left out of the squad by Valverde and while the manager rotated against Leganes with Alba and Luis Suarez on the bench, you can be sure it will be a full strength team to play a particularly tough opponent at the Camp Nou on Saturday afternoon.
Athletic Bilbao are coming off a few strange results. They were beaten well, at home, by Villarreal but pushed Real Madrid to the limit just a week before with an organised and intense approach. They also drew with Real Betis 2-2 last weekend meaning they have not won since the first day of the season but have also only lost once.
Aritz Aduriz is fit to come into the squad in place of captain Ander Iturraspe and 19-year-old Nolaskoain comes in for Unai Nunez, who started during that loss to Villarreal.