GOLF
Ryder Cup round-up: USA faces uphill battle going into last day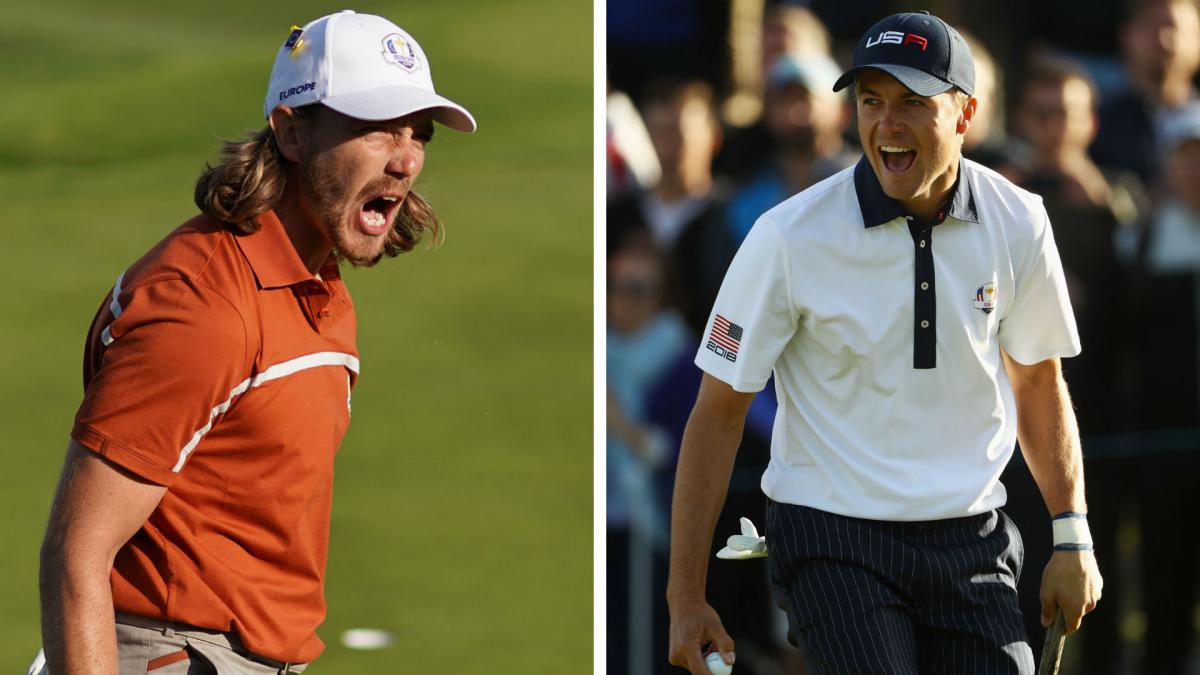 Our Ryder Cup round-up brings you everything you need to know about the second day at Le Golf National, where Europe increased their lead.
Another day was won by the Europeans at Le Golf National and Thomas Bjorn's side will take a 10-6 lead over Team USA into the Ryder Cup singles.
There were countless moments that induced booming cheers around the course as the world's best battled for one of the sport's most coveted trophies.
Our Ryder Cup round-up brings you all the key details from day two.
Rory McIlroy and Sergio Garcia beat Brooks Koepka and Tony Finau 2 and 1
Paul Casey and Tyrrell Hatton beat Dustin Johnson and Rickie Fowler 3 and 2
Francesco Molinari and Tommy Fleetwood beat Tiger Woods and Patrick Reed 4 and 3
Justin Thomas and Jordan Spieth beat Ian Poulter and Jon Rahm 2 and 1
Score at end of session: Europe 8-4 United States
Foursomes
Henrik Stenson and Justin Rose beat Dustin Johnson and Brooks Koepka 2 and 1
Bubba Watson and Webb Simpson beat Sergio Garcia and Alex Noren 3 and 2
Francesco Molinari and Tommy Fleetwood beat Tiger Woods and Bryson DeChambeau 5 and 4
Justin Thomas and Jordan Spieth beat Rory McIlroy and Ian Poulter 4 and 3
Score at end of session: Europe 10-6 United States
Garcia halted a Koepka and Finau rally on the 17th hole after the Americans trimmed a 4 up European lead to 1 up with wins on the 14th, 15th and 16th. The Spaniard made a spectacular 25-foot putt to win his morning fourball match.
In the afternoon, Stenson rolled in clutch putts at the 16th and 17th to ensure another Koepka fightback, this time alongside Dustin Johnson, proved in vain. With the US winning the final two foursomes matches, Stenson and Rose's win felt crucial.
Fleetwood and Molinari became the first European pairing to win four matches in a single Ryder Cup.
"We played really solid, we played really well. But yeah, about the piece of history together, it's very special. And we're just glad that we've done our job for the team," Fleetwood said after closing out Woods and DeChambeau in the afternoon.
Spieth and Thomas were the only other pair to win two matches on Saturday, rewarding captain Jim Furyk for trusting their bond as close friends would prove beneficial on the course.
Patrick Reed may have lost his position as 'Captain America' after an ugly morning of golf. Playing alongside Woods, Reed didn't win a single hole during the morning fourballs.
Speaking of Tiger, Furyk's captain's picks have not pulled their weight in France. Woods, DeChambeau, Finau and Phil Mickelson have a combined record of 1-7-0. Thomas Bjorn's picks (Stenson, Poulter, Garcia and Casey) are 6-4-0.
"We came here to do a job, and it wasn't to go in the record books or anything like that, it's about the team, it's about getting to 14 and a half. We're getting closer, but those four and a half points we're going to need tomorrow, we're going to have to fight hard for them." - Molinari on flipping the page to Sunday.
"Everything feels pretty good. (I'm) just pretty p****d off, the fact that I lost three matches, and didn't feel like I played poorly. That's the frustrating thing about match play. We can play well and nothing can happen." - Woods after losing his afternoon foursome match with DeChambeau to Fleetwood and Molinari.
"We didn't play the dream golf. I don't think we kicked into gear 100 percent, but we did enough." - Rose after holding off Koepka and Johnson alongside Stenson during the afternoon session.